This shop has been compensated by Collective Bias, Inc. and its advertiser. All opinions are mine alone. #PAMAvocadoPump #CollectiveBias
Avocado 'fries' coated with bread crumbs and baked to perfection. Creamy, buttery and crunchy; these make delicious Vegetarian Tostadas!
New Year comes with new recipes, new products and new menus! 2019 is officially in. The Christmas tree has been brought down, decor and ornaments sorted into their containers and holiday lights are packed away. We have realized it is time to roll up our socks and get back to routine after the Holiday season. Though difficult, I am trying my best to go back to 'regular' life.
I have already posted two recipes and here is the third for the year. Today I am posting a delicious recipe that will definitely become a family favorite. Perfect recipe for weeknight dinner and great for parties; this dish is pretty simple to make.
The recipe is that of a vegetarian tostada; topped with BAKED Avocado 'Fries' and other Mexican ingredients. The most delicious part of the recipe is definitely the avocado fries. The fries are essentially Avocado slices coated with seasoned breadcrumbs and baked to perfection. These fries are amazing as party snacks but when combined with Tostada ingredients; it gives us a GREAT dinner recipe.
Essential Ingredients of the Recipe
One essential part of this recipe is PAM® Spray Pump Avocado Oil. For those who have tried working with avocados; they tend to stick EVERYWHERE. Remember how guacamole sticks to the bowl? So when you are trying to make 'fries' out of them, you need this spray pump.
Pump built for optimal combination of spray coverage and control. You don't need to add a ton of extra calories to cook great food. Unlike butter and oil, PAM Spray Pumps let you control how much you use to avoid over pour and manage added fat and calories.
With the superior non-stick cooking experience of PAM and no artificial colors, flavors or preservatives, you can make sure all your recipes are real easy and real tasty. I ordered mine using the Grocery Pickup option from Walmart to order mine. Check your local Walmart for a demo of the product and to grab an awesome bag.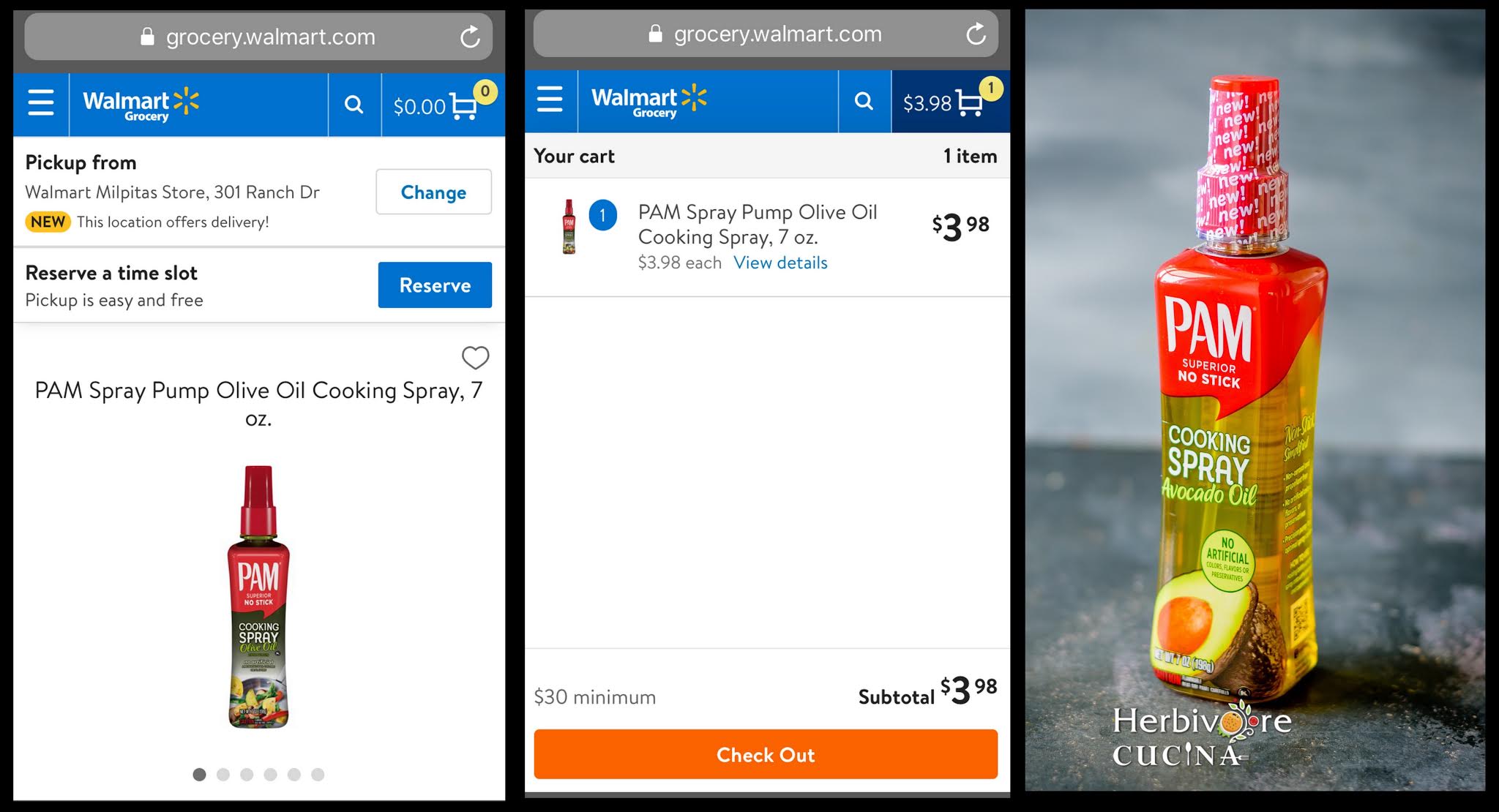 The MOST important ingredient here is the AVOCADO. Not every avocado will work in the recipe. Pick a ripe but firm avocado. That combination will help you cut slices that are thin but easy to handle. Thick slices will not bake well and thin slices from an over ripe avocado will not be easy to dredge in cornstarch and breadcrumbs. Pick a tall avocado to get long slices.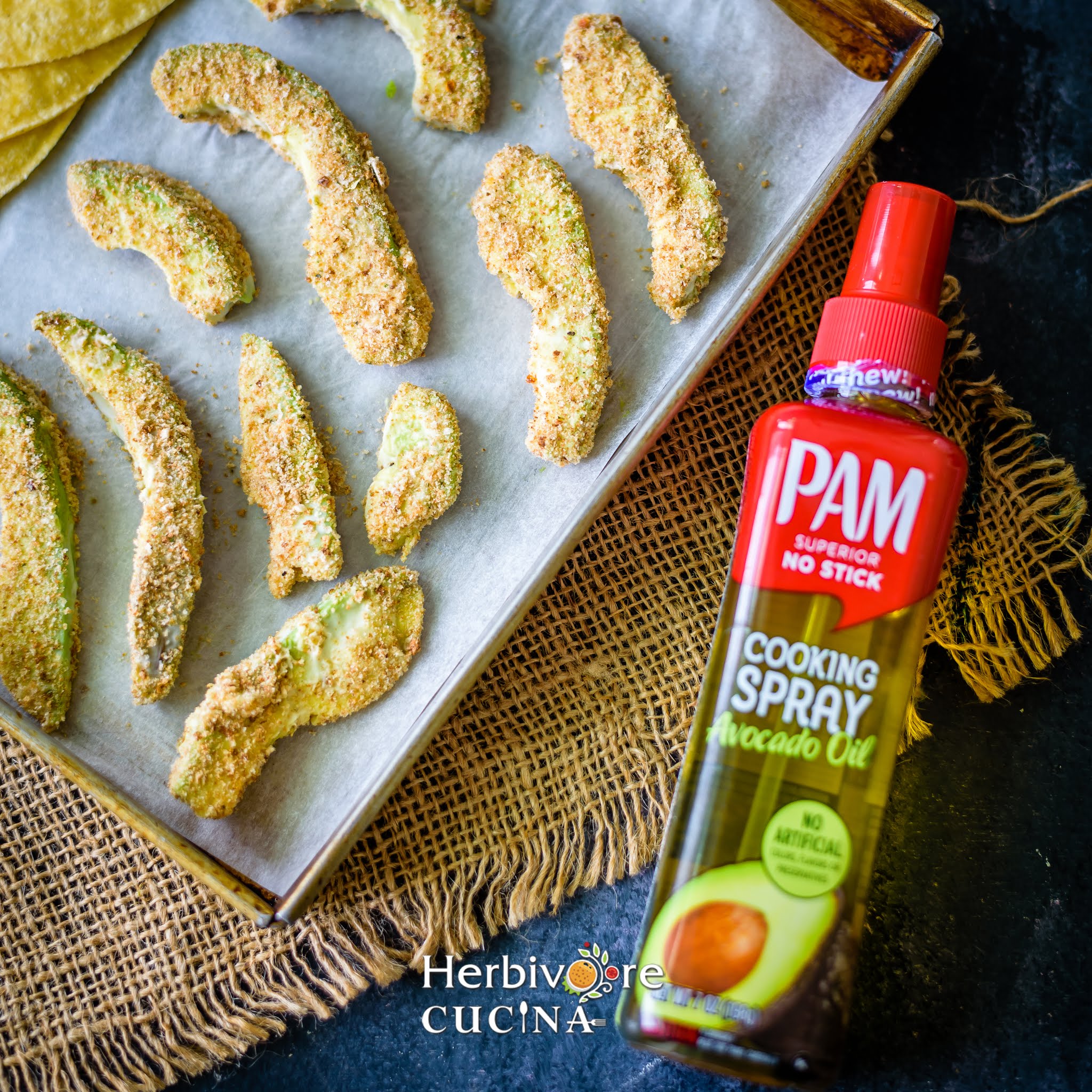 How to enjoy Avocado 'Fries'?
The first half of the recipe explains how to make avocado fries. These are crunchy on top, but soft and buttery within. They are delicious as finger foods. Dip these in your favorite sauce and enjoy them.
These fries are easy to make, do not need too many ingredients and come together quickly. I like to use them with Tostadas, as the crunchiness from the tostadas works perfectly with the buttery avocados.
Given they have a Mexican flavor to them, I love them in tacos and taco salad bowls too. If you are a fan of Mexican recipes try these: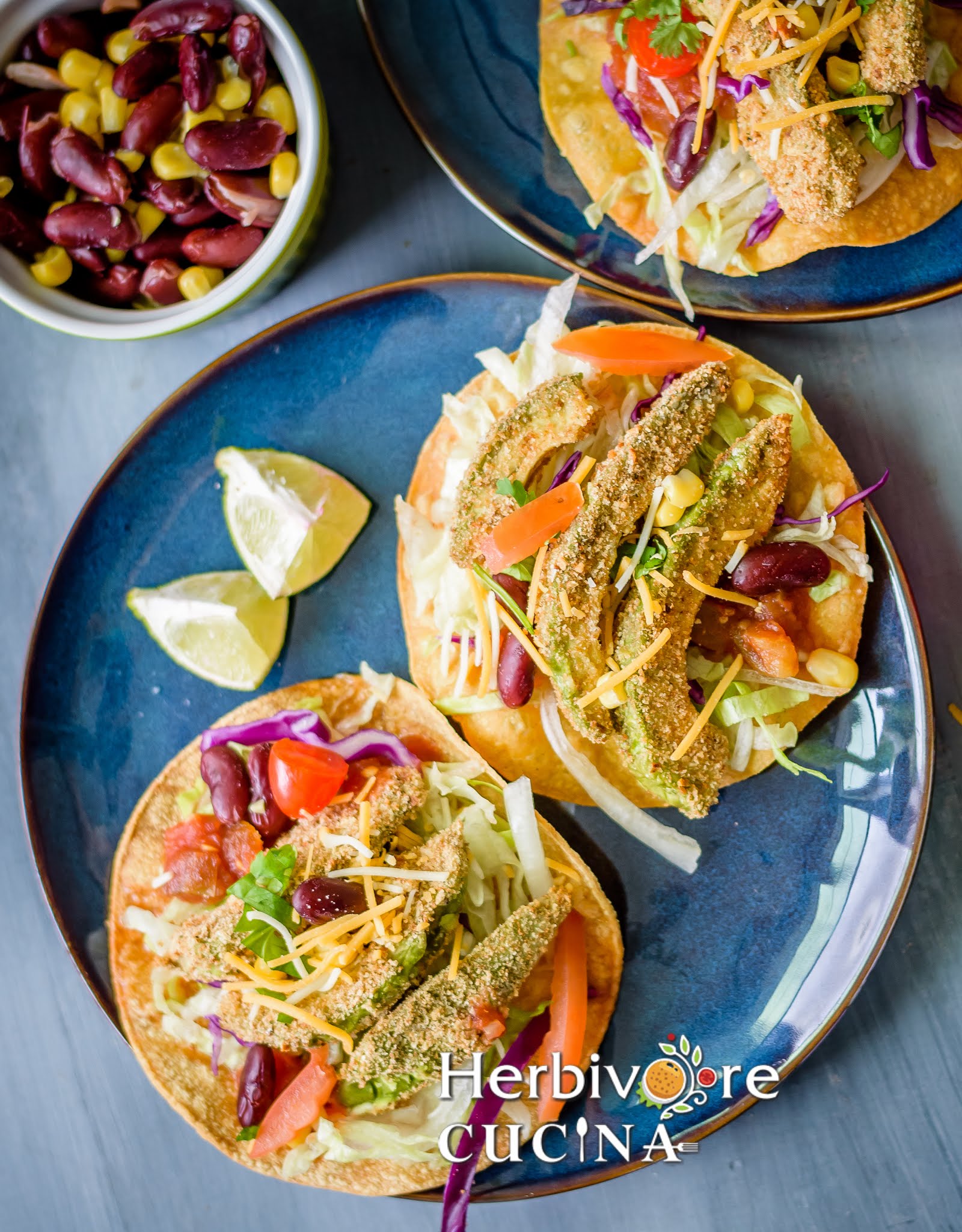 Variations
I made Tostadas using corn tortillas. Flour tortillas will work equally well. It depends on which ones you prefer.
The avocado 'fries' can be made in an air fryer too. Use your PAM Spray Pump Avocado Oil to avoid the avocado slices from sticking to the base.
As I have used a lot of avocado and overloaded my tostadas with them; I skipped guacamole from the recipe. The tostadas taste amazing with guacamole too. Sour cream is a great add-on to the recipe too. The toppings are endless and can be picked based on preference.
Ingredients
For the Baked Avocados
Avocado 1 ripe but firm
Cornstarch 1 tbsp
Water 3 tbsp
Bread crumbs ¼ cup
Taco Seasoning ¼ tsp
Salt and pepper to taste
PAM® Spray Pump Avocado Oil
For the Tostadas
Corn Tortilla 4
Lettuce and red cabbage 1 cup, shredded
Salsa 3-4 tablespoon (store bought or home made)
Kidney Beans ¼ cup, soaked overnight and boiled
Frozen Corn kernels ¼ cup
Mexican Cheese Blend 1 tbsp
Method
To make the Baked Avocado
In a bowl mix together corn starch and water. In a plate mix breadcrumbs, taco seasoning, salt and pepper.
Preheat oven to 350 F/ 180 C. Line a baking tray with parchment paper.
Peel the avocado and slice it into ½ inch slices. Set aside.
Dip each avocado slice in the cornstarch mixture and then in the breadcrumbs mixture. Place the slices on the baking tray.
Spray PAM Spray Pump Avocado Oil on the slices to ensure the breadcrumbs stick well.
Also, spray some PAM Spray Pump Avocado Oil on tortillas and place them on the baking tray.
Place the baking tray in the preheated oven for 10-12 minutes; till the crumbs are golden brown. Remove the avocado slices and continue to bake the tortillas till crisp. It should take another 5-6 minutes.
To make the Tostadas
Place the baked tortillas on plates. Spread shredded lettuce and cabbage on them. Next place 2-3 avocado fries on each tostada.
Add your favorite toppings. I added salsa, corn and bean salad and Mexican Cheese Blend. Serve immediately!