Quesadilla is a Mexican dish made from wheat or corn tortilla, topped with assorted vegetables, meats, guacamole, refried beans, mexican rice and shredded cheese. The whole thing is roasted on a grill or tava and served with multiple condiments. It is a very versatile dish that can be customized depending on your taste and preferences. Pick and choose your ingredients and make quesadilla in minutes.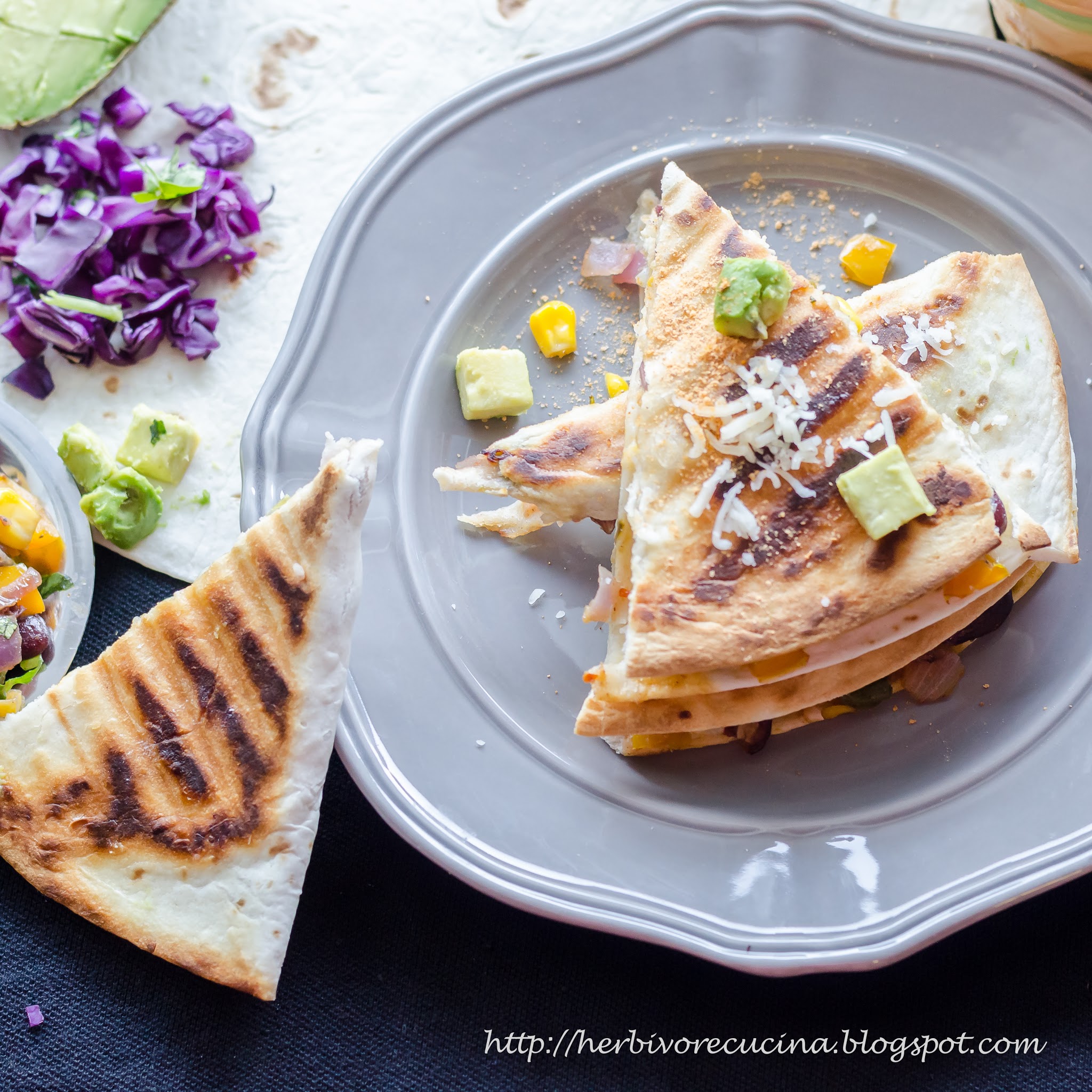 After moving to the US, quesadilla was one of the most eaten Mexican dish. The peculiarity of this dish is that every restaurant has it's own way of making it. The cheese quesadilla of Taco Bell is yummy but too cheesy for me. On the other hand, try the vegetarian breakfast quesadilla at Hobees. They are stuffed with mixed vegetables and beans and their gauc is to die for! I once had the vegetarian quesadilla at a small taqueria near Grand Canyon in Arizona and it was mainly stuffed with mexican rice and colored peppers. Last of all, I had this amazing vegetable quesadilla in Page which I try to replicate pretty often at home!
From all the combination I have had, I made these quesadilla with a combination of kidney beans, corn and fajita. You can also add half a cup of either mixed vegetables or that of brown rice to the mixture and make the quesadilla even more filling. The recipe here is a pretty simple one and once you have the filling made, making them for a party is child play!
A few months ago, I made the jain version of quesadilla for dinner. The process was pretty simple, remove garlic and onion from the filling, and replace with shredded cabbage. I also made guacamole with avocado, peppers and lots of lime juice. Also, a jain version of tomato salsa was served along with a side of sour cream. Making them jain was an experiment that was really delicious! Try this recipe and please a crowd.
Ingredients
Kidney Beans 1 cup
Garlic 2-3 cloves
Onion 1 medium, diced
Green and yellow pepper 1 each, diced
Corn ½ cup
Jalapeno 1 tbsp, minced
Cilantro, a pinch
Shredded Cheese 1 cup
Salt, pepper, oregano, lime juice
Taco seasoning
12 inch flour tortilla
Method
Soak 1 cup of black beans in water, overnight or atleast 6-7 hours. Pressure cook for 4-5 whistles to soften it. Heat butter in a saucepan, add minced garlic. Sauté the garlic, followed by diced onion, peppers and minced jalapeno. Once it is cooked, add the corn and drained boiled beans and mix well. Cook the beans and corn, and add salt, pepper, taco seasoning and lime juice. Turn down the heat, add chopped cilantro and set aside.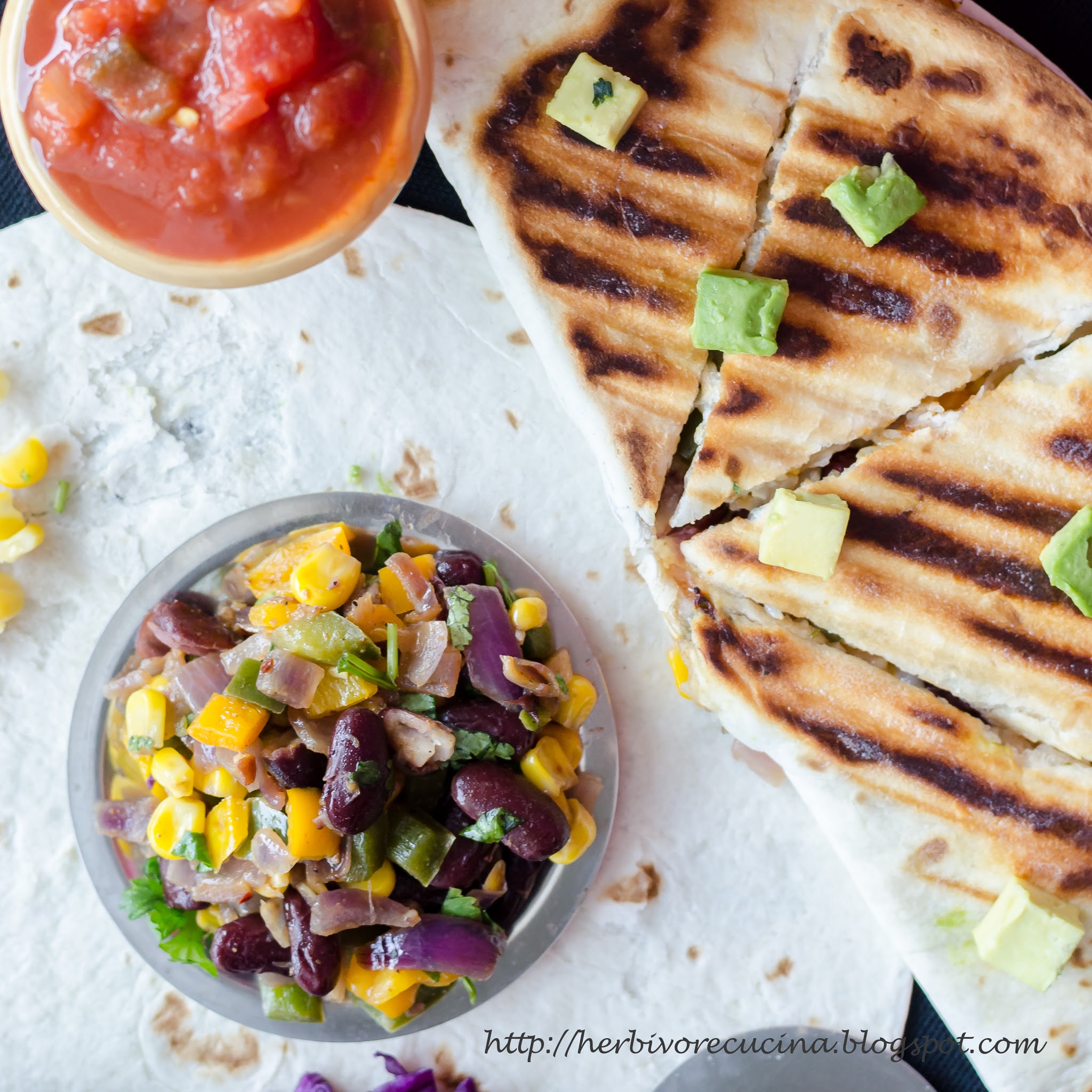 To assemble the quesadilla, lay one tortilla on the grill or tava. Let it cook for a minute and turn over. Spread a big spoon of the filling and add some shredded cheese on half of the tortilla. Season with a sprinkle of taco seasoning and fold the tortilla over. Seal the edges and apply some butter on the top and bottom of the quesadilla. If making in a grill, close the grill and let the quesadilla become crisp. If making it on a tava, brown one side and turn it over to brown the other side till crisp.
Once it is brown on both sides, remove in a plate and cut it into two or four parts. Top it with some shredded cheese if desired. Serve with a side of this Gaucamole, Fajita, Mild Salsa and Sour Cream.