Blogging Marathon #76 Week 1 Day 3
Theme: Vegetarian Grilling Recipes
Dish: Mexican Street Corn Salad
Creamy, cheesy and perfectly seasoned charred corn with red onions, jalapenos and Cotija cheese, this Mexican Street style Corn Salad recipe is a keeper!
Today we celebrated Cinco De Mayo, the day that marks the victory of Mexican army over the French in 1862. If you read the history and significance of this day, you will know that it is celebrated with more enthusiasm in US compared to Mexico! I completely agree with that.
I went to the Mexican store today to grab a few ingredients for dinner. And guess what, I could not find a single avocado! No small ones, no big ones; nothing at all! I realized how late I went shopping at that moment. But I prefer to buy avocados last, given how they suddenly ripen and go bad before I can use them. Learnt my lesson the hard way today!
So coming to this recipe, Grilled Corn Salad is an awesome yet easy Mexican dish to make. It takes only a few ingredients and the flavors are such that the salad is perfect with Mexican dishes or even as a salad!

Many recipes will make this salad from corn kernels in a pan. But when you are grilling on a weekend, it is fun to make this salad from grilled corn. It has the perfect flavor and can be made quickly too. When I grilled the cobs, I was almost ready to enjoy them with just a dash of lime and some salt. But I resisted and made this salad.

I was happy to find white corn and the kernels were super soft. The corn was grilled in 5-6 minutes, the remaining ingredients ready in another 5; the salad was ready in under 10 minutes. I grilled a few mini tortillas too. They puffed up just like pita breads. And it was super fun stuffing them with the salad and enjoying.

Making this salad in the summers with the grill is really great. But don't mistake the salad as a summer special. This salad is perfect all year round. And if you have an outdoor grill that cannot be used in rains or when it is super cold, read on to know how to make it without a grill.
Making the salad without a grill
If you do not have a grill, do not fret. You can still make this salad very easily. To do so, either grill the corn cob on an open flame or use kernels instead. To make this out of kernels, heat some oil/butter in a thick bottom pan. Add the kernels once the pan is hot. Let them cook for 6-7 minutes, till they look perfectly grilled. Then add the remaining ingredients and mix well.

Also, the pan style corn can be made on the grill if you cannot find corn on the cob. The flavor differs when you grill the kernels instead of the whole corn, but is still amazing!
Variations
While most of the ingredients are such that everyone can have access to it, Cojito Cheese might be a challenge for some. This is a Mexican cheese pretty similar to parmesan cheese. Substitute one for the other if you cannot find it.
Plus, I used a mayonnaise with egg in it. To make a truly vegetarian version, use a mayo that is free from egg. The salad can be served with a lot of tortilla chips or as a part of a burrito bowl. Better still, just dig in with a fork!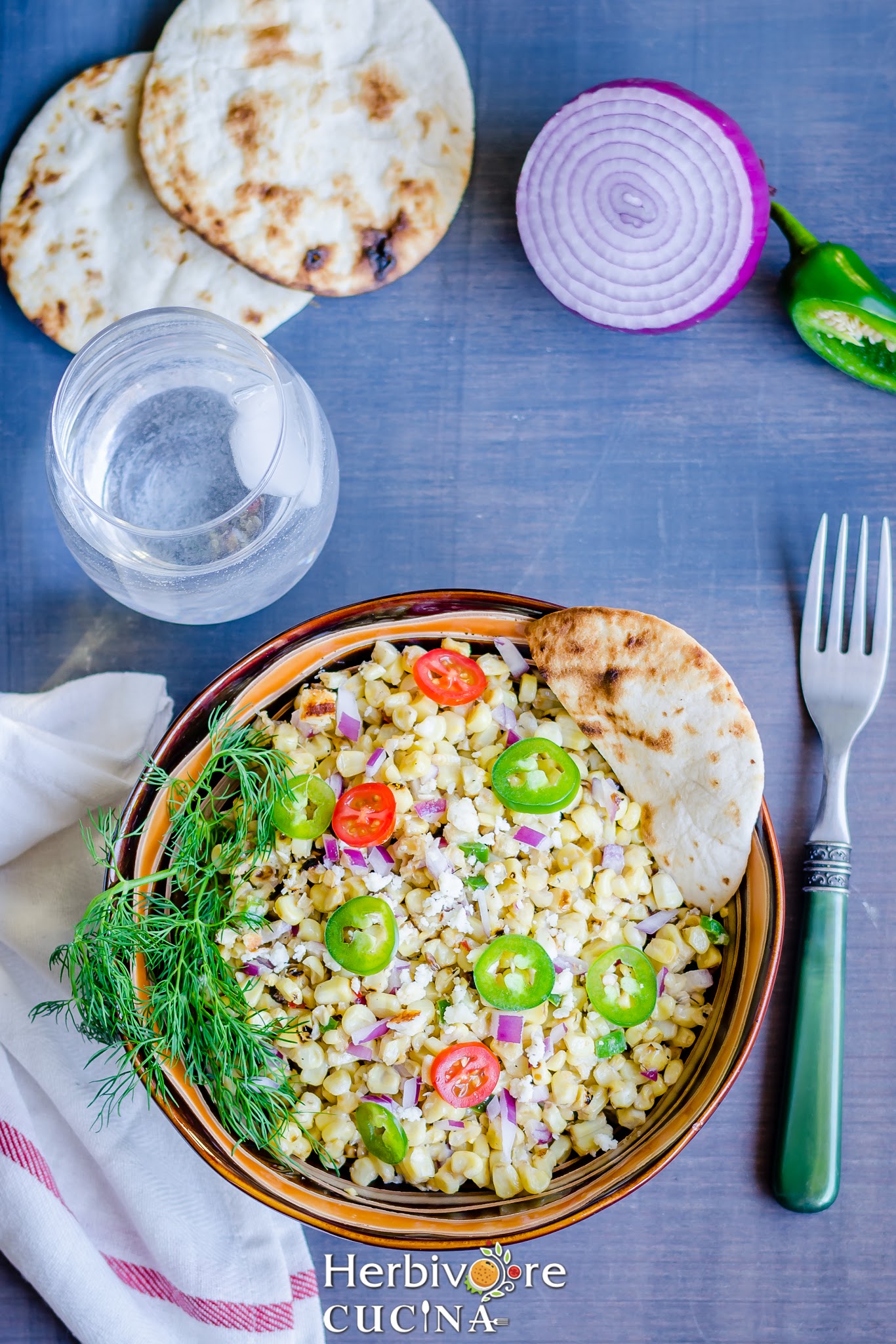 Ingredients
Corn cobs 2
Pink Onion 1 medium, diced
Garlic 1-2 cloves, minced
Jalapeno ½ diced
Cojito Cheese/ Parmesan Cheese ¼ cup
Mayonnaise 2 tbsp
Salt 1 tsp
Pepper powder 1 tsp
Oil 1 tsp
Dill leaves, Cilantro and Jalapeno to top
Method


Grill the corn on an open grill. Alternatively, use a gas stove to grill. Make sure all the sides are cooked evenly to a light brown color.

Remove the corn kernels and set aside. In a pan heat the oil. Add the garlic and saute till the raw flavor vanishes. Add the jalapeno and onions. Saute for a minute and turn down the flame.

Add all the remaining ingredients, mix well and serve topped with Dill leaves, Cilantro and Jalapeno slices.
This salad tastes really good at room temperature and warmed up. We enjoyed it with a side of freshly grilled mini tortillas.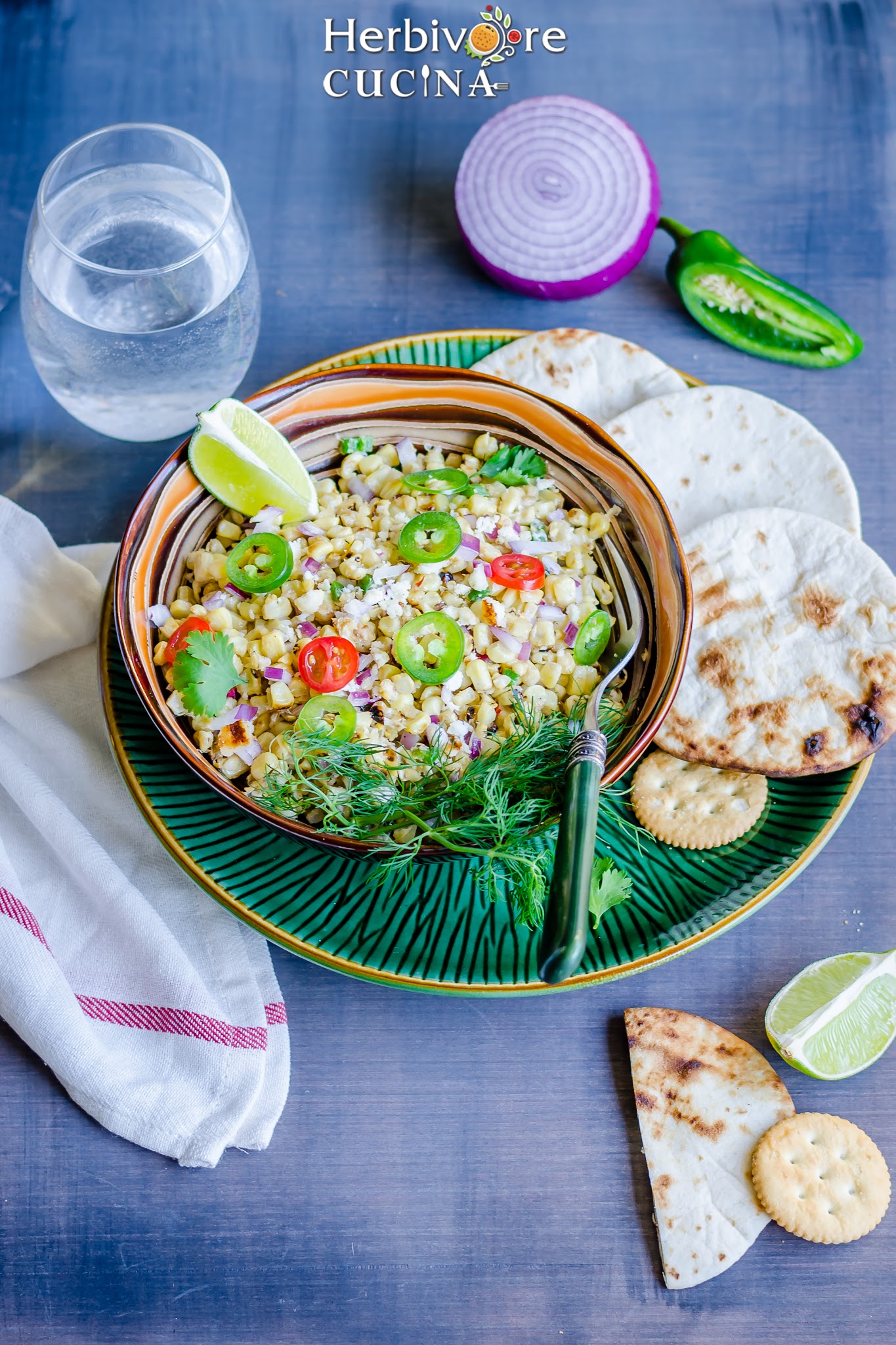 Check out the Blogging Marathon page to see what the other Blogging Marathoners are doing for this BM.