Spice up your dinner with this Vegetarian Enchilada; tortilla stuffed with corn and beans; and baked in a rich home-made Enchilada sauce!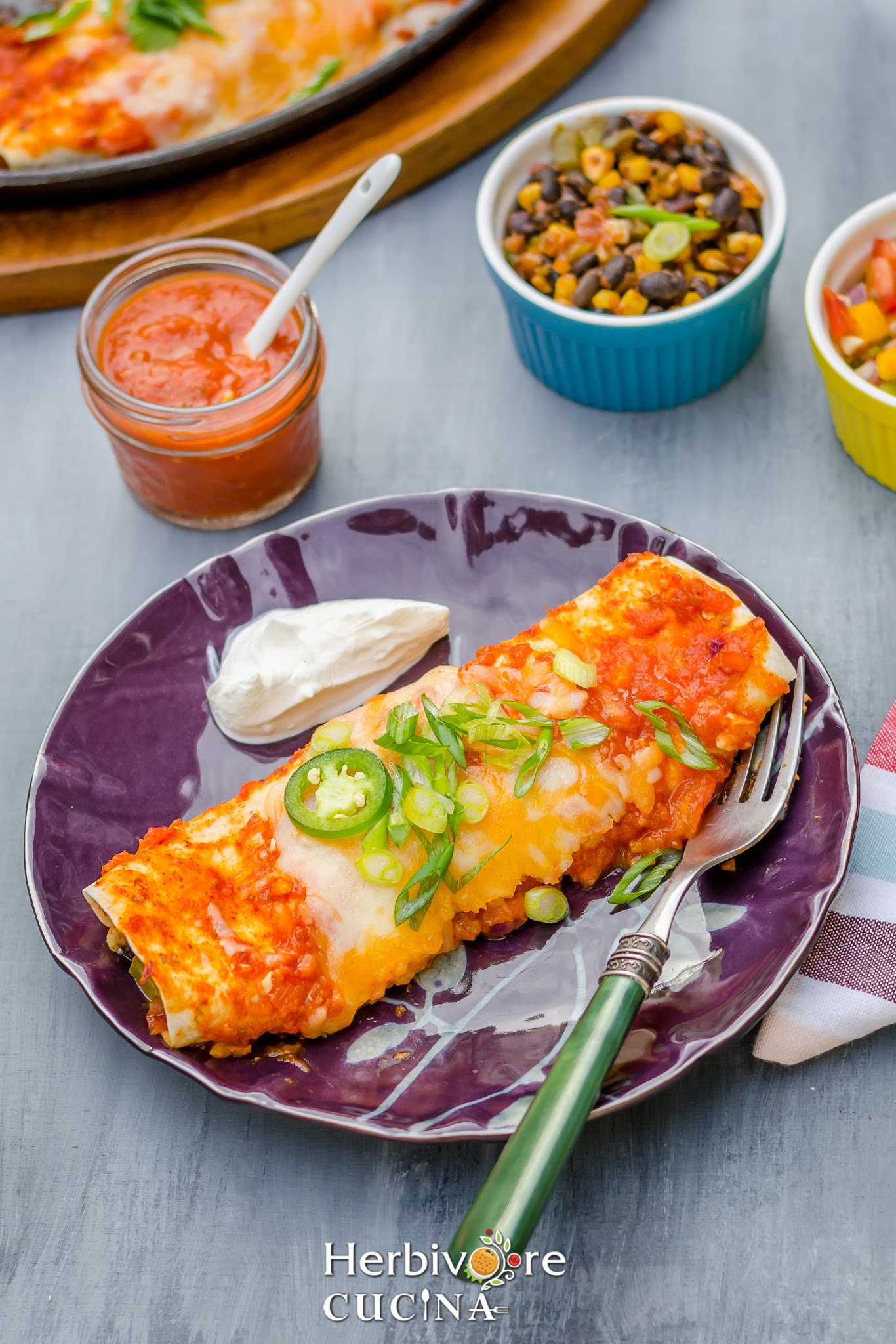 Cinco De Mayo is here and I cannot wait for a yummy Fiesta! To start the preparation I first made a Vegan Enchilada Sauce. Using that sauce I made this delicious vegetarian enchilada.
Enchilada, a Mexican delicacy made from corn tortilla and fillings. The fillings range from vegetables and beans to meats and potato. The tortilla is rolled and placed in a pool of sauce, generally made from tomato and peppers. Sometimes it is also made in a delicious Mole Sauce, a condiment from Mexico that had chocolate powder added in it.
While I make other delicacies like tacos and nachos very often, enchilada is something that I did not make as much. I do not really like the enchilada sauces from the stores and the recipe I had was really powdery and not appetizing. Finally, I made my own version of the sauce and now I make Enchiladas a lot!
The sauce is Vegan and can be made in advance. Now I always have the sauce in my refrigerator. The filling in this enchilada is a yummy combination of black bean and corn. Adding rice to the enchilada is a great idea too. Sometimes when I want a really easy enchilada, I make this Mexican Rice and stuff the tortilla with it. It is not only quick, but also super easy.
The rice and sauce can be made before hand and all you need to do is bake the enchilada when ready to eat. Alternatively, make a BIG lot of the enchilada and freeze it for weeknight meals. To enjoy the frozen enchiladas, just thaw them and bake for 3-4 minutes. The cheese will melt again and the sauce will become perfect to enjoy.
In this recipe I kept the filling really simple. The only flavoring is the Taco Seasoning. This is so that the flavors of the sauce come through really well. Combined with the sauce and cheese, the enchiladas are super YUM!
The best thing I like in this Enchilada is the combination of flavors. The flavorful sauce, simple filling and slightly crunchy tortilla combines to make a yummy dish.
Make this delicious recipe for the Fiesta and serve it with Sour Cream, Guacamole, Salsa and Beans. And do not forget to check out these Mexican dishes from the blog:
Ingredients
Medium size Corn/ Flour Tortilla 2
Enchilada Sauce 1 cup (recipe here--> Enchilada Sauce)
Black beans ¾ cup, soaked overnight
Fresh/ Frozen Corn Kernels ½ cup
Onion 1 medium, diced
Pepper 1 medium, diced
Garlic 2-3 pods, diced
Bay Leaf 1
Oil 1 tbsp
Taco seasoning 1 tsp
Salt ½ tsp
Mexican Shredded Cheese ½ cup
Spring onions and sliced jalapeno to top
Method
Pressure cook the soaked black beans with ½ cup water, salt and bay leaf.
In a pan heat oil. Add the garlic and saute till soft. Then add onion and peppers, saute till soft.
Add ¼ cup Enchilada Sauce, cooked black beans and corn kernels. Mix well and cook for 4-5 minutes, till it becomes dry.
Add the taco seasoning and adjust salt if required. Mix and turn down the flame.
Place a tortilla and spread a tablespoon of enchilada sauce on it. Place half the bean mixture and sprinkle some cheese. Roll the tortilla and repeat for the other tortilla too.
In an oven resistant tray or platter spread some enchilada sauce. Place the rolled enchiladas and pour the remaining sauce on it. Sprinkle cheese and some taco seasoning.
Bake at 350 F/ 180 C for 12-15 minutes; till the sauce starts to bubble and the cheese melts. Remove and top with sliced jalapeno and spring onion. Serve with mango salsa, sour cream and refried beans.