Blogging Marathon #68 Week 3 Day 2
Theme: Entree
Dish: Vegan Cuban Beans from here


Today is day two of Entrees in the month long Cooking Carnival and I am making Cuban Beans today. Since the time I ate at a local Cuban place in Little Havana, Miami I have been wanting to make the beans at home. But I could never settle for a recipe that was vegetarian and easy to make. While browsing on Foodgawker for a Cuban recipe, I chanced on Pavani's Vegan Beans and I HAD to make them. They looked so much like the ones I had at Little Havana and finally I ended up making them.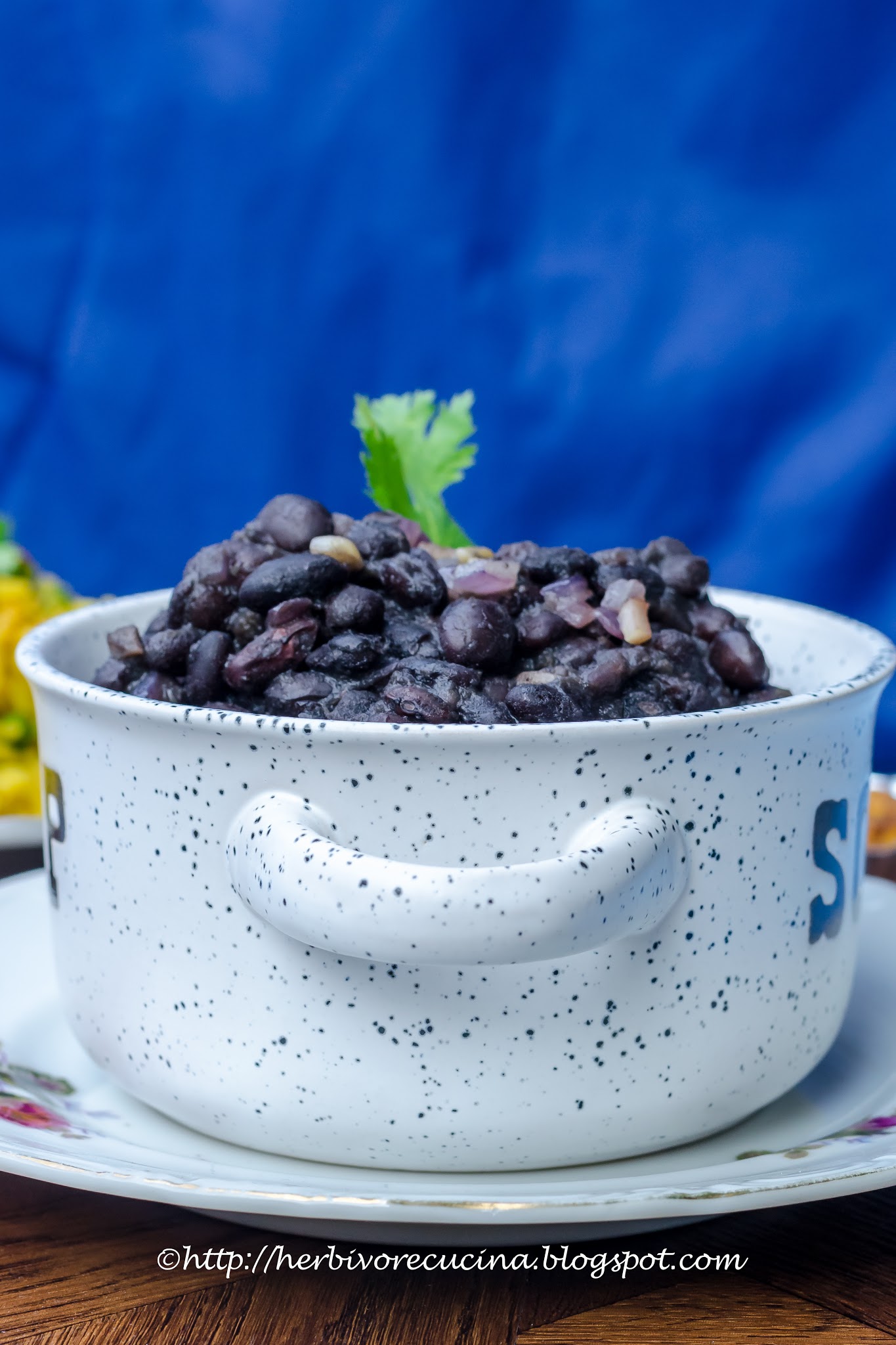 I made them a few days ago along with the yellow Cuban Rice. However, it was a cloudy day and the beans were really dark to shoot. I managed a few shots but was not sure if this recipe would make it to the Marathon. But my husband agreed to edit a few for me, just in case I changed my mind of including the beans. Though I had given up on them, he did quite a good job and now the beans no longer look like a black blob in a white bowl! So this dish is in the Marathon and I am glad.
As Pavani mentions in her post, these beans are not really served with the Cuban Yellow Rice. However I bought myself Annatto Seed powder and wanted to make the rice. So I made them and served the beans and rice with a side of baked plantain. To make those, I simply removed the skin from the plantain, sliced and baked them with salt, pepper and olive oil. It tasted similar to banana chips but was a perfect crunch to the otherwise soft meal.
We loved these beans. Especially because they are pretty different from Indian beans. There is no chilli, no turmeric and no lemon juice etc. A simple combination of cumin, black pepper and vinegar gives the beans a really wonderful flavor. The flavor from the garlic, onion and pepper is deep in the beans, given that they are boiled with the beans. The combination was interesting and I am sure I will explore some more Cuban cooking after this recipe!
Ingredients


Black Beans 1 cup soaked overnight
Onion 2 medium (1 diced, 1 quartered)
Pepper 2 medium (1 diced, 1 quartered)
Garlic 2 pods minced, 2 whole
Bay Leaf 1-2
Cumin Powder 1 tsp
Vinegar 1 tsp
Olive Oil 2 tbsp
Salt and Pepper

Method


Rinse the soaked beans and place them in a pressure cooker with the whole garlic pods, quartered onion and pepper. Add a pinch of salt and pressure cook for 3-4 whistles.

Once the pressure is settled, open the cooker and remove the onion, peppers and garlic. Blend to a paste and add it back to the beans. Boil the beans in the open pressure cooker.

In a pan heat oil. Add the bay leaf and remaining garlic, onion and pepper. Saute till the onion and pepper is cooked. Add the mixture to the beans. Also add the vinegar, cumin powder and salt and pepper to taste. Bring to a boil and turn down the heat in 12-15 minutes. Serve with steamed rice or cuban rice and fried or baked plantain.