A regional favorite with a Hispanic heritage, the Chimichanga is the pride of Southern Arizona. Chimichanga is almost considered as the official dish of Arizona, having originated here and spread across US ever since!
Not amongst the most common tex-mex dishes served outside of Arizona and Mexico, this distinctive dish is essentially a deep fried burrito filled with beans and mexican rice and served with a side of fajita, salsa, sour cream and Gaucamole.
Here, I make a healthy version of it; i.e without frying the burrito! Instead, just add a dash of butter in a pan and pan-fry them or even bake them to get a crisp top and bottom! It tastes the same and is much healthier.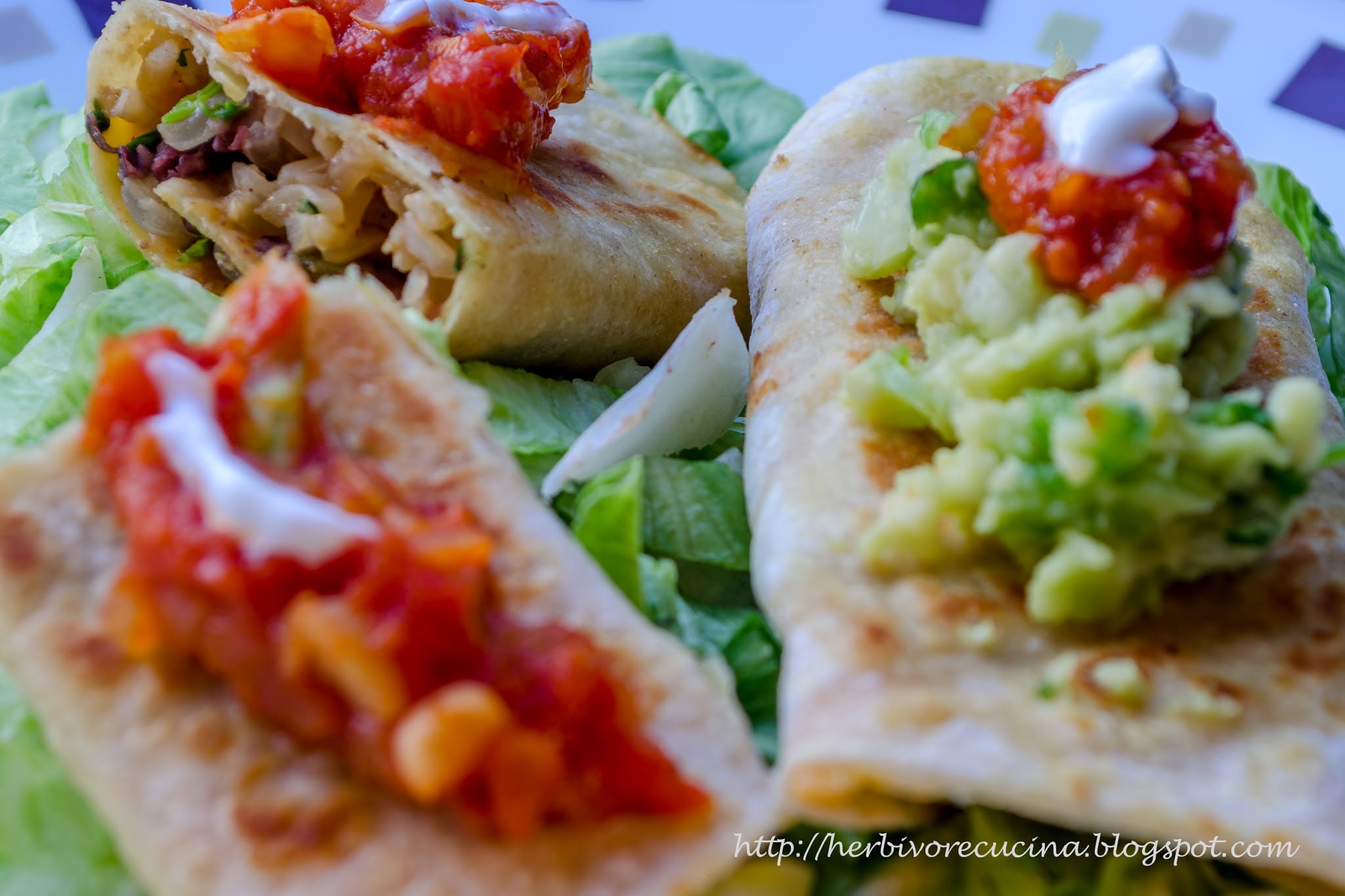 Ingredients
Tortilla
Gaucamole
Mild Salsa
Sour Cream
Shredded Lettuce
Mexican Shredded Cheese
Black Beans
Lime-Cilantro Rice
Butter/Oil
Getting the various ingredients ready
Homemade Refried Beans
Soak 1 cup of black beans in water, overnight or atleast 6-7 hours. Heat butter in a saucepan, add minced garlic. Sauté the garlic, followed by finely diced onion and minced jalepeno. Once it is cooked, add the drained boiled beans and mix well. Cook the beans, and add salt, pepper, taco seasoning and lime juice. Turn down the heat and set aside.
Cilantro lime rice
Cook 1 cup of brown rice. Get butter in a skillet, add in minced garlic and sauté. After that, add the rice, lime juice, salt and cilantro. Mix well. Set aside.
Gaucamole
1 cup of Gaucamole, following the recipe here..Chunky Gaucamole
Mexican Fajita
A cup of fajita,prepared as directed here..Mexican Fajita
Mild Salsa
Make the mild salsa as shown here..Mild Salsa. Quantity depends on individual taste.
Putting the Chimi together
Take a tortilla(use a 6 inch one to make small or bite size chimichanga, and larger ones to serve as entree). Heat it in a microwave so that it becomes soft and foldable.
Spread salsa on the tortilla, top it with brown rice, beans and fajita. In order to seal the tortilla, I used cheese! Sprinkle cheese on the sides, microwave for about 15-30 seconds, till the cheese melts. Take the Chimichanga out of the microwave, fold the two opposite sides and use the molten cheese as a natural sealant! Fold over the other two sides and seal them too.
Add butter in a skillet. Put the Chimichanga in there, the seam side down. Let it turn golden brown, before turning it over. Once both sides are brown, take it off the flame.
For a colorful Mexican fiesta, place shredded lettuce on the serving plate. Set the chimichangas on it. Top with salsa, gaucamole and sour cream. Serve with a side of chips or tortilla soup.