Today is Friday and it calls for something yummy yet simple to make. Today is also the fifth day of posting appetizers for the Cooking Carnival. After Asian, Greek, Indian and Indo-Chinese, today it is time for Mexican. We love Mexican food but sometimes I get super bored making all the various components of this cuisine. But the love for the cuisine keeps me going!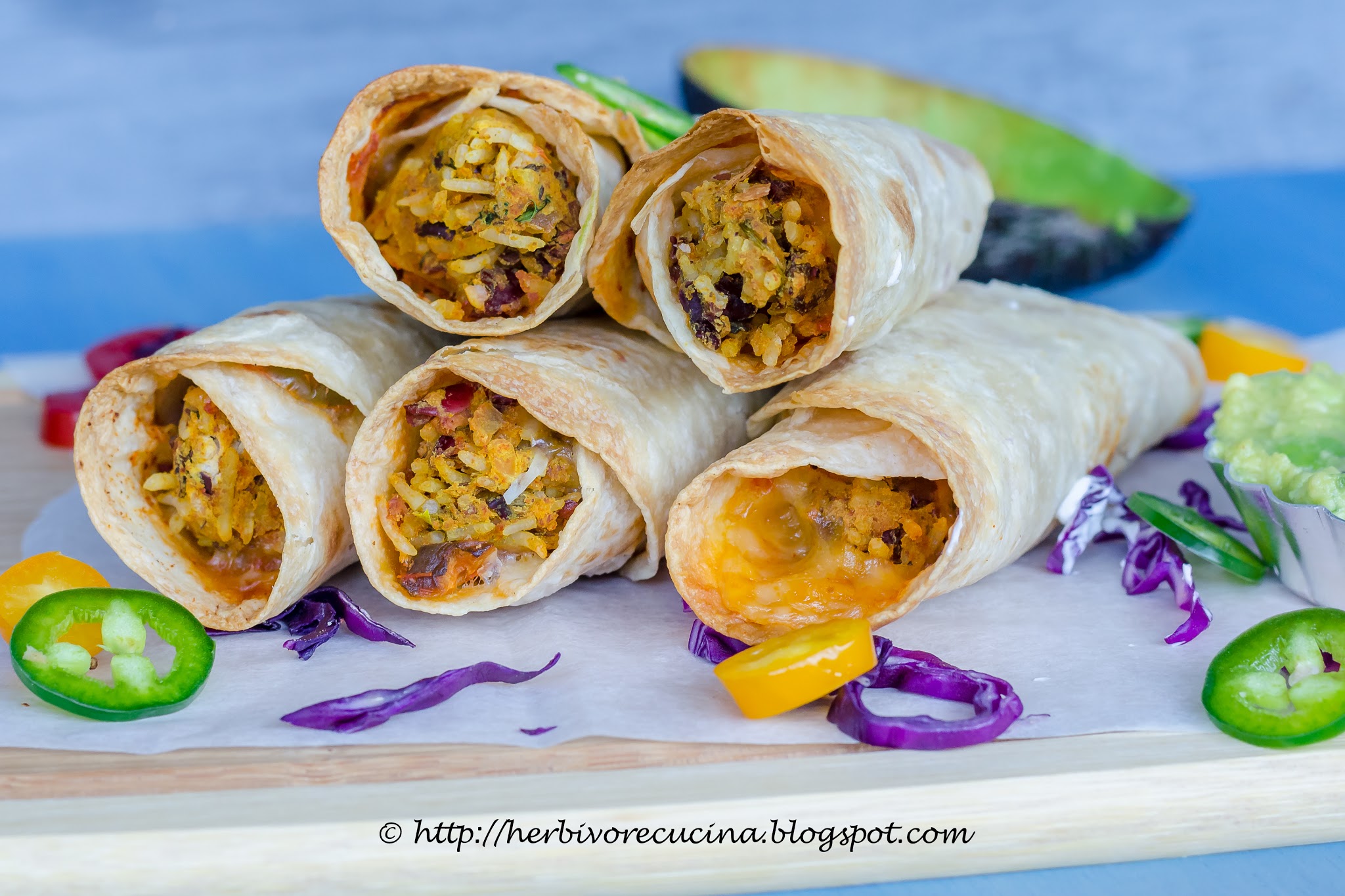 For today, I made bean and rice taquitos. I had the best taquitos in Mexico at a food truck. Taquitos or rolled tacos or flautas are deep fried tortillas filled with beef, chicken, beans or cheese. They are generally served with green or red tomato salsa and sour cream. Being a vegetarian, I made them filled with beans and rice. And, I baked them instead of frying. Made it really simple to make and yet super tasty.

I have made a few other kinds of flautas too, mainly stuffed with fajita or mixed vegetables or just cheese. Out of all the ones I made, this one is my favorite. The recipe needs just the basic ingredients from the refrigerator and pantry. Here I have made the tomato base from scratch, added beans and rice to it and stuffed it with cheese in tortillas. Though the process is pretty easy, it can be further simplified by using homemade or store bought salsa and adding boiled beans and cooked rice to it.

For parties, it is really easy to assemble the flautas before hand. When ready to serve, just bake them and you are all set. These rolled tacos are best enjoyed hot, given that it has cheese and cooked cheese when cool turns pretty hard. These are perfect for a snack too, and I love them with a side of guacamole. Try these and I shall be back with the last appetizer of the series tomorrow.


Ingredients


Black Beans ½ cup soaked overnight
Rice ½ cup
Garlic 2-3 pods, minced
Pink Onion ½ medium, diced
Jalapeno 1 medium, minced
Pepper ½ medium, diced
Tomato 1 medium, pureed
Taco Seasoning 1 tsp
Mexican Cheese Blend ¼ cup
Salt, Pepper to taste
Oil 1 tsp
Tortilla, Salsa, Guacamole and Sour cream as needed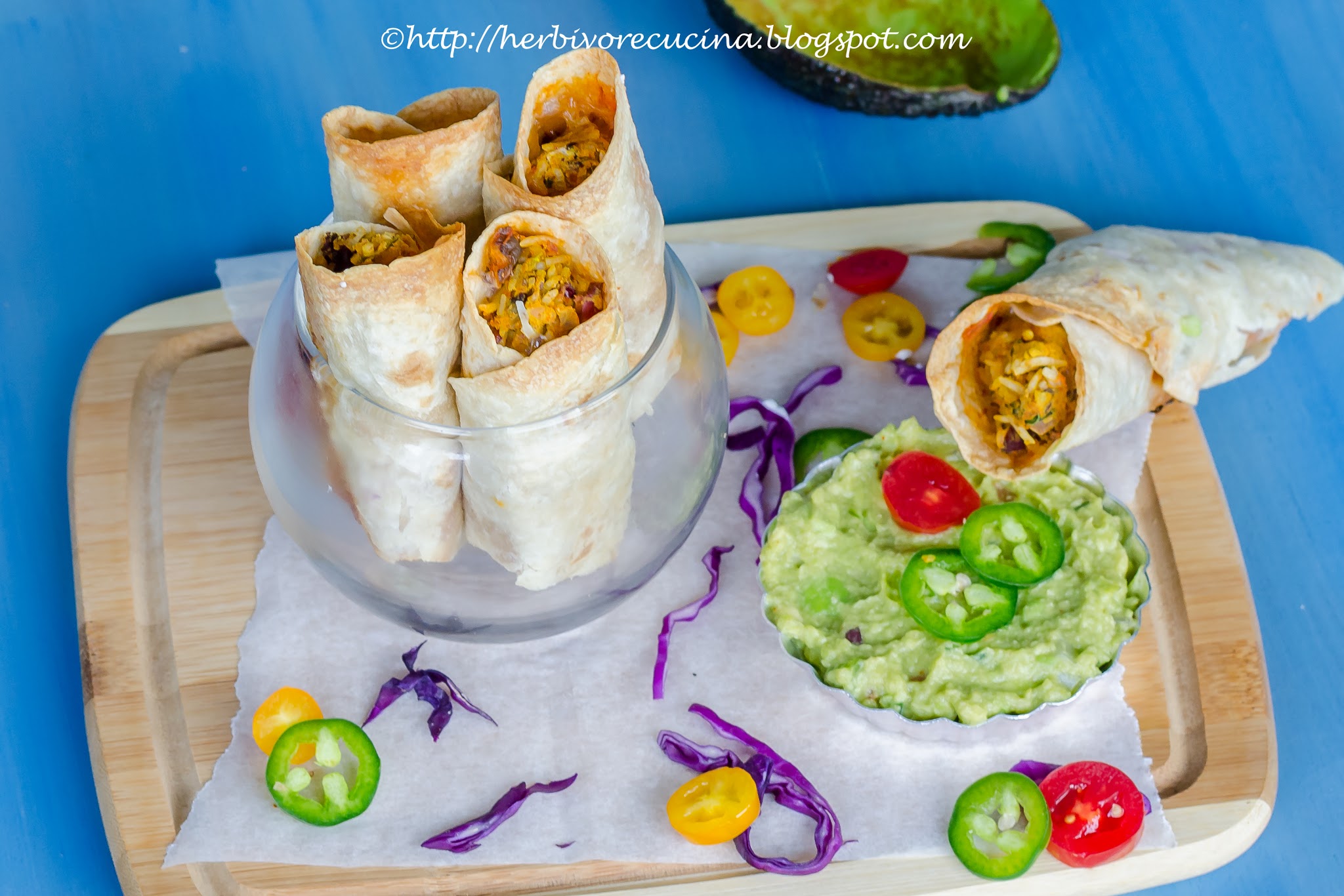 Method
Pressure cook beans and rice separately. In a pan, heat oil. Add garlic and saute till flavorful. Then add jalapeno, onion and peppers. Mix well and cook till onions are soft. Then add tomato puree and taco seasoning. Mix well and bring to a boil.
Once the mixture is boiling, add drained beans. Mix well and cook till the mixture is almost dry. Then, add the rice and season with salt and pepper. Mix and turn down the flame.
To make the taquitos, place a tortilla and place cheese blend in the centre. Place a tablespoon of filling and roll into a tight roll. Preheat oven to 400 F. In a baking tray, place the taquitos seam side down and bake for 20-25 minutes, turning them over mid-way.
Once the taquitos are brown on all sides, remove and serve with salsa, sour cream and guacamole.