Blogging Marathon #68 Week 2 Day 1
Theme: Appetizers
Dish: Vegan Lettuce Wraps


After the first week of soups, today we start with a fresh week of Cooking Carnival. For this week my theme is Appetizers. Each day of the week I shall bring a different appetizer for you. Each appetizer is from my favorites list, yes if I ever have to make a choice between appetizer and desserts, I pick the savory appetizer nine out of ten times! I love finger foods and for a moment I was going to choose that as my theme for the month. But finally I gave up the idea and decided to do it for a a week. Even for a week of appetizers, I made ten and bringing my favorite six for you.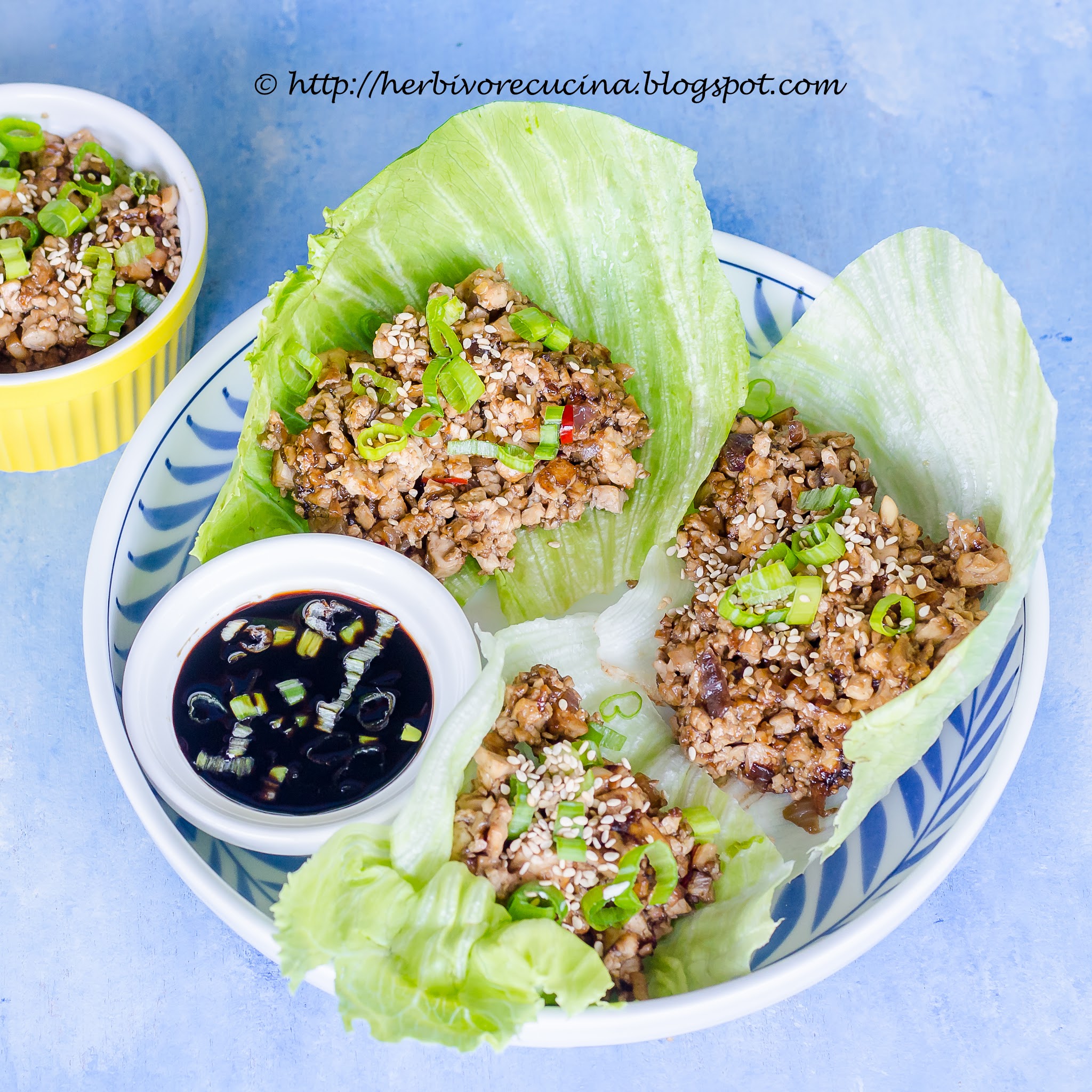 The first appetizer is made of tofu, mushrooms, spices and lots of lettuce leaves. This one is pretty quick to make and not very difficult to scale up for a party. The recipe involves making a tofu and mushroom saute, a simple sauce and lining up lettuce leaves next to them. Each person makes their own wraps with as much stuffing and sauce as they desire. I love to have this with sriracha sauce too. It tastes really hot but yummy.
I first had this at an Asian restaurant and fell in love with it. After a few experimentations and a few recipe ideas online, I now follow this recipe for making the wraps. While the original recipe has meat, adding mushrooms gives the meaty texture to the filling. If you make it with just tofu, the taste will be just as good, but to me that feels a little like Bhurjee or Sofritas. So I like to add mushrooms. For those who do not enjoy mushrooms as much as us, try adding some water chestnuts. They work really well in the recipe too.

When making the dish for a crowd, just make the stuffing based on how spicy the guests can handle. Then keep a few sauces like sweet chilli, spicy sriracha and tangy soy vinegar dip. If you cannot find iceberg lettuce, use romaine lettuce. Just wash and put the lettuce with the rest of the ingredients. Your Vegan Wrap station is all set!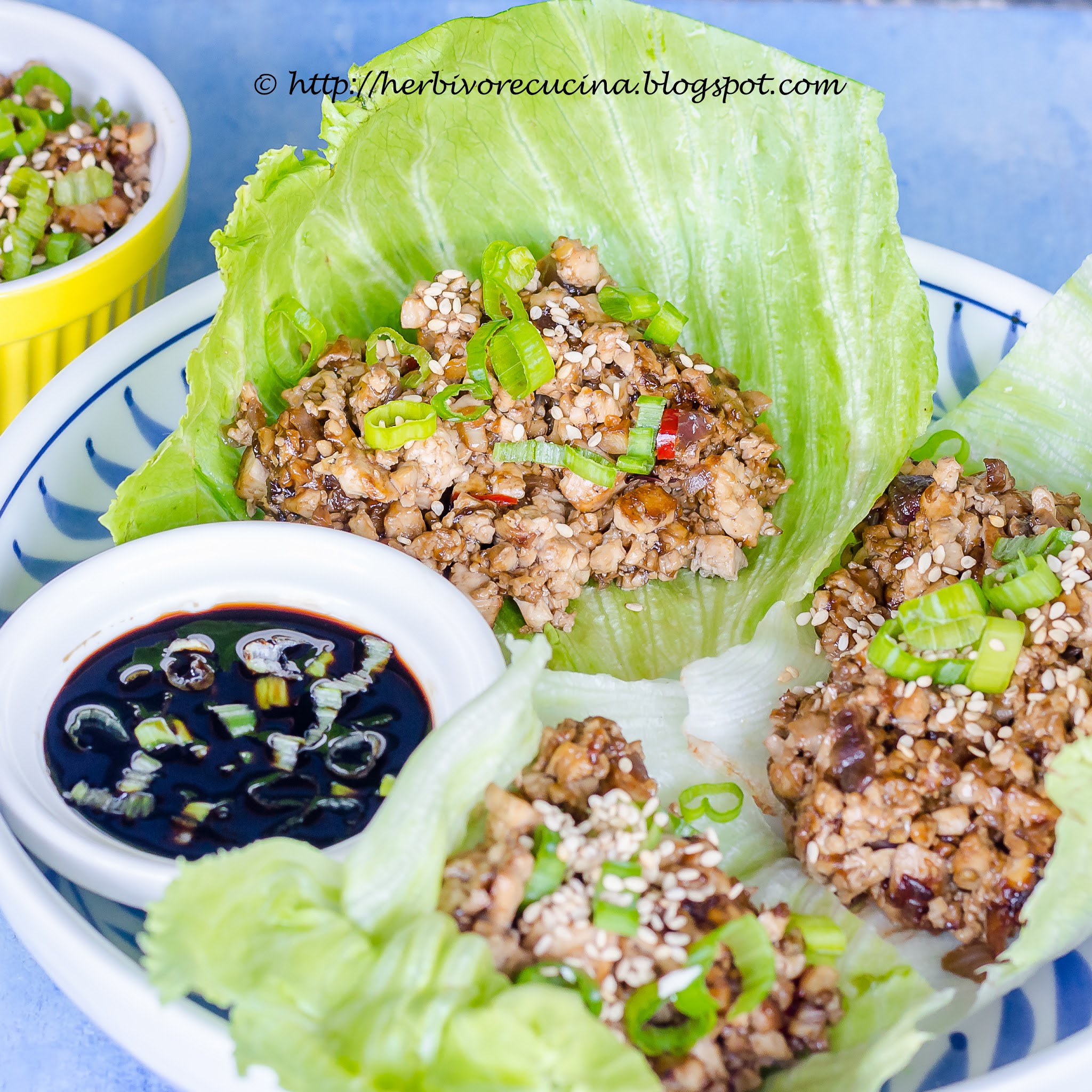 Ingredients
Lettuce 1 head
Tofu 1 box, firm
Mushroom ½ cup, minced
Thai Red Chilli 2-3 (based on preference)
Pink Onion ½, diced
Garlic 4-5 pods, minced
Ginger 1 inch piece, grated
Spring Onion greens 4-5 stalks
Soy Sauce/Tamari 2 tbsp
Vinegar 1 tsp
Green Chilli Sauce 1- 1 ½ tsp
Vegetable Oil 1 tbsp
Chilli Oil a few drops
Salt 1 tsp
Chinese Salt 1 teaspoon (optional)
Black Pepper a pinch
Toasted Sesame seeds a handful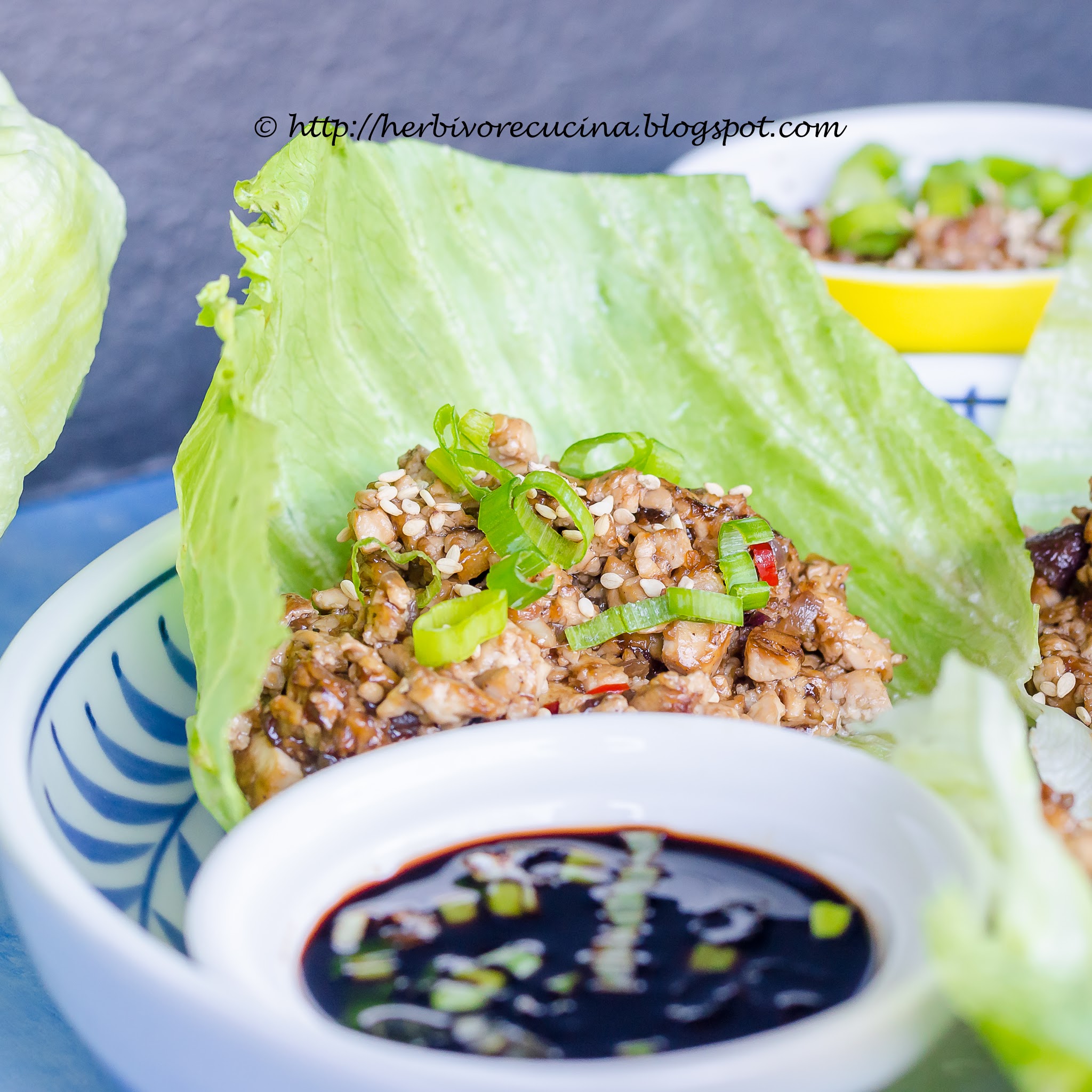 Method
Wash the lettuce head and separate the leaves. Soak the leaves in ice cold water to keep them firm. Remove and dry just before serving.
Press tofu between kitchen napkins to remove all the moisture. Once dry, mince it and set aside. In a pan, heat oil and chilli oil. Add garlic and ginger, saute till flavorful. Next, the thai chilli. Once it splutters, add onion and saute till soft. Next add the mushroom and tofu and mix well. Cook on high flame for 4-5 minutes. Season with salt, pepper and chinese salt (if using).
Set the flame to high and cook till the mixture is dry, stirring continuously to ensure it does not stick to the bottom of the pan. Once the tofu becomes dry, add chilli sauce, vinegar and soy sauce. Mix well and remove from flame. Sprinkle toasted sesame seeds and spring onion greens.
To make an easy dipping sauce, mix 2 tablespoon soy sauce with ½ teaspoon vinegar and a handful of spring onion greens.
To eat, take a lettuce leaf, add about two tablespoon of the tofu filling and sprinkle some sauce. Roll it up and enjoy!
Check out the Blogging Marathon page to see what the other Blogging Marathoners are doing BM# 68