Blogging Marathon #66 Week 2 Day 1
Theme: Sandwiches without bread
Dish: Tofu Tikka Naan-Wich


Today we start with week two of this month's Blogging Marathon. My theme for this week is sandwich without bread. When I opted for this theme, I was not very confident about it. I asked Valli for some clarification and I ended up learning that we could make anything that is in layers, i.e. some filling between two layers of crust. I searched on Foodgawker and Pinterest and ended up finding a ton of recipes. Then I was not sure which ones to make. So I ended up discussing the theme with my best friend, and she suggested a Naan Sandwich. She said I could do a cutlet with rajma or paneer, but I modified that and used these Tofu Tikka Skewers as filling.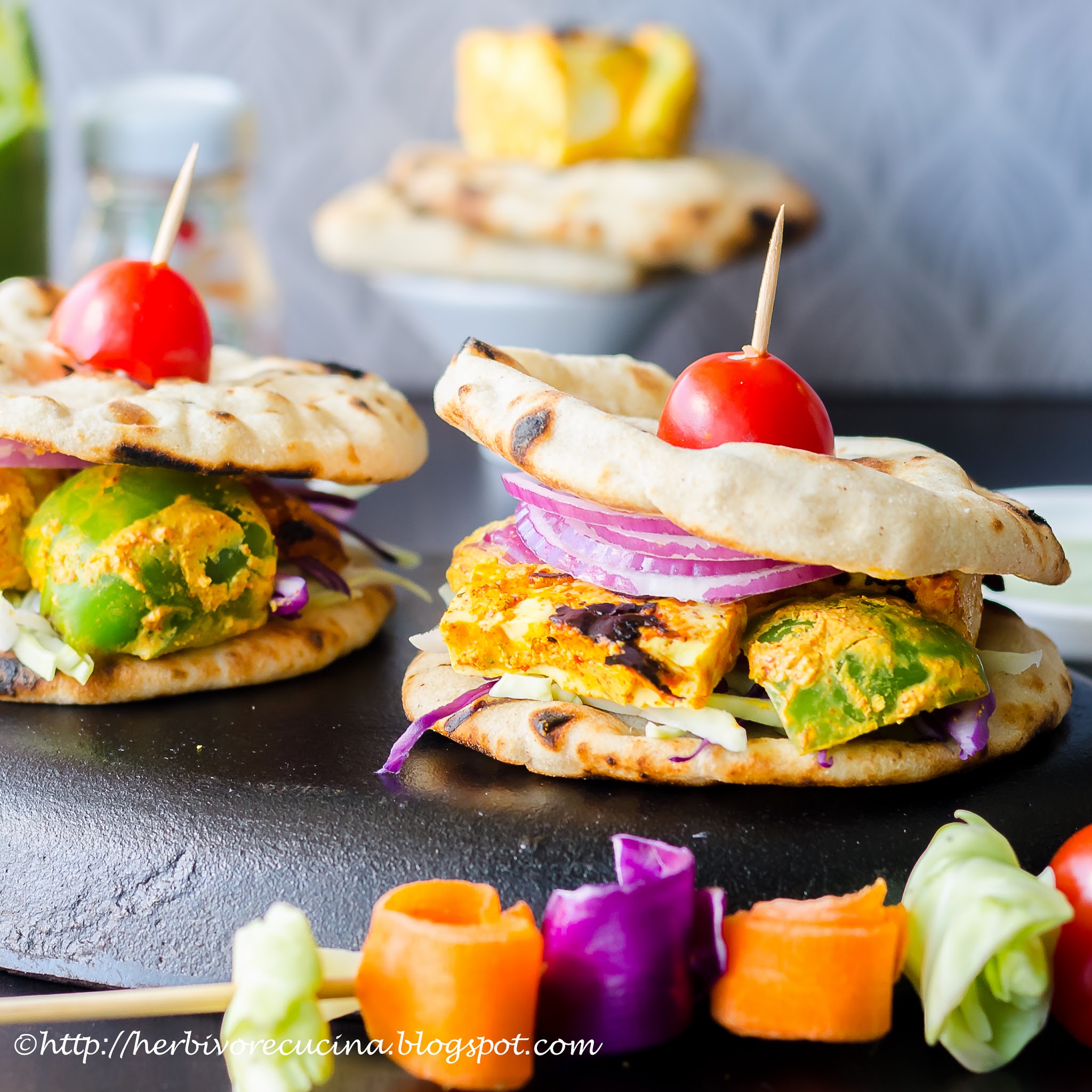 For lunch, I made the Tofu Pepper and Onion skewers marinated in spiced greek yogurt. Also, using my favorite Naan recipe, I made four inches naans, topped with onion seeds (kalonji). Make them nice and toasted, and use the skewers and naan along with mint and cilantro flavored yogurt and vinegar dipped onions to make the naan-wich. If you prefer, you can add sliced onions, lettuce, tomatoes or tomato ketchup to the naan-wich.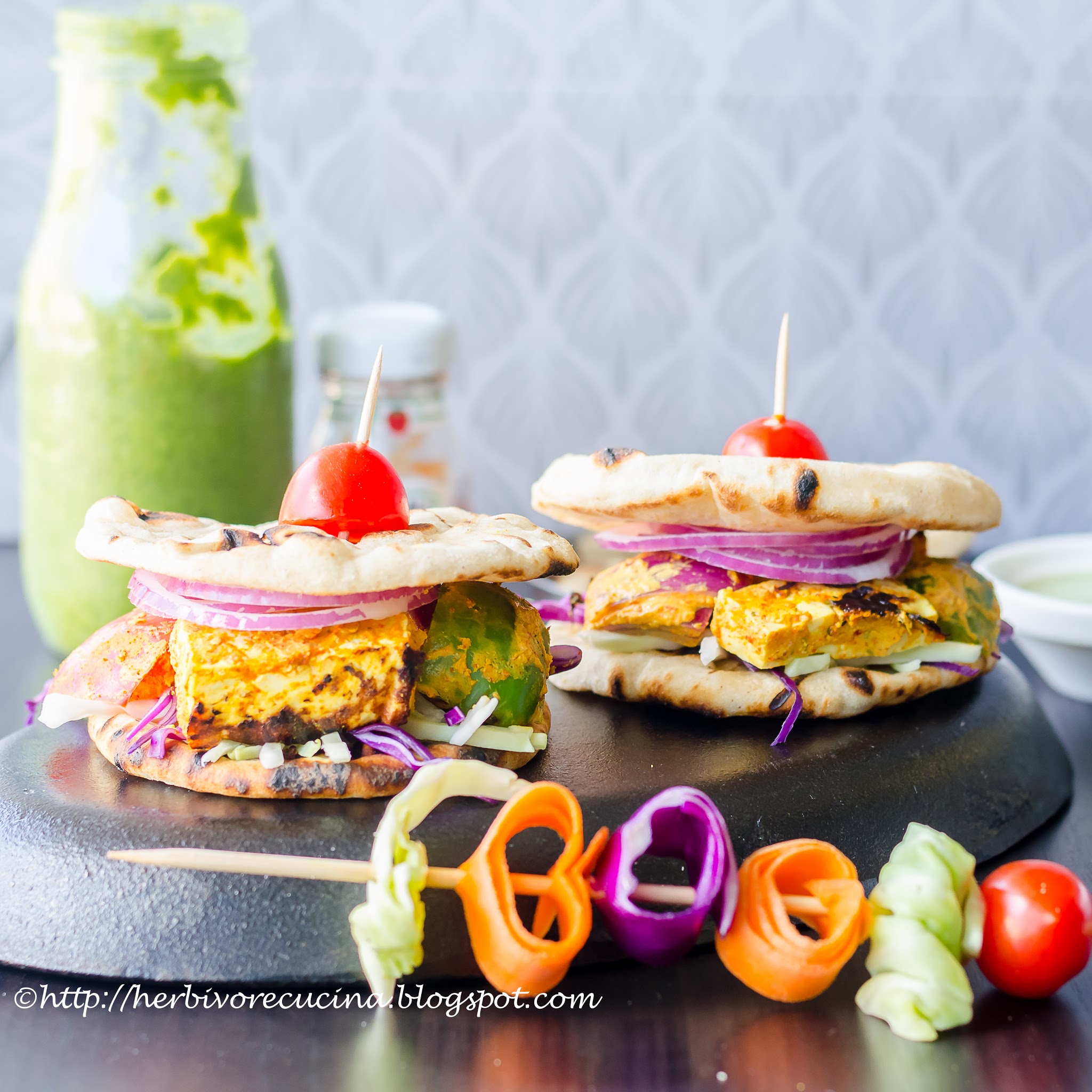 If making this sandwich for a party, it would be a great idea to grill the fillings and make the Naans before hand. Then, serve various toppings and condiments as a make-it-yourself sandwich bar. Also, if you don't like or can't find tofu, use grilled vegetables or paneer tikka to make these naan-wiches. The dish turned out super and were really stuffed at the end of our meal! Thank God for all the soda we had to digest the heavy Sunday meal.


It is so wonderful how these themes get us to think beyond the ordinary and come up with something different. Last week I posted a Naan Pizza, today a Naan-wich. Love the way fusing cuisines leads us to such flavorful combinations! Come back tomorrow for another sandwich without bread.
Ingredients
Naan 12
Tofu Tikka 3 skewers
Green and Red cabbage ¼ cup shredded
Sliced Onions
Mint Cilantro Yogurt
Cilantro 1 cup
Mint ¼ cup
Green Chilli 2-3
Garlic Ginger paste 1 tsp
Greek Yogurt ¼ cup
Salt, Sugar, Lime Juice
Vinegar Onions
Pink onions 2
Vinegar ¼ cup
Beet 1 slice
Salt
Green chilli 2-3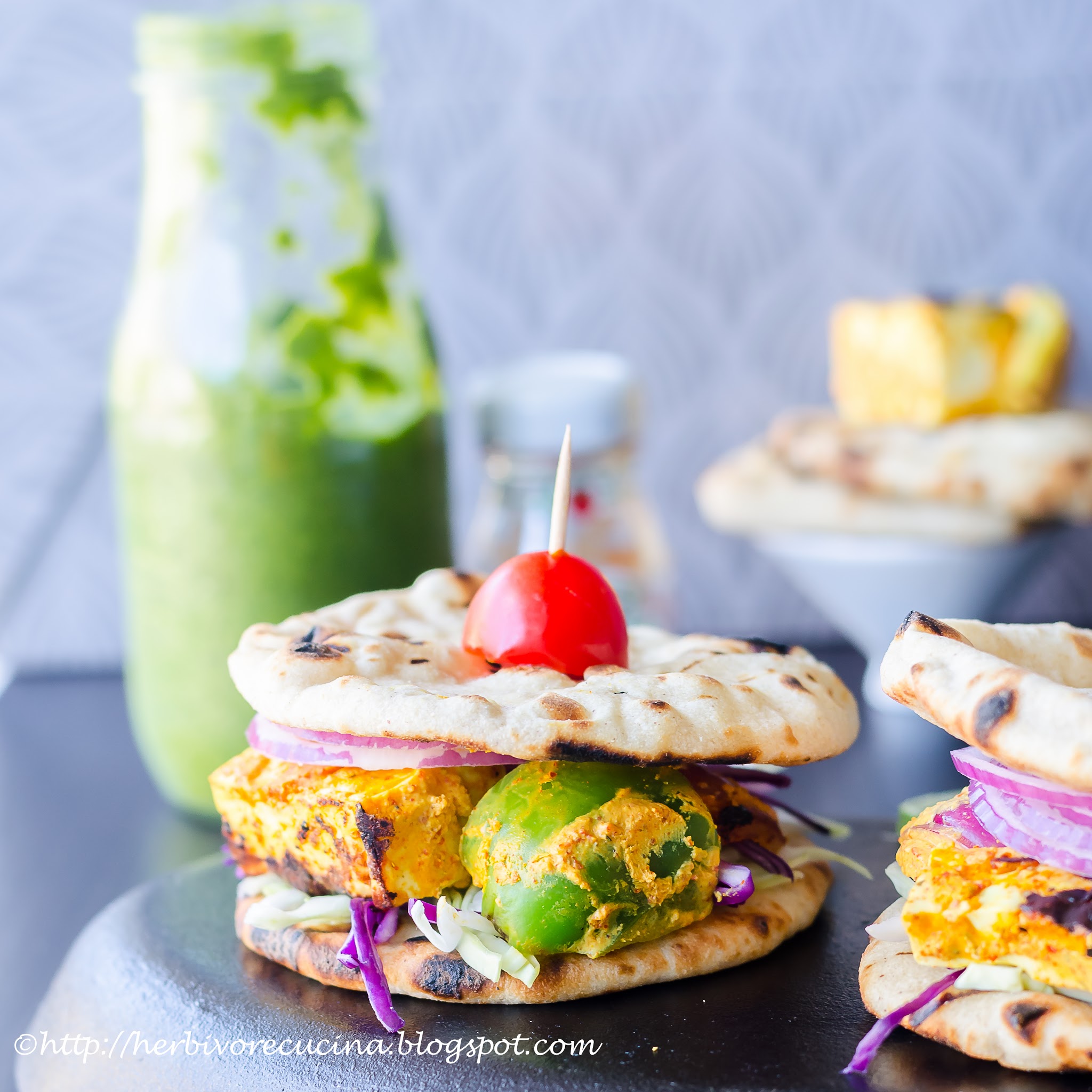 Method
Make the Naans using this recipe. I halved the ratio to make 12 pieces of four inches. Also, make the tofu skewers as per the recipe here.
To make Mint Cilantro sauce, add all ingredients listed under the sauce except yogurt to a blender. Blend to a smooth paste. Add it to greek yogurt and mix well. Set aside.
To make the vinegar onions, shred the beet slice and chop the chillies. Add the beet, chillies, salt and onions in vinegar. Rest for a while till the color deepens.
To assemble the naan-wich, place one naan on the plate. Spread the mint cilantro yogurt on it. Place a handful of cabbage and onions. Then add some grilled tofu, onions and peppers. Top with pink onion slice and the other naan. Serve with ketchup and cilantro chutney.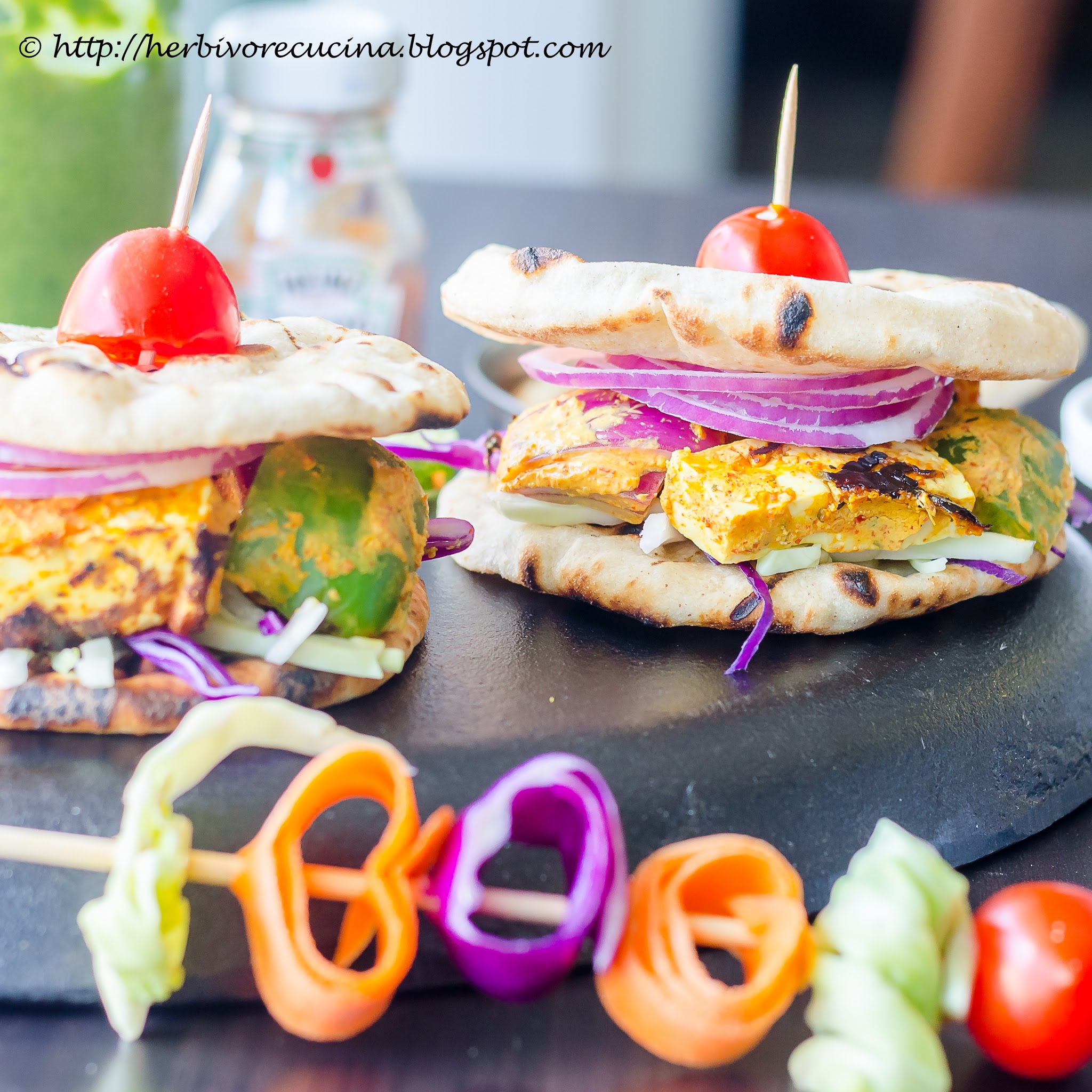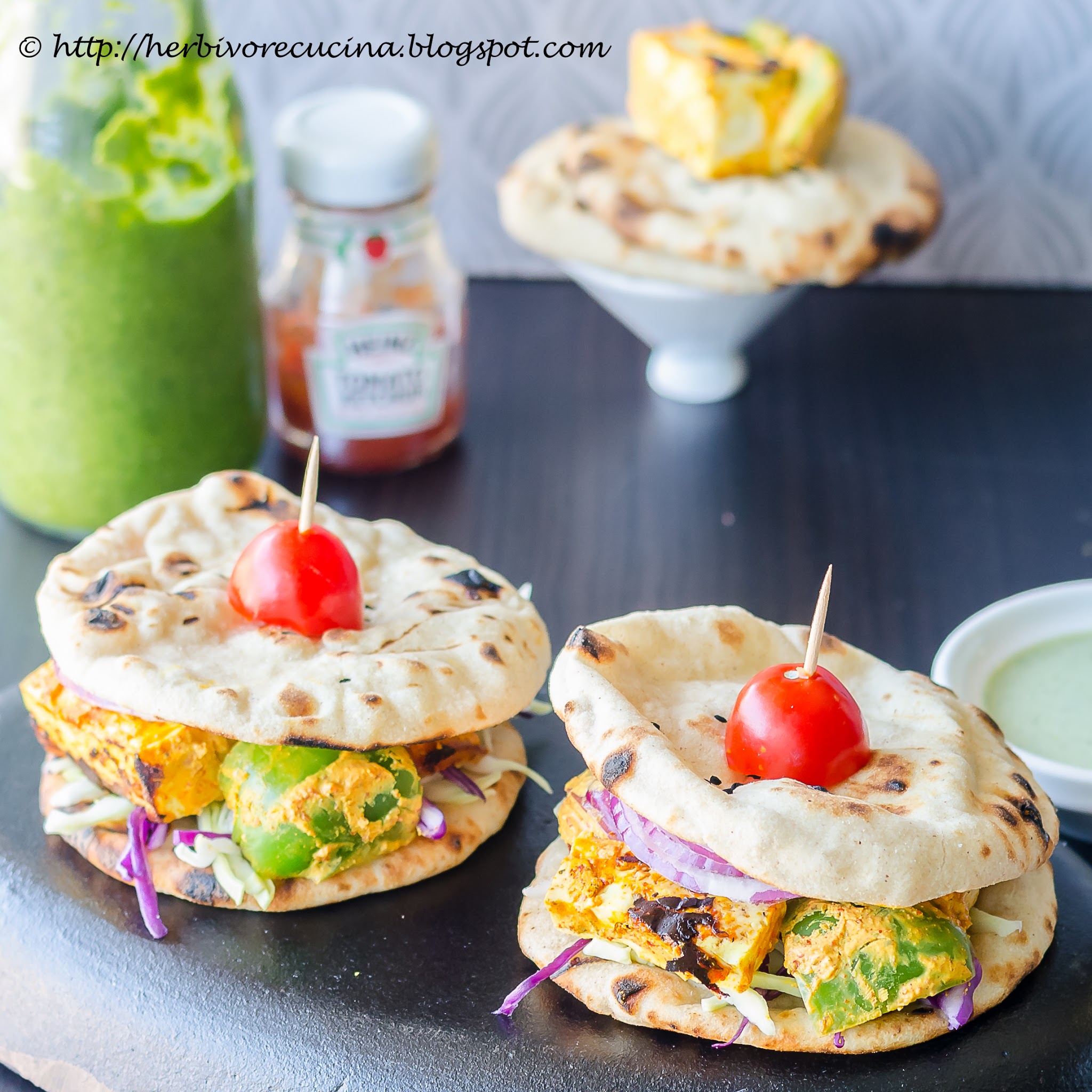 Check out the Blogging Marathon page for the other Blogging Marathoners doing this BM#66