Melt-in-the-mouth Indian shortbread cookies; these nuts studded Nankhatais are super yummy when made at home!
Have you had Nankhatai before? The MELT IN THE MOUTH Indian cookies that taste amazing with Chai or Milk? If you have not tried these yet; you MUST get your hands on a few. Better still; make them yourself using this recipe.
Though nankhatai is pretty similar to many shortbread cookies that are made around the world; but this one is distinct in flavors. Made with Indian flavors like cardamom and nuts; these cookies are generally eggless. We make a TON of these every year for Diwali; the biggest festival for us!
My mom always makes great nankhatais; using the method of soaking the ingredients overnight; mixing in yummy nuts and baking them to perfection. She generally uses ghee or clarified butter but I sometimes make it using vegetable oil too. This method makes them easy to make as they do not need any soaking etc. And they taste just as YUMMY!
The last time I made these was just a few days ago; just because we wanted to enjoy some. With almost zero preparation before; this recipe comes together in 15-20 minutes and it takes 20-25 minutes to bake. So overall; you can have over two dozens of cookies in under an hour! Isn't that amazing?
This time I chose to add roasted nuts on top of the cookies but anything from whole almonds, cardamom seeds, chocolate to just saffron works really well. I like to make different varieties of these cookies and next up would probably be the ones with chocolate.
Nankhatai is an amazing accompaniment with cup of Masala Chai. It is one of my favorite tea time snack! Many times I have been guilty of having half a dozen in ONE go! It makes a great breakfast with a glass of milk too.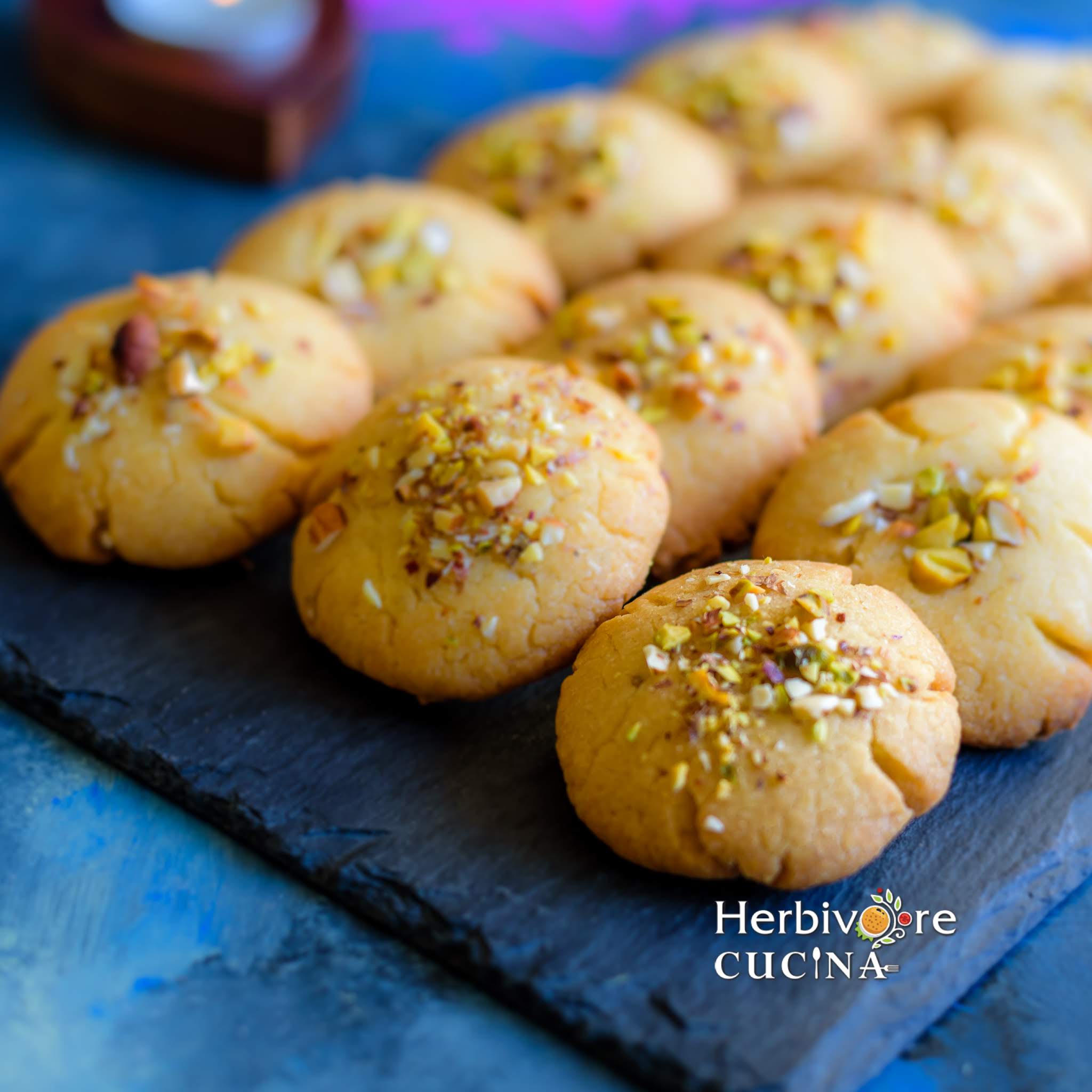 Variations
For this recipe I used Vegetable oil instead of ghee. It is especially for people who do not consume ghee on regular basis. Plus, it is a little different from the traditional recipe that tastes jut as good. However, the same recipe can be made with ghee too.
I added just almonds and pistachios on the cookies. Adding cashews, pecans or walnuts is a great idea too. Skip or increase the amount of cardamom based on how you like yours! Or add another spice like cinnamon or powdered cloves.
Lastly, I let the dough rest under a wet cloth for a while. Another great idea is to refrigerate it just like cookie dough. That makes it super easy to roll. However, if using ghee; it might become a little too hard so be careful.
Any yes, do not forget to make a BIG batch of these! They will vanish in NO time I promise! 🙂
Pin for Later

Ingredients
Allpurpose Flour 2 ½ cups
Chickpea Flour (besan) 4 tbsp
Sugar 1 cup, powdered
Yogurt ¼ cup, room temperature
Vegetable Oil 1 cup (can use ghee too)
Baking Powder 1 tsp
Salt ⅛ tsp
Cardamom Powder 1 tsp
Almonds and Pistachios 4-5 tsp
Method
Chop and dry roast the almonds and pistachios in a pan on medium flame. Once they give out an aroma, turn down the flame and let the nuts cool.
In another bowl sieve together all purpose flour, chickpea flour, cardamom powder and baking powder. Mix well and set aside.
In the base of the stand mixer or using a big bowl; mix together oil and sugar. Keep beating till it is light yellow in color. It should take about 5-6 minutes.
Add in the yogurt and salt; whip again. Do not over mix as the yogurt might become particulate.
Transfer the dry ingredients into the wet and mix. Do not over beat. Just beat till the dough comes together. Alternatively; use your hands to do this step.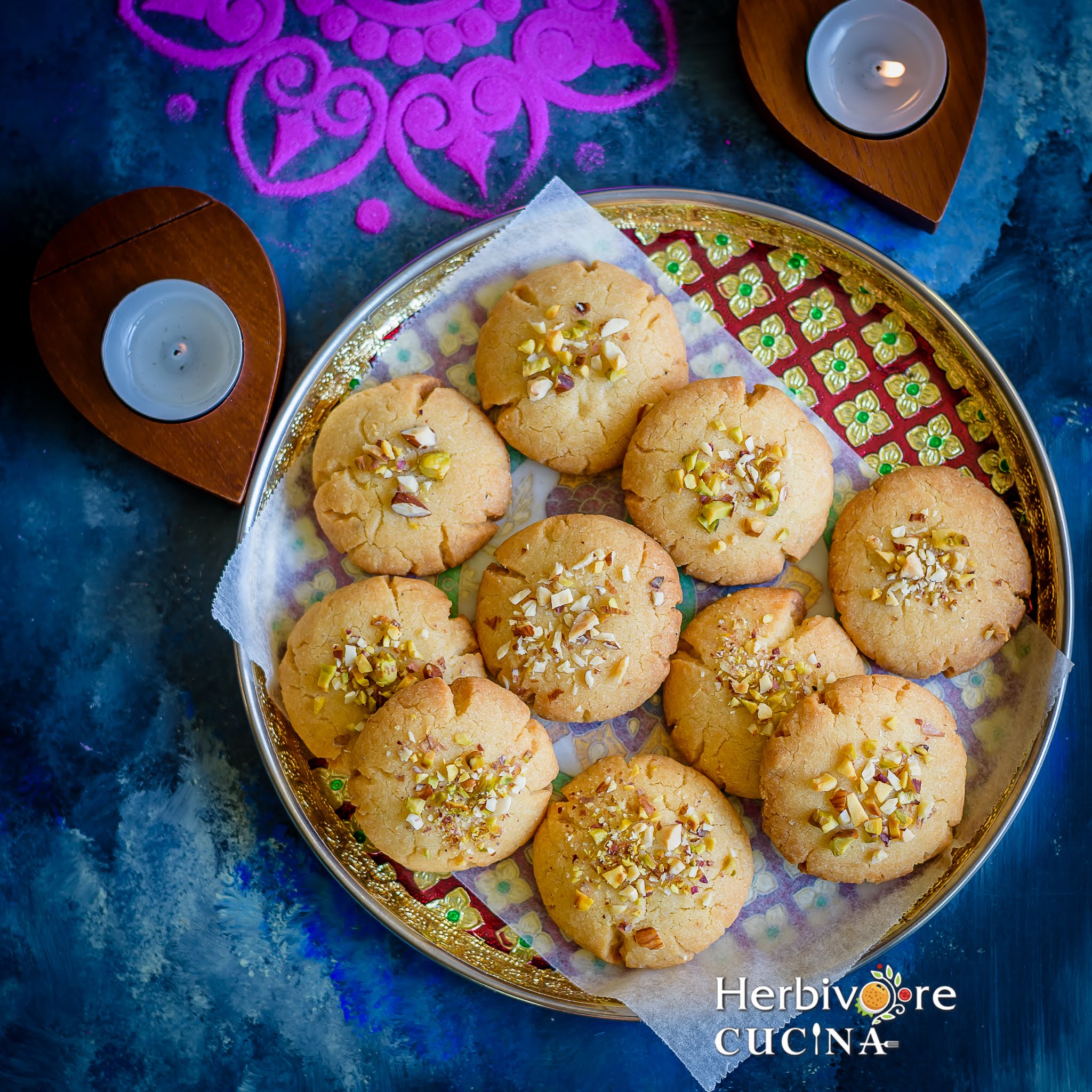 Remove the bowl from the stand mixer; cover with wet cloth and rest for 10-15 minutes. Meanwhile; preheat oven to 350 F/180 C. Line a cookie tray with parchment paper.
Remove the dough from the bowl, divide it into 25-28 even sized balls. Flatten each ball and arrange them on the cookie tray. Leave 1 inch on all sides to allow expansion. Press the nuts on the cookies and bake for 22-25 minutes.
Once they are golden brown; remove and cool completely. Transfer to an airtight container and enjoy for a week to 10 days.