These soft Sesame Seed Burger Buns are so easy to make, taste amazing and go perfectly with all kinds of fillings! Plus they are eggless and need only 7 ingredients to make!
Some of the links below are affiliate links, meaning, at no extra cost to you, I will earn a commission if you click through and make a purchase.
Homemade bread is one the BEST things ever! Freshly baked rounds that pop out of the over taste so good with just some butter slathered over them.
And if you can resist that and continue to make a sandwich out of them; it is EVEN better!
For the longest time I have baked bread at home and burger buns are no exception. I like mine soft, perfectly risen and without a sweet taste.
The best way to get buns that satisfy these is to bake my own! And that is what I have been doing for a while now.
Why bake burger buns at home?
A great sandwich is defined by its elements. So a great burger starts with the bun. When feeding a crowd, I prefer to make a big batch of these buns a day before. They are great for all kinds of sandwiches or even as a cheese sandwich. And they stay fresh for a couple of days.
A lot of people are intimidated with the thought of making bread at home, but this one is REALLY simple, I promise.
Requiring only a handful of ingredients; this one comes together in under 40 minutes of active time. Rest of the two hours is only required to rise the dough.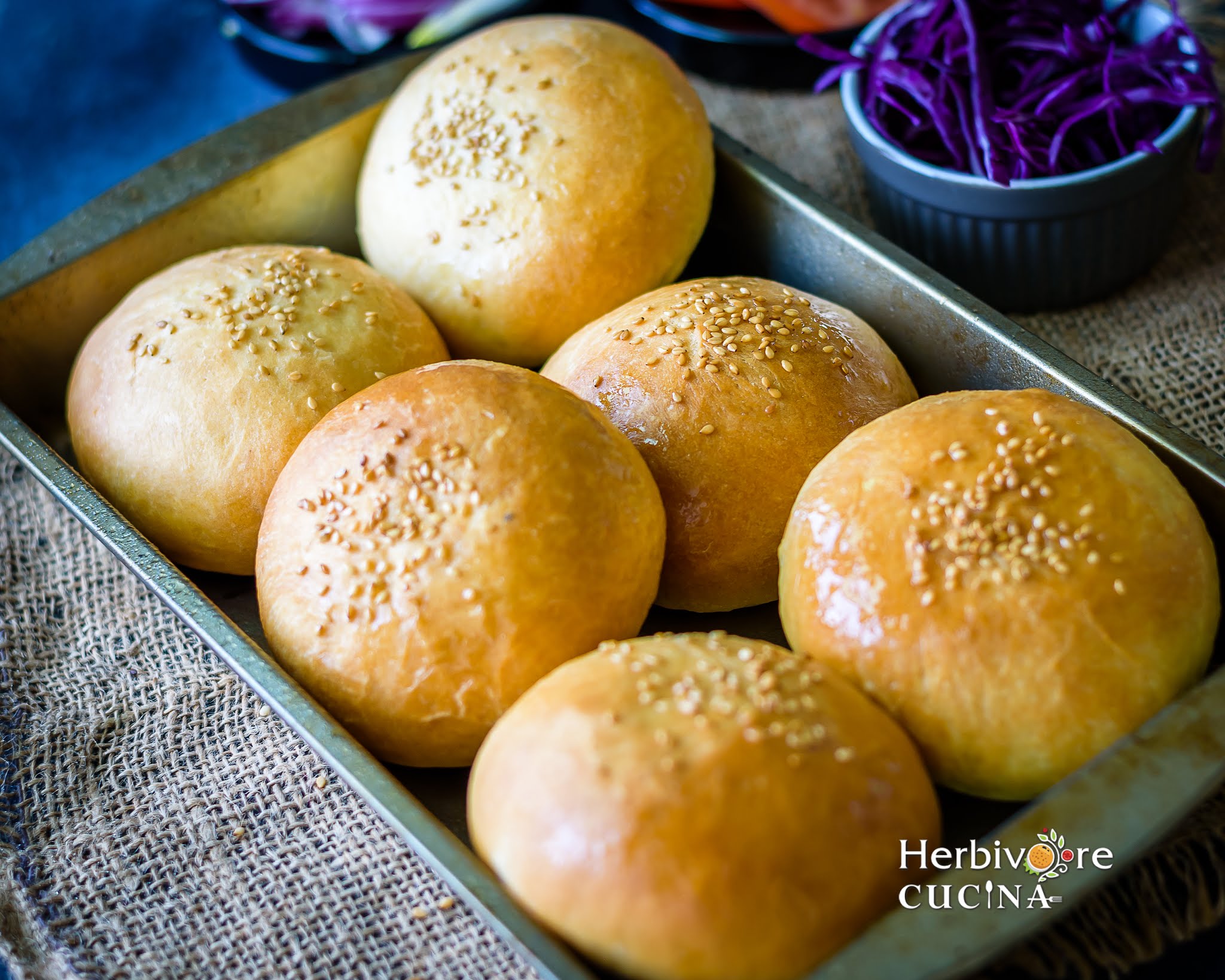 This recipe makes 8 buns perfect for any bbq party. Convert them into your favorite sandwich by swapping the fillings.
With a thin chewy outer crust and soft inside, these buns take all the moist fillings without crumbling. Unlike a lot of store bought buns, these do not crumble as you bite into them.
One more advantage of making your own bun is customization. You can make them any size you like. These are large but there is an option to make them super tiny or super XL.
Plus, swap the sesame seeds for poppy seeds or add some cheese and jalapeños on top. You can make the bun of your dreams with just a couple of substitutions!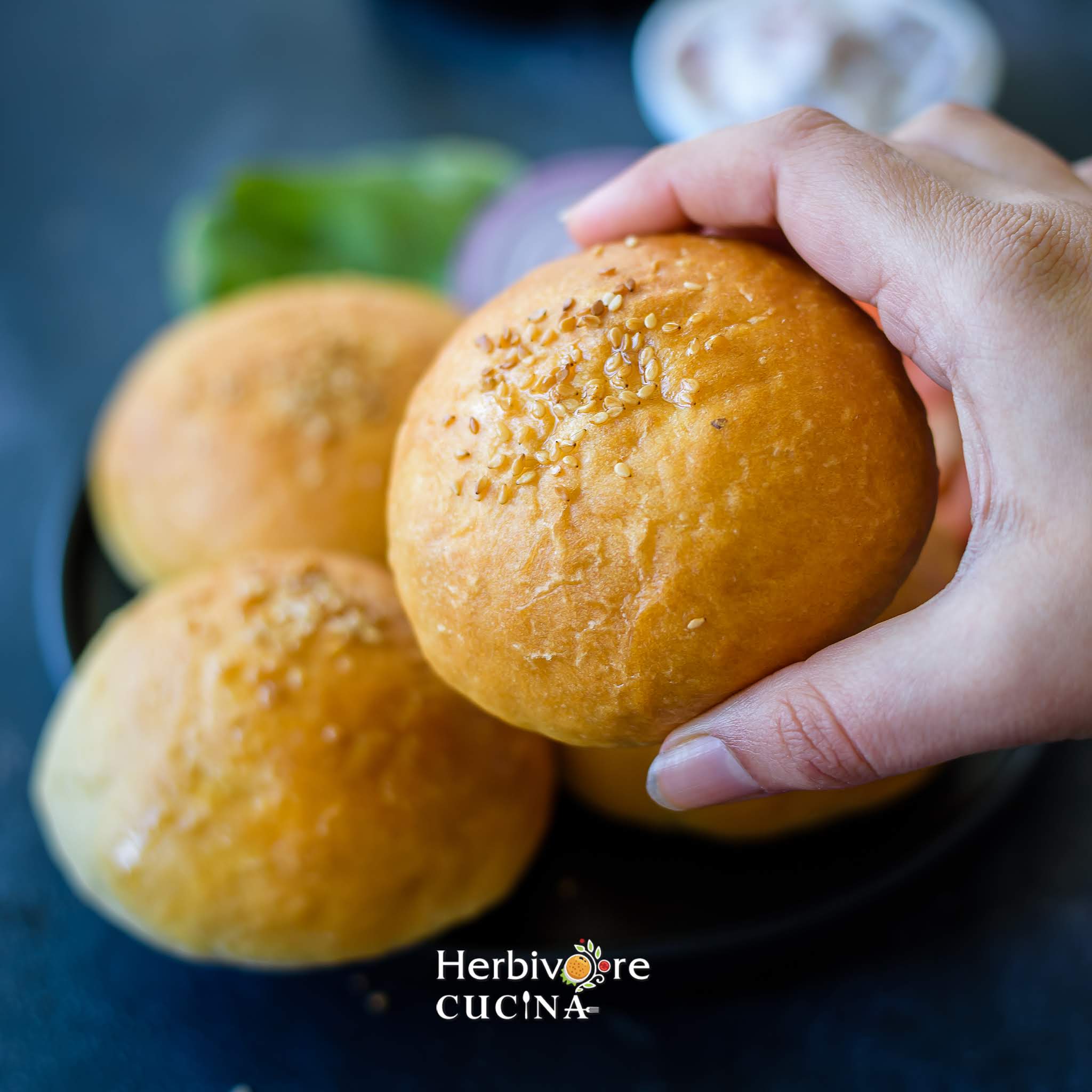 Getting the buns right each time
As the list of ingredients below suggests; you need just SEVEN ingredients to make these buns. A lot of recipes call for bread flour but I have used all purpose flour all the time and it worked well each time.
I would stick to all purpose flour for my buns for sure.
Measure all the ingredients correctly as they affect the final result. Make sure the butter is room temperature or slightly warm so that it spreads evenly in the dough.
Using yeast that is not very old is key. Dated yeast does not give the best result so make sure you make your bread with a new one.
The method is fairly straightforward. Making sure the dough rises perfectly is key. A well risen dough gives perfect tops to the bun and a great crumb.
If making it in winter, it helps to place the dough in the oven with the light on. Or use the Instant Pot for proofing the dough.
It is a great idea to spread some butter on the buns after they are baked. Not only does that keep the buns moist, it also helps to give them an amazing shine.
Skip the step if you are cutting down on the amount of butter you are consuming.
Using the Instant Pot to proof the dough
While it is perfectly okay to proof the dough on the kitchen counter or in a warm place, using the Instant Pot is a great idea.
The instant pot helps proof the dough quickly on the YOGURT setting.
To do so, place some parchment paper in the base of the instant pot. Spray some non-stick spray on it and place the dough ball. Apply some oil/butter or non stick spray on it. Close the lid and set it on Yogurt mode for an hour.
In an hour the dough would have doubled and can be used to make the buns!
How to enjoy these buns?
Once you have made a batch of these burger buns the possibilities are endless! From whipping up a traditional hamburger to making a breakfast sandwich or just enjoying the bread with butter or cheese is a great idea.
I love to slather them with butter and dip them in my Masala Chai. They make a GREAT breakfast for me.
The last time I made these buns I ended up making a Vegetable burger out of it. The components included coleslaw, ketchup, lettuce, onion, tomatoes and store bought patty.
The buns were strong enough to not get soggy with all the wet ingredients but not super tough .hey are perfect carriers for all kinds of burgers and sandwiches.
So now with all the information and this easy to follow recipe, I hope you make your own burger buns. I would love to see the creations!
Ingredients
All purpose Flour 3 cups
Water 1 cup
Unsalted Butter 3 tablespoon (Room Temperature)
Active Dry Yeast 1 sachet (2 ¼ tsp)
Salt 2 tsp
Sugar 1 tsp
Sesame Seeds ¼ cup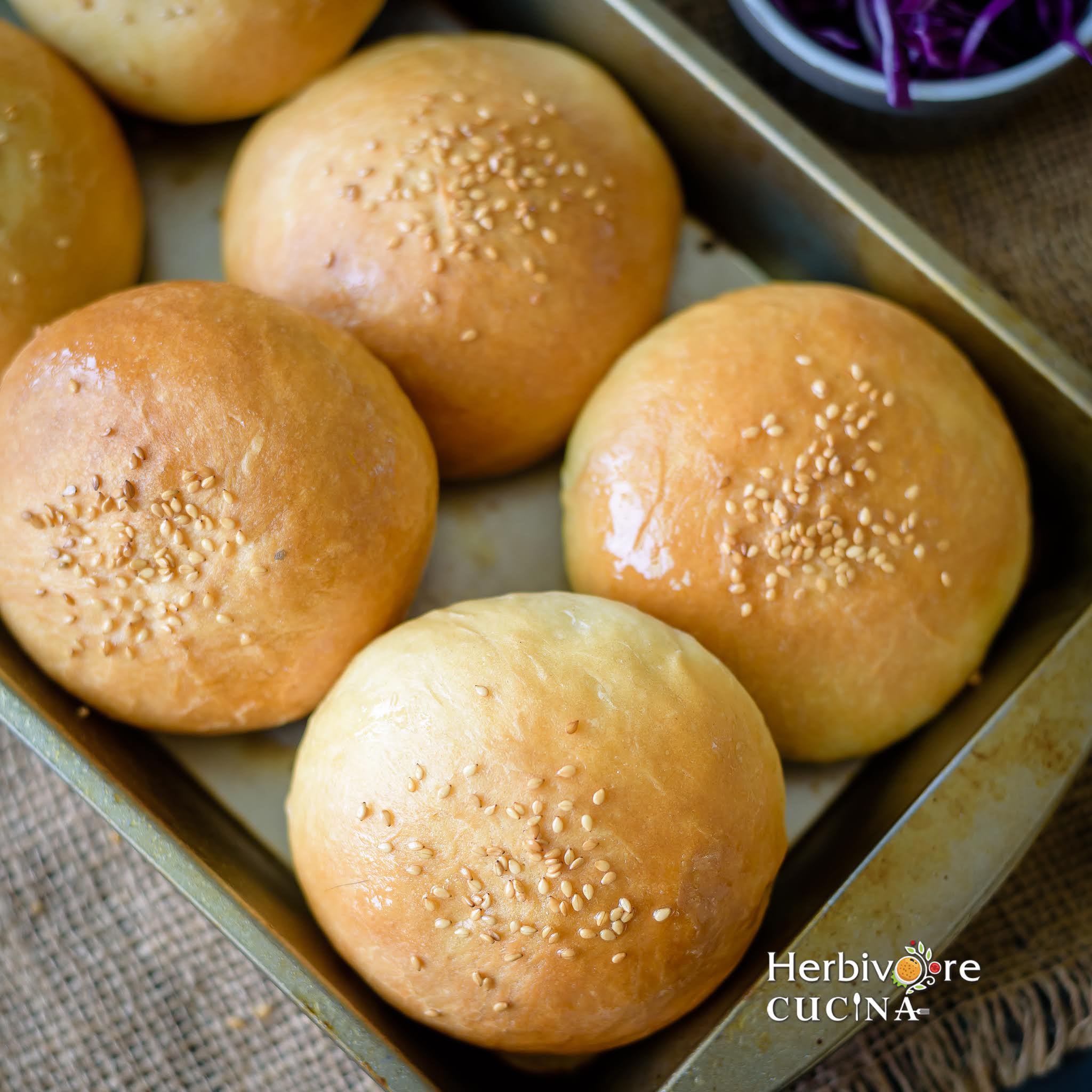 Method
Warm the water to about 105-110 F and add 1 tsp Salt and Sugar to it. Mix well. Add Active Dry Yeast, mix and cover with a lid or plate. The yeast will bloom in about 10 minutes.
In the base of a stand mixer or a large bowl add the the All purpose Flour . Mix in the Unsalted Butter, remaining Salt and bloomed yeast. Run the mixer till the dough combines into a soft ball. Smoothen out the dough ball and coat with oil or butter. Place a lid on and let the dough rise for an hour in a warm place.
After an hour or once the dough has doubled in size, punch it down and divide into 8 equal size parts.
Using each part of the dough, roll into a tight round and place on a greased baking tray. Grease the top with some oil/butter and sprinkle some Sesame Seeds. Rest covered for an hour.
When the hour is almost up, preheat oven to 400 F/ 210 C. Bake for 15-18 minutes, till the top is nice and golden. Remove and cool.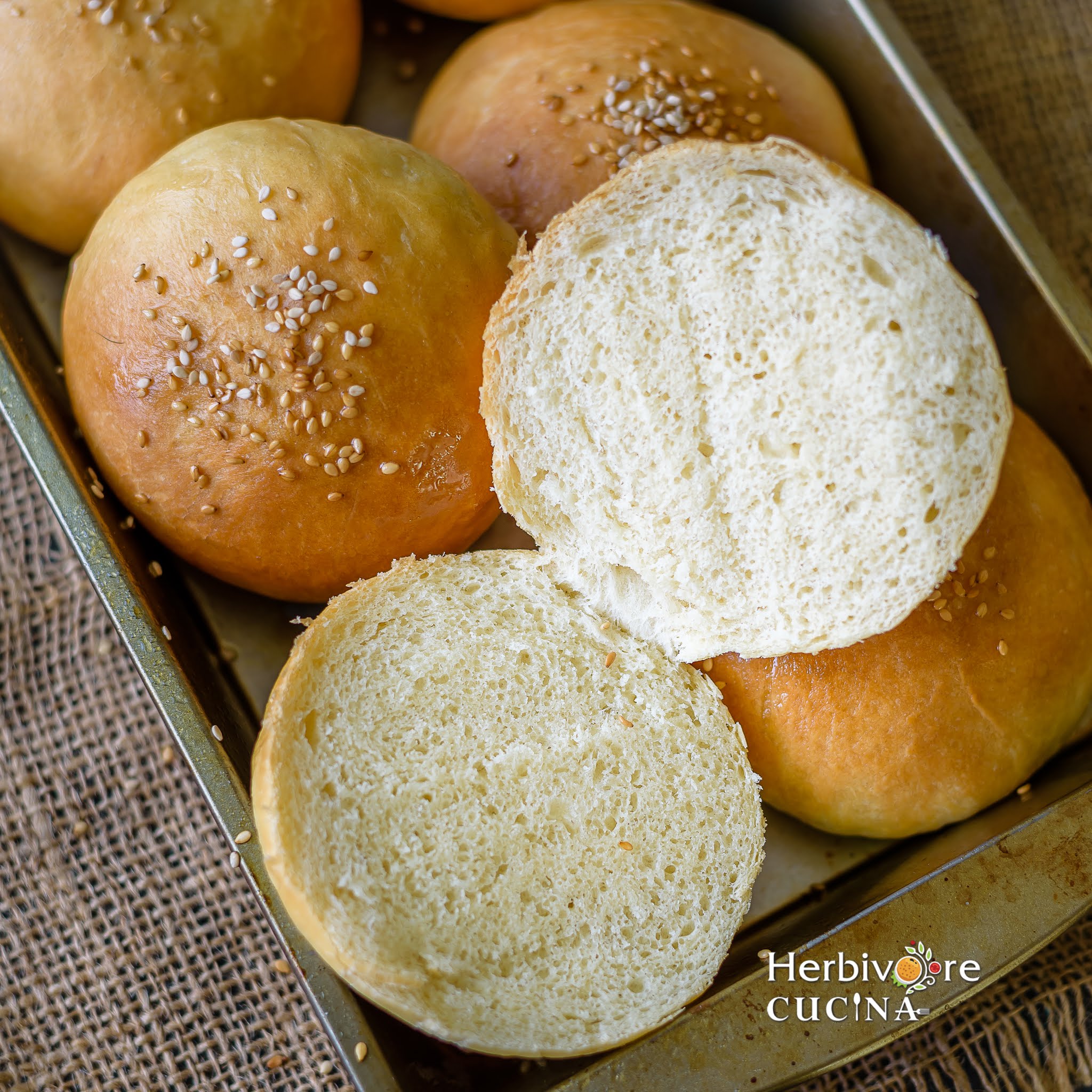 Slice the bread from the centre and fill it with ketchup, sliced onion, sliced tomato, lettuce, patty and coleslaw. Serve immediately.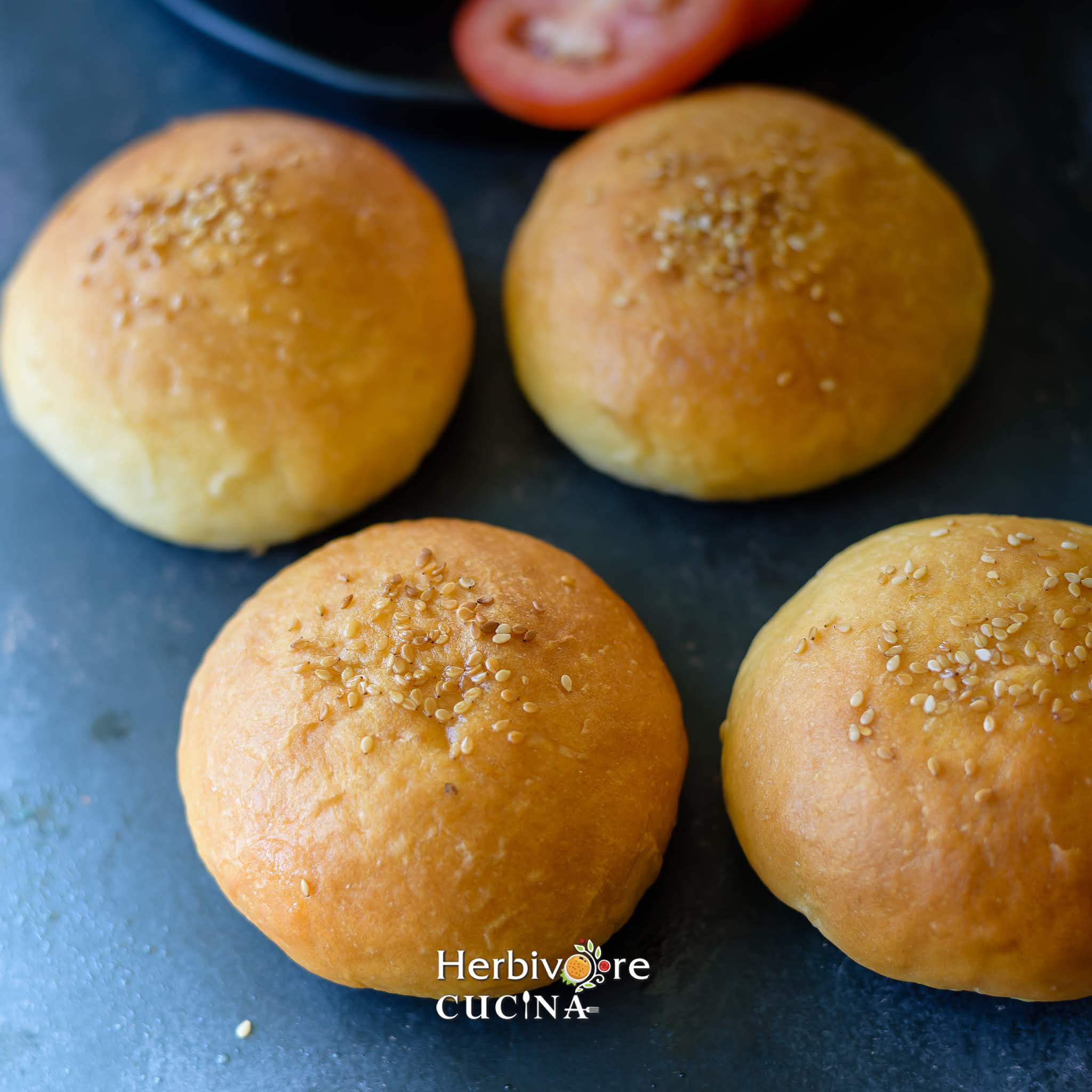 DISCLOSURE: WE ARE A PARTICIPANT IN THE AMAZON SERVICES LLC ASSOCIATES PROGRAM, AN AFFILIATE ADVERTISING PROGRAM DESIGNED TO PROVIDE A MEANS FOR US TO EARN FEES BY LINKING TO AMAZON.COM AND AFFILIATED SITES.