Blogging Marathon# 63 -Journey through the cuisines: Day 13
State: Maharashtra
Dish: Masala Toast

Today is day 13 of the month long Marathon of Journey through the cuisines. That also means we are halfway done! The days seem to pass so quickly. Today's letter is M and my state is Maharashtra. I was planning to make the traditional stove top grilled sandwich since a very long time. But the laziness that the toaster can make only one sandwich at a time kept me postponing the plan.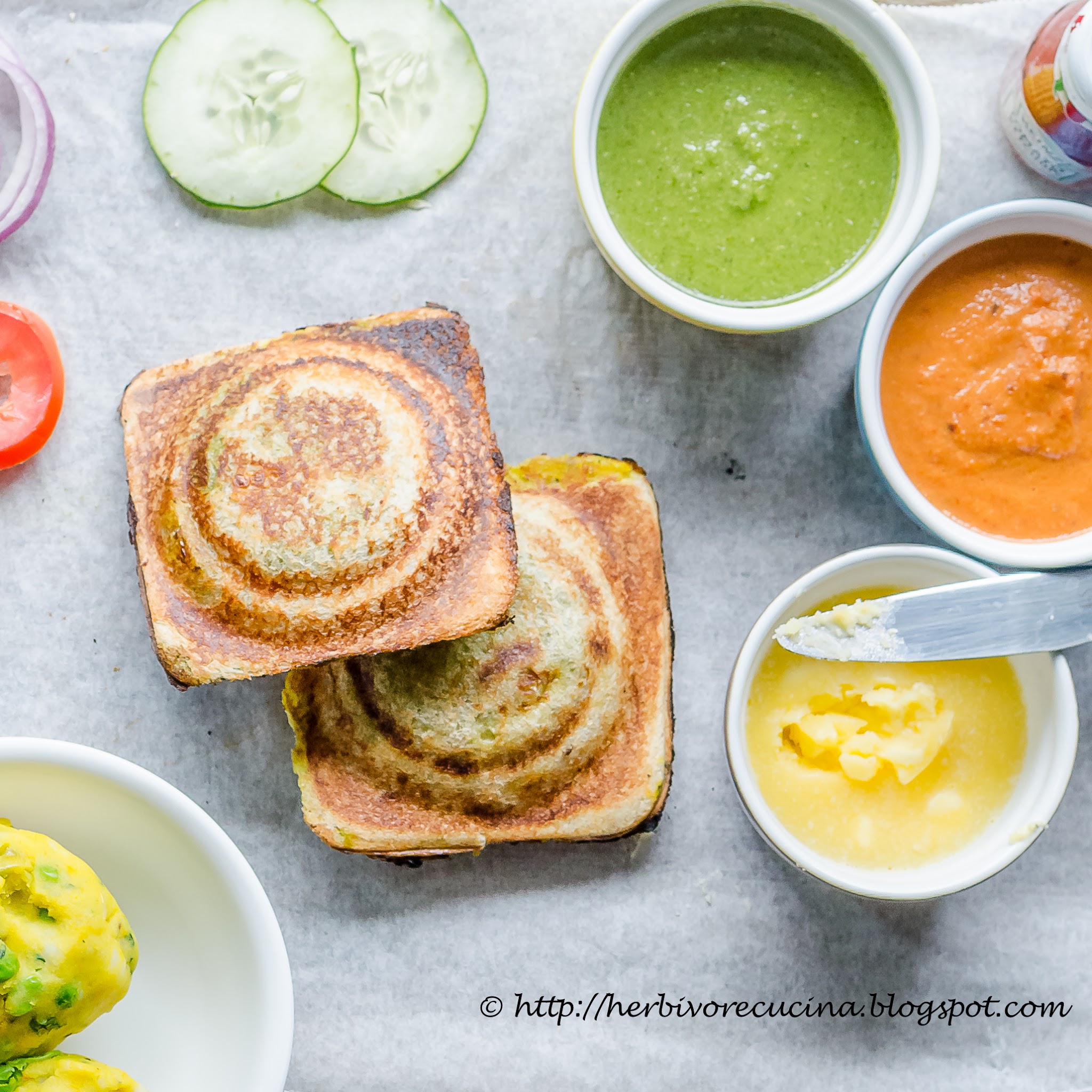 When I was making a list of dishes I would prepare for this Marathon, M had the options of Masale Bhaat, Mango, Mastani or Masoor. I ditched all these and added a dish from Mumbai, a place so close to my heart.Walk down any street in Mumbai and you will find one, maybe two sandwich stalls selling the signature sandwich of the city; toast sandwich. A humble preparation of bread, Amul butter, chutney, cucumber, tomato, onion, and sometimes even beetroot and pepper, this sandwich is a staple for a large population of Mumbai.
While I was in Mumbai, we used to enjoy this sandwich and lots of others at a well known joint in Santacruz called Swastik Sandwich ( now Sandwizza). This place started as a small but unique place to grab sandwiches and it is great to see how it has expanded to a lot of branches across the city now. The place has a signature Sandwich Masala, that I still buy from there to enjoy that taste in the US!
The traditional way to make Masala Toast is in the gas top toaster, used over a sigdi with burning coal. While we enjoy that experience while camping, I am forced to make the same sandwich on the gas stove. Over time, people have moved on from the traditional toaster to the electronic version, the taste from the stove top is totally different. If you do not have the traditional one, just make the same sandwich in the one you own. Besides, I have not added pepper and beet simply because I did not have them, you can go ahead and add the same. I made a quick garlic chutney to go with the sandwich as it tastes really good. Skip that and have ketchup if you do not have the time, though I would strongly recommend making that one!



Ingredients
White/ Brown bread slices
Vegetables (Cucumber, Tomatoes, Onions)
Processes Cheese
Butter
Sandwich Masala
For the Green Chutney
Cilantro 1 cup
Mint Leaves ¼ cup
Green Chilli 2
Ginger 1 inch piece
Salt, Sugar, Black Pepper, Roasted Cumin powder
Lemon Juice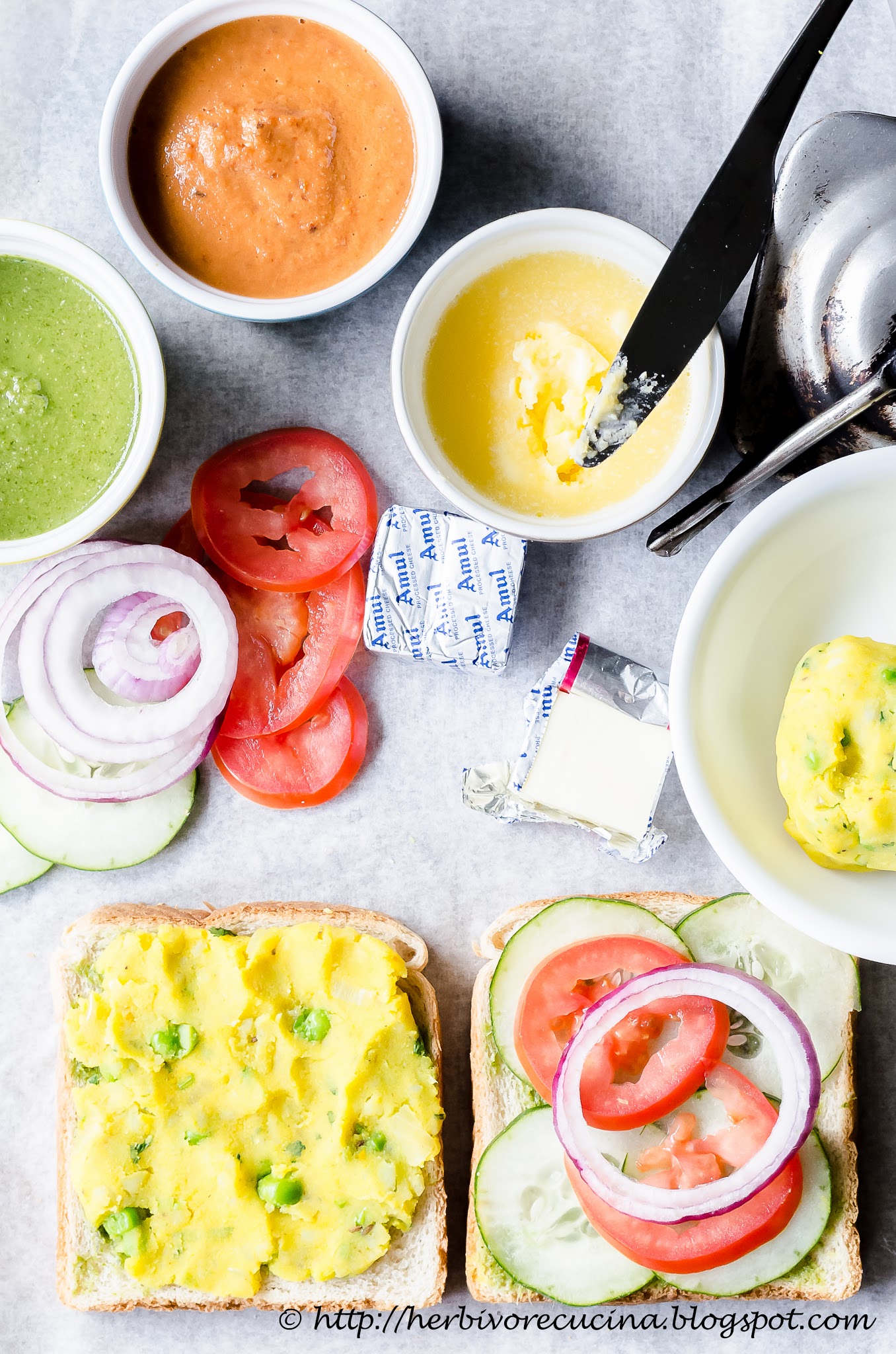 For the Red Chutney
( Adapted from Shital's Kitchen)
Dry Red Chilli 4-5
Tomato 1
Garlic Cloves 2-3
Oil 1 tsp
For the Masala


Boiled Potatoes 2 medium
Boiled Green peas ¼ cup
Onion ½ diced
Green Chilli 1
Ginger paste 1 tsp
Turmeric powder 1 tsp
Red Chilli Powder 1 tsp
Chaat Masala 2 tsp
Lemon Juice, Salt, Sugar
Oil 1 tsp
Method


To make the cilantro chutney, mix all the ingredients and blend to a paste. Store in an airtight container till ready to use.

To make the red garlic chutney, heat oil in a pan, add deseeded red chillies and diced tomato. Cook till the mixture is mushy. Remove and blend with garlic cloves. Add salt and lemon juice to taste.

To make the masala, heat oil in a pan. Add onion and cook till soft. Then add green chilli, ginger paste, mashed potatoes and peas. Mix everything well and add turmeric powder and red chilli powder. Mix well, add salt, sugar, lemon juice and chaat masala. Mix well and set aside.

To assemble the sandwich, apply a generous amount of butter on the breads. Then apply green chutney. Arrange slices of cucumber, tomatoes, onions on it. Add a small scoop of potato masala, and some sandwich masala. Add shredded cheese and cover with the other slice of bread.

Apply butter on the inside of a gas toaster and toast the sandwich. If you do not have that, an electric toaster works too.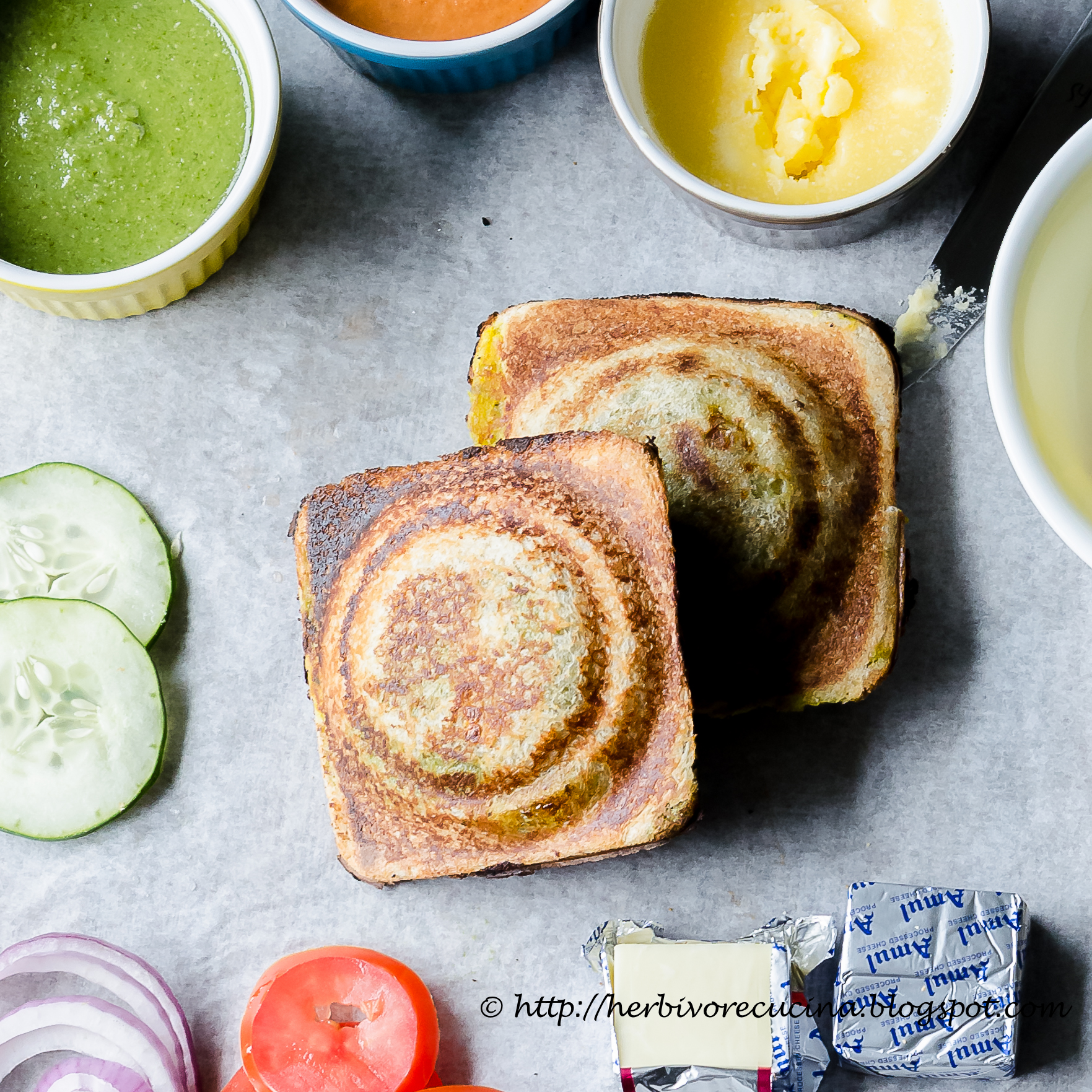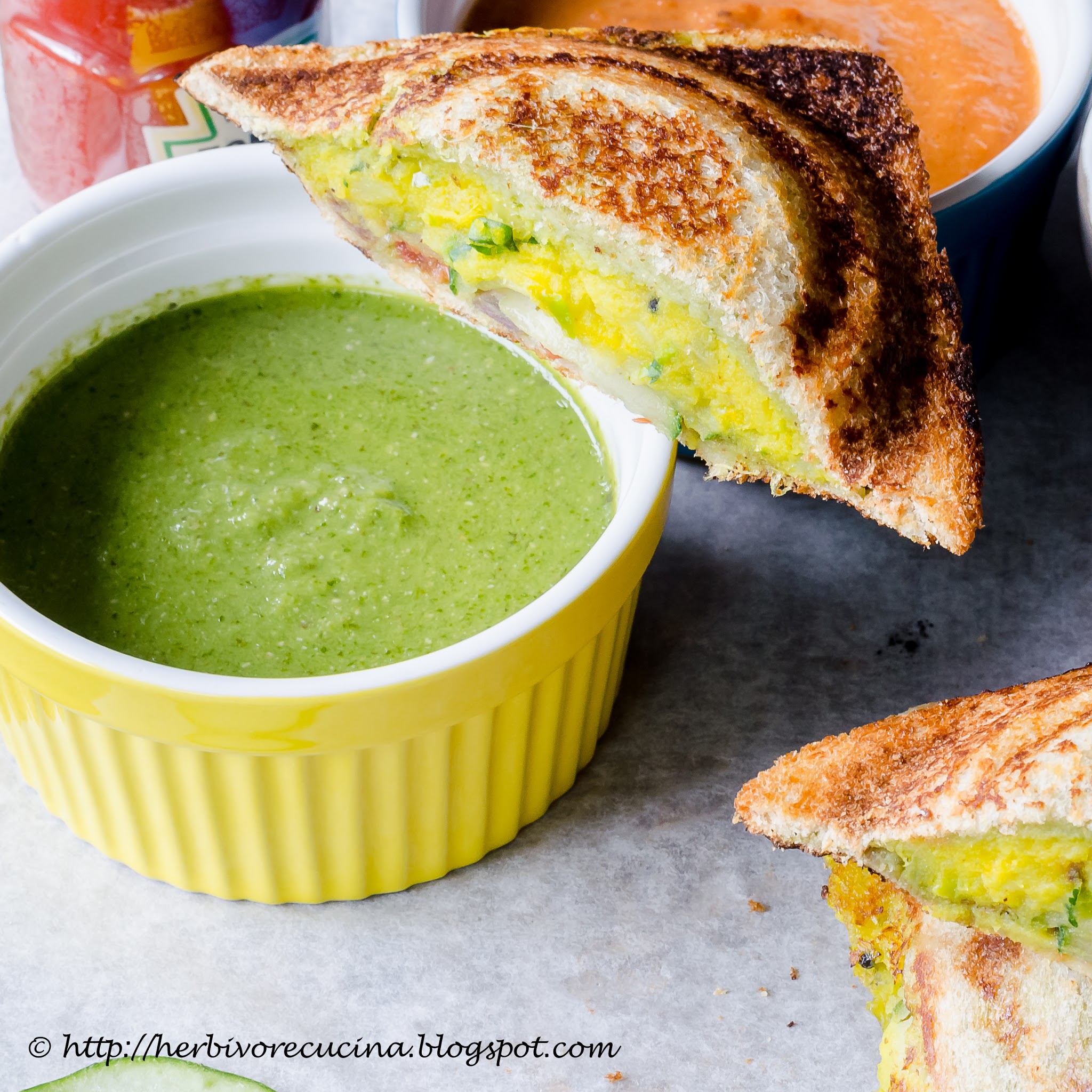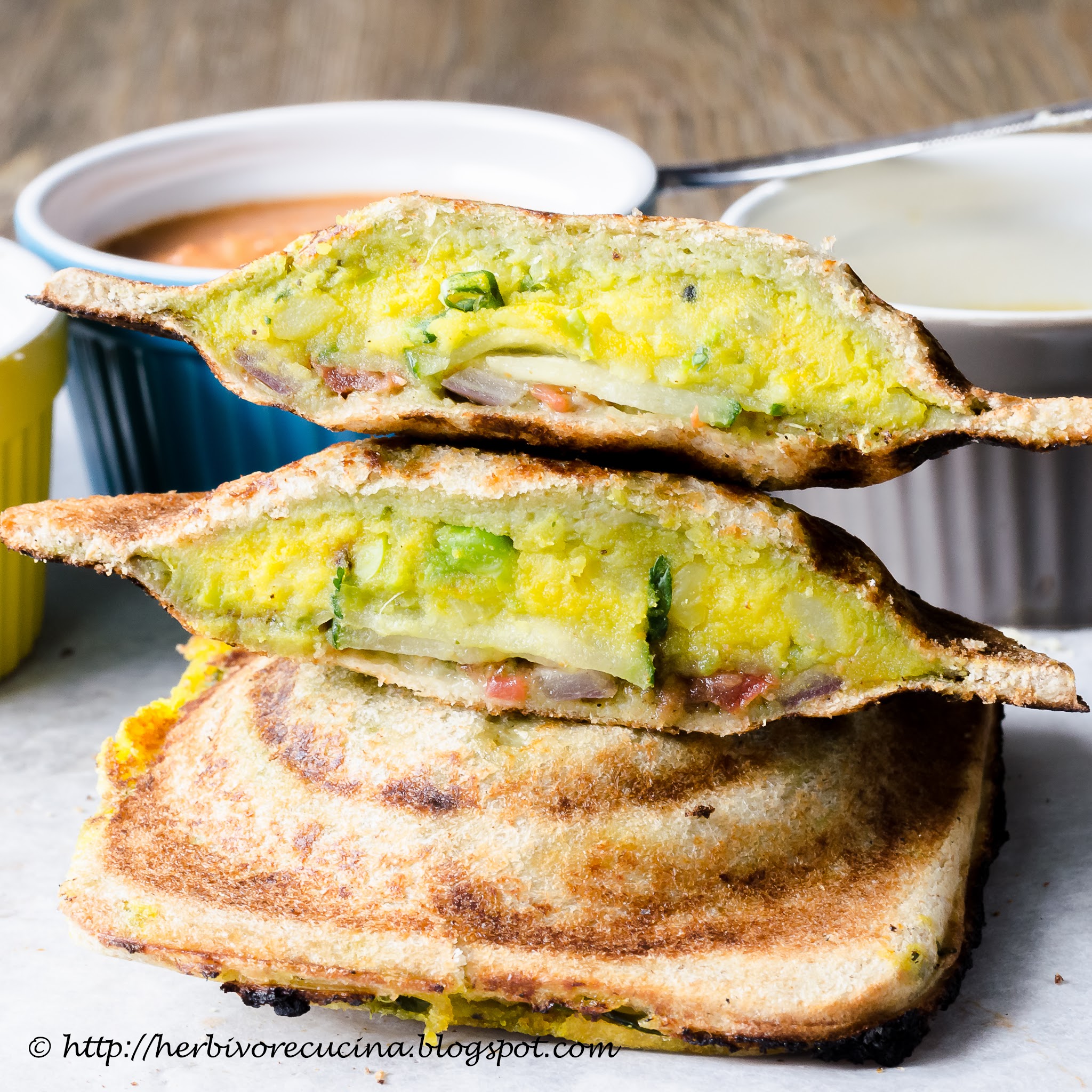 Check out the Blogging Marathon page for the other Blogging Marathoners doing BM# 63