The easiest and best way to make perfectly soft and fluffy Jasmine Rice using the Instant pot.
All the tips you need to make it in one pot in under 30 minutes!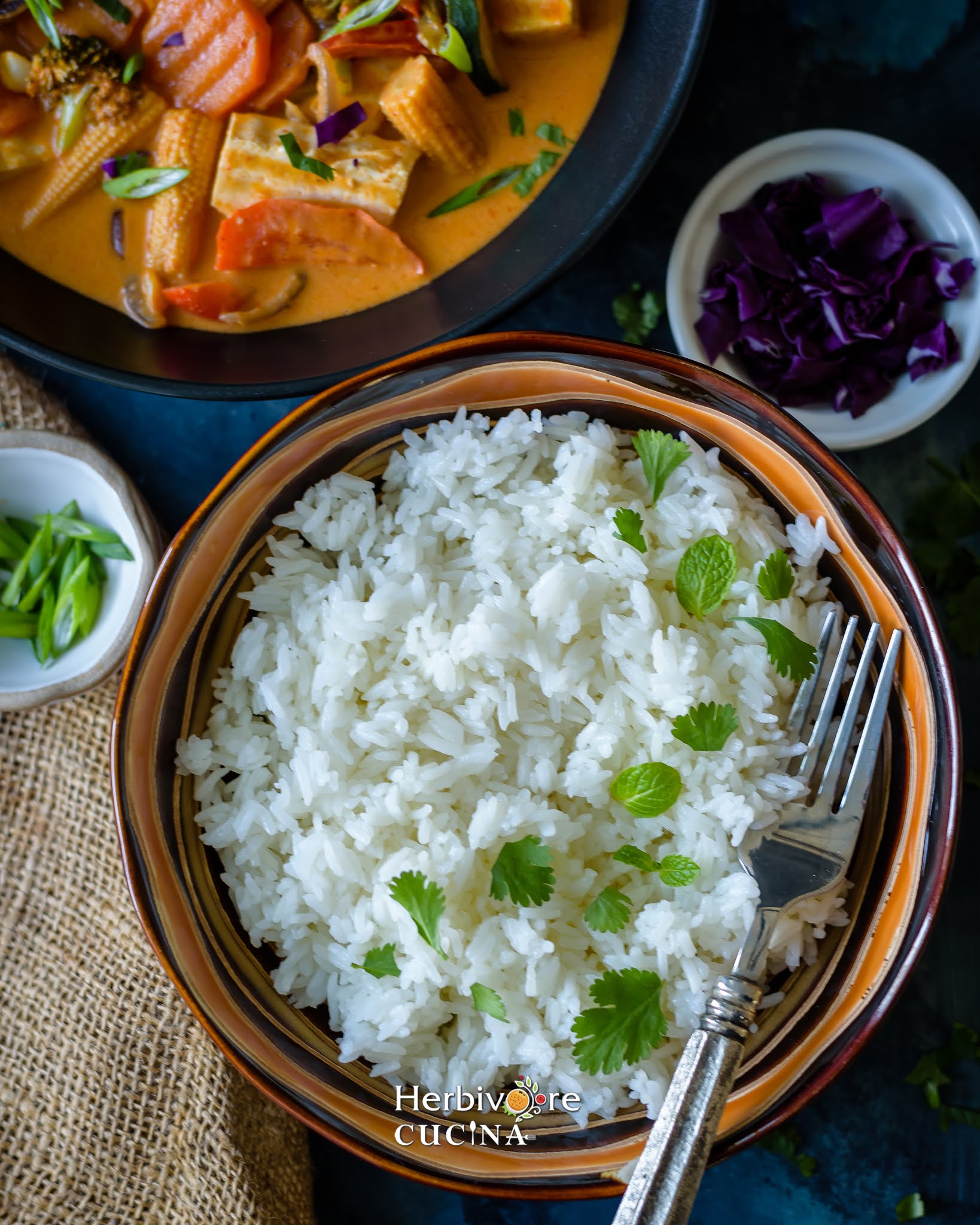 Some of the links below are affiliate links, meaning, at no extra cost to you, I will earn a commission if you click through and make a purchase.
Asian cuisine is incomplete without Jasmine rice! The fragrant accompaniment for curries, well made jasmine rice is always delicious.
Plus, a great rice variety to make fried rice and other kinds of Thai rice recipes; this one is required for so many meals.
Jasmine rice derives it's name from the flower jasmine as it has a lovely floral fragrance and buttery taste. It is a variety of long rice native to Thailand but popular across the globe.
This rice can easily be found at any grocery store that sells Asian ingredients or sells rice in general. I get this brand almost all the time. It turns out great each time.
Why use the Instant Pot?
Jasmine rice; like any other rice can be made in a stove top pressure cooker, boiling in a pan or in the Instant Pot.
Out of these, making them in the Instant Pot is my preferred method.
Cooking rice in the Instant Pot is always easy, results in perfectly cooked rice and is hands free.
For the rice you just need to set the time and let the Instant pot do everything else.
When using it, the trouble of timing or counting number of whistles of the stove-top pressure cooker is eliminated.
Ingredients
To make this recipe there are only two required ingredients and two optional.
Jasmine Rice: Any type of long or short grain Jasmine Rice works for the recipe. I generally like to use these.
Water: Of course you will need water.
Jasmine rice to water ratio is easy to remember as it is 1:1. Using vegetable stock is an option too. I prefer to use water though.
Salt: A simple way to get flavorful rice is to add a dash of salt to it. It enhances the taste and makes great fried rice.
Salt is optional in the recipe but I highly recommend it.
Olive Oil: Adding some oil in the recipe improves the flavor and texture of the rice.
This is an optional ingredient but recommended.
Frequently asked questions
Can the recipe be made pot-in-pot?
Definitely! The recipe here is to make the rice in the main pot. However, it can also be made with a curry with a similar cooking time.
I would say that the recipe works well pot-in-pot for less than a cup of rice. For more than a cup I recommend using the main pot itself.
Can the recipe be made ahead of time?
Jasmine rice like most other rice varieties is great for meal prep.
Make a big batch and refrigerate for 2-3 days or freeze for longer time.
If you are making fried rice, I would recommend making the rice ahead of time as the grains separate and dry up as the rice cools down.
Points to remember to get it right
Rinse the rice well before cooking. The starch in the rice can result in sticky rice if not washed well.

Fluff the rice after cooking to separate the grains. Do so only with a silicone spatula after the rice has cooled down.

The rice does not need any soaking time. Just wash, drain and cook straight away.
Steps
1- Wash and drain the rice.
2- Add it to the instant pot. Add water, oil and salt. Mix well.
3- Set the mode of the instant pot to pressure cook. Set valve to sealing and time to 5 minutes. Once the cooking is done, let the pressure naturally for 10 minutes and release the remaining pressure manually. Open the Instant Pot and let the rice cool a little.
4- Fluff with a silicone spatula. Serve as needed. 
Pairings
Jasmine rice pairs wonderfully with a ton of Asian recipes. From curries, stir-fries to soups; we can enjoy this with so many other recipes. Here are some amazing ones.
More Instant Pot Recipes
Love this recipe? Please leave a star rating in the recipe card below & if you REALLY like it, consider a review in the comments whilst you are there, thanks!