Pad Thai or phat Thai is a stir-fried rice noodle dish commonly served as a street food and at casual local eateries in Thailand. It is made with soaked dried rice noodles, which are stir-fried with eggs, vegetables and chopped firm tofu, and flavored with garlic or shallots, red chili pepper and palm sugar, and served with lime wedges and often chopped roasted peanuts. It may also contain other vegetables like bean sprouts, garlic chives and coriander leaves.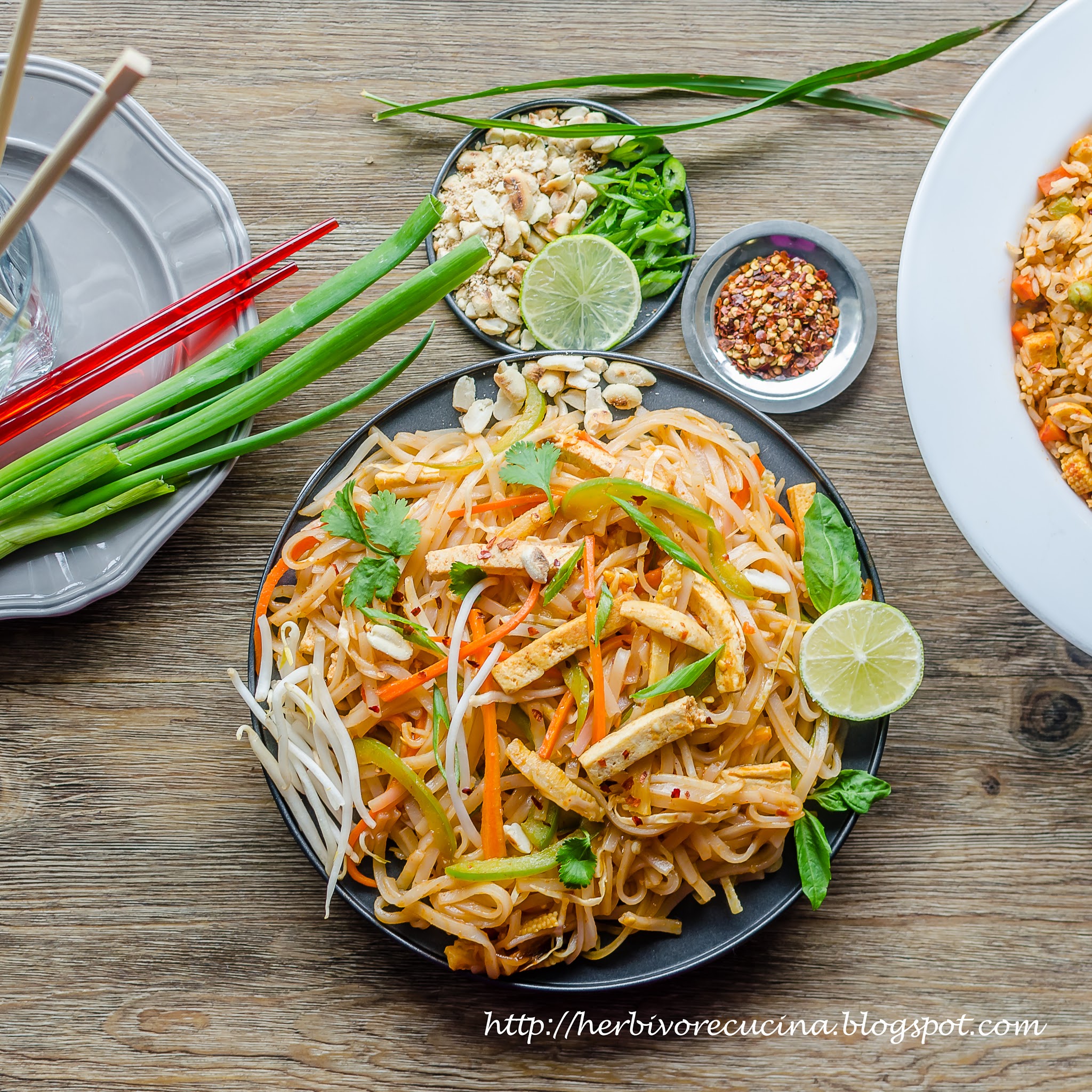 Amongst all the Thai delicacies, Pad Thai Noodles is one of the most commonly enjoyed dish. It is probably the easiest dish to order in any Thai joint, because it is rare that they will go wrong with that! While you can enjoy Pad thai with a side of tofu or vegetable or even meat, the noodles are complete by themselves. With tofu, vegetables and saucy noodles; Pad Thai can be perfectly called a one-pot complete meal!
I have had Pad Thai at various places in the Bay Area, Tahoe, Las Vegas, Los Angeles, Key West etc. The funny thing is that every place has their own recipe to make the noodles. And the best part is, they all make it super yummy! So combining all my various kinds of noodles I have had at different restaurants, recipes from various books and a few recipes online, I have come up with this recipe. This vegetarian version of Pad Thai noodles contains no eggs or meat. It is a mix of rice noodles, various vegetables, tofu and sauce. Easy to make, this noodle dish can be served as a complete meal or accompanied with thai curry or pineapple fried rice.
Ingredients
Flat rice noodles 1 packet
Garlic 2-3 cloves finely chopped
Vegetables 1 cup (I used carrot, mushroom, baby corn, cabbage, bell pepper)
Spring onion greens and onions 4-5 stalks
Bean sprouts ¼ cup
Firm tofu ½ block
Soy sauce, Vinegar, Sriracha hot garlic sauce
Thai Red Curry Paste 2 tbsp
Sesame Oil
Peanuts ¼ cup
Lemon, Brown Sugar, Salt
Chili Flakes
Cilantro and Basil leaves
Method
Dry roast the peanuts and whip them in a food processor till they are coarse pieces. Set aside. Mix together red curry paste, 2 tablespoon soy sauce, 1 tablespoon vinegar with some lemon juice, sugar and salt. Add little water to dissolve the sugar and set aside.
Cook the noodles as per the packet instructions. In most cases, you just have to soak them in hot water for a couple of minutes. Cut all the vegetables into julienne. Remove excess water from the tofu using a kitchen towel and cut into cubes or long cylinders. Heat oil in a wok or thick bottom saucepan. Once the oil fumes, add the tofu and stir fry till all sides are light golden. Once the tofu is brown, remove and set aside. In the same oil add garlic, bell peppers and onion whites and sauté. Then add all the vegetables starting with baby corn, mushrooms, carrots and cabbage.
Now add the prepared sauce and mix well. Add sriracha garlic sauce as per taste. Next add the boiled noodles, tofu and bean sprouts. Mix well and turn down the flame. It is now time to add in the spring onion greens, crushed peanuts and some chili flakes if you like. Also add some cilantro leaves and basil.
Mix and serve hot with a side of bean sprouts, crushed peanuts, chili flakes, a wedge of lime and chilli garlic sauce. Serve with Spicy Basil Fried Rice and Lemongrass Soup to complete the Thai meal.