A close cousin of Gujarati Thepla, these Dhebras are full of fresh fenugreek in the earthy bajri flour. With a long shelf life, these are perfect for trips and picnics!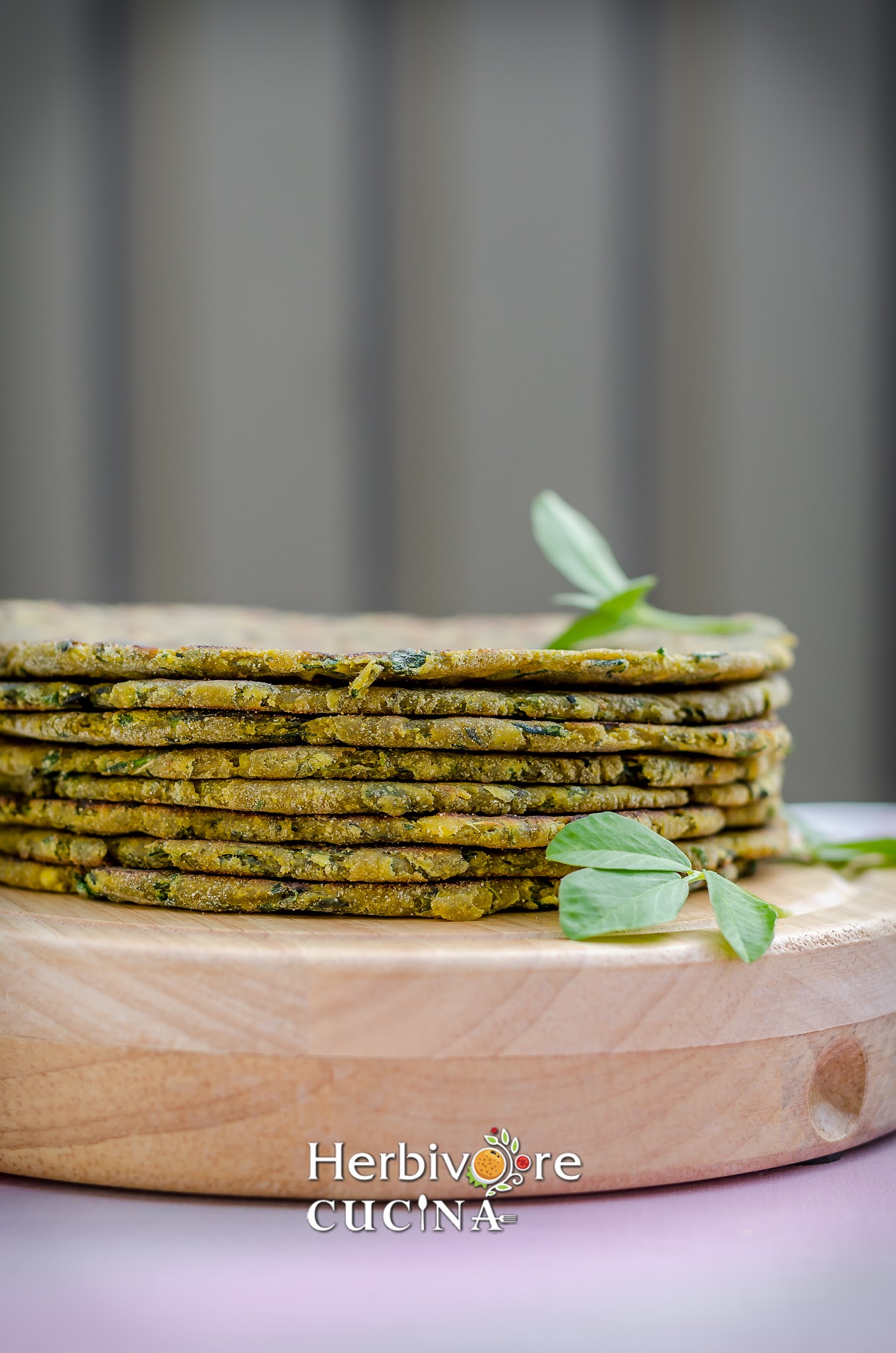 Winters arrived in time last year and it simply REFUSES to get any better. The days are short, nights freezing and the sun plays hide and seek all day. I feel I am dodging the sunlight in an attempt to get some great pictures for the blog! Though I have a studio setup at home, I just love the magic of natural light. It embeds so much life into the pictures.
Though I am not really happy with the cold weather, there is one advantage. I can cook winter specials and enjoy them to the fullest. Bajri dishes, Makai Parathas, Undhiyu, Ponk delicacies and so on. It is just the right weather to enjoy these delicious Gujarati dishes.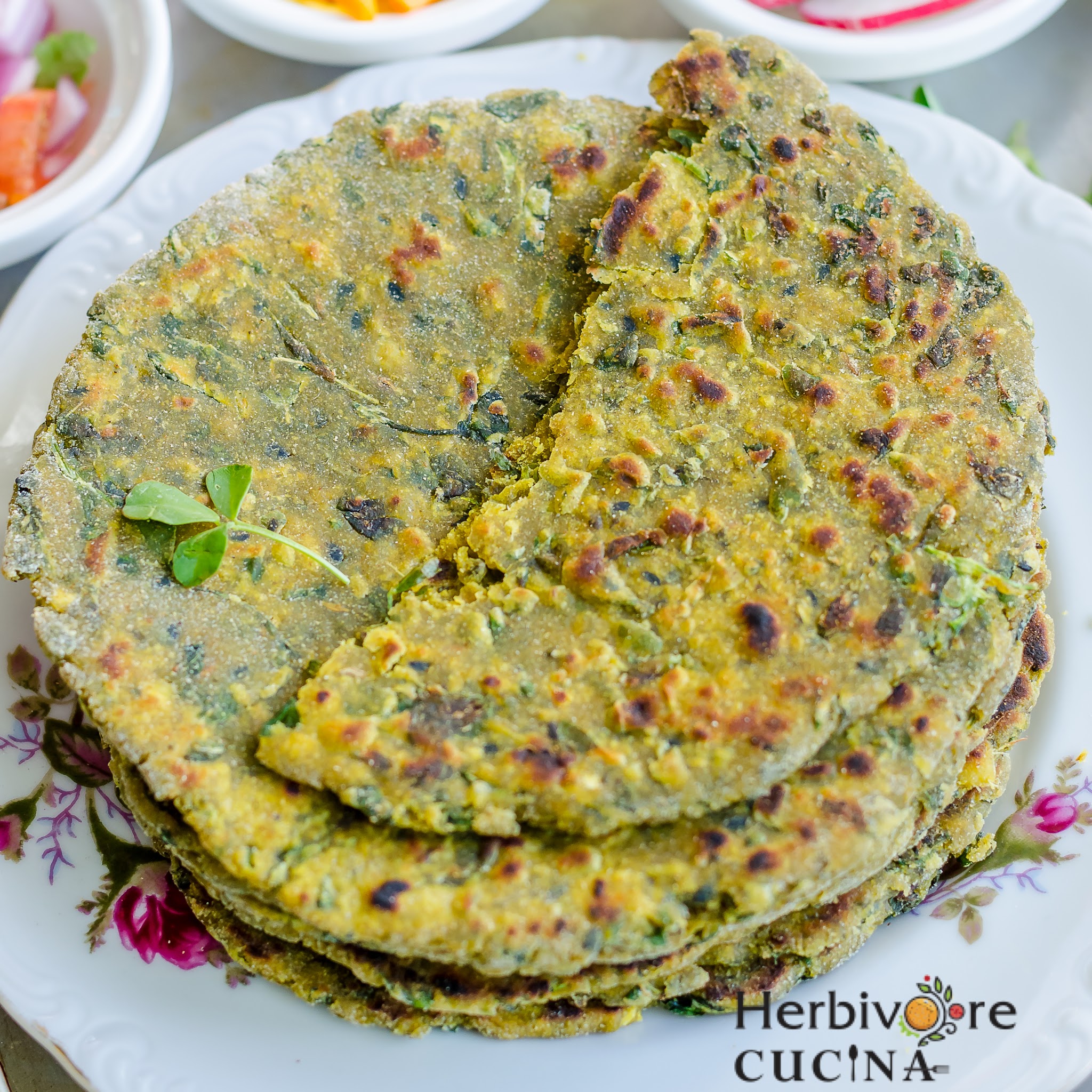 Plus, Valli gave us the theme of Flavors of India for this month's Blogging Marathon. The moment I read this theme, I was sure I was doing this theme. For years I have learnt recipes from my grandmother but never made them for the blog. Though we enjoy them at home, I know these recipes are never going to be appreciated by the larger crowd. So I put it off each time I think of posting them on the blog.
When I saw this theme, I wanted to finally put up three recipes that are lost nowadays. All these recipes were household favorites in most Gujarati families once upon a time. But nowadays they have vanished and made in barely any household!
These recipes do not have any rules and no right or wrong. Every household has their favorite way of making these dishes. The recipes are barely ever documented and are passed on from one generation to the next. Most of these are not made using any sort of measuring cups or spoons. They are made using the gut feeling and eyeball measurements.
Thepla, a simple flatbread made from wheat flour and fenugreek leaves is considered Gujarati's SIGNATURE recipe. Yes, we enjoy thepla for breakfast, lunch, dinner, picnics, long distance drives and train rides. Open any Gujarati tourist's bag in any country across the world; he will most likely have a couple of packets of mom or wife made theplas, carefully packed and kept like it is a treasure!
But we do have a variation to the thepla. A lesser known cousin of the flatbread is this Bajri Dhebra. Made in a similar way as theplas, these flatbreads are a little thicker, have some extra methi leaves and added jaggery in them. The extra methi lends a bitter taste, often offset by adding jaggery to the flatbread. Though it may sound absurd, the perfect balance of spicy garlic and chilli, sweetness of jaggery, bitterness from the methi and sourness from the yogurt gives them a great taste. Plus, the earthiness of bajri!
Generally these breads are served with Indian style Masala Tea or with yogurt. I also made a simple fresh turmeric and ginger pickle for them. They taste really great together. As bajri is not very easy to work with, we add some wheat flour. And for those who do not eat garlic or ginger, just leave them and the rest gives an awesome flatbread too. Really easy to make, these dhebras have a shelf life of a few days at room temperature and about 10-12 days when refrigerated.
Ingredients
Bajri Flour 1 cup
Whole Wheat Flour ¼ cup
Methi Leaves 1 ½ cup, roughly chopped
Yogurt 2 tbsp
Jaggery 3 tbsp
Garlic Ginger Paste 1 tsp
Green Chilli 1-2 minced
Warm water ¼ cup
Oil 1 ½ tbsp
Salt 1 tsp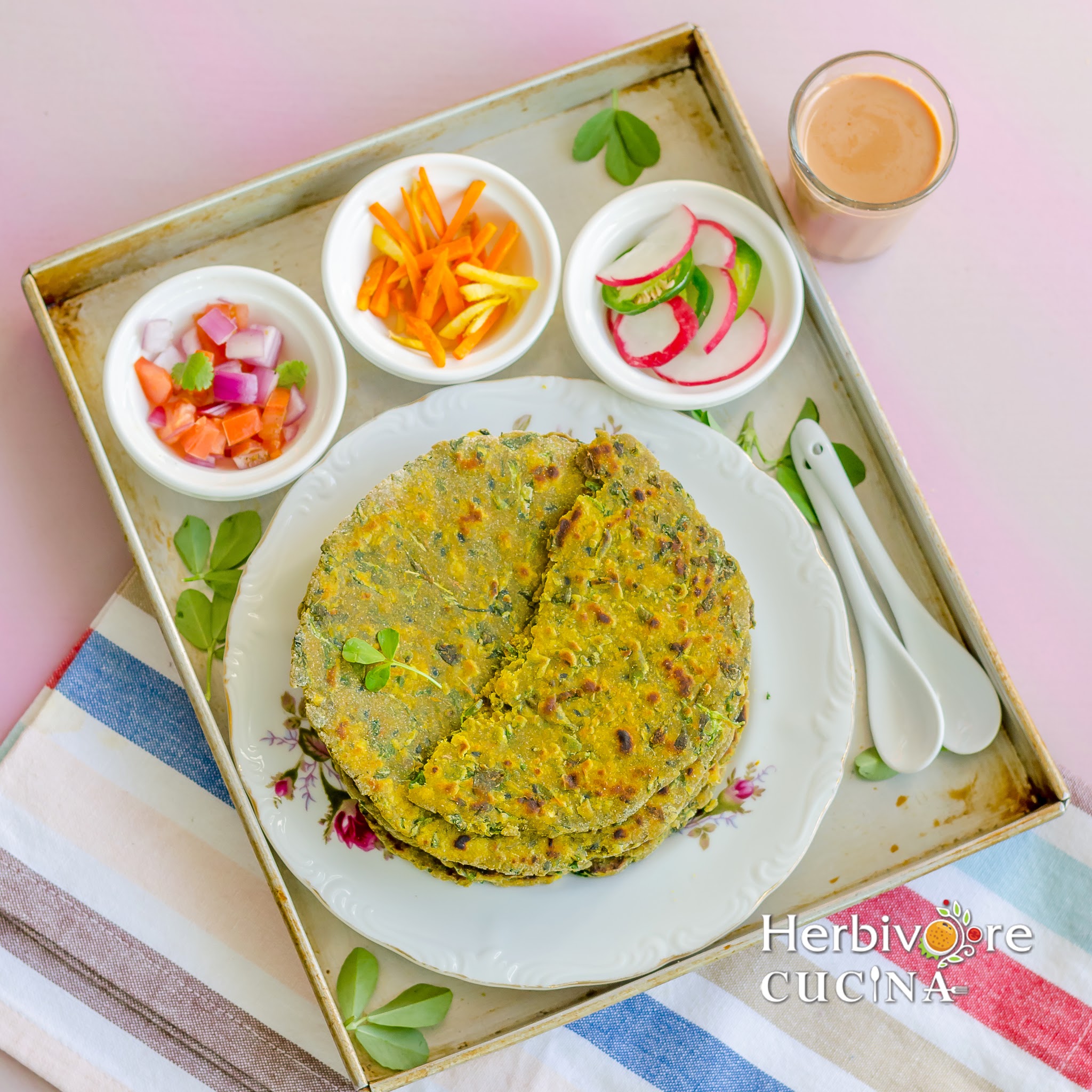 Method

In a bowl, add warm water and jaggery. Mix and let the jaggery melt for a few minutes. Use a mixing bowl and add all the ingredients.

Use some water and make a smooth and slightly firm dough. Let the dough rest for 10-15 minutes. If the dough stands for longer, the methi will start leaving water and make the dough soft.
Once rested, divide the dough into 6-8 parts. Using one part, make a smooth ball pressing in all the methi leaves. Flatten the ball and dust with dry flour. Roll out the dough to a round disc of 5-6 inches and ¼ inch thickness. Repeat for all the balls.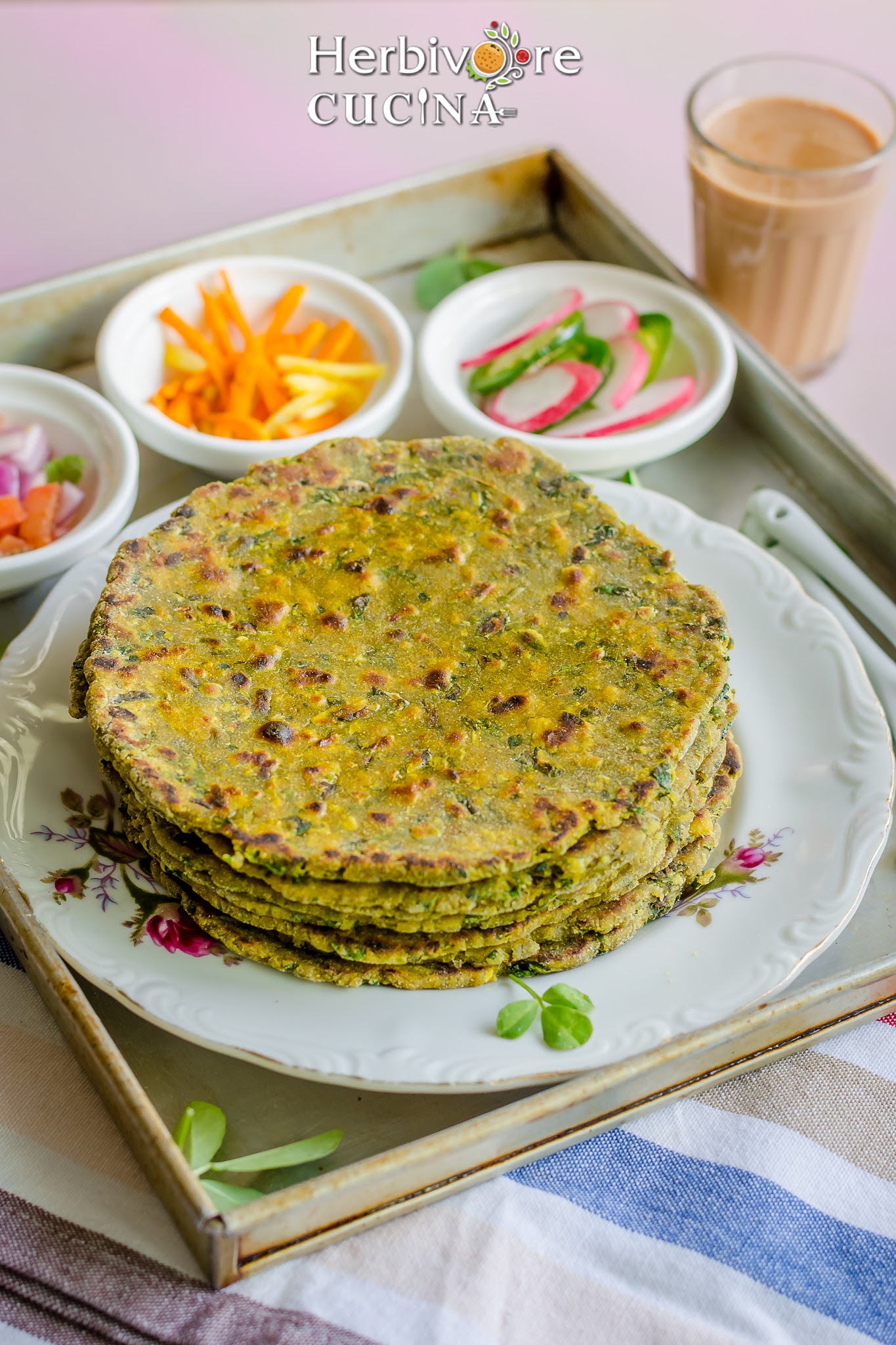 Meanwhile, heat the tava and place one dhebra on it. Cook on medium-low flame for a minute or two till bubbles start to appear. Turn it over, apply some oil and cook till spots begin to appear.

Turn it over, apply oil and cook for a few seconds. Turn over one last time and remove from flame in a few seconds. Serve warm with chai or yogurt and pickles.