Waking up on a Sunday morning and thinking what to make for breakfast? This happens very often in our house. I always want to make something new on weekends but then I also want to click pictures and add those recipes for my blog. But again, it is weekend and I get lazy to start the day with the blog! That is the chief reason that certain weekend special breakfast and brunch recipes have not made it to this page yet! Now I am trying to have those recipes here, and I convince my husband to take pictures for me. Just because I am bored on Sunday mornings! And he does that for me 🙂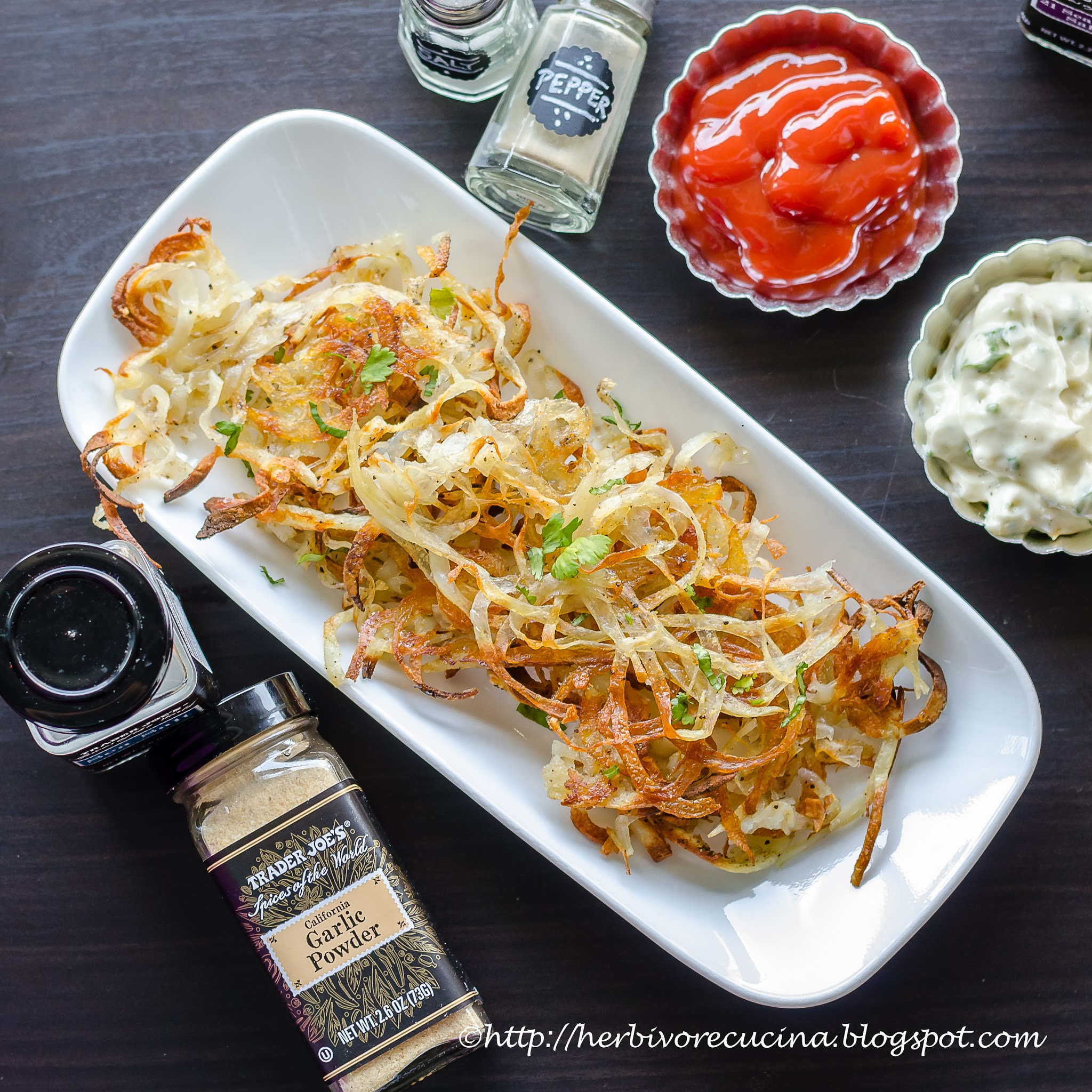 Yesterday, I felt like having a restaurant style breakfast and thought of hash browns. If you have noticed, each place, each chain of restaurants in the US have their own style of making hash browns. While Black Bear Diner makes it with thick cut potatoes, IHop has really thin shredded potatoes, baked on both sides. The one from Dennys is similar, and Dunkin Donut has small little fried rounds of goodness! I love to devour on at least a packet or two whenever we find a Dunkin when we are on vacation. It is sad that they are not present in North California yet!
Now getting to the recipe, I generally do not like to fry things and continuously look for alternatives like baking or paniyaram stand recipes. This is also a part of that effort. While I have seen a lot of recipes that use the waffle maker to get crisp hash browns, I decided to try baking. Just gathered the ingredients: russet potatoes, olive oil and spices; used my brand new spiralizer to spiral the potatoes and baked it all to get perfectly crisp and well cooked hash browns. I also made a roasted garlic aioli to go with the hash browns. It tasted great and made a perfect holiday breakfast!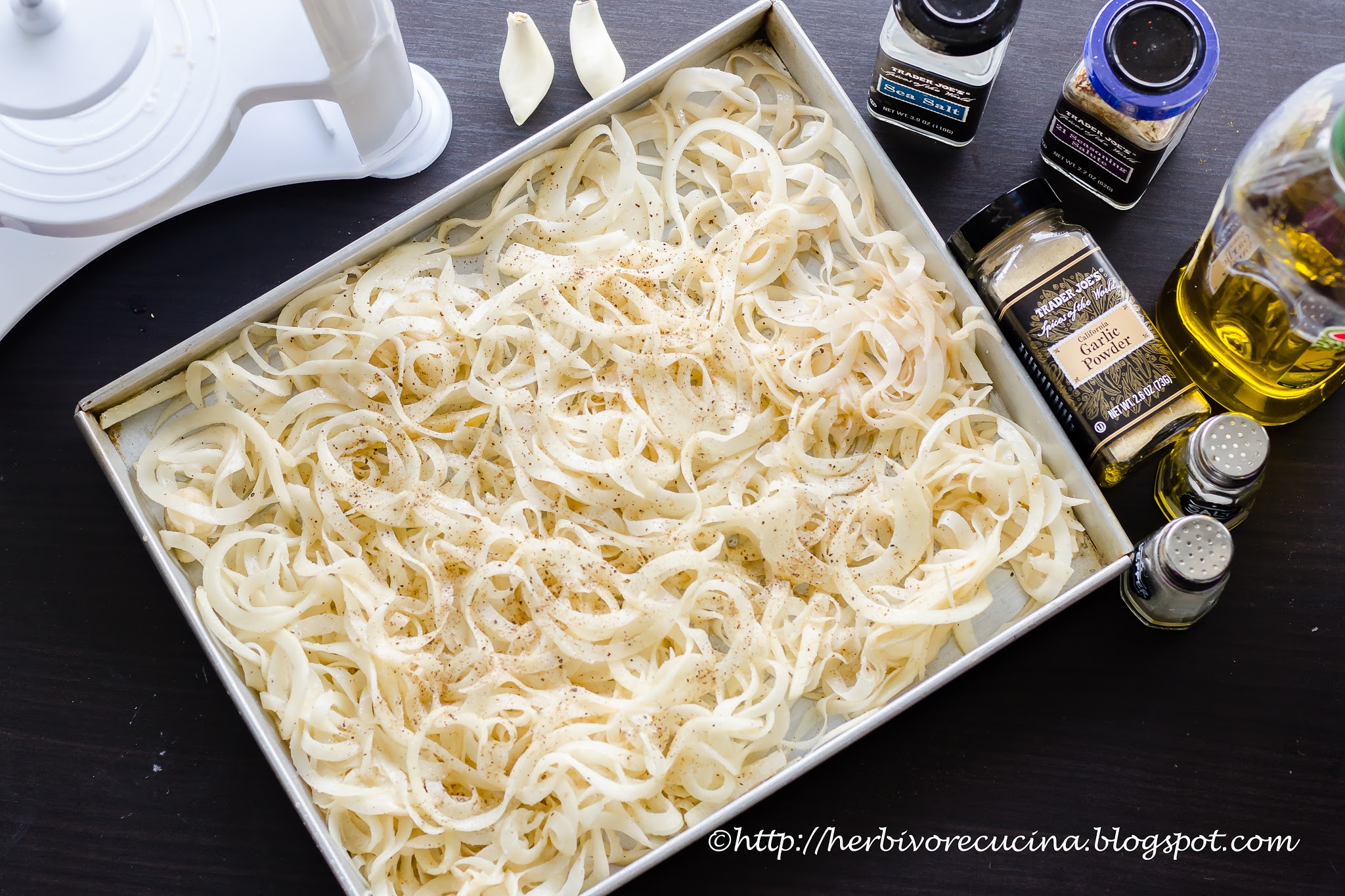 Here is a little bit on the spiralizer I used. I was sent this vertical spiralizer from Brieftons, to try and review it. I thought it was perfect to use this one for making long strands of potato for breakfast. This 4 blade spiralizer is easy to use and easy to clean. You can spiralize vegetables in different thickness, from the angel hair size right upto 55 mm wide noodles. I like the fact that the blades can be changed with just a turn of the knob and there is no hassle to store the blades like other spiralizers. The construction is such that when you press vertically, gravity does most of the work to aid easy turning of the handle. It is sad that the thickness cannot be changed in this spiralizer. I would have loved the machine if that was possible. Overall, I am satisfied with the device and it works pretty well. If you would like to get one, click here.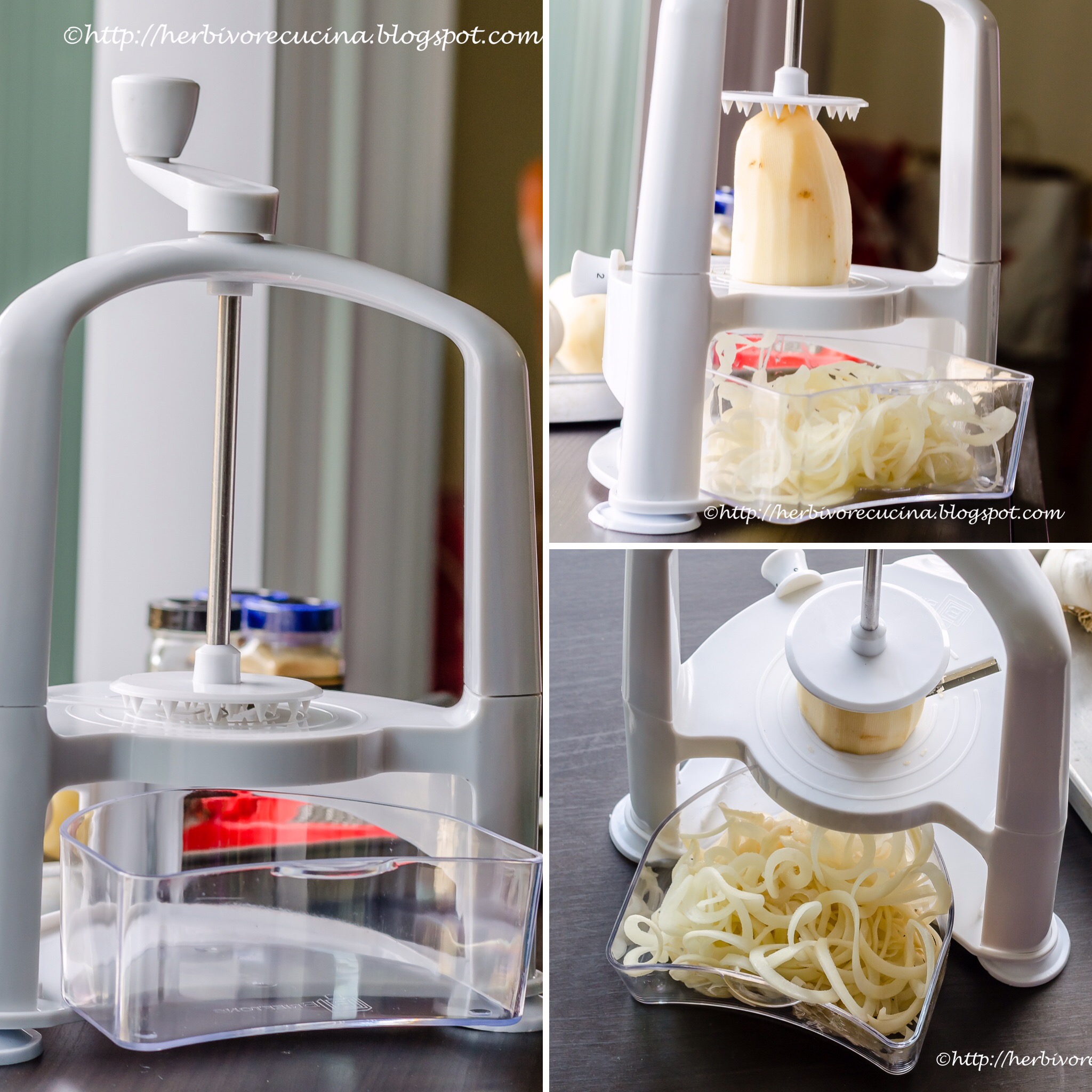 Ingredients
For the Hash Browns
Russet Potatoes 2 large
Olive Oil 2 tbsp
Garlic Powder 1 tsp
Salt, Pepper
Parsley/ cilantro to top
For the Aioli
Garlic 2-3 pods
Mayonnaise 4 tbsp
Sour Cream 2 tbsp
Salt, Pepper
Parsley
Method
Preheat the oven to 425 F/ 220 C. Peel the potatoes and using a spiralizer with a 3 mm wide blade, spiralize the potatoes. In a large mixing bowl, add the potatoes, olive oil, garlic powder and salt. Mix well. Line a baking dish with cooking spray or line it with a parchment paper. Transfer the potatoes to the baking dish and spread it out in a single layer. Piling the potatoes will make them soggy. Also, to make the aioli, peel the garlic pods and place them in the same baking tray.
Sprinkle pepper powder on the potatoes, and bake the hash browns for 5-6 minutes or till the top is crisp. Turn it over and bake for another 4-5 minutes. Then broil the potatoes for a minute on high. Remove the tray from the oven and remove the garlic pods.
To make the aioli, crush the roasted garlic using the back of a spoon. Whisk together mayonnaise, sour cream, salt and pepper. Add the roasted garlic and parsley. Mix well.
Serve the hash brown with the aioli and tomato ketchup. This dish can be served as a side with omelette, boiled eggs, beans on toast or even as it is for a light weekend breakfast.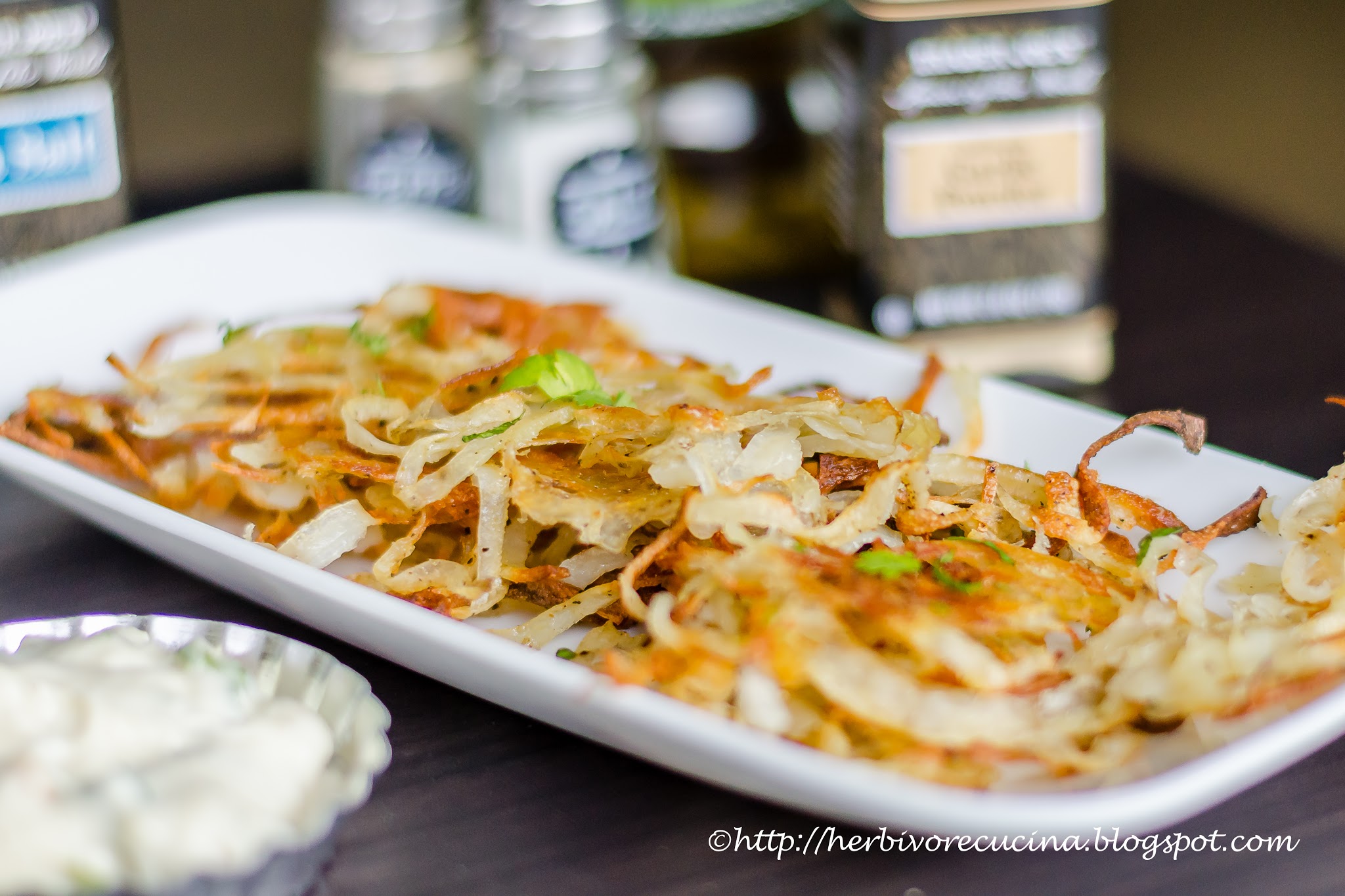 **One or more products in this post were sent to me complimentary for review purposes. However, all the opinions are unbiased and completely my own.