Celebrate Mother's Day with these wonderful naturally colored pink Cinnamon Rolls. Full of cinnamon and beetroot, this one is definitely a keeper!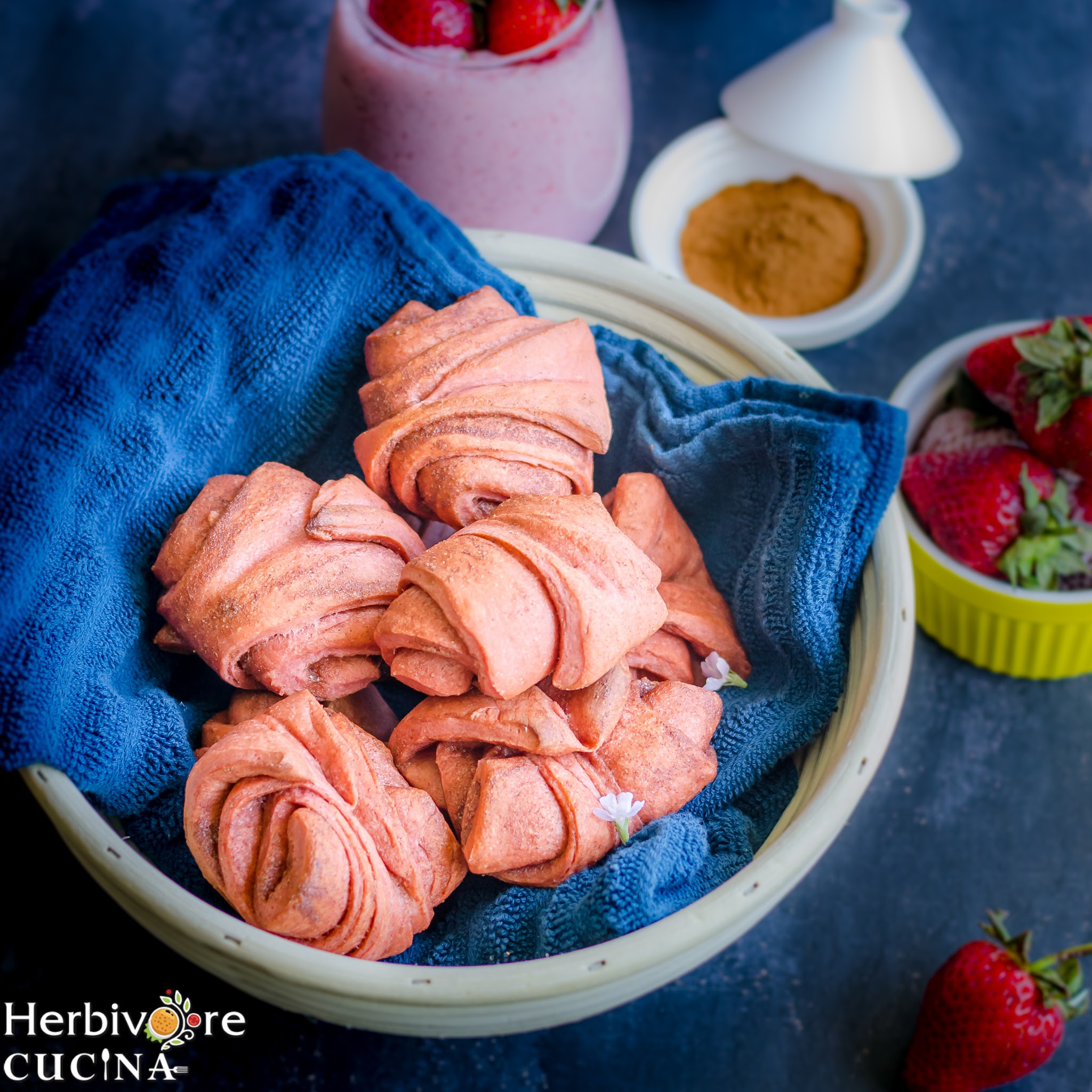 It is May and it brings with it one of my favorite days, Mother's Day! Though the concept of celebrating these days was not popular in India while I was growing up, I caught up on Mother's Day and Father's Day pretty quickly. I simply loved the concept of celebrating a day for the people who are all so important in our lives. A lot of folks argue that a day is not enough to appreciate them. I agree with them, but what is wrong in making them feel 'extra' special one day of the year?
Now when I am in US, it is wonderful to see all the buzz around these days. It is made into an occasion for families to get together and celebrate the most prized members in the family; the moms and grandmoms. I see the craft stores full of pinks and purples and restaurants offering special menus and brunches. 
But what is better than making something at home to please your mom? Inspired by all the pinks I saw around me, I was sure I was going to post something for this day. Then, I saw that the theme for Bread Bakers this month is May Flowers or Mother's Day inspired breads. Thanks Julie of Hostess At Heart for selecting this theme. I am super excited about my bread this month! 
So here is a small mishap that happened while making this bread. I started off making beetroot rolls that were to look like flowers. However, I added some extra oil in the dough and the flowers refused to stand. So I baked a simple loaf using the dough and it came out perfect! However, it was not going to be my entry for this event so I decided to try another recipe.
Why Cinnamon Rolls?
I have baked a ton of breads in the last few years but never made cinnamon rolls. I have admired the folks at Cinnabon make those wonderful rolls, but never felt like trying it out myself. 
So I finally decided to try them. Ans because I was hell bent on making a pink colored bread, I decided to add beetroot to the dough. And yes, I was sure the combination of beets and sinnamon will be a good one, and I was right! The balance of sweetness and earthy flavor was just right in this one!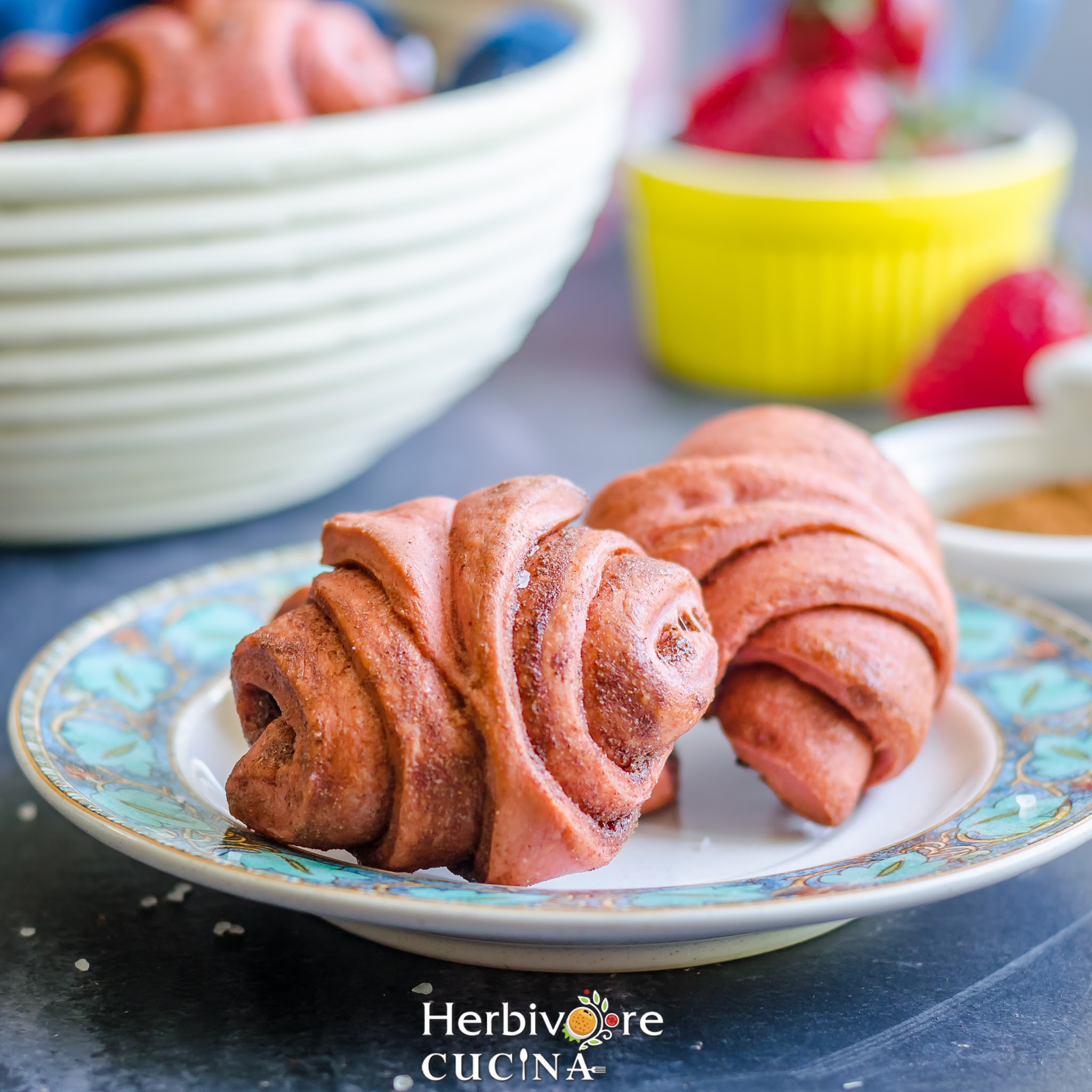 How to use beetroot in any bread dough
This question was on my mind all the time. The first time I used beetroot in my dough, I replaced half the water with beetroot puree and the result was great. However, when baked in a loaf; the color fades on the outside. The bread will have a brilliant pink shade on the inside on slicing.
Then I tried roasting a beet to deepen the color. And because it was soft, I blended it without water. The result was a deeper color and I was pretty happy with it.
Recently I went to Arizona and was exploring a local co-op store there. I happened to see organic beetroot powder and it had to come back with me! Now just a pinch goes a long way in my baking and smoothies. Among all these options I would strongly recommend having a small amount of this powder at home. I am in love with the ease of using it and the dark color it gives. 
Coming back to the bread, these rolls are super easy and quicker compared to regular bread. With one full rise and one only for 30 minutes, the rolls hold their shape well. If you let them rise to double the second time, the breads will lose their shape to a great extent. 
Hope you make these beauties and yes, here is wishing every mom a Happy Mother's Day. Don't forget to make their day a little more special!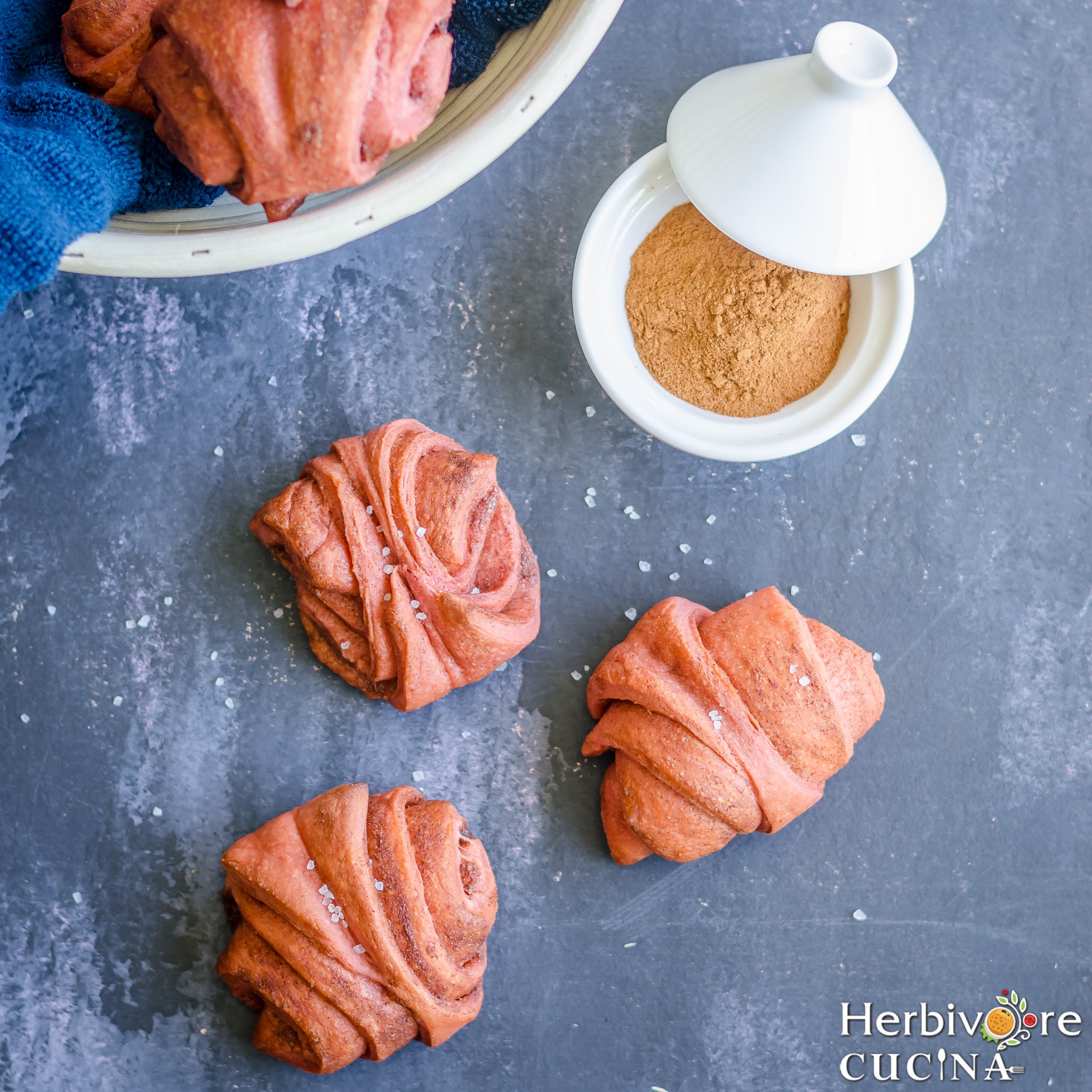 Rolling method inspired from here. 
Ingredients
All Purpose Flour 3 cups
Olive Oil 3 tbsp 
Sugar 2 tsp
Dry Active yeast 1 sachet (2 ¼ tsp)
Salt 1 tsp
Beetroot Powder 2 teaspoon (or ½ roasted beetroot)
For the filling
Unsalted Butter 2 tsp
Brown Cane Sugar 2 tbsp
Cinnamon Powder 1 tsp
Dried Ginger ¼ tsp
Method
In a bowl heat 1 cup water. When just warm, add one teaspoon sugar, salt and yeast. Mix well and let the yeast bloom for 10 minutes. 
In a large bowl or the bowl of a stand mixer add the flour, beetroot powder, sugar and unsalted butter. Mix everything and add in the yeast mixture. Knead on low for a few minutes till it comes together.
Then knead the dough for 8-10 minutes on medium speed till it is soft and smooth and comes away from the sides of the bowl.
Coat the dough with some oil or butter and place it in a bowl. Cover it and rest in a warm area for an hour till it doubles in size. 
Melt the butter for the filling and mix in the remaining ingredients. Set aside. 
After the dough doubles, punch it down and knead for a minute or two. Divide the dough into two parts. Using each part roll out the dough into a rectangle ¼ inch thick. It will be about 10 inches x 18 inches. 
Brush the filling on both the rectangles, leaving ¼ inch on all sides. Start rolling the dough along the long side in a tight loaf and seal the edges. Cut the roll into 12 parts, rotating cuts on the diagonal. You should get 12 equal sized triangle pieces.  
Press a skewer in the middle of each roll to shape. Place the rolls in a baking tray lined with parchment paper. Cover and let them rise for 30 minutes.
Preheat oven to 400 F/ 250 C. Place the risen rolls and bake for 12-14 minutes, till it is no longer wobbly and the top is dark and crisp. 
Remove and cool on a cooling rack. Enjoy with some butter or tea. I served them with strawberry milkshake, making them perfect for Mother's Day breakfast!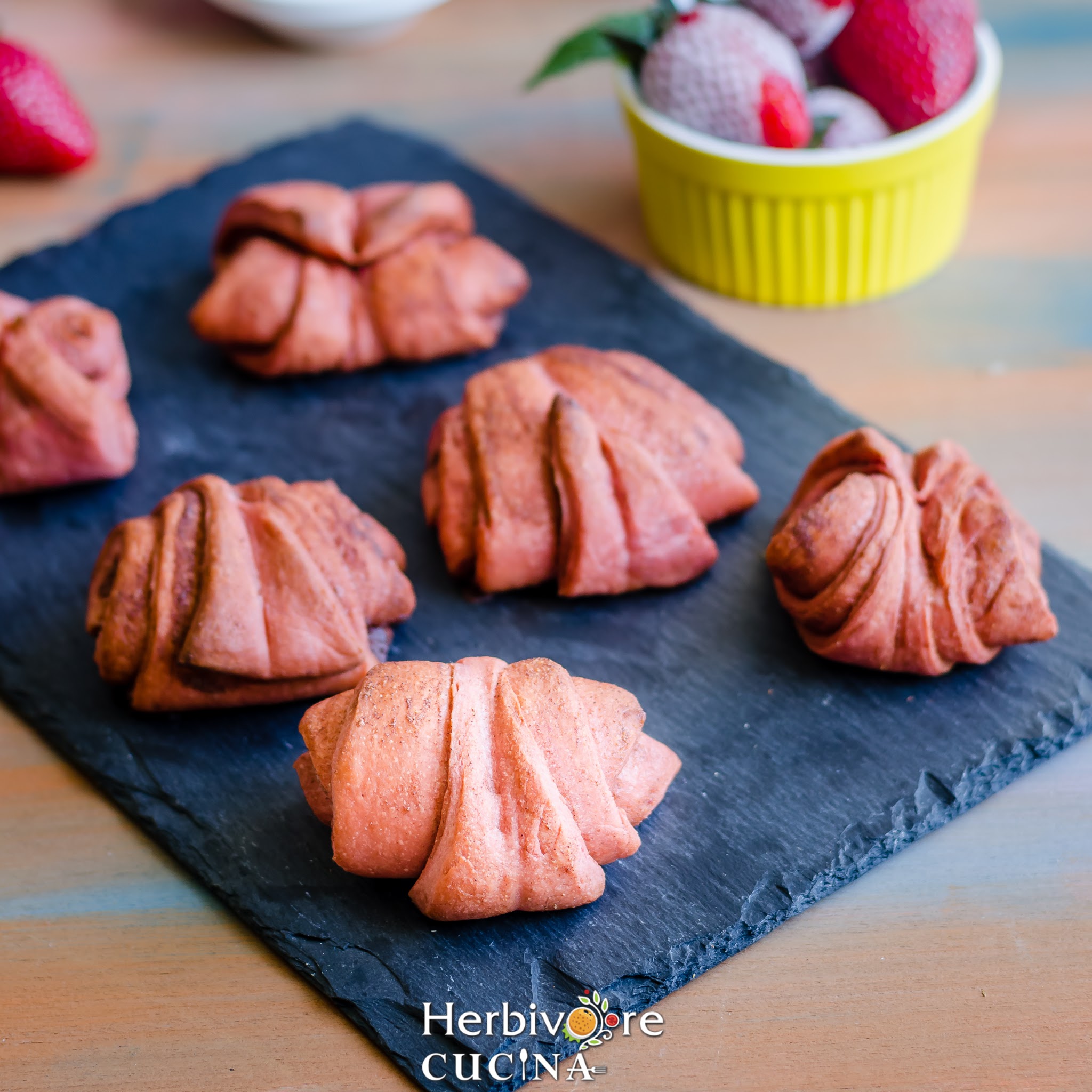 #BreadBakers is a group of bread loving bakers who get together once a month to bake bread with a common ingredient or theme. You can see all our of lovely bread by following our Pinterest board right here. Links are also updated after each event on the #BreadBakers home page.
We take turns hosting each month and choosing the theme/ingredient. If you are a food blogger and would like to join us, just send Stacy an email with your blog URL to foodlustpeoplelove@gmail.com.
Our theme for the month is Mother's Day or May Day inspired breads. Here's what my creative baker friends came up with.