Bharwan, which means stuffed and Bhindi, i.e. Okra is a famous Indian vegetable preparation. Sometimes also referred to as 'Bhinda na Sambhariya' in Gujarati, this delicacy is prepared in various ways in different parts of the country. The stuffing in Okra can be anything from roasted gram flour to crushed peanuts or shredded coconut.
For a very long time, I haven't seen the kind of Okra we used to get in India. Here, the okra is short, pale green and thick, much different from the slender dark green thin variety we get there. On a recent trip to buy vegetables at a store around the corner, I found the perfect okra i wanted to see for a while. So, here is a tasty preparation; okra stuffed with roasted gram flour and shredded coconut and Indian spices.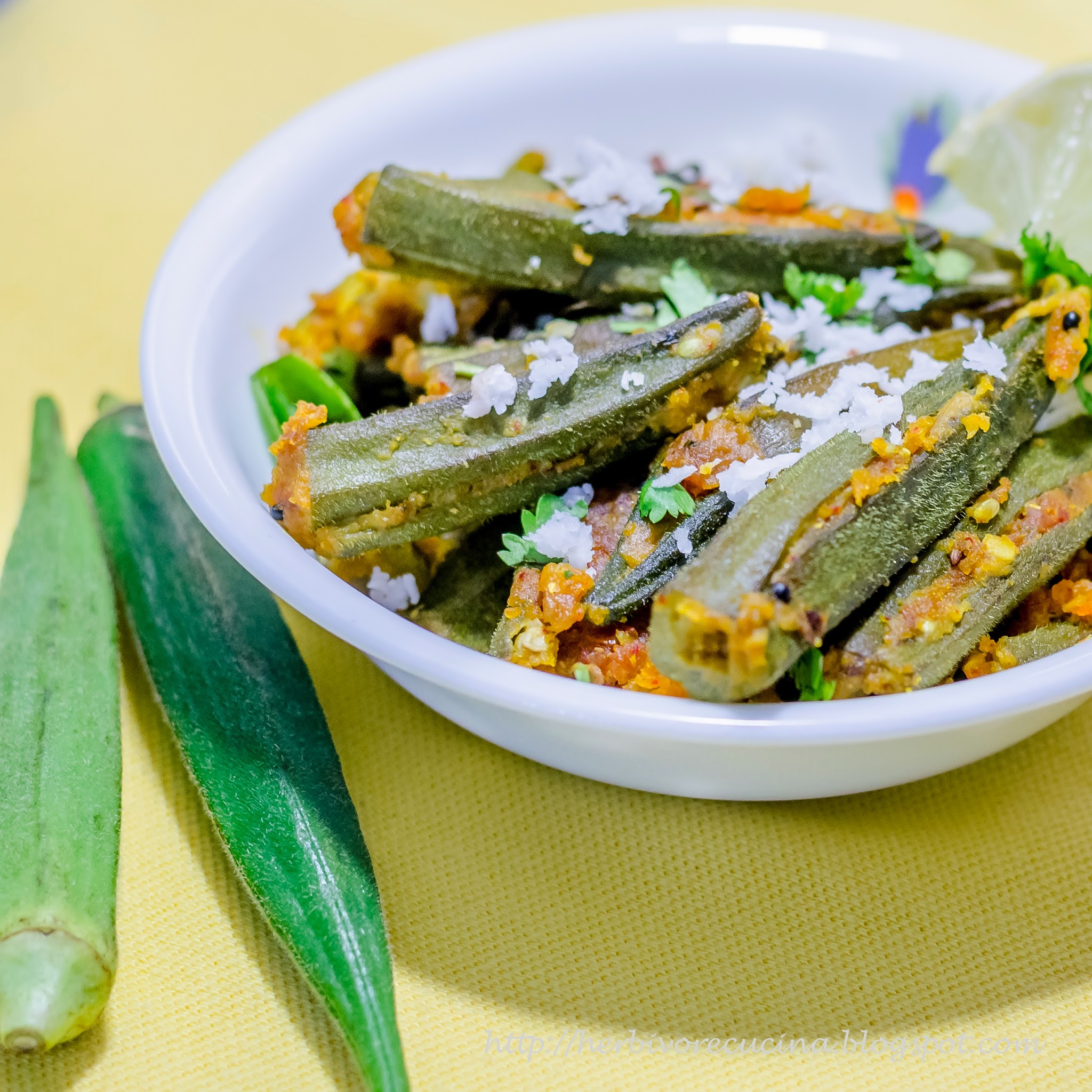 Ingredients
1 lb. Okra
1 cup Gram Flour
½ cup shredded coconut
Indian spices( Turmeric Powder, Red Chilli Powder, Dhania Jeera Powder, Mustard seeds, Cumin seeds, Sesame seeds, Carom seeds)
Oil
Salt
Sugar
Lime Juice
Cilantro
Method
Cut the tips of the Okra. Slit them from the centre, keeping the pieces intact such that the okra does not split into two parts. You may cut the okra into two pieces and slit the centre.
In a pan sauté the gram flour till it darkens in color. Remove in a mixing bowl and cool. After a while add salt, sugar, lime juice, turmeric powder, dhania jeera powder, chilli powder, sesame seeds and carom seeds. Mix well. Add shredded coconut and finely chopped cilantro and mix.
Take one piece of okra, stuff it with the gram flour mixture and keep aside. Repeat till all the okra are stuffed. If you have some leftover masala, it can be used in the sabji.
Heat oil in a pan and add mustard seeds, followed by asafoetida, cumin, carom and sesame seeds. Once they splutter, add the okra and leftover stuffing. Mix gently, ensuring the okra do not split or crumble. Cover and cook for about 15 minutes. After 15 minutes check if the okra is soft turn down the flame.
Garnish with coconut and cilantro, and serve hot with Phulka, papad, rice and salad.