We are coming to the end of November and it time to enjoy the winter bounty of fruits and vegetables. Plus, it is time for Thanksgiving and everyone is busy preparing a list of items they will make for the BIG day! Brussel Sprouts are in season and I cannot get enough of the green colored beauties. We love our sprouts in salads, stews and even as part of our Indian curries. Though I have used them quite a bit in the kitchen, this is the first time I am adding them to the blog. That is primarily because I saute them and we quickly finish the platter, having no time to click pictures!
This time as part of the Secret Recipe Club the recipe has finally made it to the blog. For those who do not know about SRC, it is a recipe sharing club. We have a hostess, mine happens to be Sarah, who blogs at Fantastical Sharing of Recipes. She assigns each person a blog from one of the other participants. You have to select a recipe from their blog and post it on the reveal day.
Today the blog assigned to me is Cook with Sara by Sara. It is a great blog with TONS of recipes. I saw the recipe index on the blog and found a lot of dishes pretty interesting. However, given that Brussel Sprouts are in season and I love to make recipes with them, I chose this one.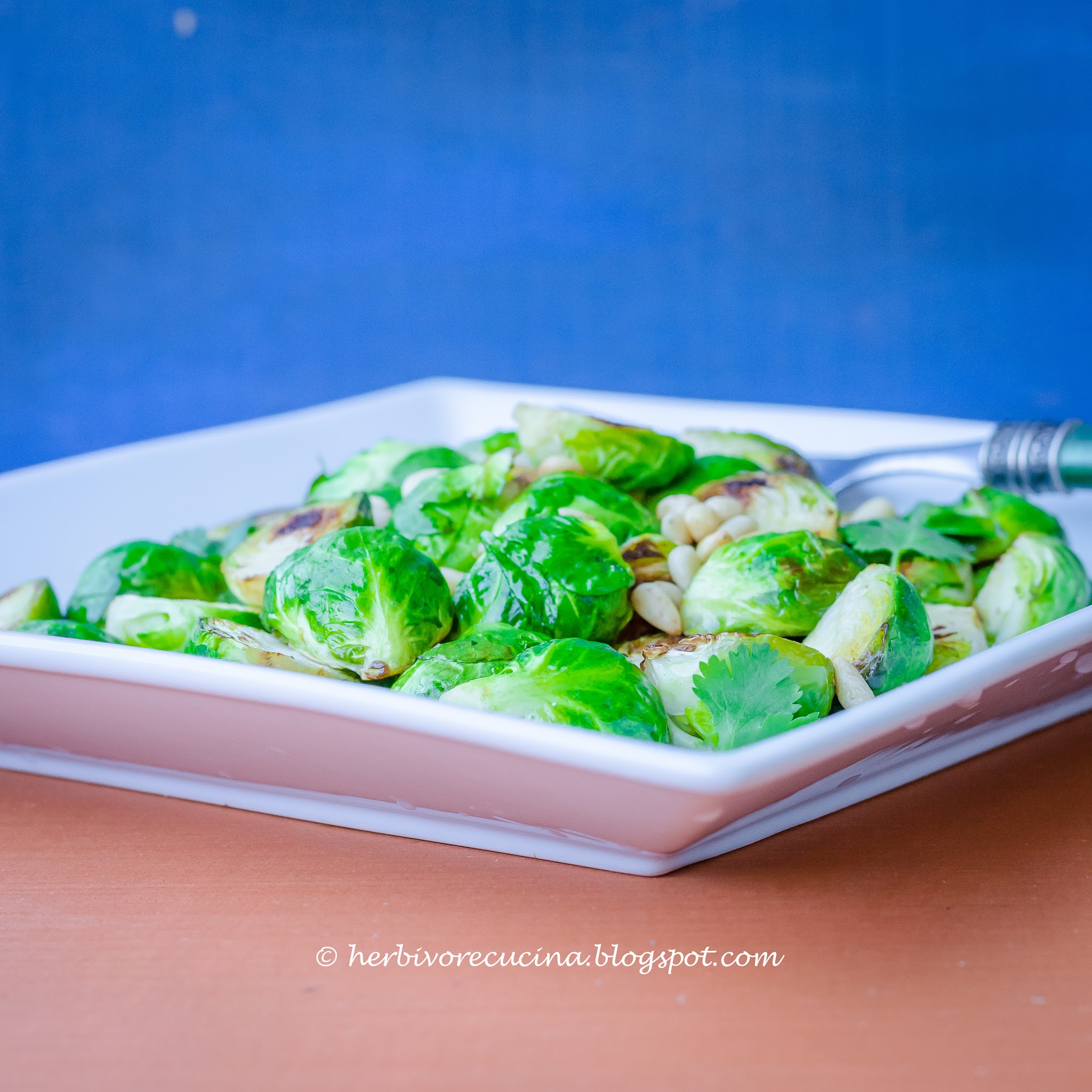 The ingredients needed for this one are pretty straightforward: Brussel Sprouts, Garlic, butter and salt to taste. However, I added some pine nuts for added crunch. The result was spectacular, partly because of the garlic butter that went into the sprouts and partly because of the crunchy nuts and fresh brussels. I made it for dinner last week and as expected, I could barely finish shooting before we were ready to devour it. The whole recipe takes only 5-7 minutes and no prep time as such. However, the result is perfect and the sprouts are super tempting.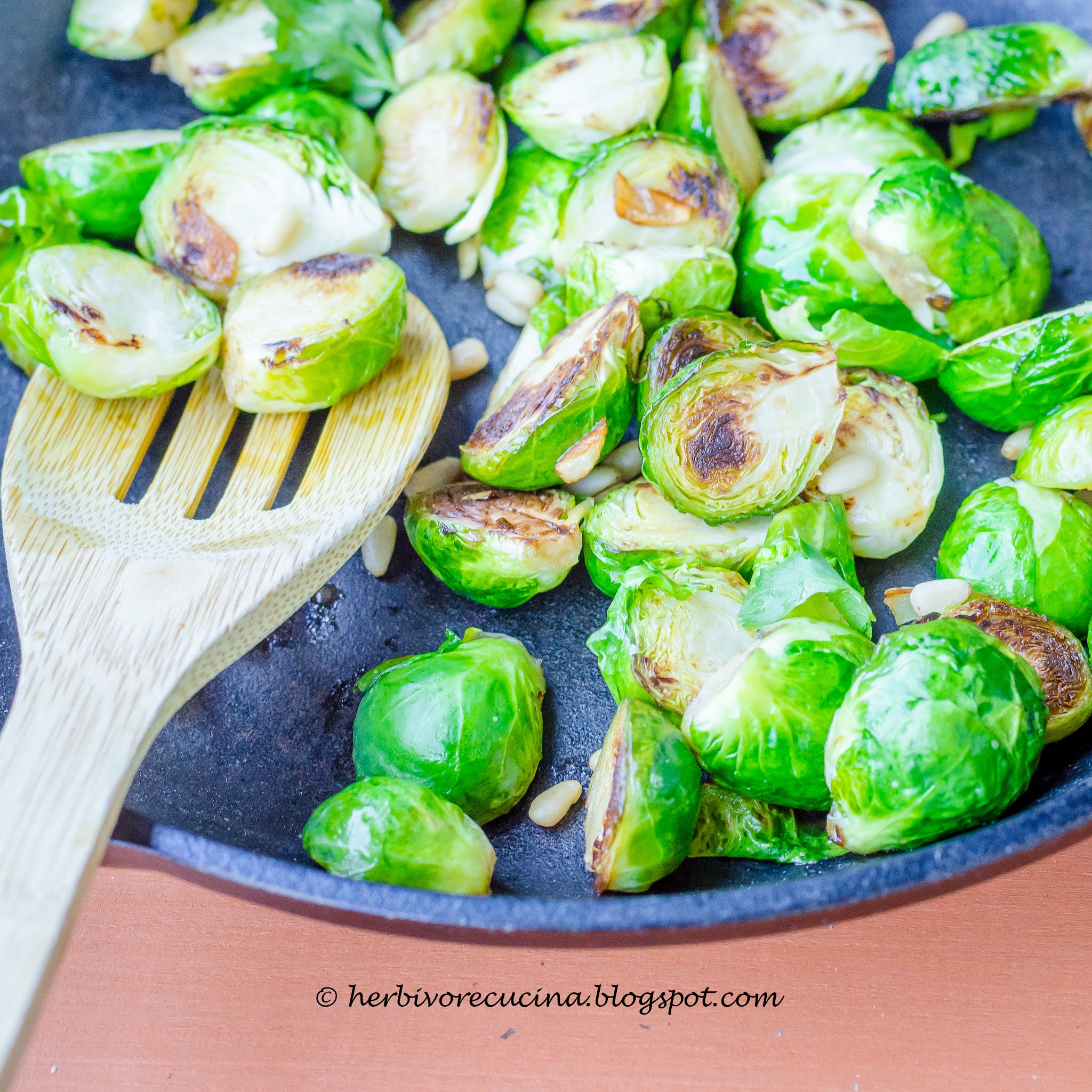 For those who LOVE garlic, this one is to die for! The strong garlic flavor infused in olive oil and butter gets transferred into the brussel sprouts so well. I used the jumbo cloves from Gilroy and my, the flavors were to die for! If you ever happen to be near the Bay Area, do visit Gilroy. You know you have arrived when the air smells of garlic and you see truckloads being transported almost all the time. They have a strong garlic breed that is perfect for all garlic lovers. Even if you do not have that garlic, the taste will still be great. Do try this quick recipe and do not forget to leave a line at the bottom of the post about how you liked the recipe.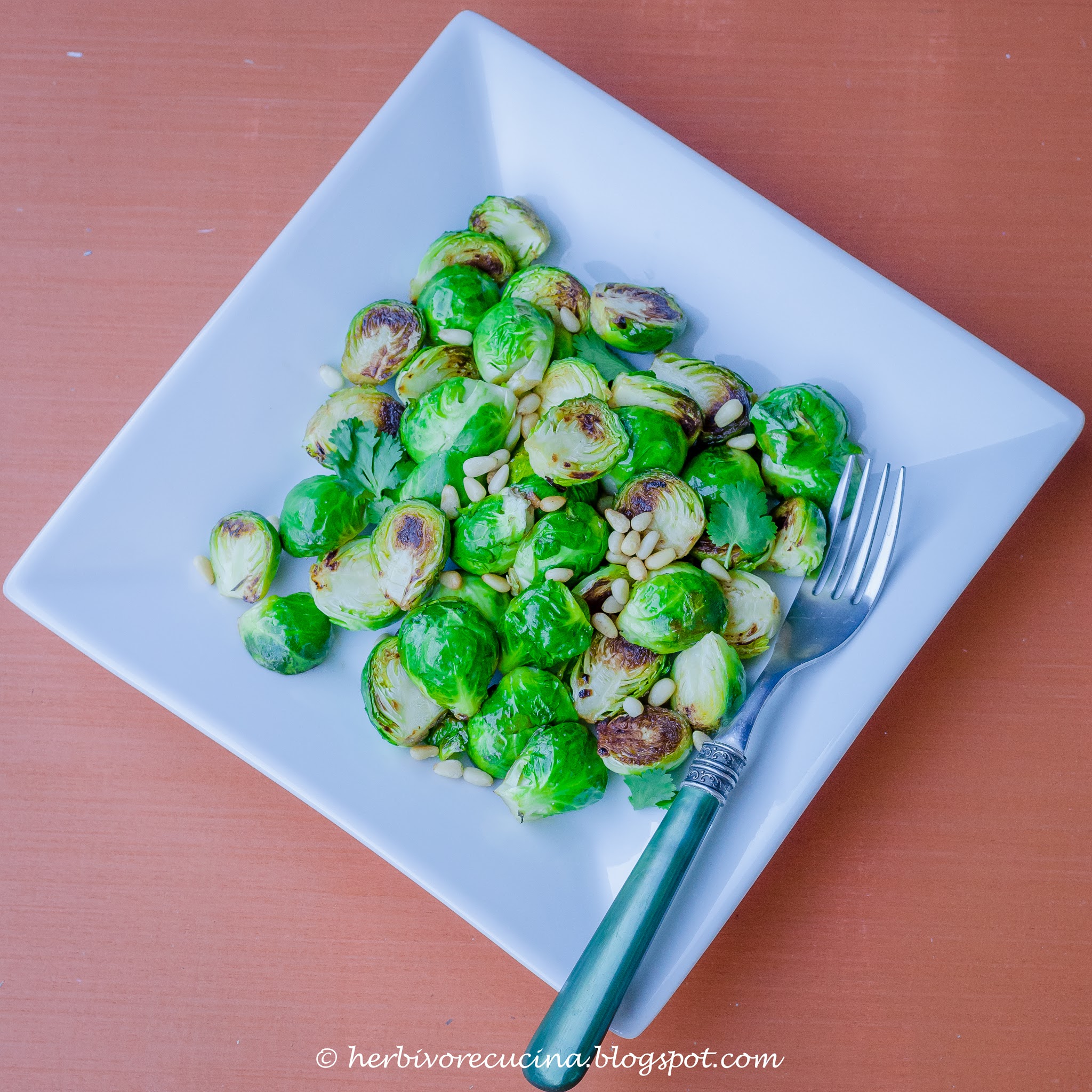 Ingredients
Brussel Sprouts 16-18
Olive Oil 1 tbsp
Butter 1 tbsp
Garlic 3-4 cloves, smashed
Salt and Pepper to taste
Pine Nuts to top
Method
Slice the Brussel Sprouts into two and set aside. In a wide pan heat oil and butter. Add the garlic and saute till crisp and caramelized. Remove the garlic and set aside.
In the same oil butter mixture, add the brussel sprouts cut side down and cook till they are brown on the bottom and can be pierced with a fork. It takes about 10-12 minutes on medium flame. Do not stir them while cooking.
Season with salt and pepper. Add back the garlic pieces and sprinkle pine nuts. Serve immediately.