It is August already and time for another edition of #BreadBakers. For this month our host Sue of Palatable Pastime selected a theme that has 'Peppers'. In any of its form and spiciness or sweetness, we were to use any pepper to make a bread or likewise.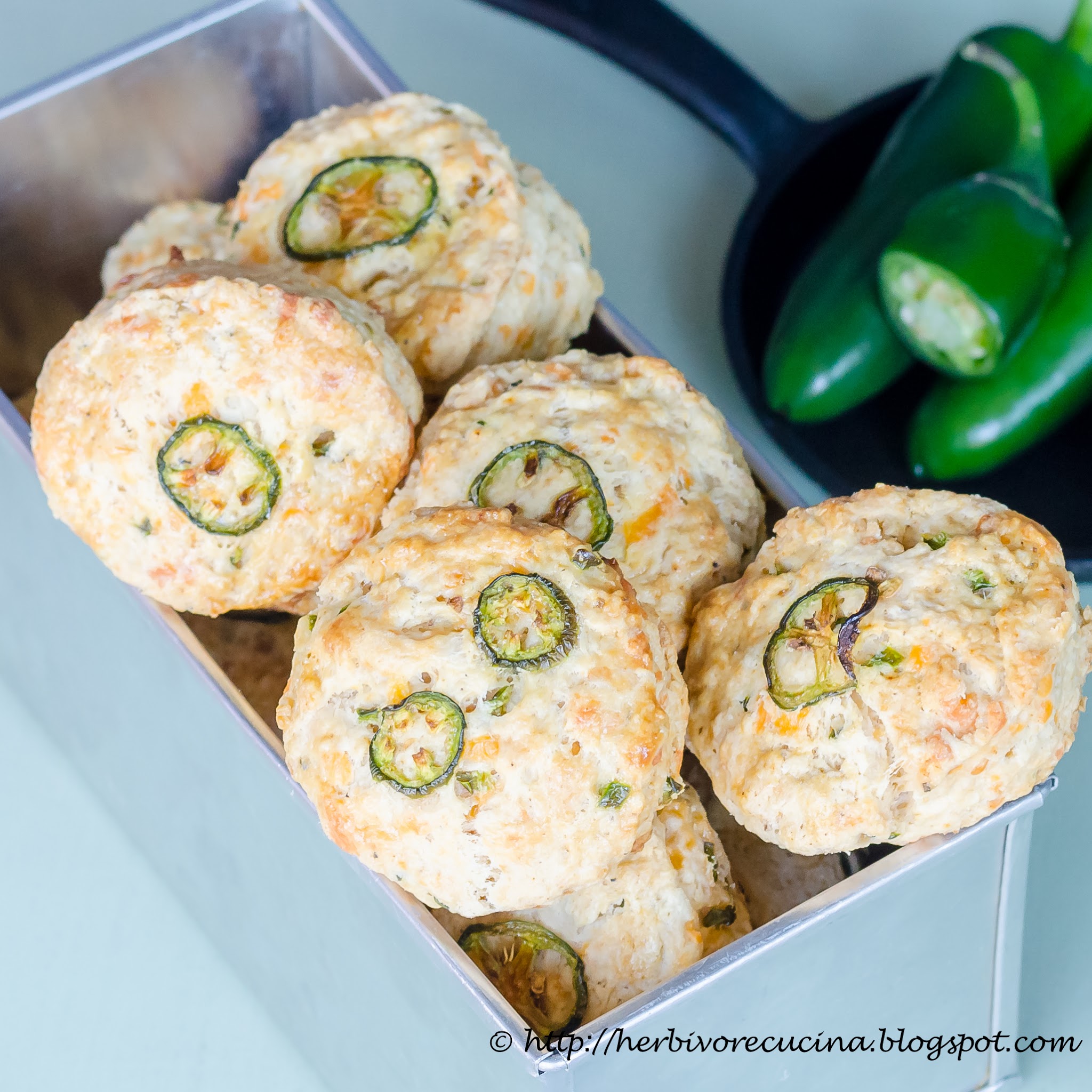 For this month I wanted to try something new and scones was probably on the top of my to-do list. A quick search led me to this recipe by Ashley of Baker By Nature. The original recipe had bacon bits which I eliminated and replaced Pepper Jack Cheese with Cheddar cheese. The result was a batch of perfectly baked scones that had the flavor of cheddar along with a spiciness from the jalapeno.

The recipe takes little time to come together. Once the ingredients are mixed, it takes some time to freeze the flour and butter. But once that is done, the rest of the process is really quick. The scones bake perfectly in about 20 minutes. A couple of alterations possible in the recipe is with respect to the add-ins. If you dislike the heat just substitute jalapeno with scallions or minced garlic. And if you prefer, you can substitute yogurt for sour cream.

With the given proportions, I could make about 15 scones with a 2 inch biscuit cutter. If you would rather not make all those rounded ones, just place the entire dough in a 10 inch cast iron skillet and divide it into 8 or 12 wedges. Bake the scones and separate them once baked. I wanted them to look pretty and went all the way to make equal sized rounds. Enjoy the savoury scones with eggs or gravy. They taste perfect even without a side.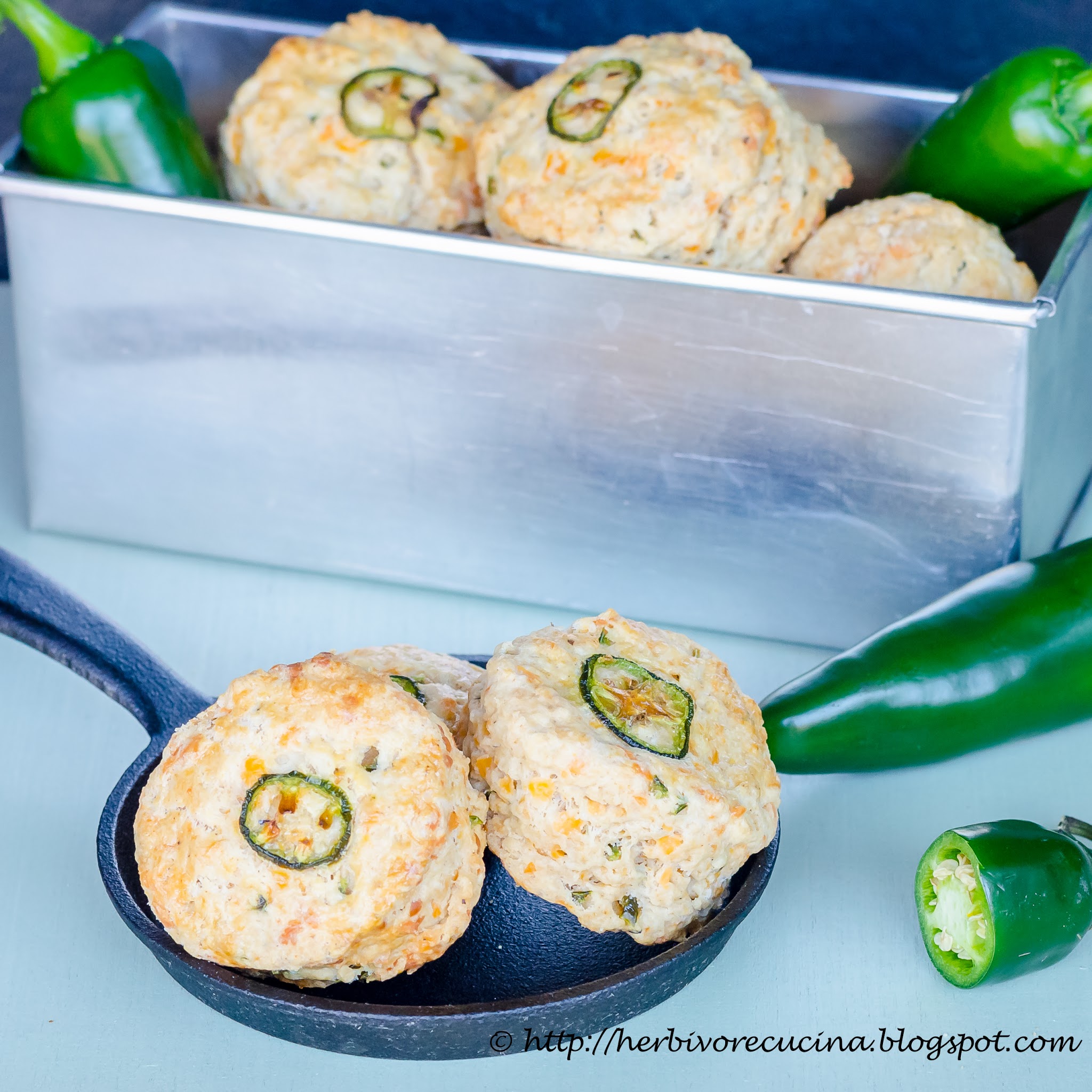 Ingredients


All purpose Flour 3 cups
Jalapeño 2-3 medium
Cheddar Cheese 1 cup
Chilled Unsalted Butter 1 stick (8 tbsp)
Baking Powder 2 tbsp
Brown Sugar 2 tbsp
Greek Yogurt 1 cup
Salt 1 tsp
Black Pepper ¼ tsp
Smoked Paprika ¼ tsp
Egg 1 (optional)


Method

Mince about 2 ½ Jalapeño removing the seeds and ribs. Slice the remaining ½ jalapeno. Adjust the quantity of peppers depending on how hot you want the scones. In a large mixing bowl add flour, baking powder, salt, sugar, smoked paprika and black pepper powder. Mix well. Cut chilled butter and add it to the ingredients. Add the cheese and mix quickly. Cover and place the bowl in the freezer for 15 minutes.

Preheat oven to 400 F/ 210 C. Line a baking tray with parchment paper. Remove the flour mixture and add greek yogurt and jalapeno. Mix everything well. The dough might be little sticky, but it is fine.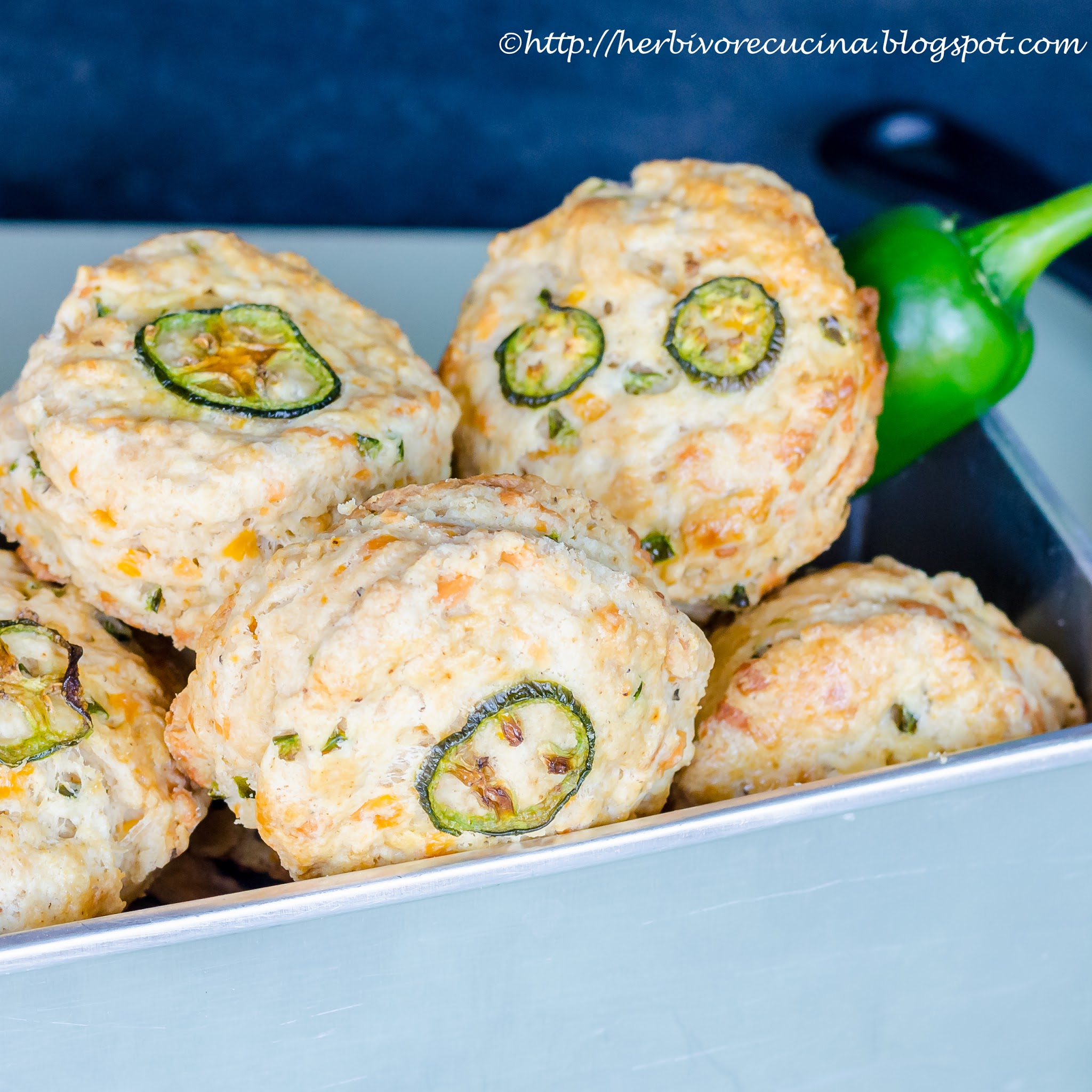 Work quickly to make a rectangle of one inch thickness. Using a two inch cookie cutter make the scones, reshaping all the flour that is left around each cut. If the butter starts melting, keep the dough for sometime in the freezer. Place the scones on the parchment paper leaving some space to rise and press a slice of jalapeno on each scone. Lightly beat the egg and apply on the scones. This step is optional.

Bake the scones for 18-20 minutes, till the tops are crisp and golden brown. Serve immediately with eggs or gravy. Store the remaining in an airtight container.

#BreadBakers is a group of bread loving bakers who get together once a month to bake bread with a common ingredient or theme. You can see all our of lovely bread by following our Pinterest board right here. Links are also updated after each event on the BreadBakers home page. We take turns hosting each month and choosing the theme/ingredient.
If you are a food blogger and would like to join us, just send an email with your blog URL to Stacy @ foodlustpeoplelove@gmail.com.
Here is what all my fellow bloggers came up with for the event Breads with Peppers: