Blogging Marathon #74 Week 4 Day 2
Theme: Are you Pudding me?
Dish: Cheesy Polenta with Sautéed Asparagus
An amazing combination of freshly made polenta with cheddar cheese; served with a side of sautéed Asparagus and Spring Greens!

Polenta, a different form of cornmeal is very popular in Northern and Central Italy. This is a boiled version of corn that can be enjoyed as a porridge or it can be allowed to cool and then be baked, sauteed or fried in the form of discs, sticks or cubes.
By definition, polenta falls into the category of pudding. It is one of the most popular savoury puddings, alongside Yorkshire Pudding and Cheese Pudding. A really simple recipe with minimum ingredients, this one is perfect for breakfast or as a meal.
The corn meal used for this one is yellow in color and the result is a bright bowl that is really pretty. The polenta is generally bland and adding cheese and flavorful ingredients to it is a great idea. Also, serving it with a side of vegetables, eggs or meat makes it a complete meal.
I first saw this dish on Foodgawker and I decided to make it. I bought myself a packet of polenta and it was in my pantry for a while. When Valli put up the theme for the BM as puddings, I read on Wikipedia that Polenta is a savory pudding. And because I already had two sweet puddings in mind, this was perfect for the third day.
I quickly referred a couple of recipes and liked this the most. The recipe called for sautéed mushrooms. However, I had a lot of asparagus at home and decided to use that. The result was perfect and the polenta came out pretty well.
Simply put, the recipe for polenta includes boiling the cornmeal with 3-4 times the water content, adding some flavoring and enjoying it with a side. That is what most recipes point to. And after trying it, I agree as well. Just be cautious, the gelatinous pudding will set really quickly. By the time I finished taking pictures, my polenta had almost set in the form of the bowl! So I thinned it out using some water and enjoyed it warm soon after.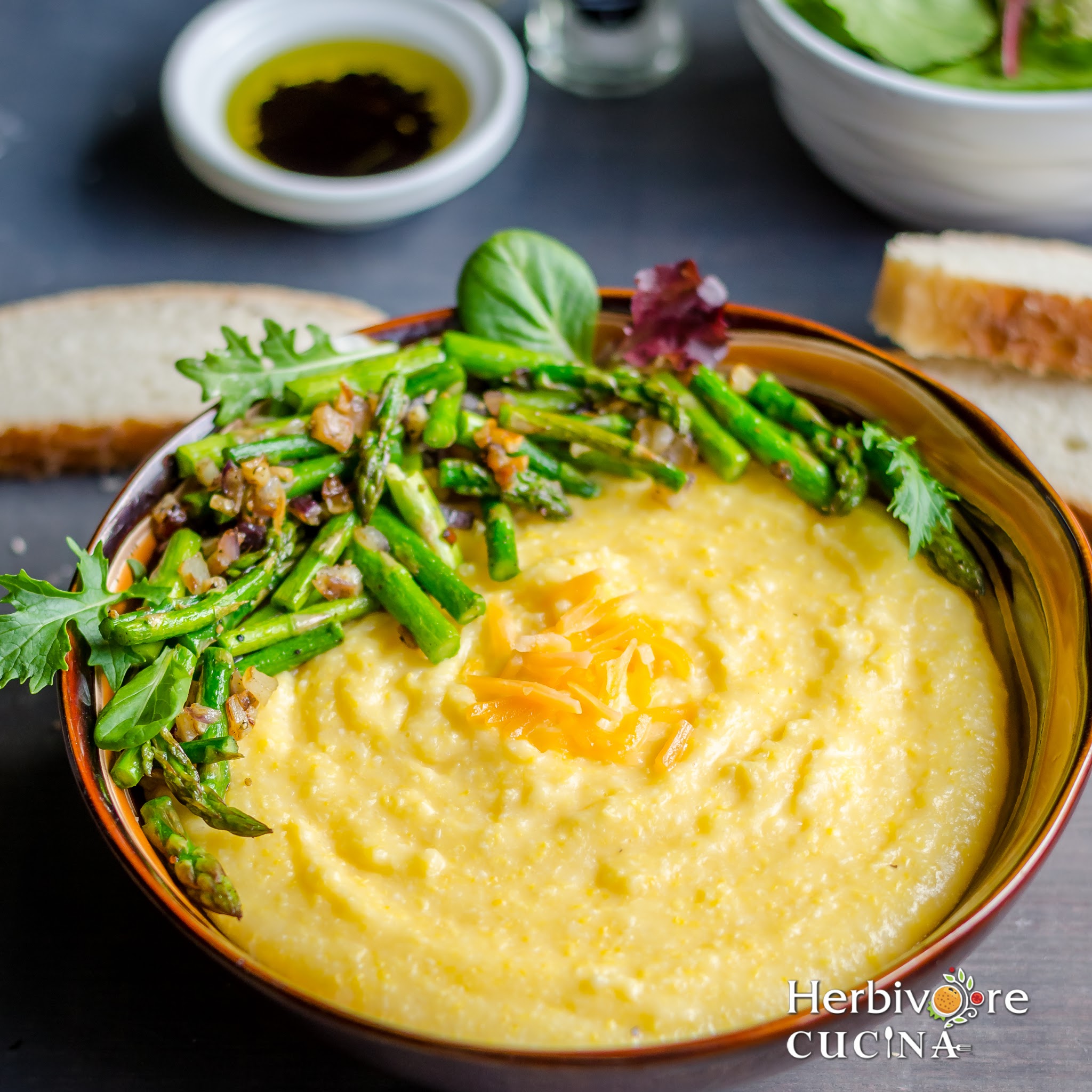 Variations
I used the medium coarse variety of polenta. If you would prefer a very creamy one, get the superfine variety. Besides, there are some stores that carry white corn polenta. Take that if you like white corn more than the yellow.
As the polenta does not have much of a flavor in itself, use any sharp cheese to add some flavor. I used cheddar, but you can use another cheese of your choice too. Adding cheddar enhanced the yellow color of the pudding and made a perfectly bright bowl!
For the sides, you can use a combination of vegetables or even salad leaves. Not only do they add some color to the dish, they are perfect compliments to the otherwise bland polenta.
Ingredients
For the Polenta
Polenta ¾ cup
Water 3 cups
Mild Cheddar Cheese ¼ cup
Olive Oil 1 tbsp
Salt 1 tsp
For the Asparagus
Asparagus 8-10 stalks trimmed and cut into 2 inches
Garlic 2-3 pods, minced
Onion ½ medium, minced
Olive Oil 1 tbsp
Salt ¼ tsp
Pepper Powder ¼ tsp
Oregano ½ tsp
Spring Greens ¼ cup
Method
For the Polenta
In a deep pan boil 3 cups water with the salt. Once it starts boiling, add polenta in a continuous stream while whisking vigorously to avoid it from sticking to the base.
Lower the flame to medium and cover the polenta. Cook for 30-35 minutes, whisking vigorously every 10-12 minutes to ensure they polenta does not stick to the sides or bottom.
In 30 minutes the polenta should cook completely, and become creamy. Once it is done, add in olive oil and cheese; and mix once again to a homogenous mixture.
Turn down the flame and set aside.
For the Asparagus
While the polenta cooks, heat oil in a pan and add garlic. Once garlic becomes flavorful, add onion and sauté till it is translucent.
Then add the asparagus, sauté till a little tender and add salt, pepper and oregano. Mix well and set aside.

To serve, add the polenta in a bowl and top with some cheddar cheese. Finally place the sautéed asparagus and spring greens on the polenta and enjoy warm. I also served some freshly made ciabatta bread and balsamic vinegar and olive oil on the side.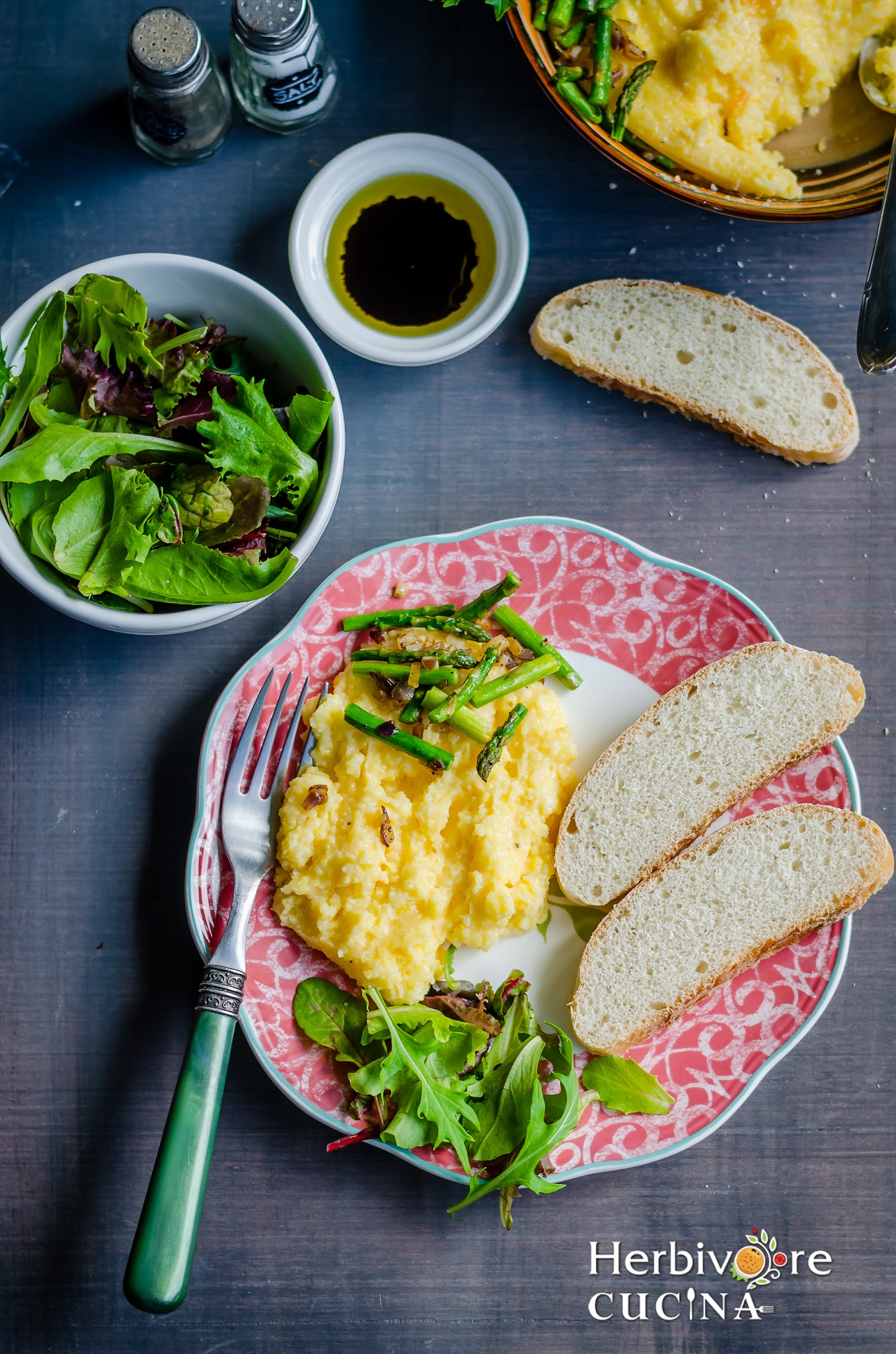 Check out the Blogging Marathon page to see what the other Blogging Marathoners are doing for BM#74