Raw whole wheat berries that are crushed to varying qualities of texture are called cracked wheat. These are also found in 3 grades of coarseness: fine, medium and coarse, the choice of which depends on use and preference. This distinctively nutty food is versatile, low in calories and loaded with nutrients. Compared to rice, cracked wheat has more fiber, vitamins and a higher glycemic index. Thus, many diet plans generally suggest consumption of cracked wheat over rice.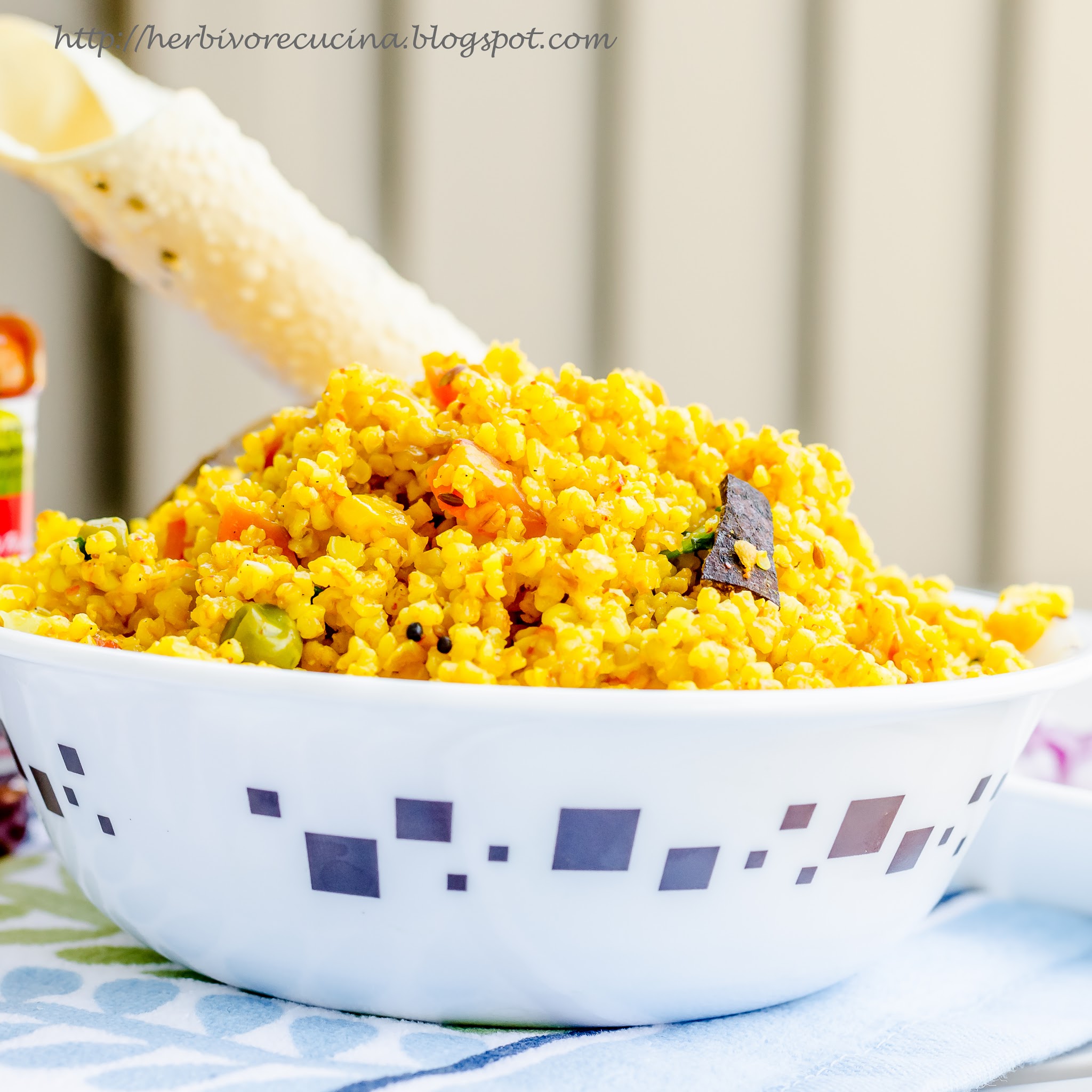 Broken wheat also known as daliya, fada or Lapsi in various parts India, is often used to prepare the Gujarati sweet called lapsi during festivities. The sweet is made from jaggery, cardamom and cracked wheat. The other types of dishes made from dalia are salty in taste, generally upma or khichdi. More recently people have started substituting rice for cracked wheat in dosa and it is also more commonly used as a substitute for all purpose flour in bread making.
This recipe is a savory form of broken wheat, moong dal and vegetables of your choice. Using Indian spices gives this dish a great flavor. It a healthy wholesome meal that just needs one pot to make! Cracked wheat khichdi teamed with a bowl of simple yogurt or something like a garlic raita or mixed vegetable raita, Indian pickle and papad is a complete meal. Low in calories and healthy, plus it comes together so quickly! Find out for yourself.
Ingredients
Cracked Wheat 1 ½ cup
Moong dal 1 cup
Mixed vegetables(Sweet Corn, Carrots, Green Peas, French Beans, Potato) 1 cup
Onion ½ cup, diced
Spices(Mustard seeds 1 tsp, Cumin seeds 1 tsp, Turmeric powder 1 ½ tsp, Red Chilli powder 2 tsp, Asafoetida, Cloves 2-3, Cinnamon 1 inch, Bay leaves 2-3) Garam Masala 2 tsp
Curry leaves 2-3
Ginger ½ inch
Green Chilli or dry red chilli 1-2
Oil 2 tbsp
Vegetable broth/Water 2 cups
Salt, Lime Juice
Cilantro
Method
Wash Cracked Wheat and Moong Dal in running water and soak them together for about 10-15 minutes. Mince the ginger and dice the onions. Wash and dice all other vegetables. Heat oil in the pressure cooker, add mustard and let it crack. Next add the cloves, cinnamon, bay leaves and cumin seeds. Put in asafoetida, green chilli, ginger and curry leaves. Sauté Onions till they are pink.
Next add all the vegetables and salt. Sauté for a couple of minutes, then add the red chilli powder and Garam Masala. When it begins to sizzle, add water/ vegetable stock.The water content should be such that the khichdi is soaked in it. Do not add too much water, as it will make the dish mushy. At this stage put the soaked cracked wheat and Moong dal and mix well. Add turmeric powder and pressure cook for 6-8 minutes.
Once cooked, open the pressure cooker, garnish with cilantro and serve with yogurt, Raita, Mango Pickle and Papad. The khichdi tastes great with this Garlic Raita or Greek yogurt based Mixed Vegetable Raita.