Blogging Marathon# 63 -Journey through the cuisines: Day 4
State: Gujarat
Dish: Dahi Pakodi
Today is day four of the blogging marathon, and the letter for today is D. Gujaratis have a ton of recipes from D: Dal Dhokli, Dalwada, Dahi Vada, Dhokla, Dudhi Muthiya. But guess what, I have all these recipes on my blog already. So here is the recipe for today, a variation of Dahi Vada.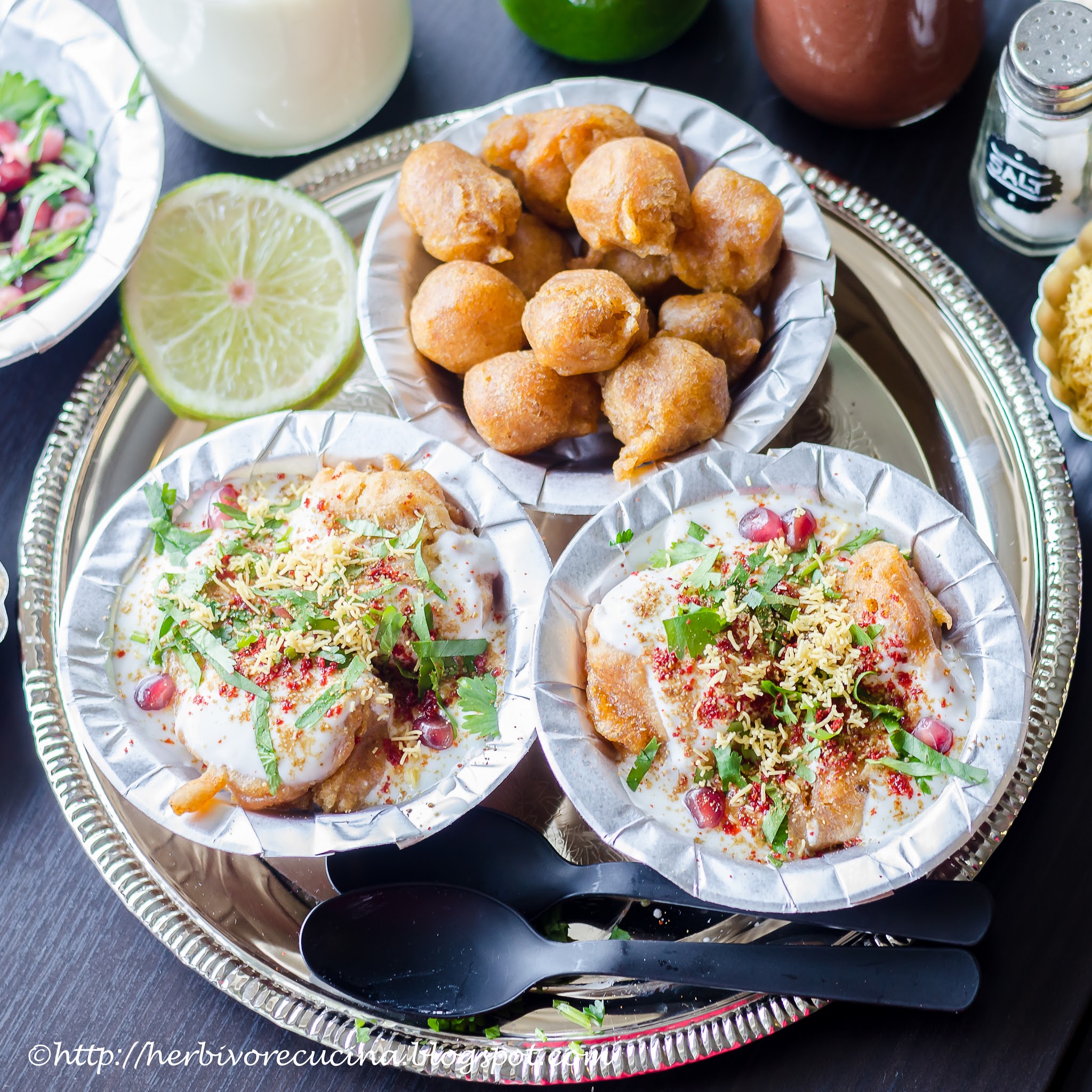 Dahi Vada or Dahi Bhalla is a famous North Indian chaat. Made from soaked urad dal, these bhallas take over five to six hours to make. What can you do if you want an instant snack? The answer to your sudden craving is this Gujarat's cheat version of Dahi Vadas. Made from instantly mixed batter using wheat flour and besan, these pakodis are super quick yet tasty to eat.
Though I do not clearly know the origin of this recipe, it has been a family favorite; a recipe that my grandmother taught my mother and she made it very often in my childhood. That is how I know this recipe. If you search online, very few blogs list this recipe and it is not surprising that all those blogs are by Gujaratis!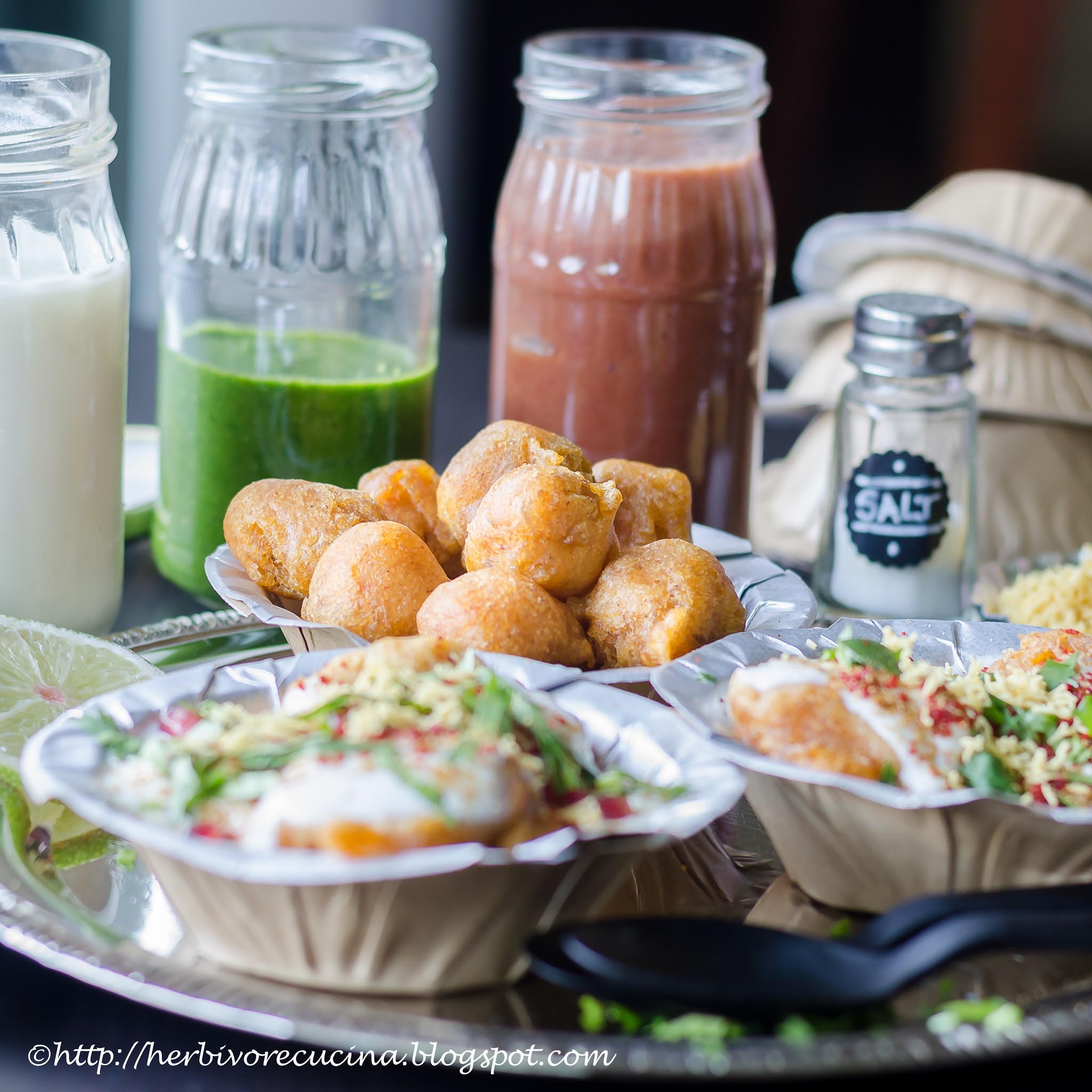 This recipe used to generally be a lifesaver when you have a sudden call from family members coming home for lunch or dinner. All you need is wheat flour (the ordinary roti flour), besan and yogurt. All these ingredients are generally found in each household pantry. Apart from that, sweet tamarind dates chutney and spicy cilantro chutney is generally stored in most people's houses. Adding sev and pomegranate give the dahi pakodi a wonderful texture and a pop of color. Adding freshly roasted cumin powder and red chilli powder on top give the dish its characteristic flavor.
Though this recipe is such that you can finish making it under 30 minutes, you can make the pakodis before hand. Just fry the pakodis and refrigerate in an airtight container. When ready to make, soak the pakodis in water and add the yogurt. Top with all the colorful toppings, and serve immediately. Try this and come back tomorrow for a slightly complex alphabet: E.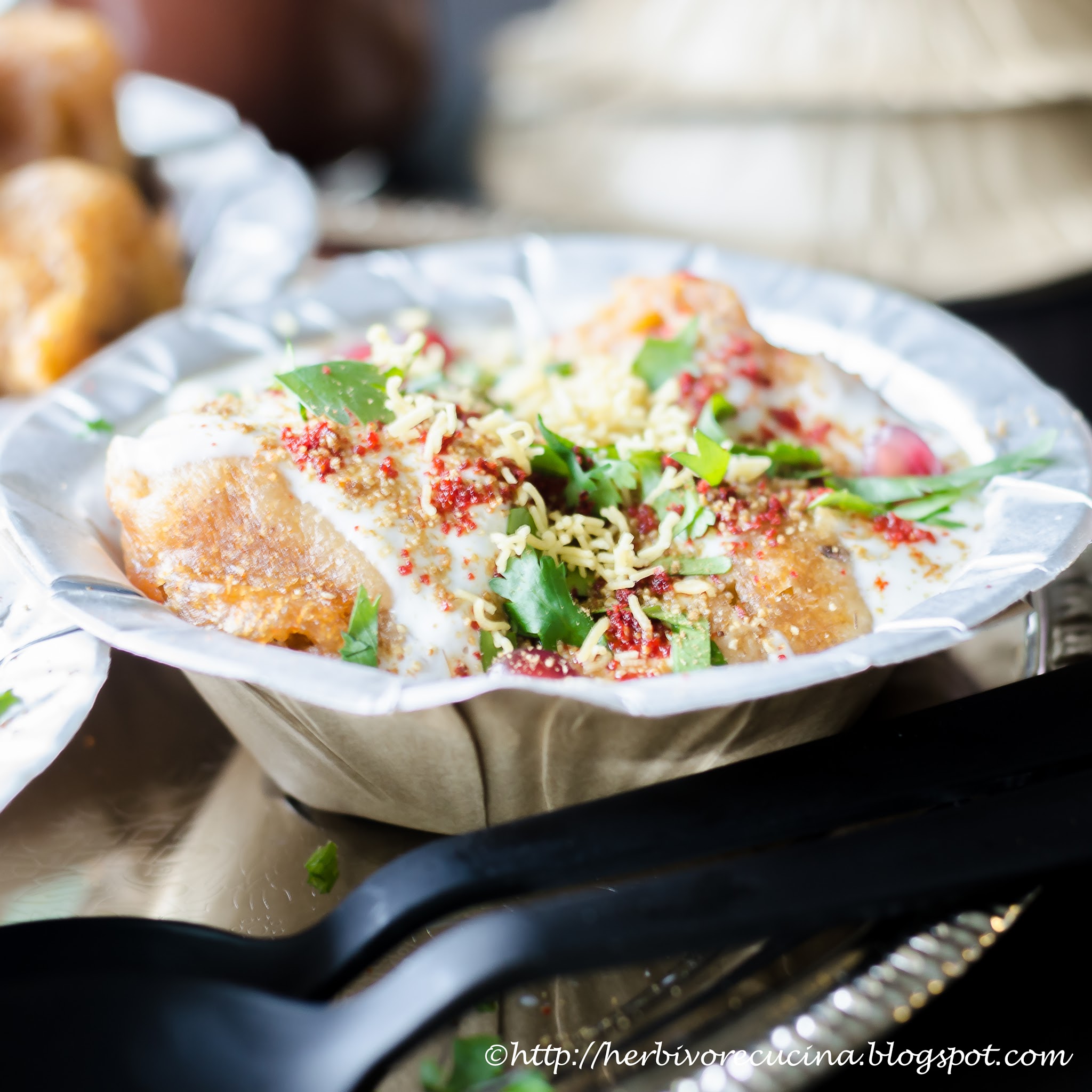 Ingredients
For the Pakodis
Wheat Flour 2 cups
Besan/ chickpea flour 2 tbsp
Water 1 ½ cup
Cumin seeds 1 tsp
Baking Soda 1 tsp
Red Chilli powder 1 tsp
Asafoetida a pinch
Salt 1 tbsp
Oil to fry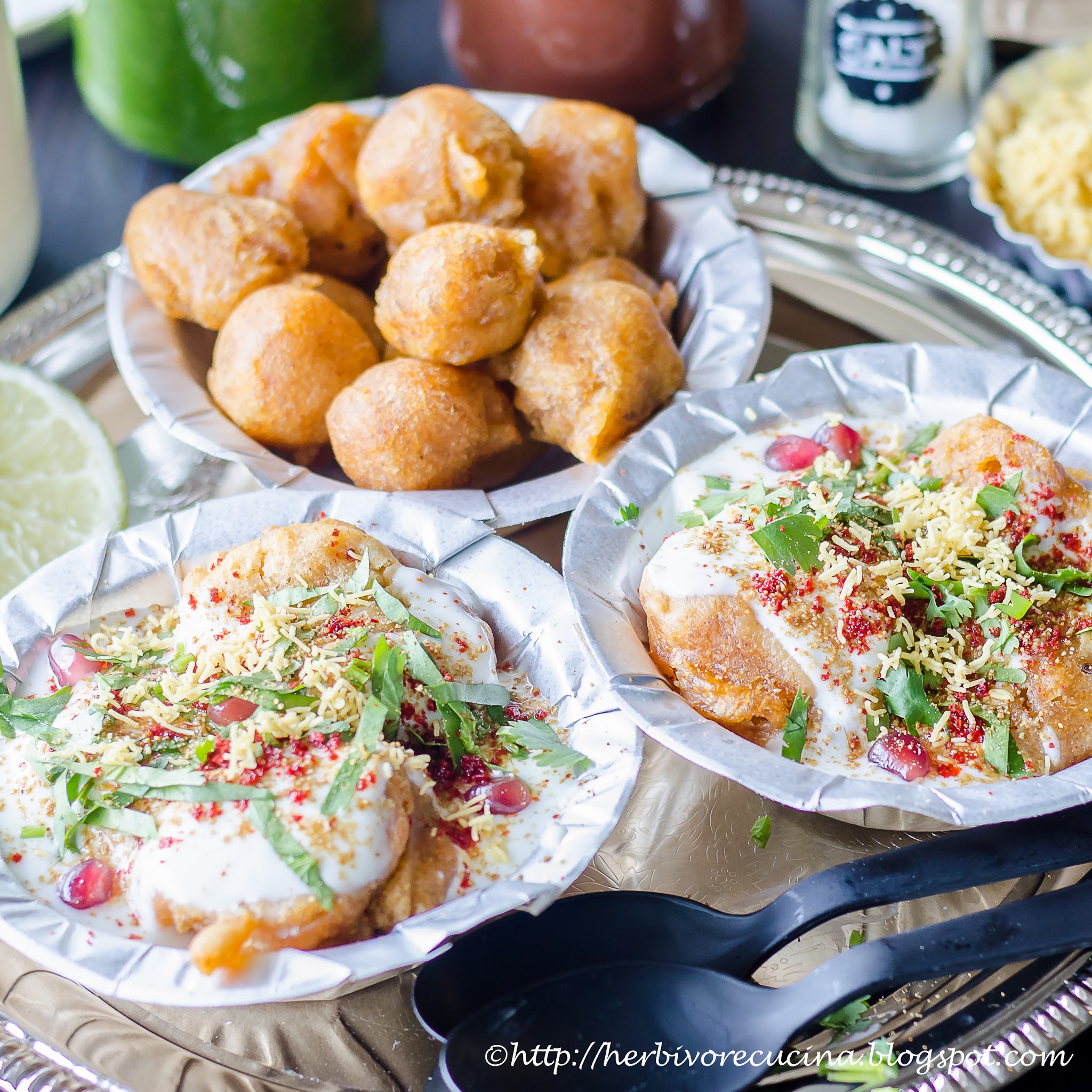 For serving
Yogurt 2 3 cups
Pomegranate Seeds
Cilantro
Thin Sev
Sugar 3-4 tbsp
Cumin powder, Red Chilli powder
Method
To make the Pakodis
In a mixing bowl, add the wheat flour and besan. Using 1 to 1 ½ cups water, make a thick batter. Add the remaining ingredients except oil and mix well.
Heat oil and using the fingers, drop small portions of the batter to the hot oil. Fry for 2 minutes till they rise and then turn them over. Fry for another minute till they do not look raw. Remove on a paper towel and rest for a couple of minutes. If not making immediately, put all the pakodis in a container and refrigerate.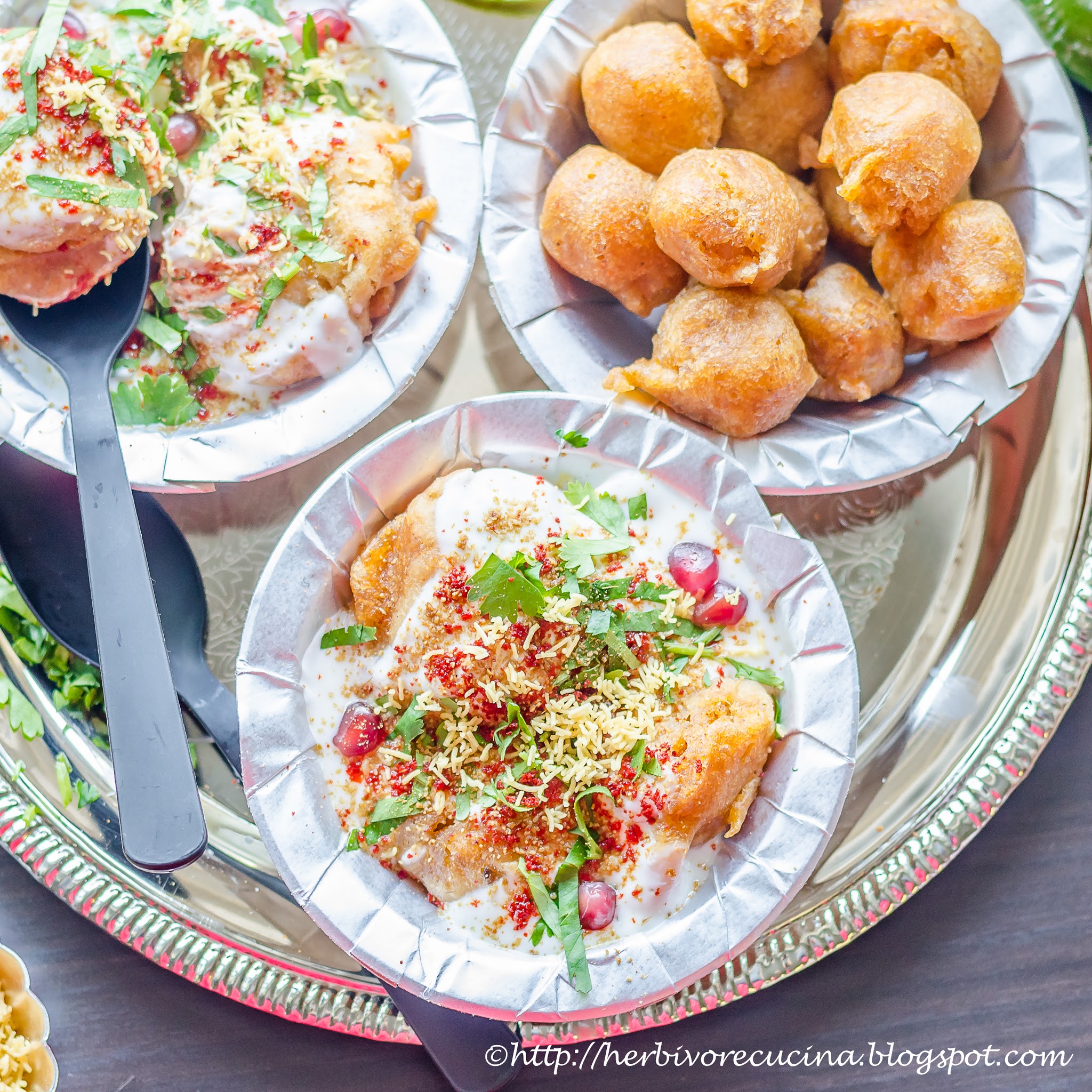 To assemble the Dahi pakodi
When ready to make, add 2-3 cups water in a large bowl and drop the pakodis in it. Let them be there for a minute or two, and squeeze out extra water and remove. Place them in a large tray or in small serving containers.
Mix the yogurt with sugar, a pinch of salt and a pinch of freshly powdered cumin powder. Beat it till smooth.
Pour the yogurt over the pakodis. Add pomegranate seeds, cumin powder, red chilli powder, sweet and spicy chutneys, thin sev and cilantro. Serve!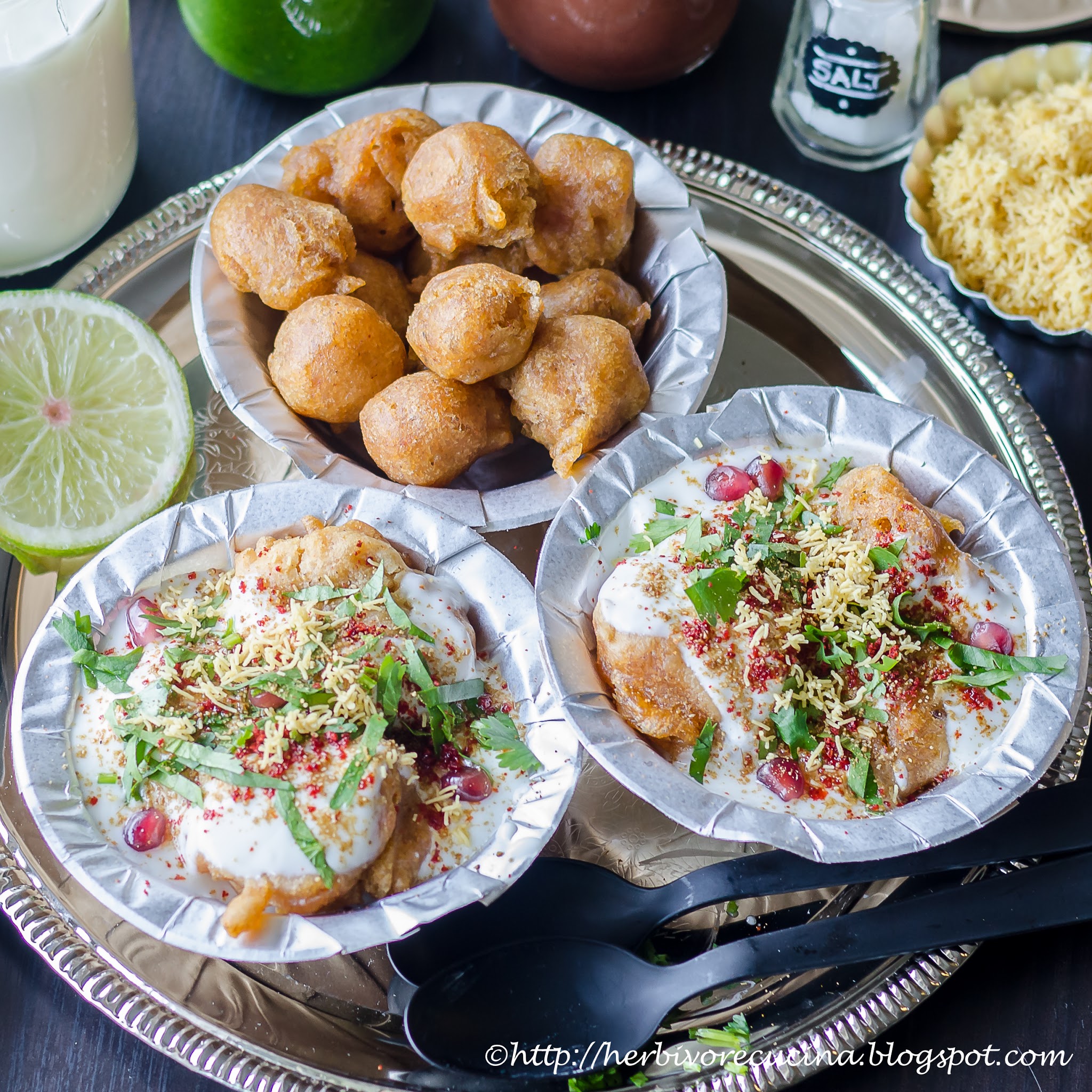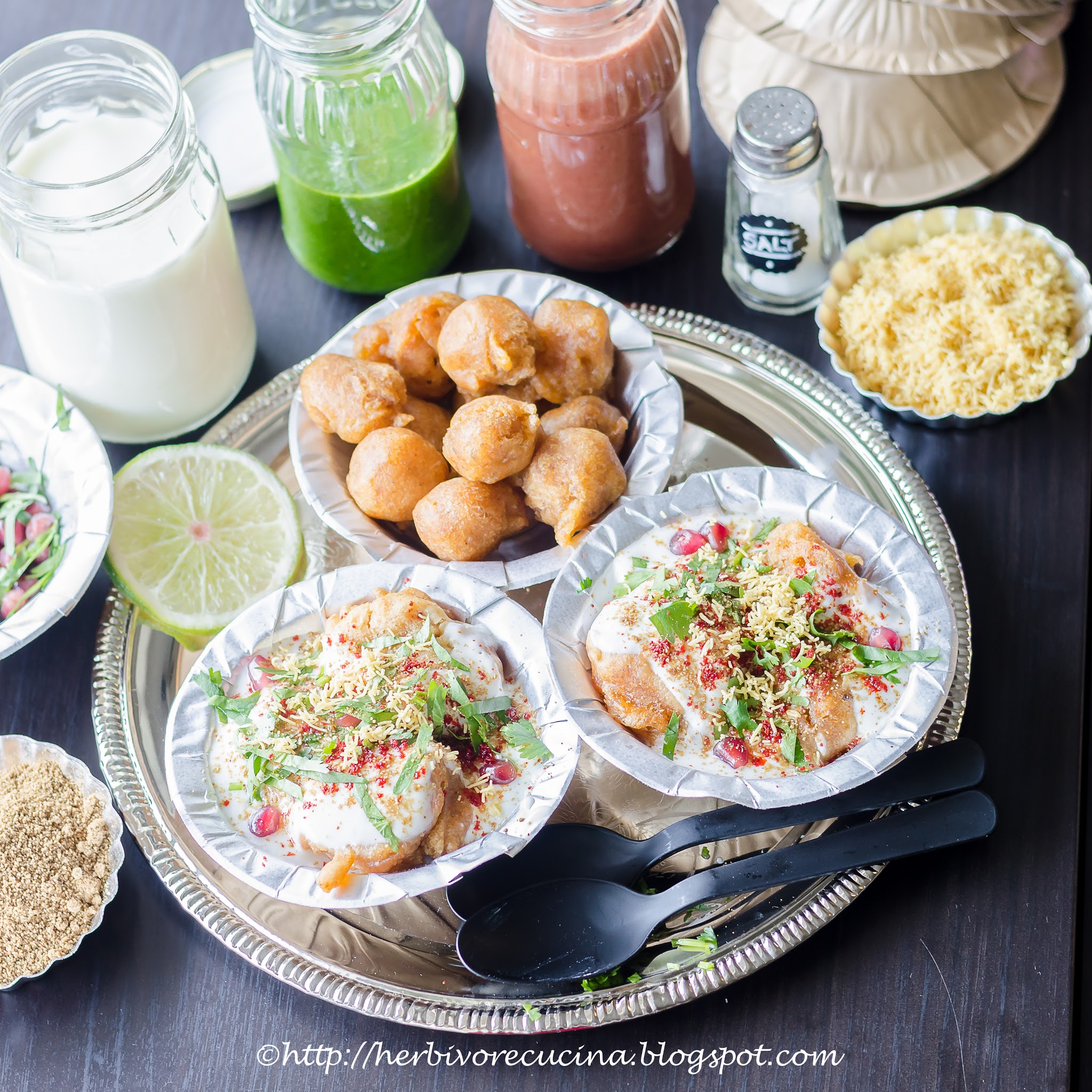 Check out the Blogging Marathon page for the other Blogging Marathoners doing BM# 63