Have you heard of Bun Maska before? If you are from Mumbai, you would vaguely remember the round buns studded with tutti frutti. While these buns were largely found either in stores, packed by a local company or in Irani Cafes. When served with a generous helping of butter and dunked in cutting chai, these buns are irresistible!


Literally, Bun Maska means bread and butter. While some cafes serve plain bread made with flour and milk, some places make them studded with tutti frutti. These tutti frutti are actually flavored raw papaya bits. While I got it from the store, a lot of people actually make it at home! These colored bits of goodness are really great in buns. They add sweetness, a great texture and bright color in the buns.
On my last trip to Mumbai, I went to a new Parsi joint Soda Bottle Openerwala. They serve these buns with cutting chai. It was a pleasure to see a high end restaurant reinvent the buns and include it in the menu. The flavor was authentic and I loved the way they serve it. On returning, I was looking forward to make these buns at home. I had a big lot of red yellow and green tutti frutti at home. So I decided to make them.
While the dough has almost the same procedure as other breads, the only difference is that the dough is made using 3 parts milk and one part water. This helps to get the required sponge and milky flavor in the buns. Make a big lot of these buns and store them for about 4-5 days. To enjoy, slit the buns, apply butter and dunk the bun slice in tea. The combination is unmatched.
Ingredients
All purpose Flour 3 cups
Active dry yeast 1 sachet (2 ¼ tsp)
Unsalted Butter 3 tbsp
Salt ½ tsp
Sugar 2 ½ tsp
Water ¼ cup
Milk ¾ cup
Tutti Frutti ½ cup
Method
Heat the milk and water with ½ teaspoon salt and ½ teaspoon sugar. When it is at 110 F (just warm) add the yeast, mix well and rest covered for ten minutes or till the yeast blooms.
In a large mixing bowl, add flour and remaining sugar. Add bloomed yeast mixture and softened unsalted butter. Using a stand mixer or with your hands, mix it all together till you get a smooth soft dough. It took me about 15 minutes to make a really smooth dough. Keep the dough covered in a warm place and let it rise for an hour.
Once the dough doubles, punch it down and knead for a few minutes to a smooth ball. Add the tutti fruttis and divide the dough into 8 equal parts. Roll each part into a round bun.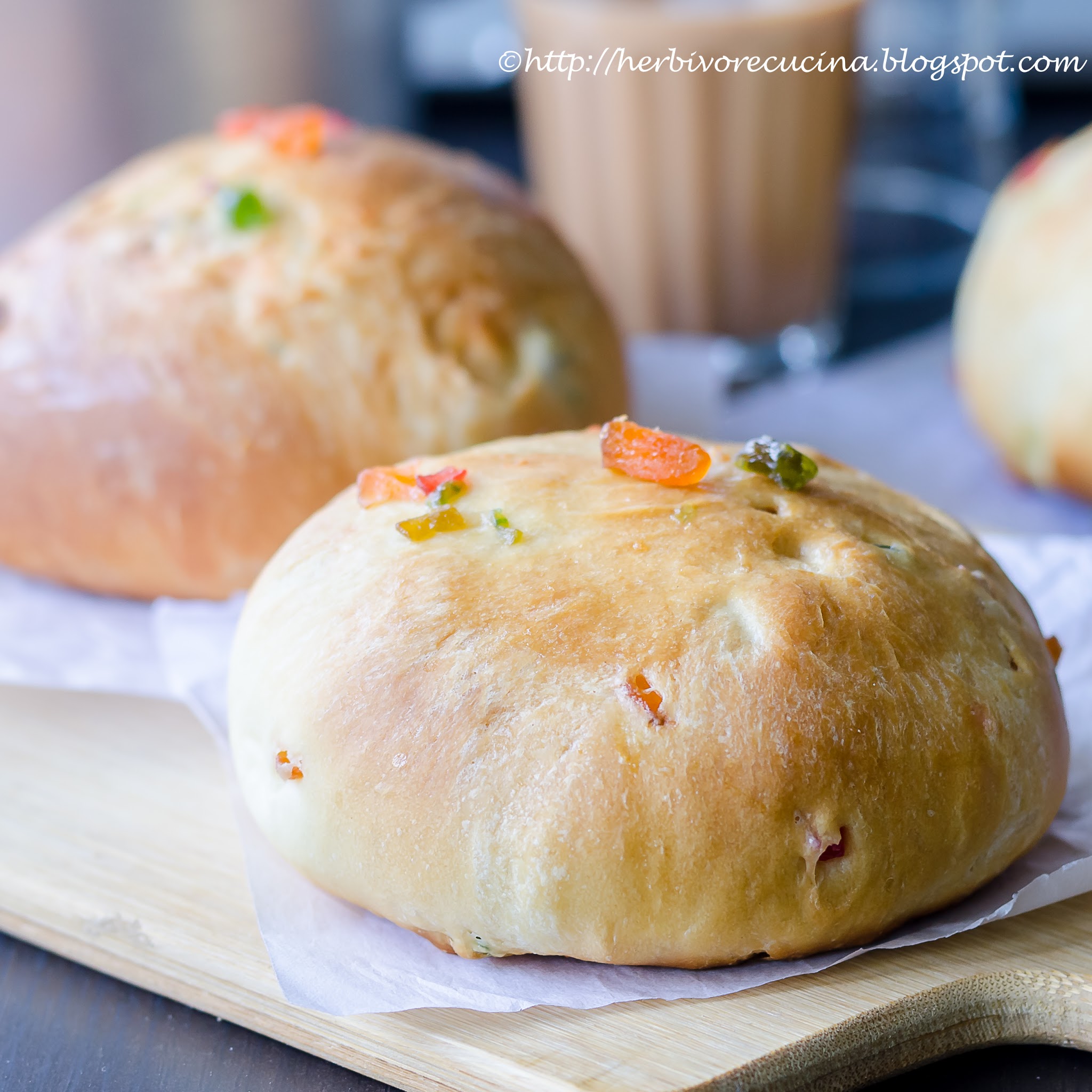 Preheat oven to 400 F/ 210 C. Line a baking sheet with parchment paper. Place the buns and brush them with some milk. Place them in the oven and bake for 15-18 minutes. Once the tops are light brown in color, remove and transfer to a cooling rack.

To serve, slice the buns from the centre or cut into into slices. Apply butter ( I am biased to Amul butter) and serve with chai.