Blogging Marathon #66 Week 4 Day 3
Theme: Recipes from a Region: Rajasthan
Dish: Jaisalmeri Kala Chana Kadhi


Today is the last day of this month's Blogging Marathon. After the Baked Churma Ladoos and Masala Baati, today is another dish from Rajasthan. It is a soup that is particular to the state. Kadhi as most of us know is a mixture of chickpea flour and yogurt cooked with spices. Every state in India has it's own version. Whether it is the sweet and sour Gujarati Kadhi or Punjabi Kadhi with Pakodas or Gujarat's Mango based Fajeto, all these have the same base and the additives are based on the kind you are making.


Rajasthan has it's own version of Kadhi which has black chana added to the yogurt and chickpea mixture. While the rest of the kadhi is similar to other states, the addition of chana gives this one a great texture. When enjoyed with steamed rice or traditional Bajri Roti, the combination is perfect. From the city of Jaisalmer, Rajasthan; this kadhi is sometimes called Khatta Kala Chana.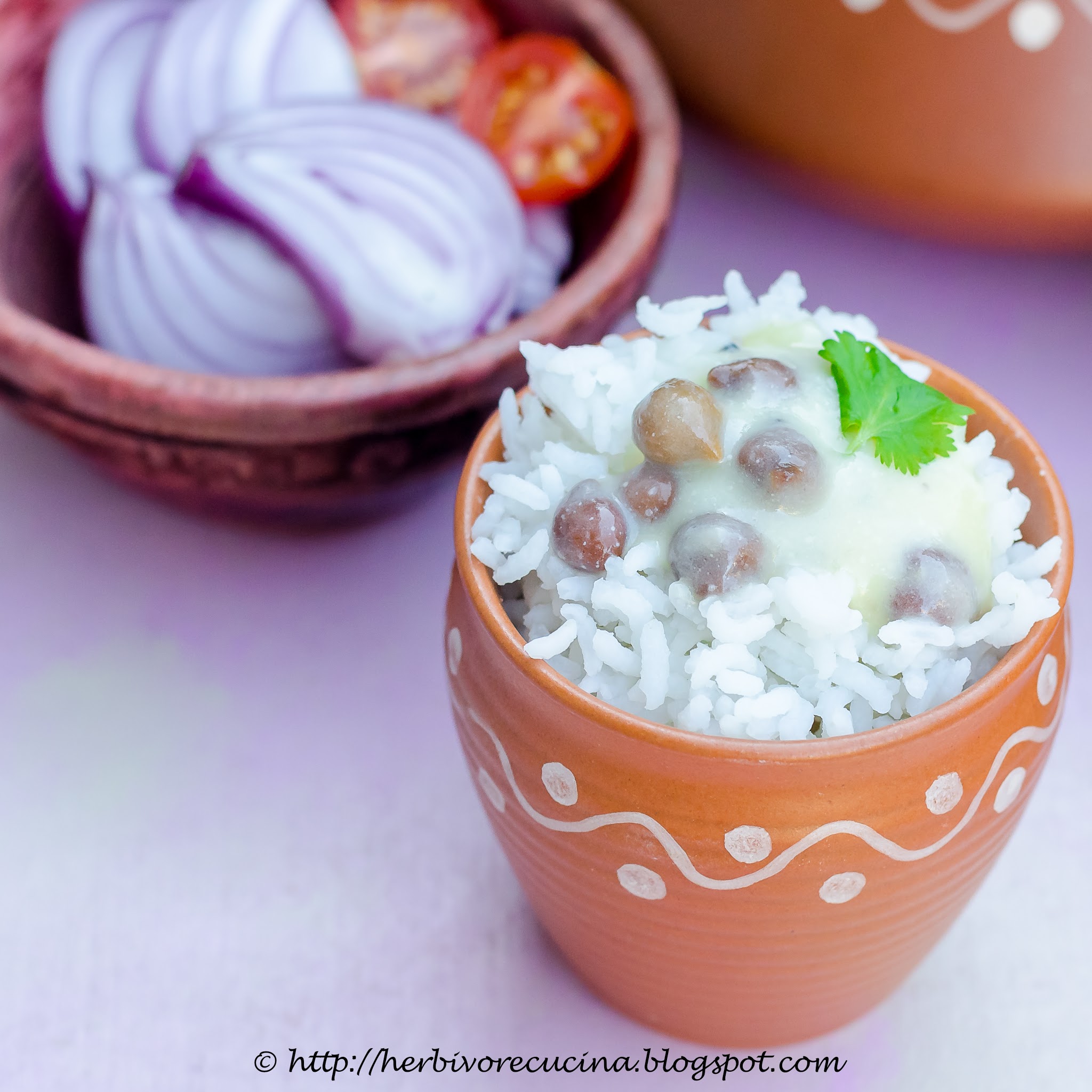 The Gujarati way of cooking Kala Chana would be either with diced onions and tomatoes with chilli garlic paste. Or the famous kala chana baingan which is really popular in the state. Making it with yogurt and chickpea flour is a welcome change. This curry ends up being complete by itself. It has a soupy texture, has chana and is perfect for roti and rice. It eliminates the need of having a vegetable to complete the meal!
Ingredients


Besan/Gram flour 2 tbsp
Yogurt ½ cup
Black Chana ½ cup
Ghee 1 tbsp
Mustard seeds 1 tsp
Asafoetida a pinch
Cumin seeds 1 tsp
Cloves 2
Cinnamon Stick 1 inch
Curry leaves 2-3
Dry red Chilli 2 sliced
Salt, Sugar, Lime Juice
Cilantro
Method
Soak the chana overnight and pressure cook them before ready to make the kadhi.
Beat yogurt with ½ cup water, add the chickpea flour and mix to a smooth mixture. Transfer to a pan and add another ½ cup water.
In a small pan, heat ghee and add mustard seeds and asafoetida. Once the seeds pop, add cumin seeds, cloves and cinnamon. Then add curry leaves and dried red chilli. Pour the entire mixture into the flour yogurt mixture.
Add the boiled chana and bring the kadhi to a boil. Add a teaspoon of salt, a teaspoon sugar and juice of half a lime. Mix well, and adjust the seasoning. Garnish with cilantro and serve with steamed rice and Bajri Roti.
Check out the Blogging Marathon page for the other Blogging Marathoners doing this BM#66