A perfect combination of grape and limes, this Slushy drink is a must-have this Summer! Easy THREE ingredient recipe that is super awesome for kids and adults alike!
The days are finally warming up and we are loving all the cool drinks that I have been making for a few days. I am recipe testing for Summer drinks all of last week and we have been enjoying them!
Before I started working on these recipes I got myself all the essentials for Summer Coolers. From a new muddler to lemon slices, mint leaves and a combination of flavors, we got it all. One of the shopping list items was cocktail mixes and I managed to find some AWESOME flavors from Welch's. Though they have a LOT of flavors, I decided to start with Passion Fruit and Concord Grape Cocktail flavors. I got my drinks from Target. You ca get it at the closest store that is on this list: Welch's Product Locater. BOTH were super amazing and I have a couple of recipes lined up using them.
First up is an AMAZING frozen drink that combines the grapes and limes to make a sweet and sour mix that is super easy to make. With just THREE ingredients and all other ingredients that are used as garnish; this drink can be made in minutes. Plus, it has no alcohol; making it great for kids and adults alike!
I made this over the last weekend and we LOVED it so much that we made another batch this weekend to beat the heat. The crackling ice filled with grape flavor, the tart flavor from limes and the freshness from mint leaves makes this a great drink. One little warning...this one is addictive, it is difficult to have just one glass! My hubby and me are guilty of finishing off the entire box of the juice in two evenings.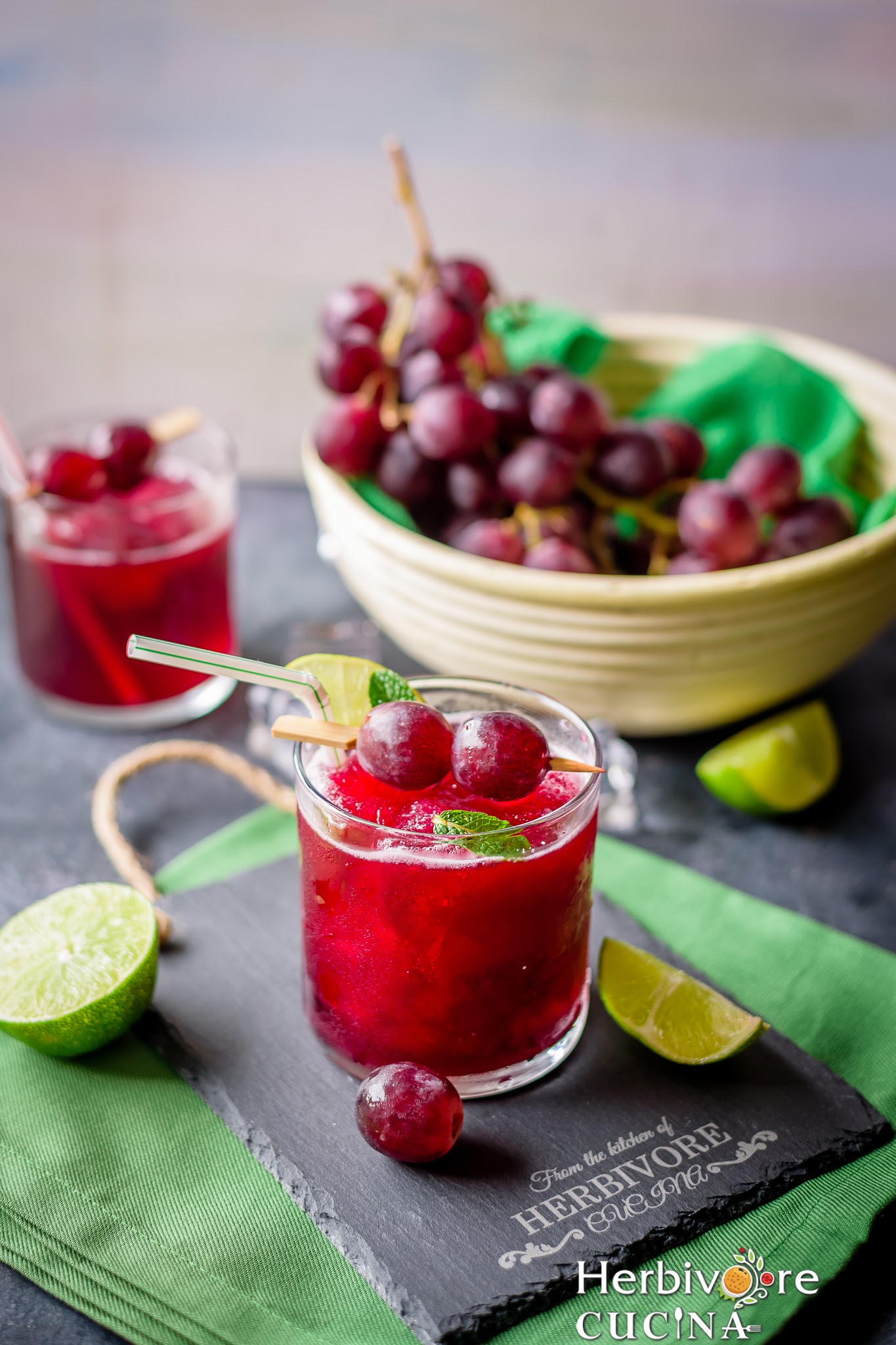 The process to make this is super easy. I froze an entire tray filled with Welch's Refrigerated Concord Grape Cocktail and a couple of mint leaves in each cavity. I blended then well and added some freshly squeezed lime juice in each of the glass filled with this icy drink. If you like, add some frozen grapes to it too. They make a great addition to the drink and taste yummy too.
When I am not making any drink out of the box, I like to pour out some Welch's Refrigerated Concord Grape Cocktail and add some ice to it. It makes a great drink for my 4 p.m. craving. And it is definitely a great starter for most of my mocktails. Now that I have another unopened box of this in my refrigerator, I am definitely going to make many more recipes using this!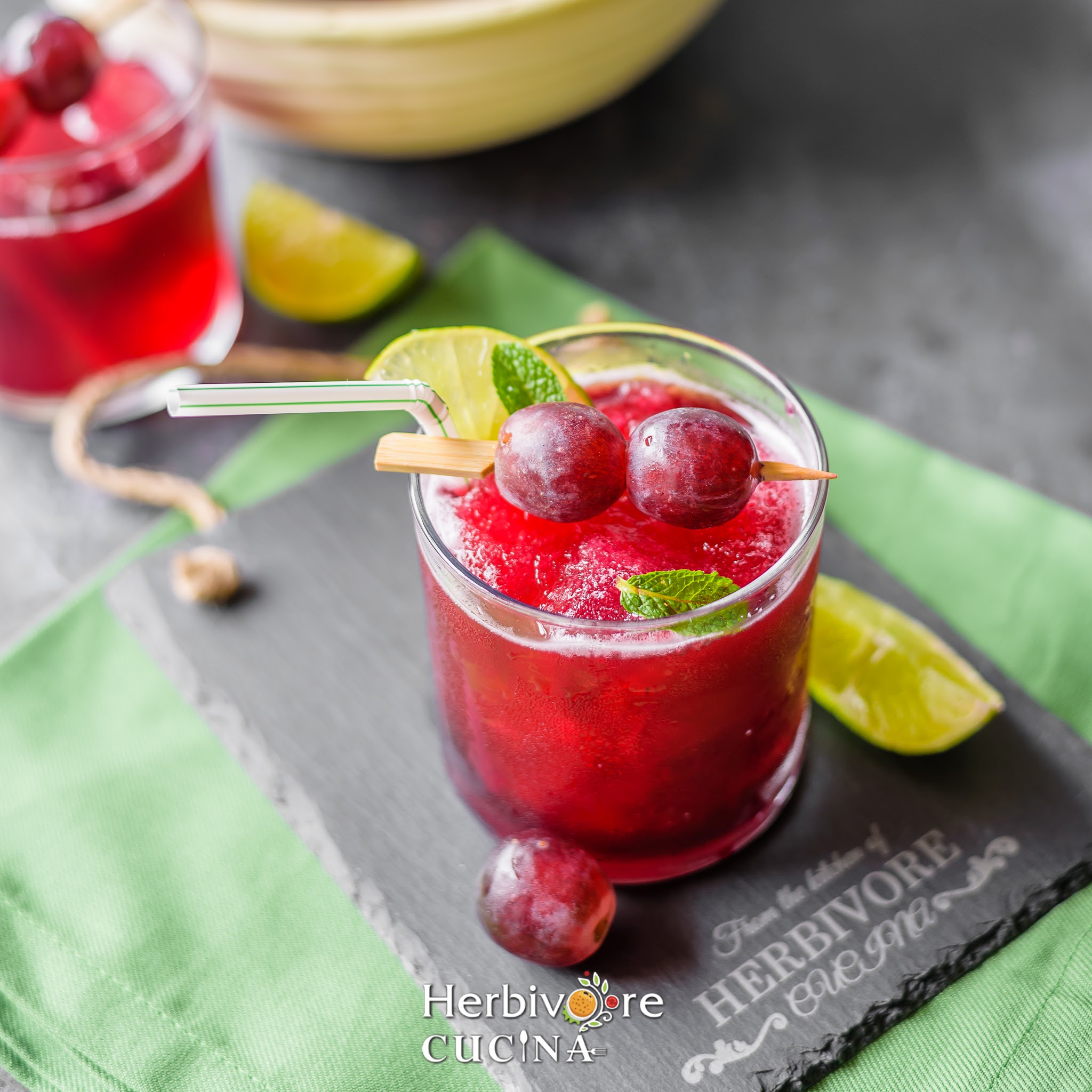 Variations
I made a virgin version of the Rickey slush. If you are an alcohol lover, add your favorite one in this! I am sure my alcohol loving friends will love this one with all the grape flavor it has!
If you are not a fan of grape, try the Passion Fruit version. Use two cups of Welch's Passion Fruit and make the same recipe.
Substituting lime juice with Orange juice is a great idea too! Mix and match flavors to get the one that you LIKE best!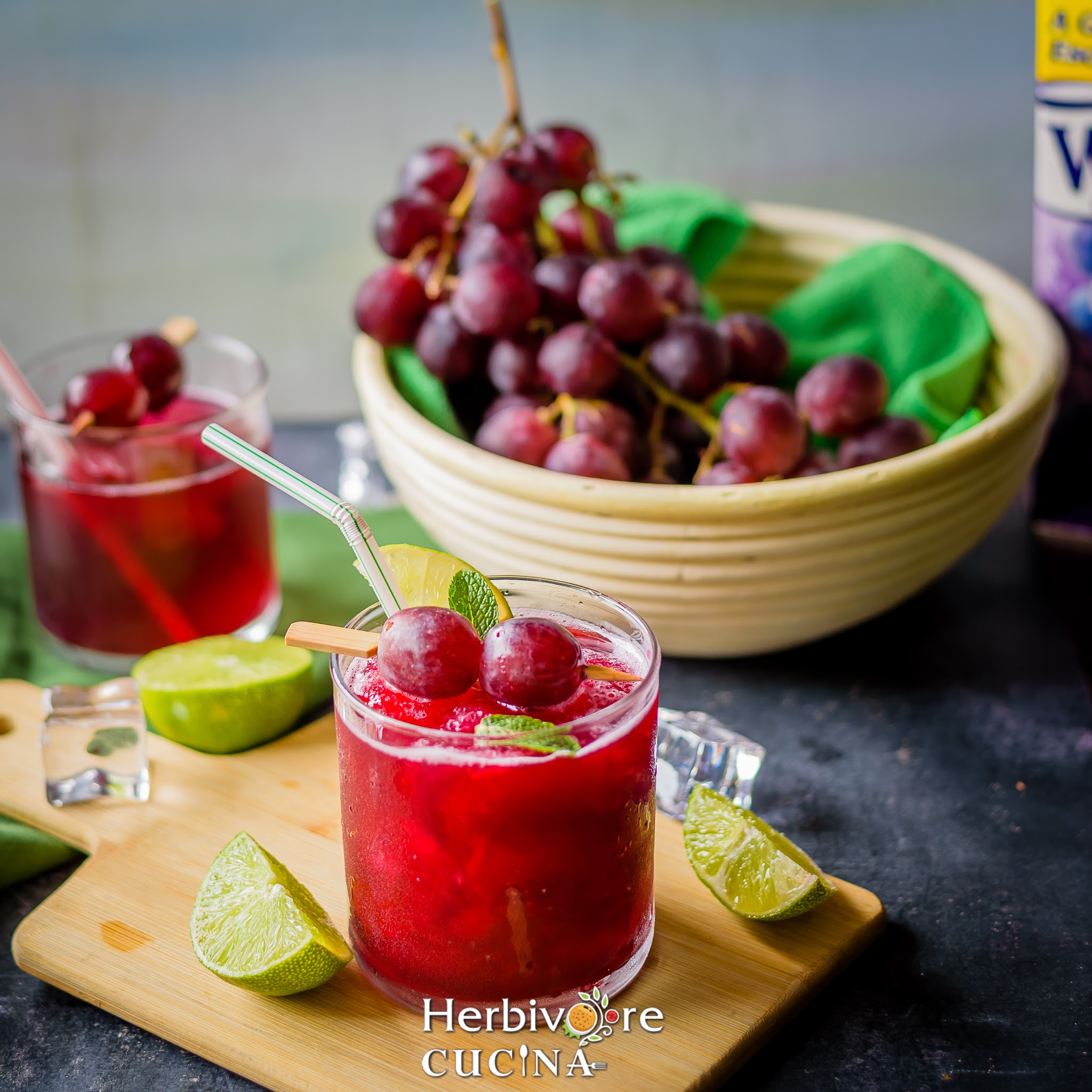 What I like BEST about this recipe
There are a bunch of things that I enjoy in this drink. First; it needs just a handful of ingredients. It comes together in under 10 minutes active time and can be made in batches.
This recipe uses NO SODA; making it my favorite drink! It works for kids and adults alike as it has NO alcohol either.
Last; it has grape juice rom the box. So there is no hassle of the grape skin or seeds being in the drink. It is so easy to just pop the box, pour the juice out and start making your own version of Grape Lime Rickey! Enjoy Summers with this Purple drink folks!
Ingredients
Welch's Refrigerated Concord Grape Cocktail 2 cups
Lime Juice 2 tsp
Mint Leaves a few
Method
In the ice cube tray or individual bowls add some Welch Refrigerated Concord Grape Cocktail and some min leaves.
Freeze for 4-5 hours or overnight. Once frozen, remove and add to a blender.
Blend till the ice breaks into small bits. Scoop a cup of the slush to a glass and pour another cup of Grape cocktail on it.
Squeeze some lime juice and serve topped with a lemon slice, mint leaves and frozen grapes.


Pin for Later