This shop has been compensated by Collective Bias, Inc. and its advertiser. All opinions are mine alone. #GiveThanksBeFull #CollectiveBias


Thanksgiving is around the corner and it is time to reinvent the Green Bean Casserole. This lightened pizza made from puff pastry and green bean filling is perfect for any of your Friendsgiving dinner from now until the big day.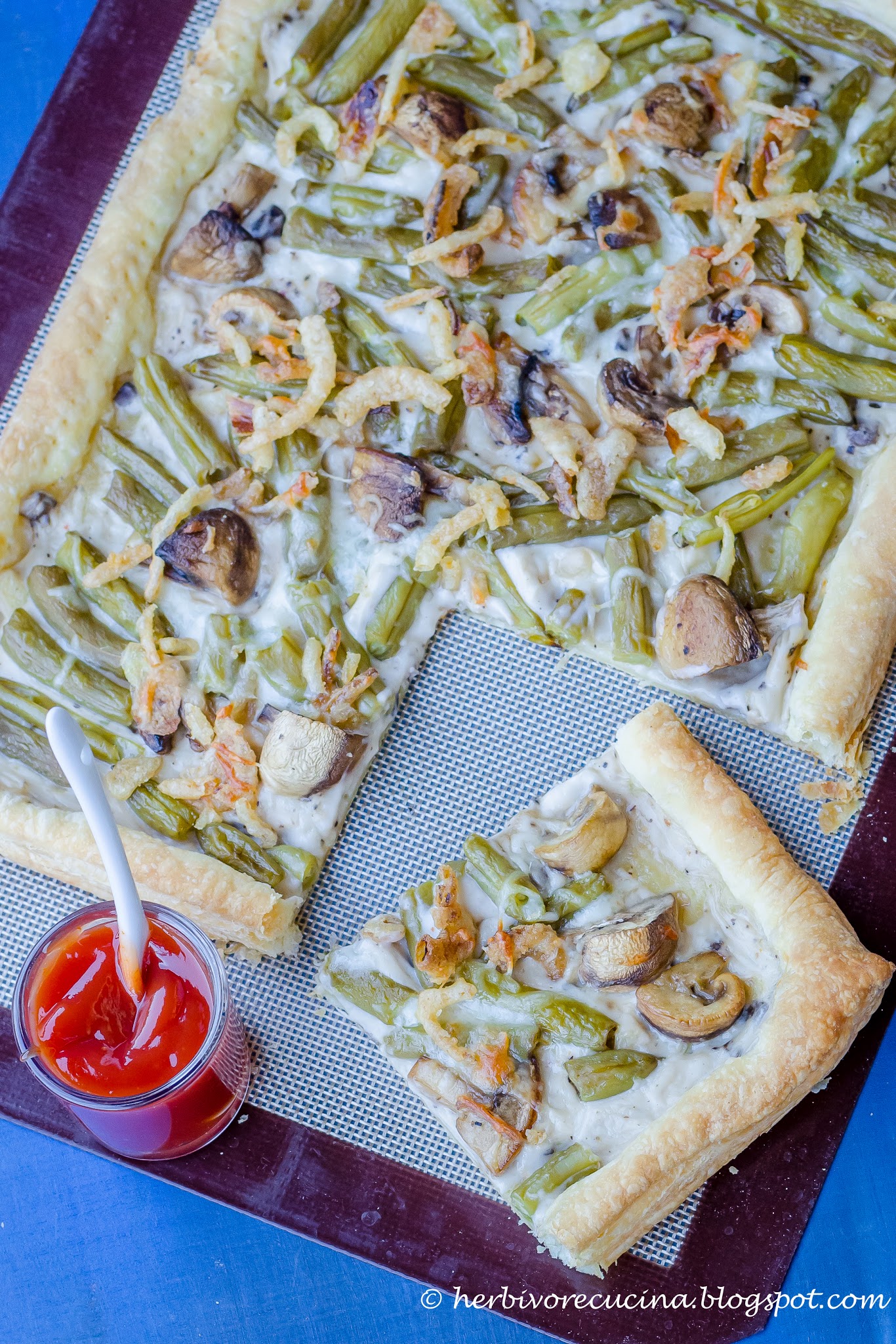 The Friendsgiving dinner season is almost here and everyone is getting busy making their menu. Green Bean Casserole is a must-have on the table but it gets pretty boring to keep making it the same way each year. This recipe comes handy when you are in a rush and do not want to spend a lot of time cooking. Using store bought puff pastry, Campbell's® Cream of Mushroom Soup, Del Monte® Blue Lake® Cut Green Beans and French's Crispy Onions; this pizza is super easy to make.
I was jotting down the items to make for this weekend's dinner. On my list was a new version of the Casserole. I stepped into Target to get all the ingredients for the dish. On my list was green beans and mushroom soup. I picked up a can of Campbell's® Cream of Mushroom Soup. It's easy to use Campbell's soups to add your own twist and favorite garnishes to make it special for the family. Plus, I got Del Monte® Blue Lake® Cut Green Beans. Del Monte canned vegetables are high quality, delicious and perfect for your holiday table.
Once you have all the ingredients, making this pizza is super simple. Ready in under 50 minutes with just 10 ingredients, this puff pastry based pizza is sure to impress all your guests. I made just one puff and regretted it deeply. It was so delicious and we were craving another serving almost immediately. What I liked best about this one is that the amount of filling made using one can each of the beans and the soup is perfect for one pizza. So no leftovers and no wastage. Just pop open the cans, make the filling and the pizza. Serve immediately and surprise your guests. I can bet your friends will definitely exclaim: 'Is this made from canned vegetables, I can't believe it!' Enjoy this pizza and have a great Friendsgiving!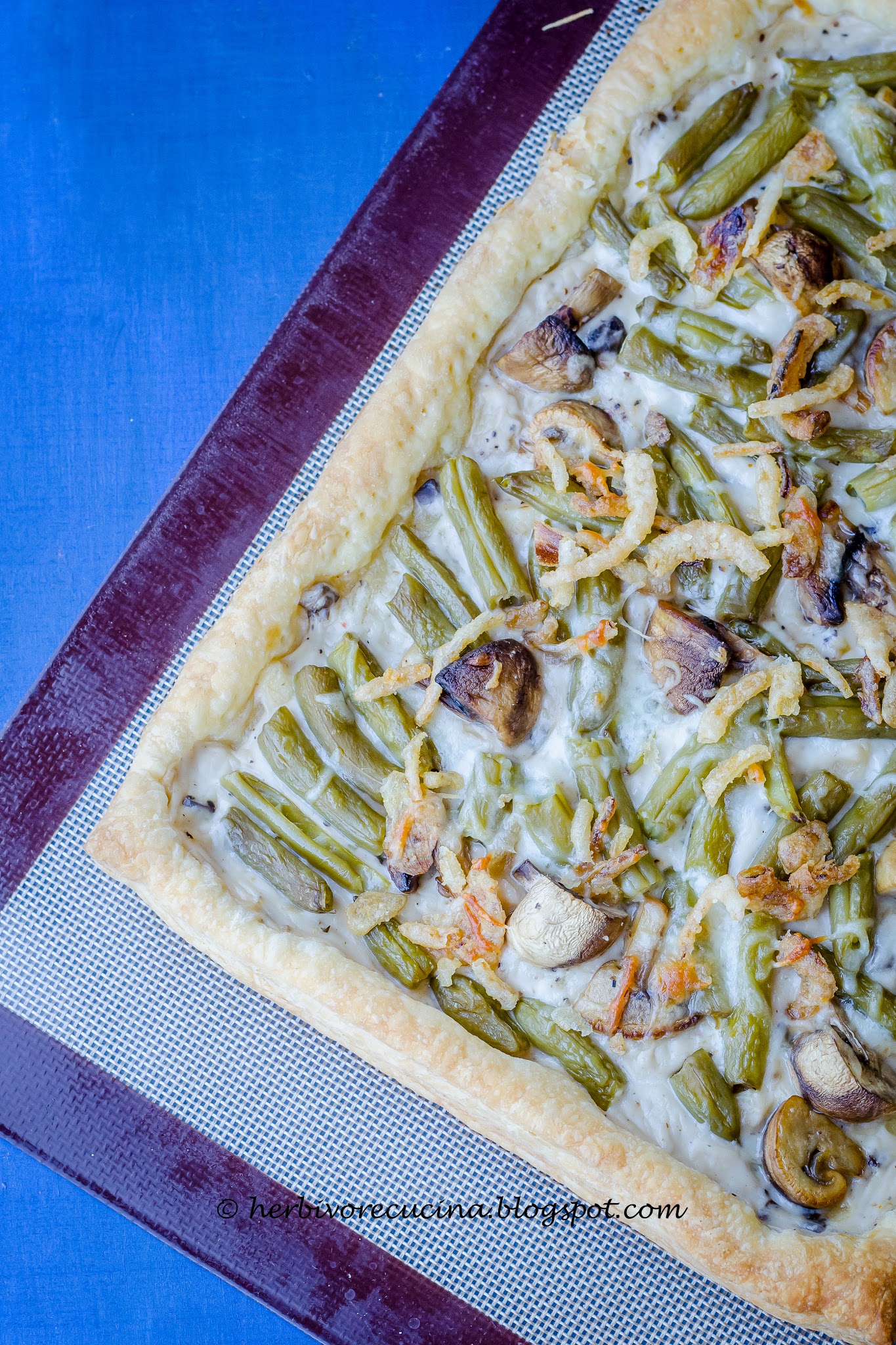 Ingredients
Puff Pastry 1 sheet
Campbell's® Cream of Mushroom Soup 1 can 10.5 oz
Del Monte® Blue Lake® Cut Green Beans 14.5 oz
Garlic 2 cloves
Fresh Mushrooms 1 cup
Mozzarella Cheese ½ cup
Olive Oil 1 tsp
Salt to taste
French's Crispy Onions to top
Method
Thaw the puff pastry as per package instructions. Mince the garlic and chop the mushrooms.
In a pan heat olive oil and add garlic. Once it browns, add the mushrooms and cook for 1-2 minutes. Then add drained Green Beans and mix well. Let it cook for 1-2 minutes.
Now add the Cream of Mushroom Soup and season with salt. Mix well and let it become thick. It takes about 4-5 minutes to get the right consistency. Turn down the flame and cool.
Preheat oven to 400 F. Roll out the puff pastry and poke it with a fork. Leave out an inch on all four sides to get a nice crust. Pour the green bean mixture and spread it evenly on the pastry sheet. Sprinkle cheese on top.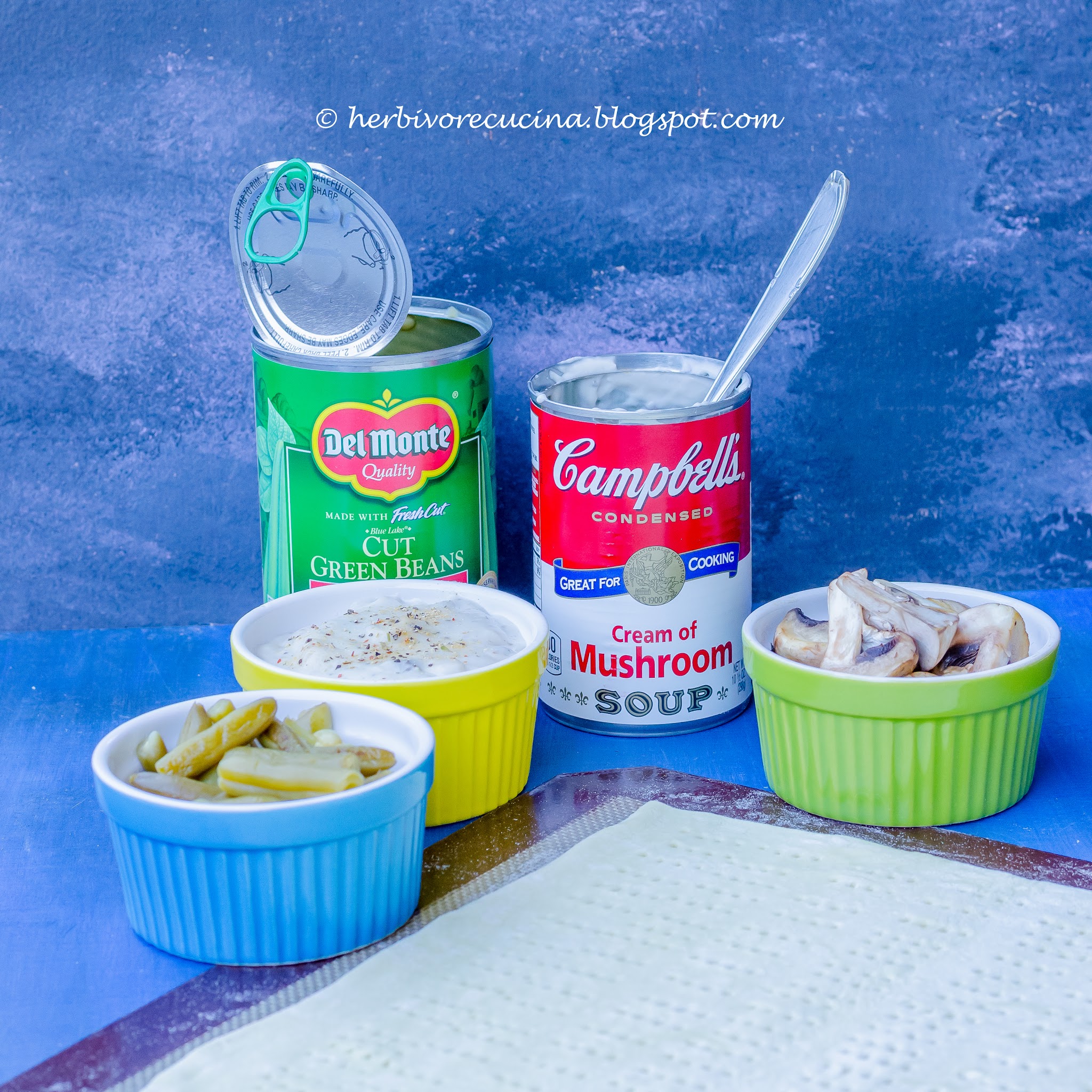 Bake for 20-25 minutes, till the cheese has melted and the pastry is light brown in color. Remove, top with French's Crispy Onions and serve immediately with tomato ketchup.