This is the last Thali in the series for this month. I posted two other Thalis; The Gujarati Thali and Indo-Chinese Thali over the last few days. This one is a little from both those. And yes, this is pretty elaborate compared to the previous two. Hope you enjoy this one!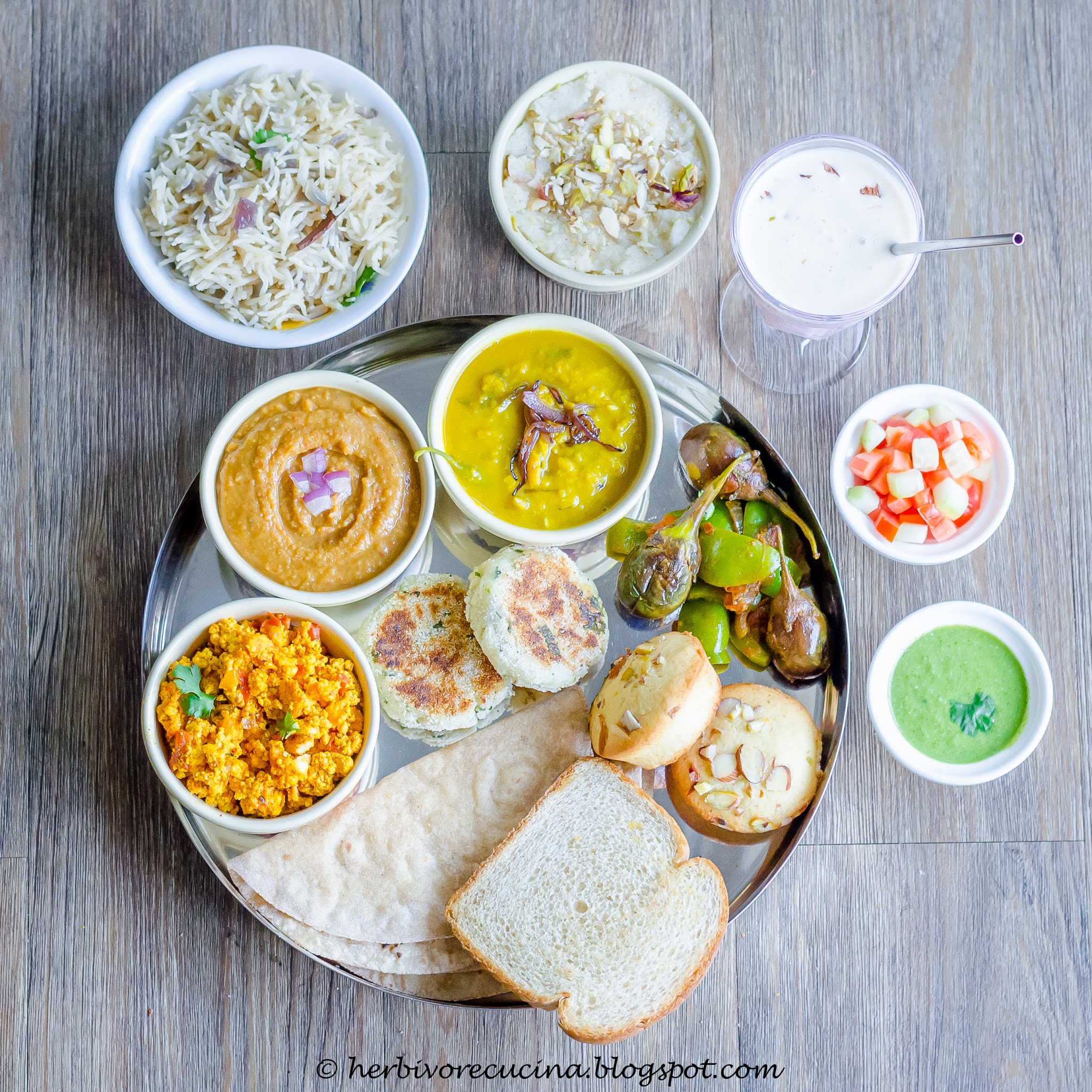 For the longest time Parsi Community has been a small community in India with their rich culture, heritage and food. Except the Irani Cafes their food never reached the masses. But lately the entire scene has changed. With TONS of Parsi eateries starting all over Mumbai and other cities, now the flavorful cuisine is becoming mainstream!

From the Paneer Akuri to the Dal and Dhanshak, we now can relish all Parsi dishes at famous restaurants. It is wonderful to see how these places picked the cuisine and made it interesting to serve and enjoy while preserving their culture. If you happen to be the famous Soda Bottle Openerwalla, you will definitely relate to what I am saying!

Coming to the Thali, I have had a fancy for this cuisine since a while. I posted my mother in law's recipe for Dhanshak and brown rice a few days ago. Picking up from there, here is an elaborate Thali from the Parsi world. The beauty of this one is that it is a Vegetarian Thali.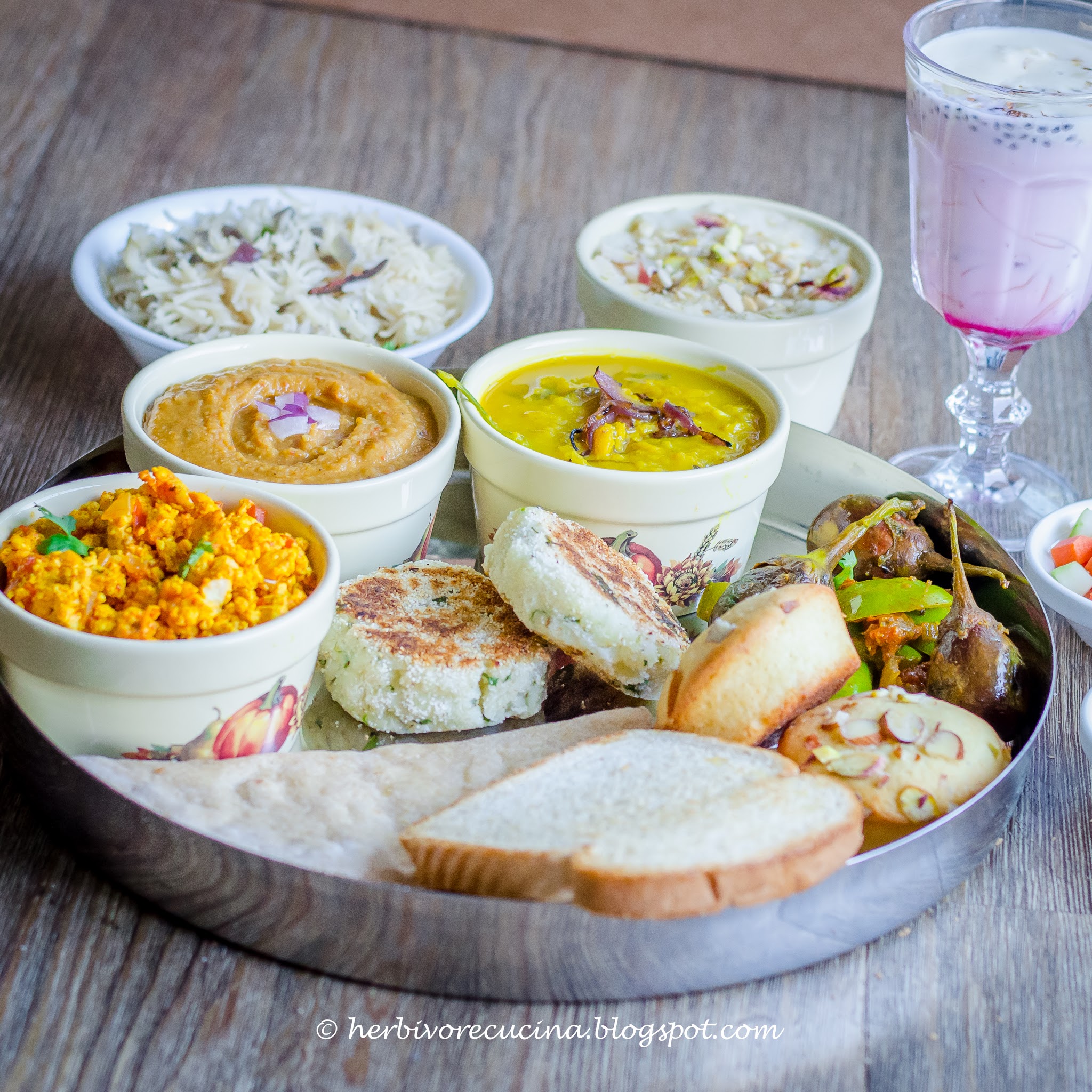 The general belief is that Parsi food is only non vegetarian. However, it is interesting to note they have TONS of vegetarian recipes that are super amazing. A couple of them I have modified to make vegetarian, but most are originally vegetarian.

On today's Thali

This platter has everything from farsan (savory starter) and mishtan (sweet dish) to Dal and curries. There is also a dry vegetable, salad and the very famous Parsi drink. All in all, we had food enough for four meals on the day that I made this one!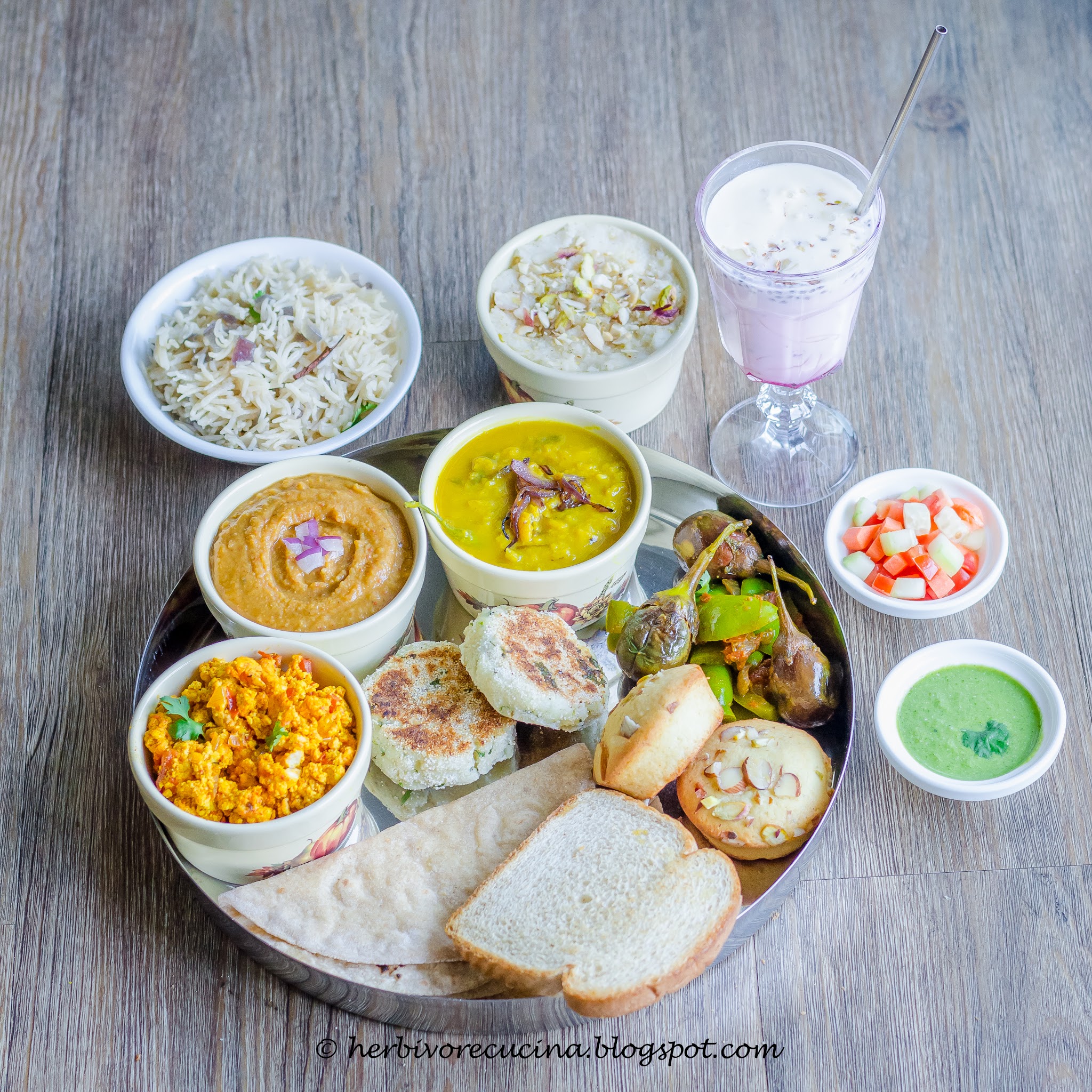 An awesome combination of shredded paneer with onion, tomato and spices. Served with bread, this one is made from scratch and super delicious.

Potato Cheese Cutlets
Cutlets made from potato and spices, with a molten cheese centre. These rounds are to die for!
A medley of mixed vegetables and pulses, this Dhanshak is a vegetarian take on Parsi's signature Dhanshak. Served with toasted bread or caramelized rice this one is super awesome.

Parsi Dal
A very humble dal that is not super spicy but full of flavor. This Parsi dal has caramelized onions on top that make it amazing.

Baingan Shimla Mirch Salan
I saw this combination on a blog (will post complete recipe and the blog soon) and was blown away. Two favorites; pepper and brinjals in one! I HAD to make this dry vegetable for the Thali.
The thin rotis that make a perfect accompaniment for salan, dhanshak and akuri.
Slices of bread perfectly toasted and served with akuri. The bread can be made from scratch or bought from the store.
A must-have with dhanshak, this onion based rice is so easy to make and yet so flavorful.

Ravo
The Parsi version of Sheera, this semolina based dessert has become my favorite ever since I made it the first time.
What's a Parsi platter without Mawa cake? Cupcakes made with clotted milk, these are super delicious and easy to make.

Kachumbar
Parsi's signature blend of raw vegetables, salt pepper and vinegar. Try this vinegar based salad with any dish. It tastes just as good!

Ingredients

Cucumber 1 medium, diced
Carrot 1 medium, diced
Onion ½ medium, diced
Tomato ½ medium, diced
Vinegar ½ tsp
Salt and pepper to taste
Cilantro to top

Method

In a bowl mix together the diced vegetables. Add vinegar, salt and pepper. toss well and serve topped with cilantro. You may also add crushed cumin if you like in this kachumbar.
Glasses filled with rose syrup, milk, thin falooda sev, basil seeds and ice cream. Oh-my, this was a perfect finish to my Thali!

Hope you all enjoyed the Thali series. Do leave a feedback at the end of the post! And come back for yet another theme with some amazing recipes.