Gujarati Sev, an addictive snack made from spiced Chickpea Flour is something you need this Diwali and beyond! Make it today with this no-fail recipe!

I can barely believe we are so close to Diwali already. My favorite Indian festival, I love how everything is upbeat and full of enthusiasm through the festival! Firecrackers, rangoli, lamps, lanterns and LOTS of yummy food.
My best memories of Diwali recipes encompasses everything from Ladoos and Kaju Katli to Puris and the Diwali special Mathiya, Fafda and Chora Fali. These are traditional Gujarati recipes that we relish through Diwali and beyond. And mind you, they are ALL fried, but when it is festive time; you do not count calories right?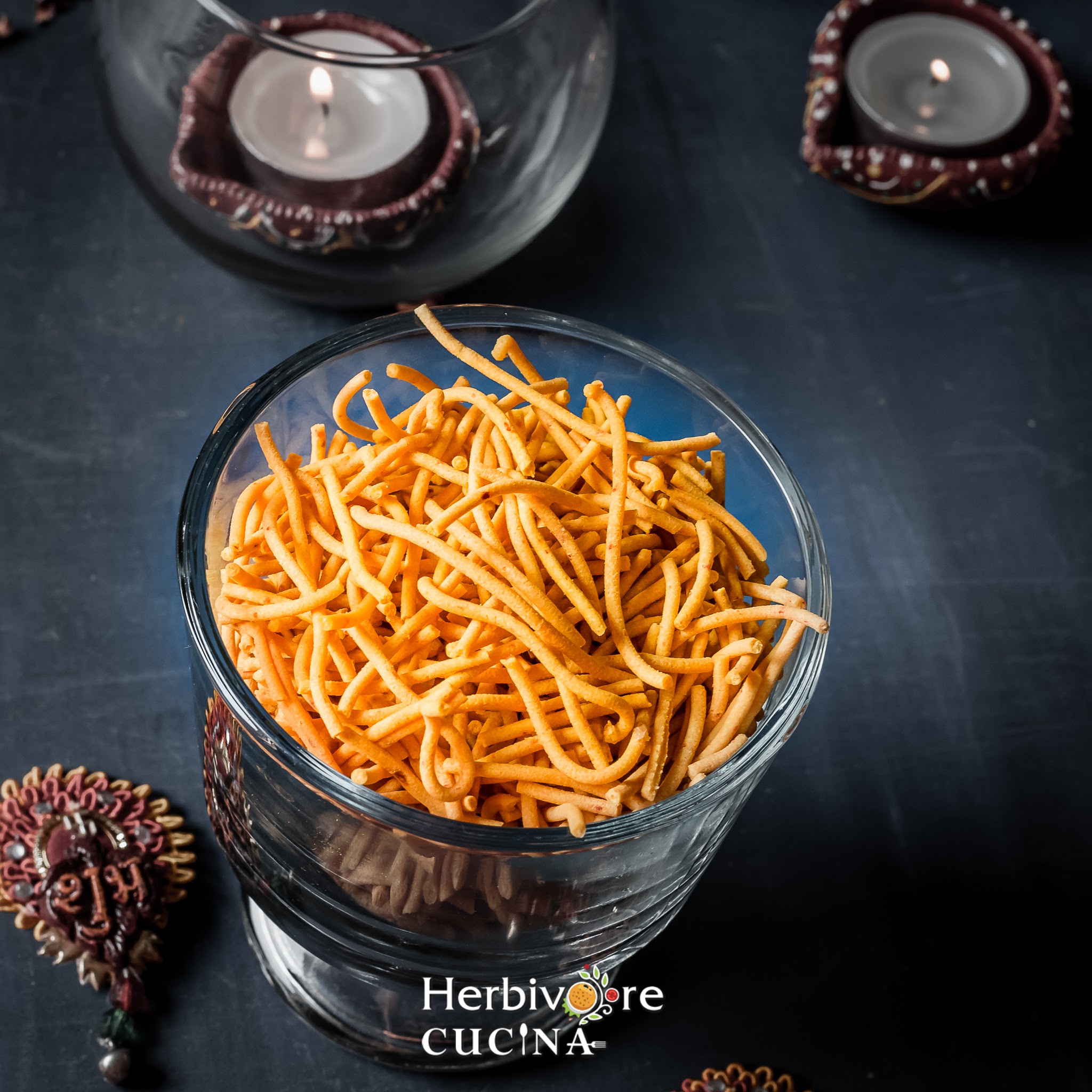 Along with all the regular snacks, my grandma made the best ever sev and gathiya ( a thicker version of sev). From the yellow non spicy version to garlic, mint and spicy kind; she made it all. And it was always the BEST!
This year I decided to make it myself and asked my mother for the recipe. She quickly told me how to go about it and I tried it with a super small amount of dough. The result was awesome and I HAD to make another larger lot as this happens to be on my husband's favorites list! What seemed intimidating at first now looks at child's play and I am so glad my Mother in Law advised me to get a muruku press with me to US!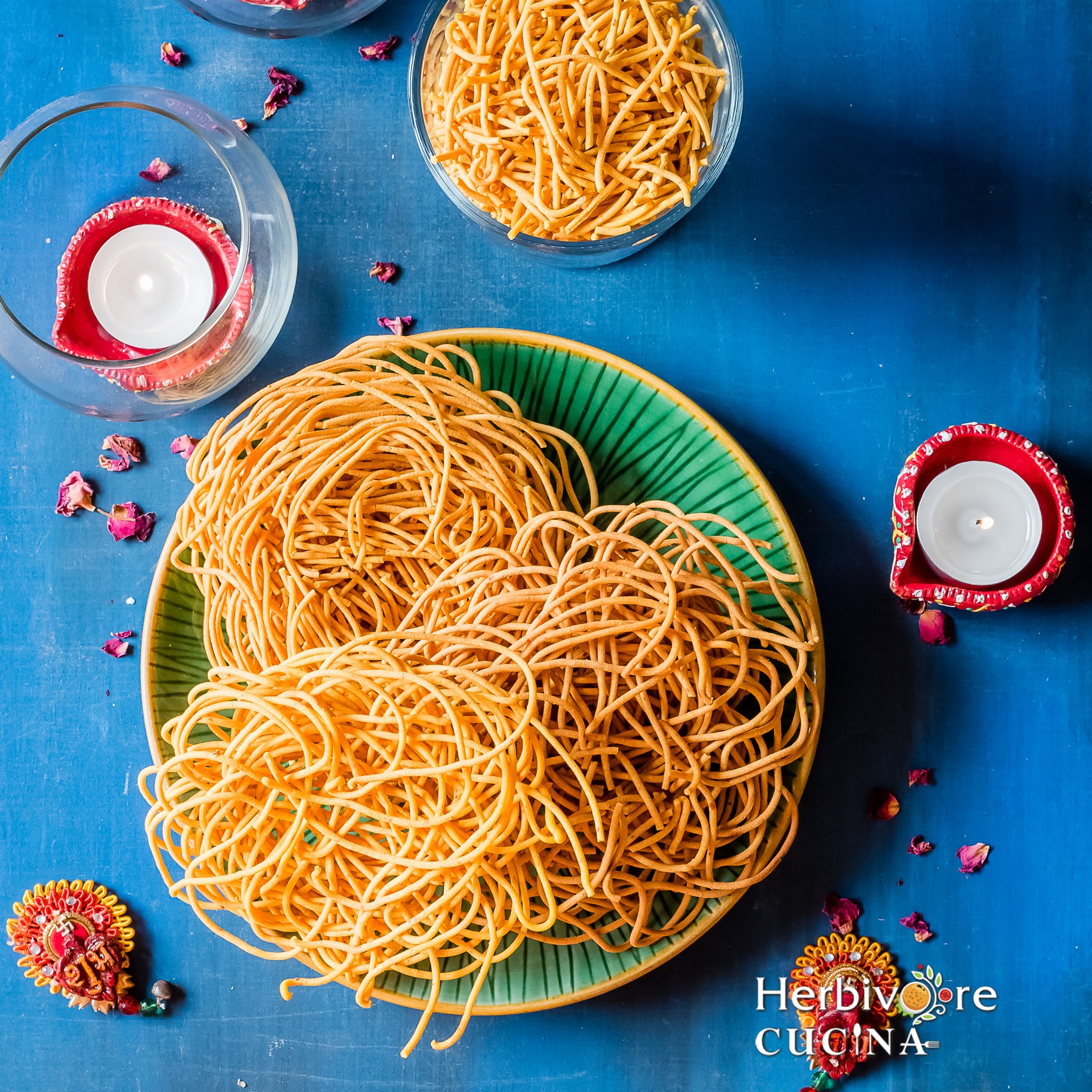 Are you also like how I was? Think sev is something that should be bought off the shelf? You need to try this recipe once and I promise you will not regret! There are few things as satisfying as seeing strands of dough fall into the hot oil and bubble around to give perfect sev rounds. I have looked at them when my mother and grandma made it, and it is so good to see I can make them too!
Coming to the recipe, there are very few points that need to be considered while making it. The most important thing to consider is that any add-in to the dough should be smaller than hole in the sev maker. Else, the dough will keep getting stuck and you will have to open up to de clog the hole.
Adding a little oil to the dough makes it awesome to slip away into thin strands over the oil. Taste test a small amount before making the big batch. Any changes to the dough can be made if required. Add some flour it it is too thin and add some oil if the sev breaks while falling.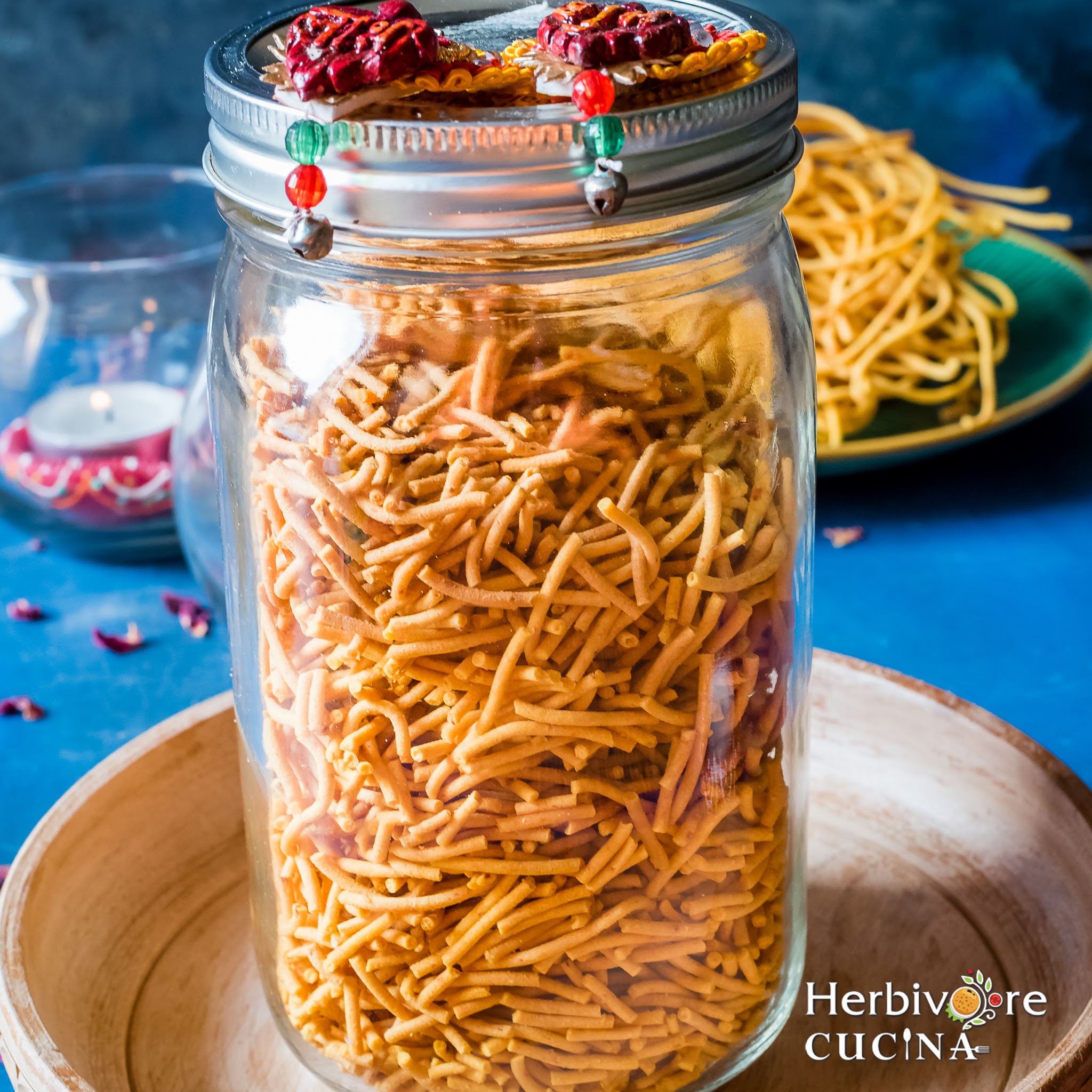 Uses of Gujarati Sev


Apart from being a great snack by itself, we make a lot of uses of this sev. Mix it with roasted rice flakes (mamra) and make another savory snack, use it in bhel or other chaat recipes or make this famous Gujarati recipe Sev Tameta nu Shaak (a side dish for rotis made from sev and tomatoes with spices). The possibilities are endless, so make a LARGE lot of sev and use it for a week or more!
Variations
I made a rather simple version of sev as I wanted to use it with mamra. But the variations that one can make are endless! Make naturally colored sev using turmeric, beet and spinach puree. Make Mint sev by adding powdered mint into the dough. Add chilli garlic paste to make garlic sev or get adventurous and add your favorite spice like oregano or basil to flavor the sev!
Ingredients
Besan / Chickpea Flour 2 cups
Oil 3 tbsp
Turmeric Powder ½ tsp
Red Chilli Powder 1 tsp
Asafoetida a pinch
Salt 1 tsp
Water ¼-1/2 cup
Oil to fry
Method
In a bowl sieve besan with all other ingredients except oil and water. Mix everything well.
Add in 3 tablespoon oil and mix it in. Add ¼ cup water and mix together to make a dough.
Use more water if required to make a soft dough. Let the dough rest for 15-20 minutes.
Heat oil in a pan to fry the sev. Using a greased sev maker/ sancha add half the dough.
Hold the sancha over the oil and twist it to drop sev in the pan. Keep moving the sancha to avoid sev from overlapping and sticking. Do not overcrowd the pan.
Fry for a couple of minutes and flip. Fry again for a couple of minutes and remove on paper napkins/kitchen towel.
Let the sev cool and then break it into small bits. The sev can be stored in an airtight container for 10-15 days.