Fazzoletto or more commonly known as Handkerchief Pasta is a famous dish from Liguria, a place in coastal Italy. This dish is known for it's characteristic large thin squares that are topped with freshly made sauce. That is precisely what it's name Fazzoletto means, Handkerchief. The traditional way of making it in Northern Liguria involves making the sheets of pasta at home, preparing the best basil pesto and then combining the two on a plate. However, the Southern cooks make the thin sheets and cook it in red sauce in a pan and then plate it out. I am making the Northern version with a little different pesto.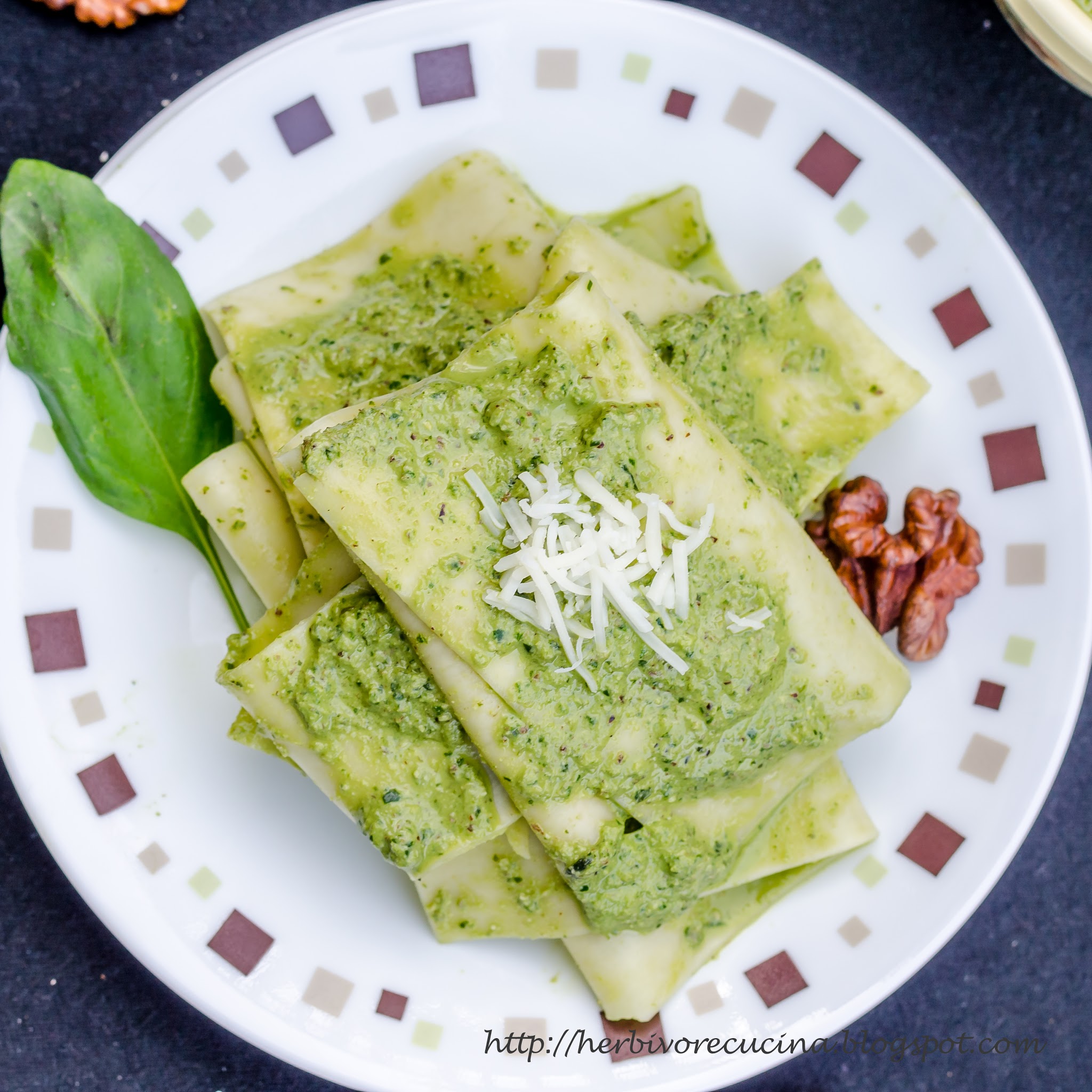 Over the past few days, I read a lot about this particular pasta on various websites and became curious to try it at home. However, making pasta from scratch is not a joke. I once made Ravioli in Pink sauce and I know how hard it can get if you do not have a pasta machine. Then again, this recipe needs sheets that are really thin and even, making the job more difficult. So to simplify it in a big way, I used a very easy method. Read on to find out.
The other day I was looking through my pantry to whip up an interesting meal. That is when my eyes fell on a box of lasagna that I bought a few weeks ago. I made the regular lasagna and even a spinach lasagna once with it and now I wasn't sure what I want to do with it. That is when I thought about this dish one more time. And I had the answer staring me in the face. Pick the box up, boil the sheets and make your very own version of Walnut pesto to go with it. That seemed to sort out the dinner for one night. And that is precisely what I ended up doing. The dinner was great that night and so I HAD to share this quick way of using up a lot of lasagna sheets on my blog.
Ingredients
Store bought Lasagna 8-10 sheets
Water ¼ cup
Parmesan Cheese ¼ cup
Method
In a deep and broad pan boil 5-6 cups of water and add a pinch of salt. Once the water is boiling, place one or two lasagna sheets in it. Using a tong remove them once they are al-dente and cut them to squares of equal size. Repeat for all the lasagna sheets.
In a wide pan, add ¾ cup pesto prepared by this recipe, and just enough water to loosen up the sauce. Do not add too much of water. You need to warm the sauce and not boil it. Once it is warm, add the sheets in it, mix well and remove on a plate. Top it with cheese and some seasoning if you need. Enjoy Italy's famous Handkerchief pasta, not made from scratch!