Blogging Marathon# 63 -Journey through the cuisines: Day 8
State: Gujarat
Dish: Hariyali Kachori
Today is the last day of the week for posting recipes from Gujarat. Can't believe week one has come to an end! Starting Monday, a new state continues with recipes from I to N. The remaining states have six recipes each, while the first had eight. For today the letter is H. From H, there are not many ingredients in Gujarati. Most of the words are either Marathi or Hindi like Hirvi, Hari, Harit or Hurda. So I came up with this recipe, Hariyali Kachori.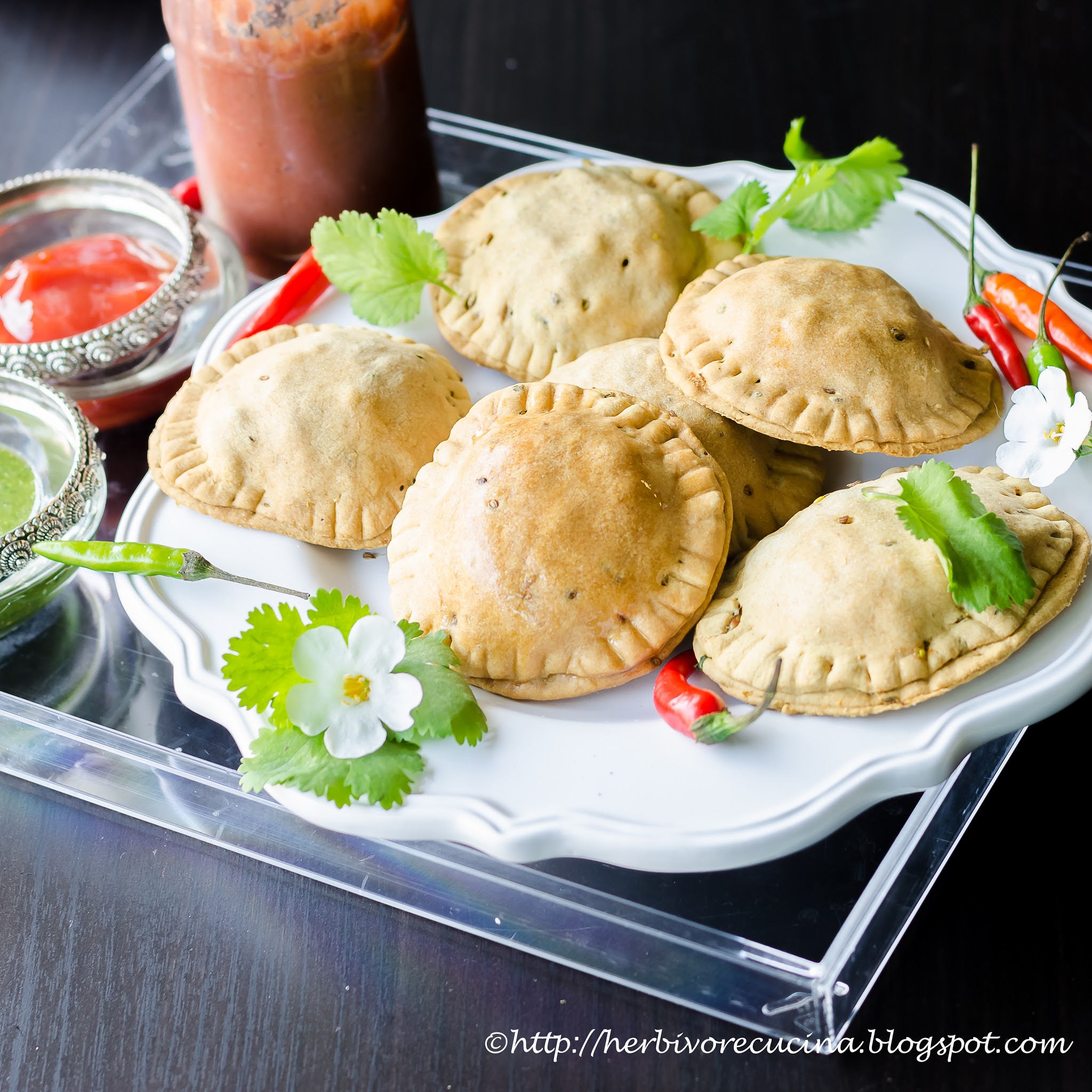 The term Hariyali in this recipe refers to green and Kachori is a stuffed flaky round of dough that is generally fried. Here, I have used tuvar lilva, a typical Gujarati bean, but as the name mentions, the same recipe can be made with anything green like peas or french beans. Thus, the common term Hariyali in the name.
Coming to the recipe, the kachori consists of two parts: the flaky covering made from all purpose flour or maida and the stuffing made from tuvar lilva and green garlic with Gujarati spices. Though the traditional recipe would be frying it, I baked the kachoris and got a slightly healthier version retaining the same taste 🙂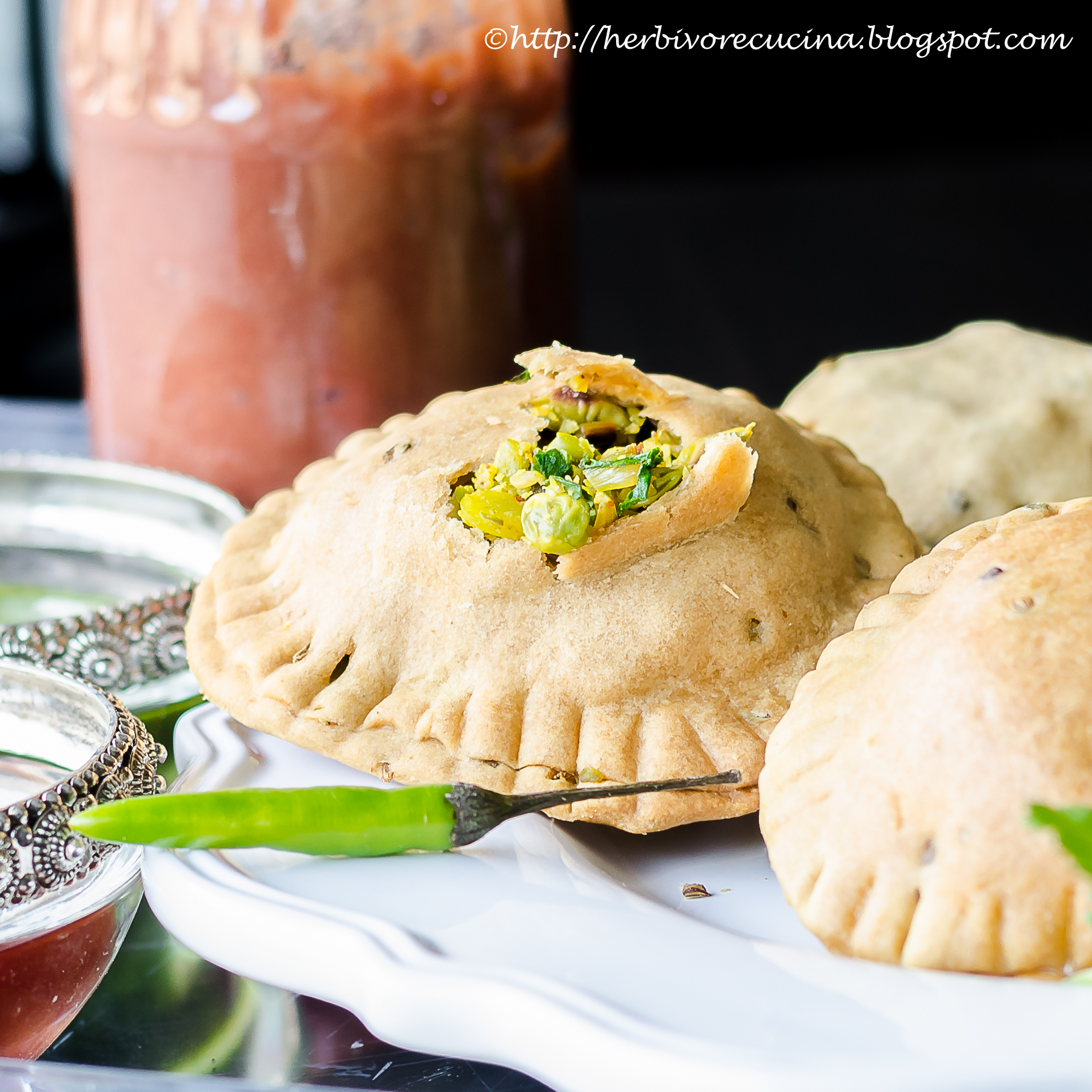 Here is how the recipe can be tweaked to suit everyone's palate. While I used tuvar lilva from the frozen section, fresh pods of lilva is equally great. If you do not like tuvar or can't find it, add shelled peas to the same recipe. If you do not like that either, add finely chopped french beans. I added green garlic stems as I found them easily. If you cannot lay your hands on those, just add minced garlic. And last, you can choose to fry the same kachoris. I avoided that in an attempt to make them a little healthy. Enjoy the kachoris and come back on Monday for a new state and lots of delicious recipes!
Ingredients
For the cover
All purpose flour 1 cup
Ghee/ Clarified butter 2 tbsp
Baking Powder ½ tsp
Baking Soda ¼ tsp
Carom seeds 1 tsp
Cumin seeds 1 tsp
Salt a pinch
Cold Water ⅓ cup
For the Filling
Tuvar Lilva 1 ½ cup
Green Garlic stems a handful
Green Chilli 2
Ginger 1 inch piece
Mustard seeds 1 tsp
Cumin seeds 1 tsp
Asafoetida a pinch
Turmeric powder 1 tsp
Red Chilli powder 1 tsp
Garam Masala 1 tbsp
Cilantro ½ cup
Shredded coconut ½ cup
Salt, Sugar and Lime Juice to taste
Oil 1 tbsp
Oil to brush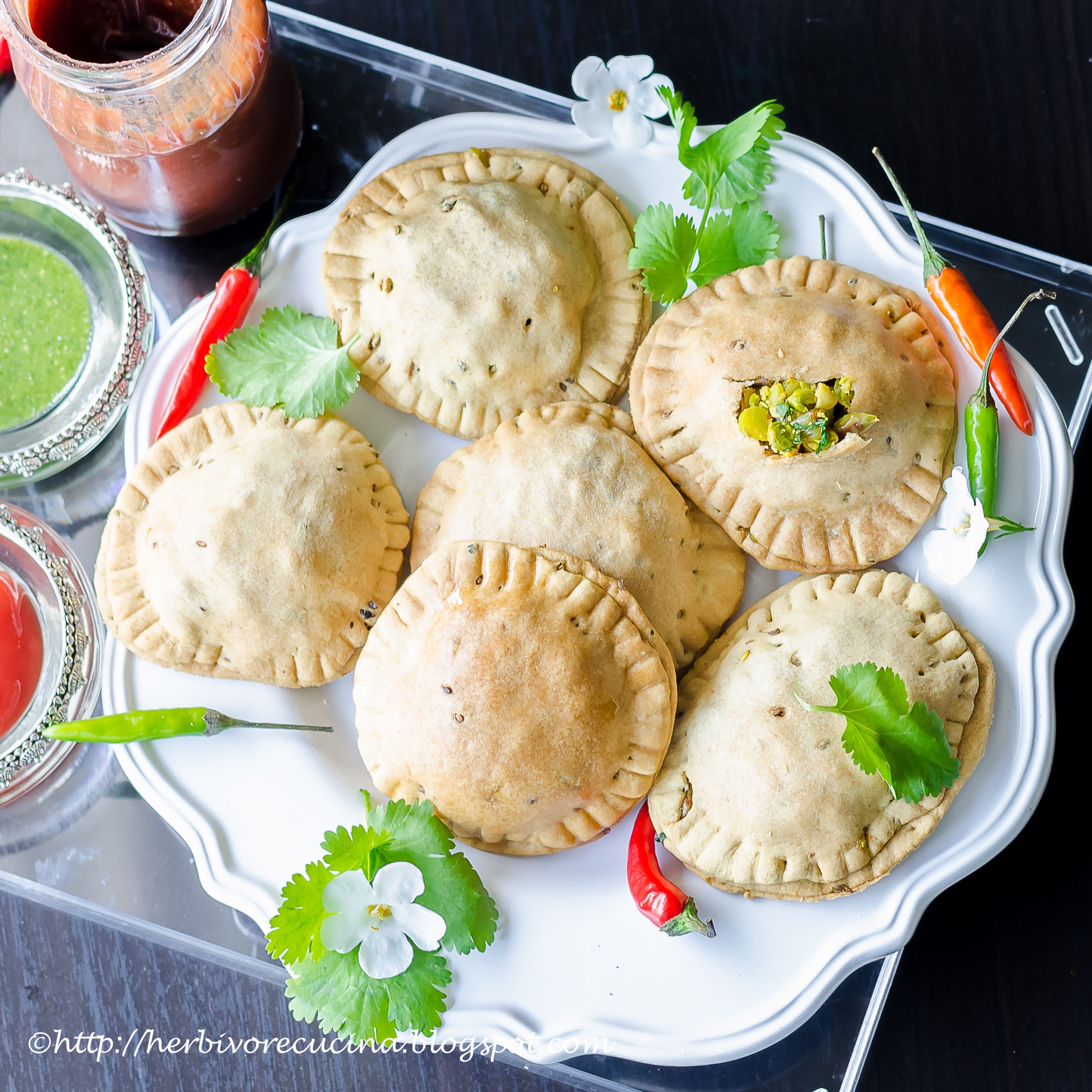 Method
To make the cover
Sift flour, salt, baking powder and baking soda in a mixing bowl. Add cumin and carom seeds, mix well. Then add molten ghee, and make a crumbly dough. Make a well in the middle of the dough, add cold water as required and make a soft, pliable dough. It may take a while to tame the mess, but it is worth the effort! Once done, wrap in cling wrap or put the dough in a ziplock and set aside.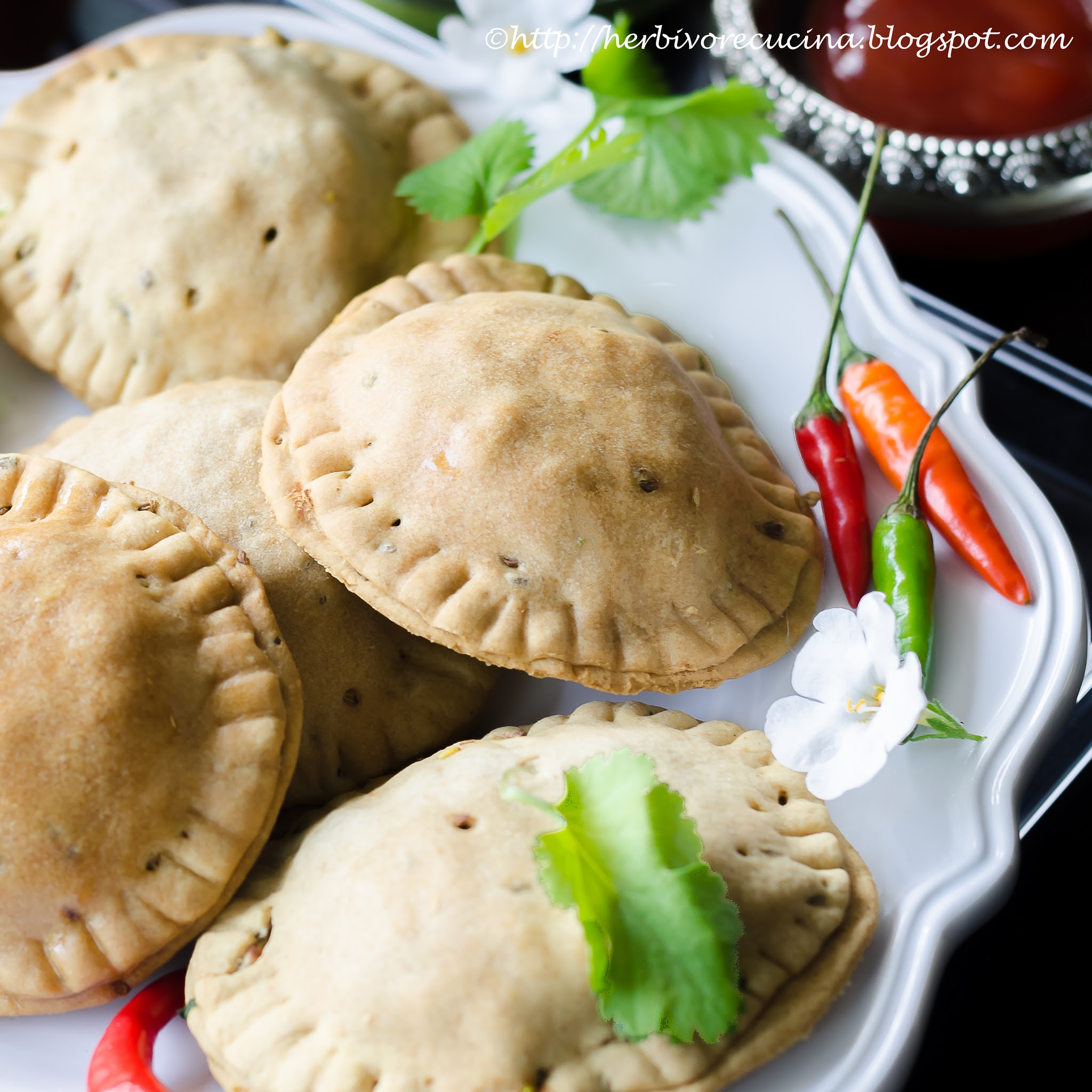 To make the filling


Process tuvar lilva in a food processor to a coarse blend. Chop the green garlic stems and mince the whites. In a pan, heat oil and add mustard seeds. Once they pop, add asafoetida and cumin seeds. Once they splutter, add the garlic whites and grate the ginger. Add finely minced green chilli and let it lose the raw flavor. Then add the garlic greens and tuvar lilva. Mix well and add salt, sugar, lime juice, haldi powder, red chilli powder and garam masala. Mix well , add the coconut and cook till the filling becomes dry and cooks. Add minced cilantro and set aside. Let the mixture cool.
To make the kachori
Take the dough, divide into four parts and roll each part to a 3 mm thin sheet. Using a round cookie cutter or steel glass, cut out even size circles from the dough. Mix the remaining dough with the second part, and repeat. Make sure to keep the dough that you are not working with, under a wet towel.
To make the kachori, take one round, brush water on the edges add a small ball of the stuffing on it. Cover with another round and seal the edges. Press the edges with a fork. Keep the made kachoris under a wet towel to ensure they do not dry. The proportion makes about 12-13 medium sized kachoris.
Preheat the oven to 350 F/ 180 C. Line a baking tray with oil, butter or nonstick spray. Place the kachoris on the tray and brush the tops with oil. Bake for 10-12 minutes till the tops are light brown in color. Remove, cool and serve with green cilantro chutney, tomato ketchup and sweet tamarind chutney. These kachoris can be refrigerated for upto a week.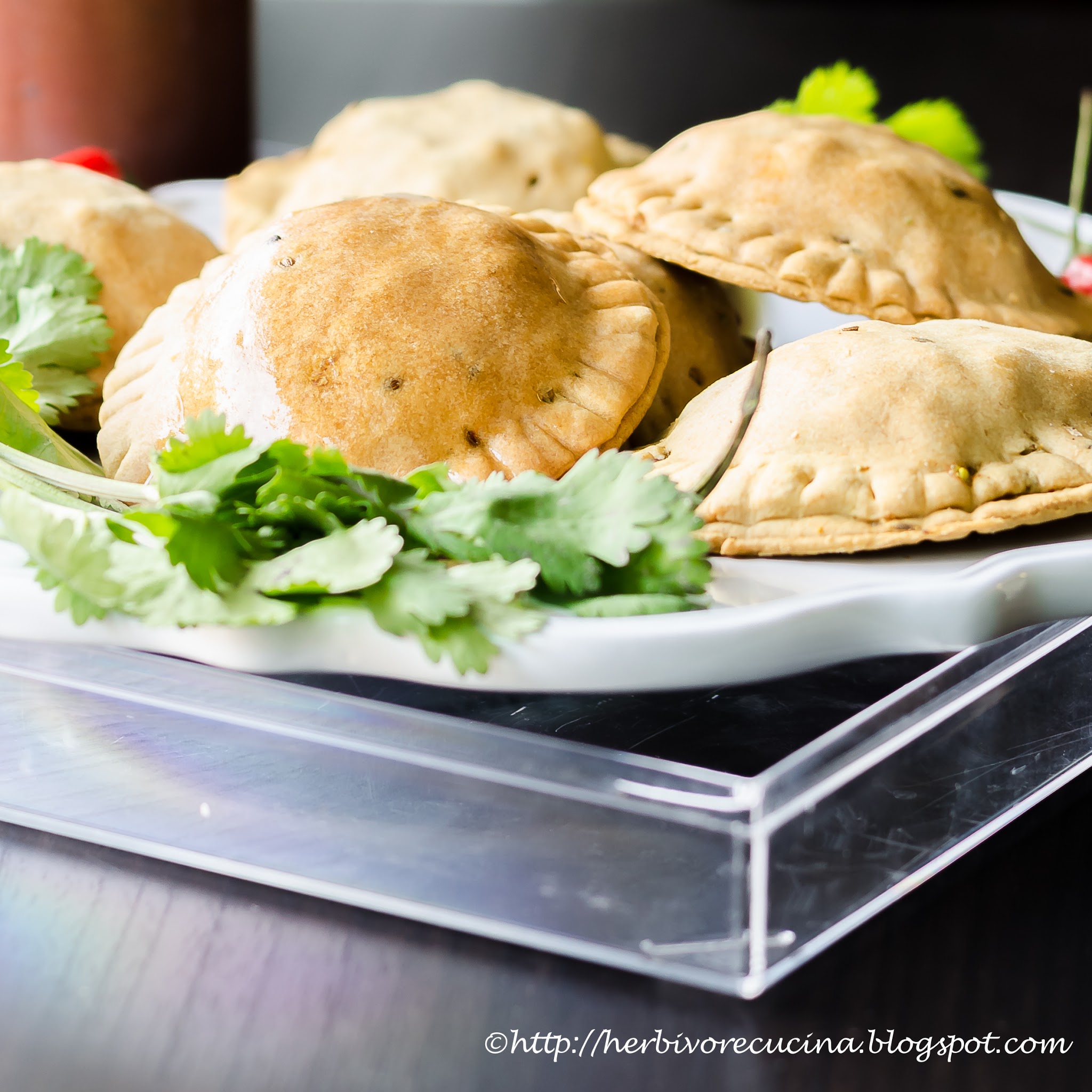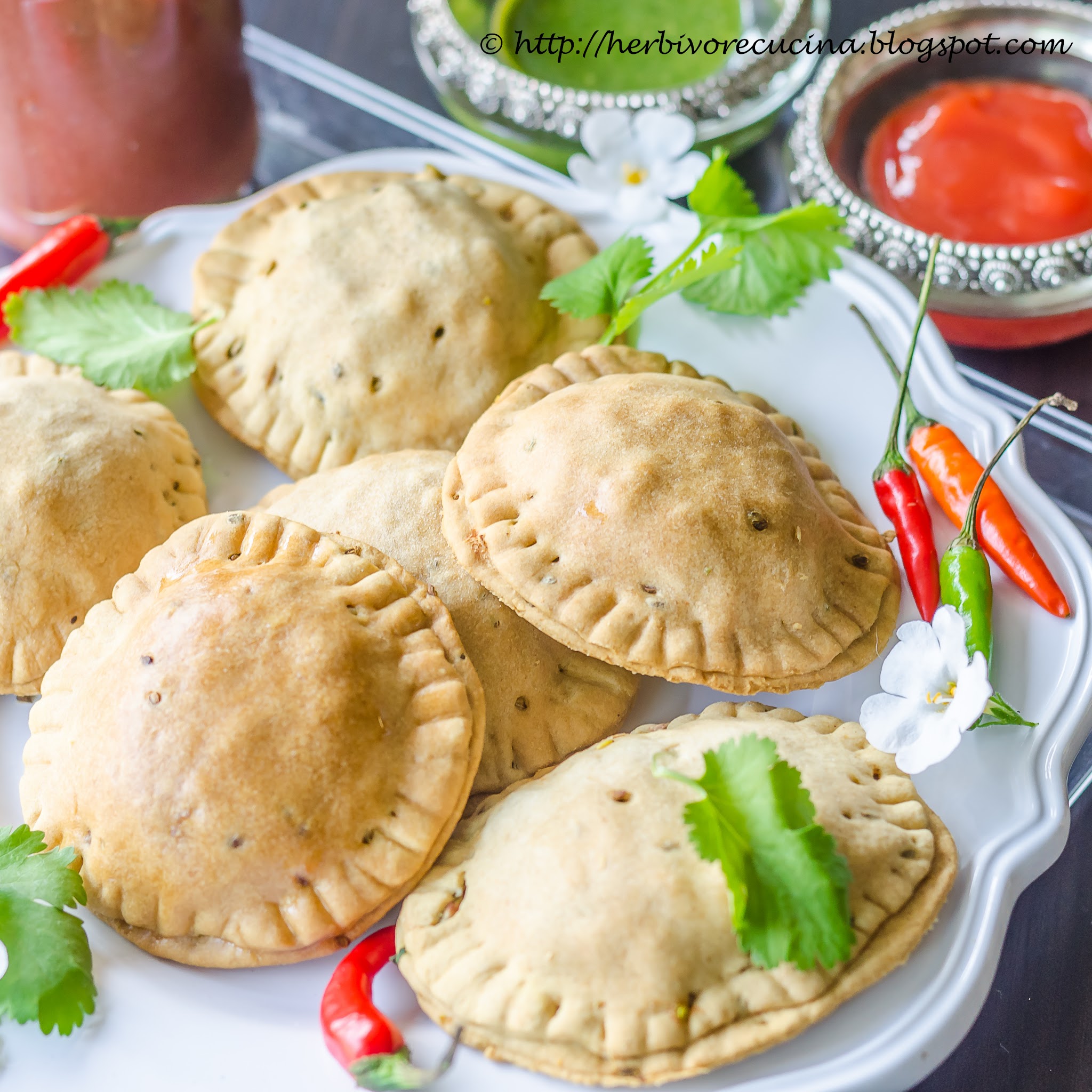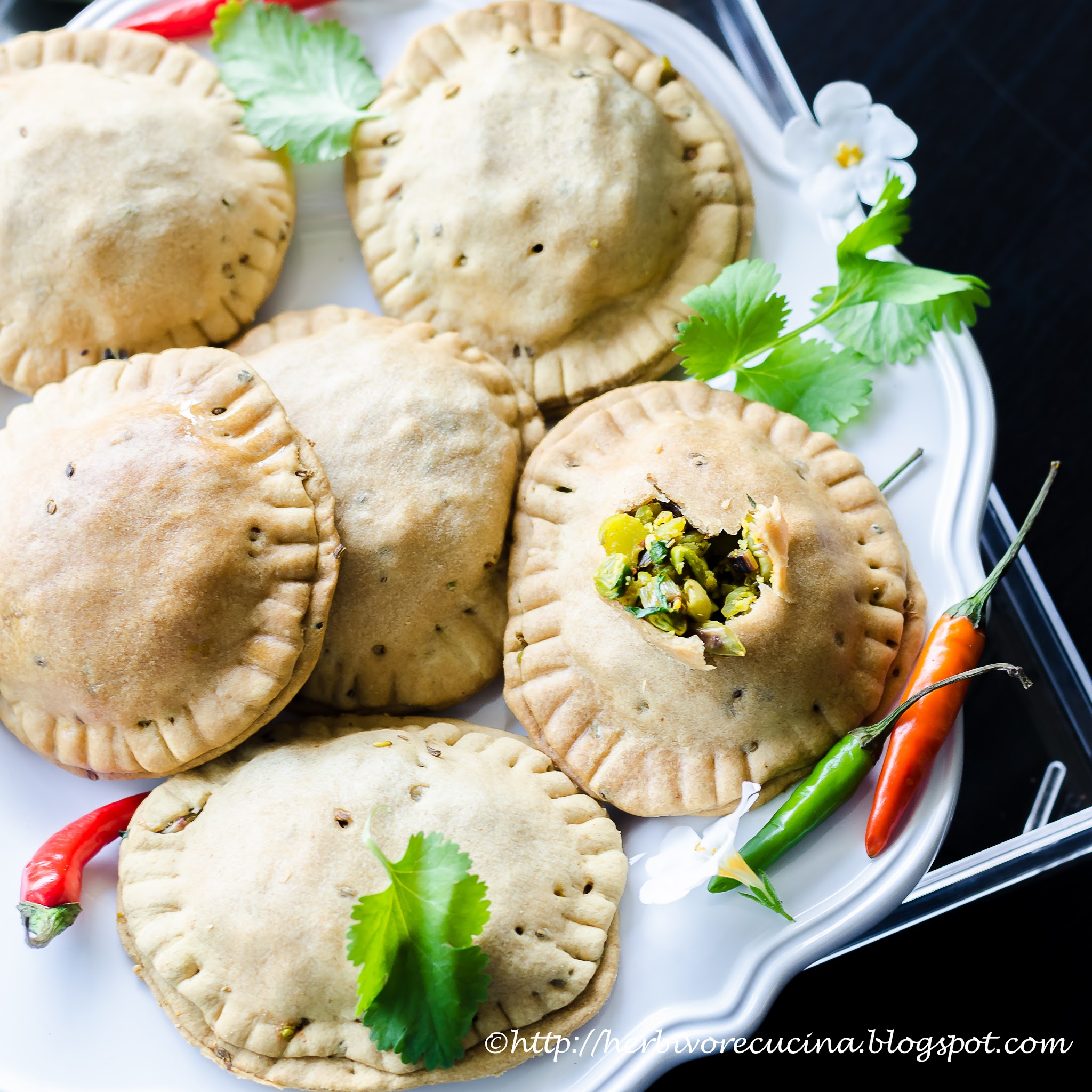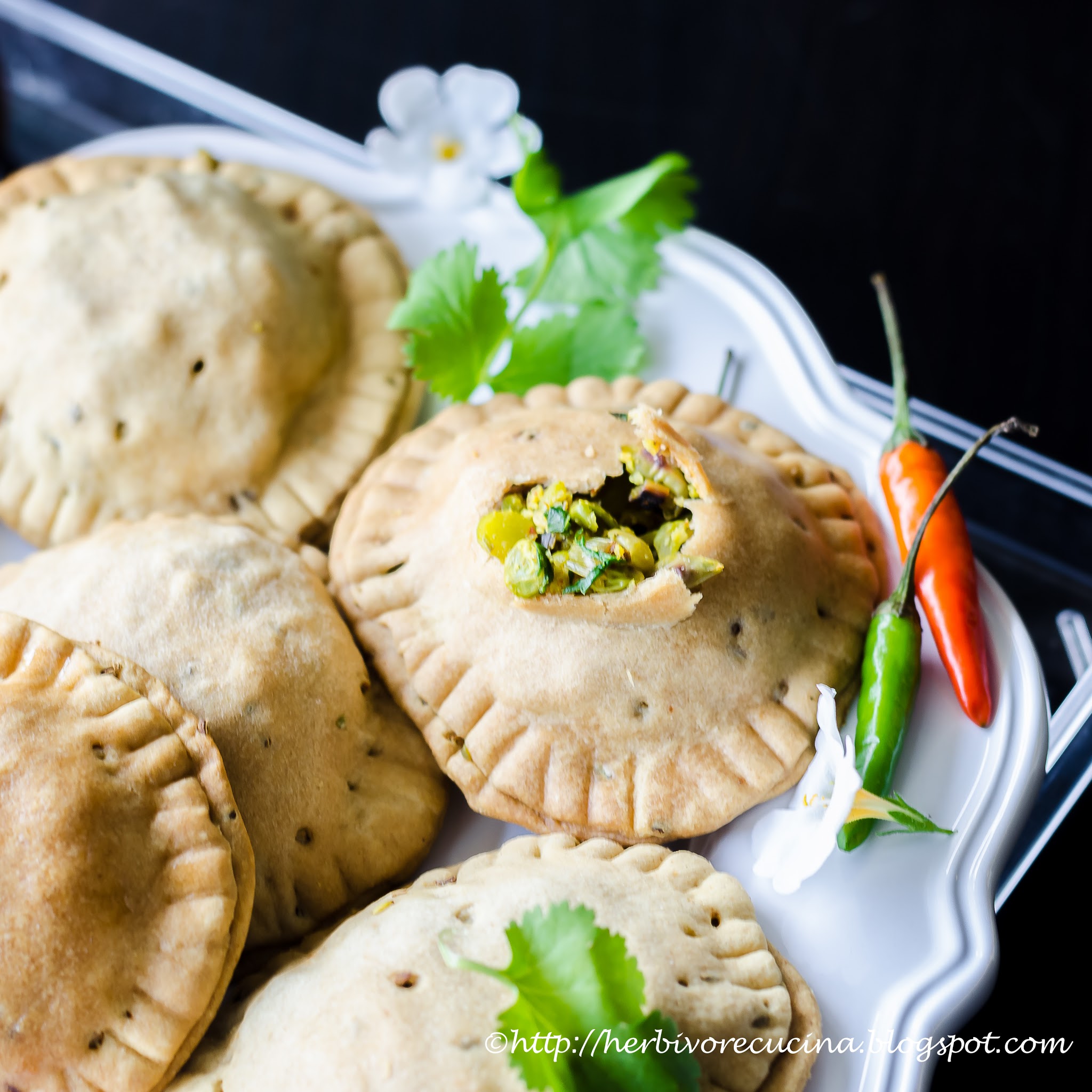 Check out the Blogging Marathon page for the other Blogging Marathoners doing BM# 63