Blogging Marathon# 63 -Journey through the cuisines: Day 9
State: Maharashtra
Dish: Ivy Gourd Rice

Today is the beginning of a new week of the Blogging Marathon, and my state this week is Maharashtra. This state is extremely close to me, attributed to the fact that that I have lived all my life in Mumbai, a city in that state. Over the many years that I have spent there, I have tasted and even attempted most of the traditional recipes at home. But most of them never made it to the blog. The chief reason is that these dishes are made so commonly in our home, that I felt they were too basic to make an appearance on the blog.
Then, I decided to include these recipes on the blog, and chose Maharashtra for this week. So for the coming six days, stay tuned for Maharashtrian recipes starting from alphabets I through N. Coming to the first recipe from this state, Ivy gourd or tendli as the natives call it was the simplest pick for I. Had tendli not been a very common ingredient in Marathi cuisine, I would have had to stick to cheat words like Instant or Indian. But I am so glad I had this recipe to make.
So, the dish was decided and it is an easy one. I kept postponing the making because I knew it was very easy to finish this dish in a jiffy. I set out a few days ago to buy tendli. Little did I know that instead of 'buying' I would actually end up 'hunting' for the vegetable! None of the Indian stores or Farmer's market seemed to carry tendli! A vegetable that was commonly available in all places was suddenly not in stock anywhere! So the recipe was postponed by a few more days. Finally, one Indian store had these cute green vegetables, and I was thrilled! I quickly grabbed the tendli and made it the same day.
Tendli rice is a common dish in Marathi households. A one pot meal, this rice is best enjoyed with traditional Solkadhi or just plain yogurt and salad. Masale Bhaat, another name for this dish means spiced rice in Marathi. Apart from the addition of lots of tendli, this rice has a masala that is a little different from the garam masala of most rice recipes. Masale Bhaat uses Maharashtrian style Goda Masala for flavor. This masala is commonly made in Maharashtrian households, but I skipped that and used the store bought masala. If you make it at home, you can use that or just pick one off the shelf. If you cannot lay your hands on one, just replace with garam masala and enjoy this one pot meal! I loved this rice and can't wait to share my next recipe from J tomorrow!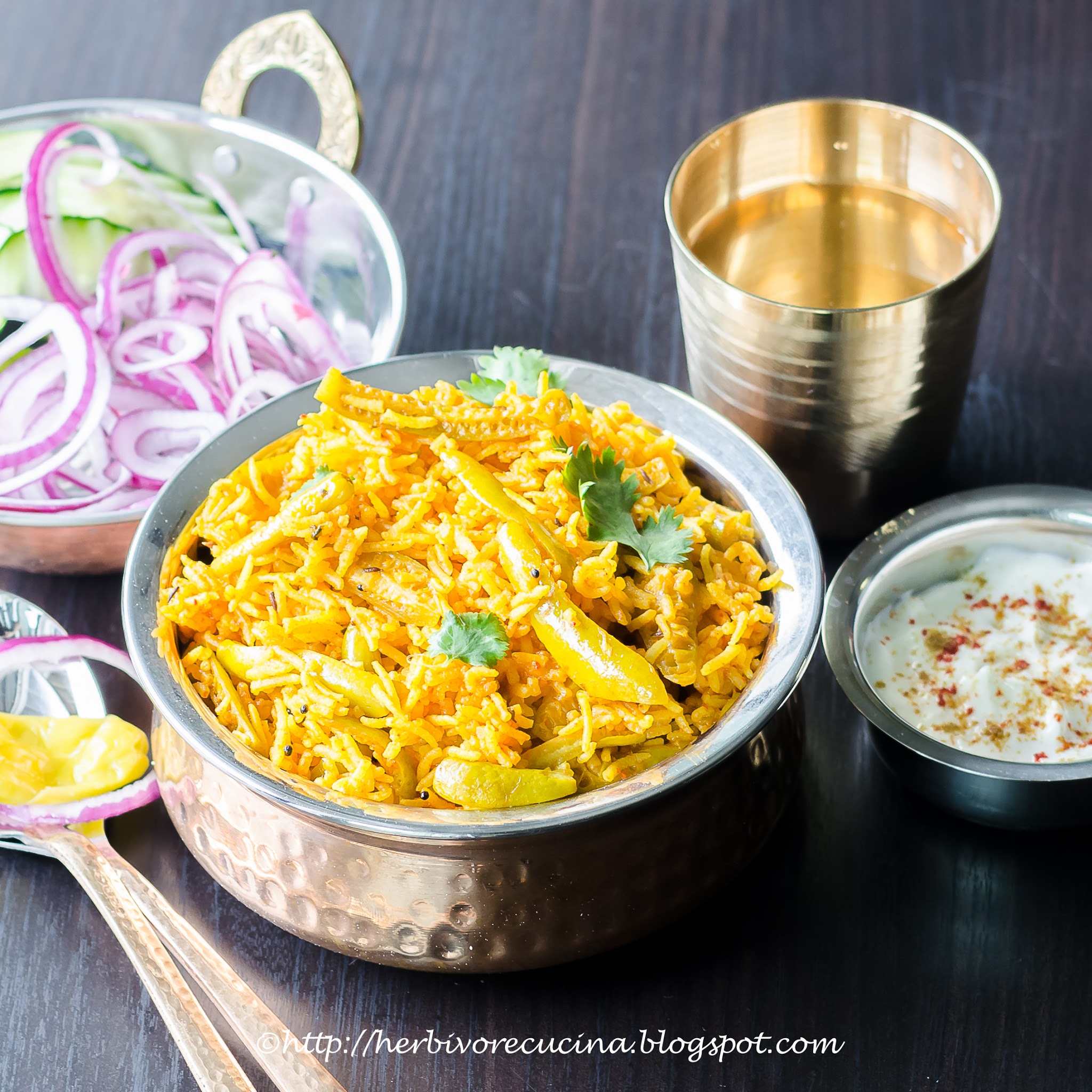 Ingredients

Long Rice 1 cup
Ivy Gourd/ tendli 1 cup
Goda Masala 1 tbsp
Ginger Chilli Garlic paste 1 tsp
Red Chilli Powder 1 tsp
Turmeric Powder 1 tsp
Mustard seeds ½ tsp
Cumin seeds ½ tsp
Asafoetida a pinch
Curry leaves 1-2
Oil 1 tbsp
Salt 1 tsp
Lemon Juice
Cilantro to garnish
Method


Wash and soak the rice in 2 cups of water for 30 minutes. Cut the edges of the tendli and make thin slices of it. Set aside.
In a pan, heat oil. Add mustard seeds and once they pop add asafoetida and cumin seeds. Then add the curry leaves and garlic ginger chilli paste. Mix well and once the raw flavor goes away, add the ivy gourd.
Saute for a couple of minutes. Then add goda masala, red chilli powder, turmeric powder and mix. In a couple of minutes, add drained rice. Add salt to taste, 1 ½ cup water and cover. Cook till the water is completely absorbed and the rice is cooked.
Add lemon juice and turn down the flame. Garnish with cilantro and serve with yogurt, solkadhi or kadhi.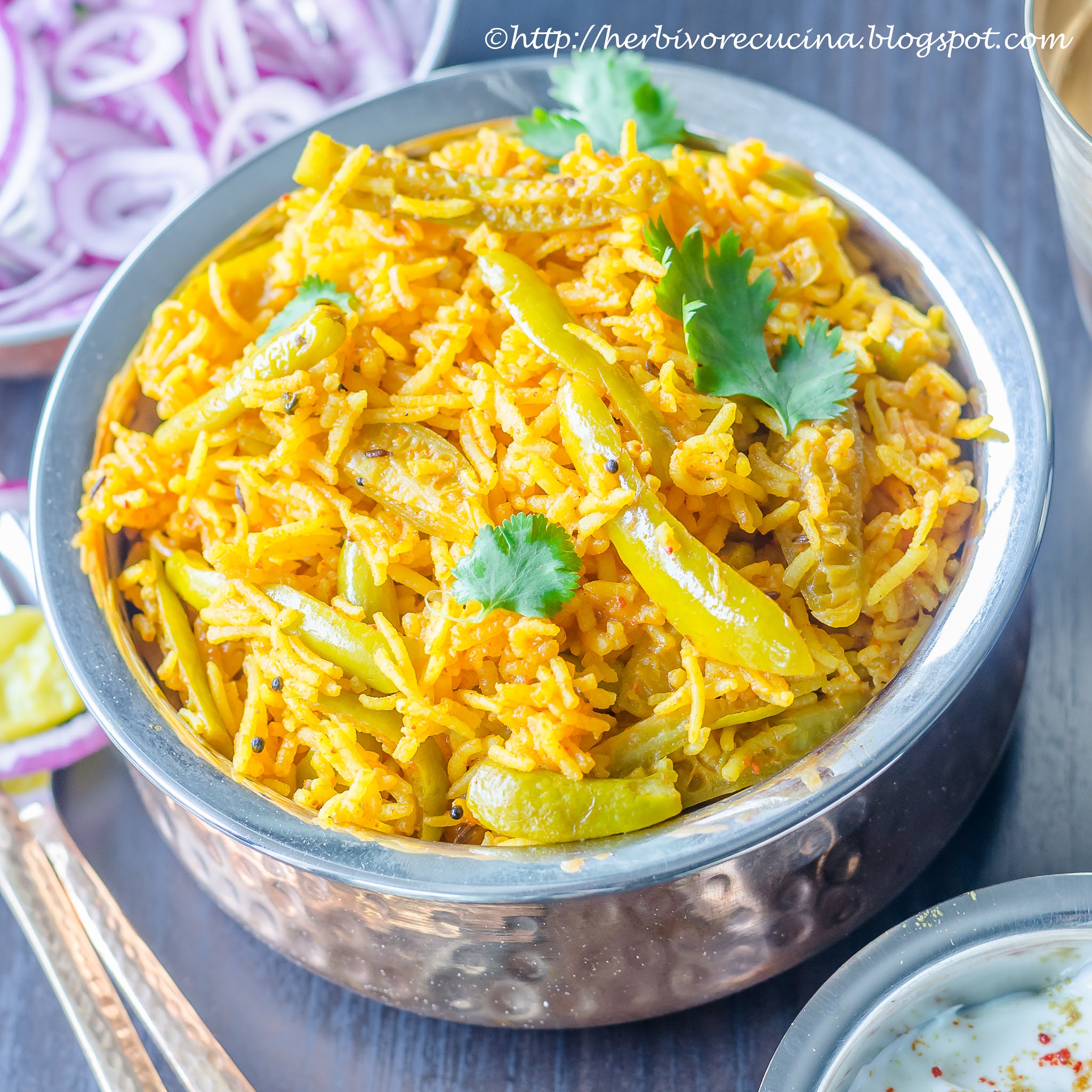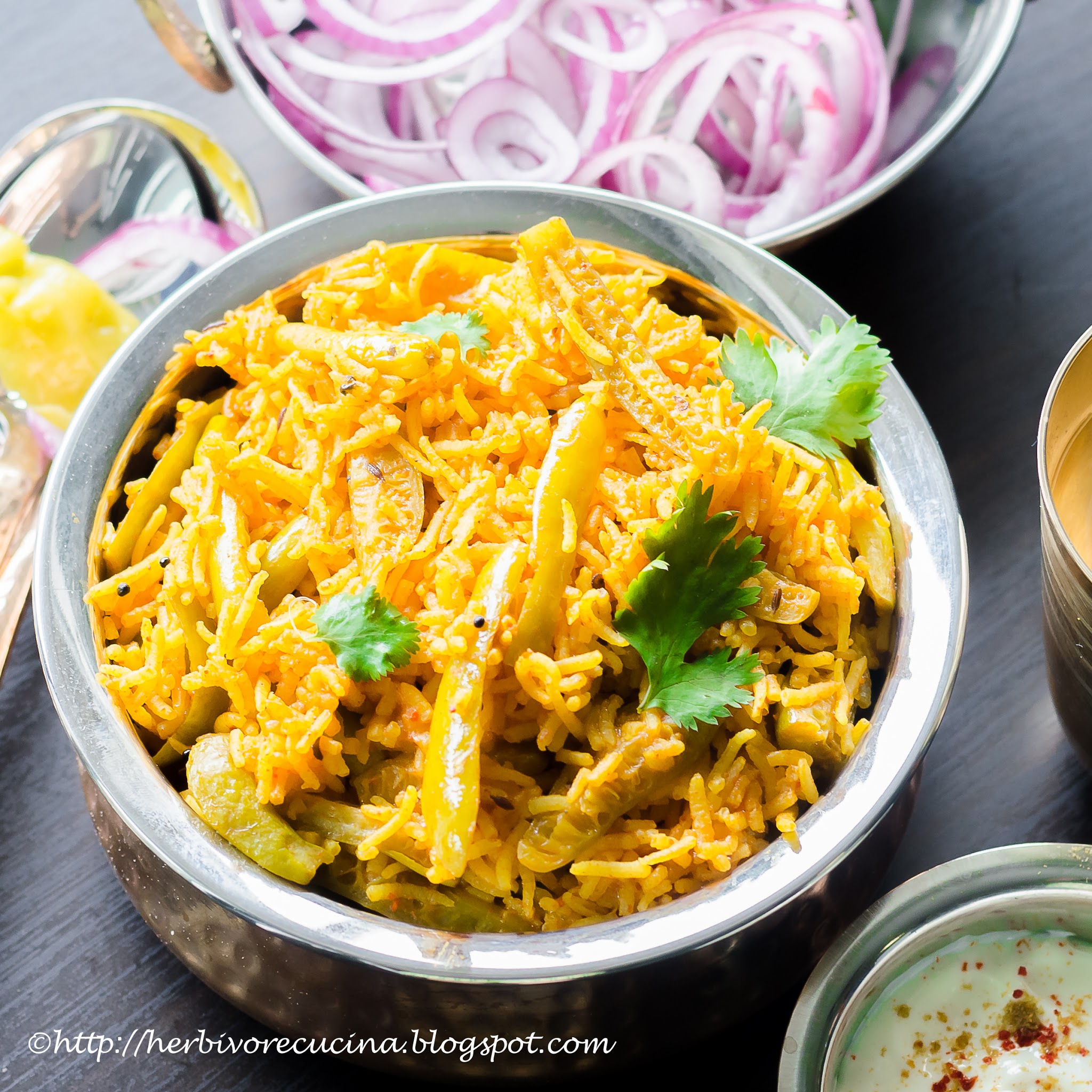 Check out the Blogging Marathon page for the other Blogging Marathoners doing BM# 63