When Indo-Chinese meets South Indian, a delicious dosa recipe emerges. This Noodle Dosa is addictive, yet super easy to make!
Dosa, a simple crepe made from rice and lentil has gone too far with respect to innovation. From the simple Sada Dosa and Masala Dosa we have graduated to Chinese Dosa, Maggi Dosa, Paneer Chilli Dosa and what not! Everytime I visit my favorite street vendor in Mumbai, he has a range of new flavors that are almost beyond my imagination!
While some combinations are really unique, the rest are super delicious and easy to make at home. Among the newer combinations, the one with noodles and schezwan sauce is my favorite. I am a fan of Indo-Chinese food and Dosas is on my go-to list of comfort foods. So when there is a recipe that combines the two, I cannot not like it.
I have tried various versions of this dosa based on what I have had in India and how we like our dosa. This one turned out to be our favorite. With a teaspoon of Schezwan Sauce in each dosa with a simple stir fry of vegetables and noodles, we can never get enough of this version!
To make this dosa I used a thin variety of noodles. The thin ones go really well with the dosa. I have used thick Udon noodles in the past, but they seem to overpower the dosa. With them, you can taste more of the noodles and less of the dosa!
The filling I had in the dosa was enough for one dosa. If you like a super loaded dosa, feel free to add twice the amount. It will taste the same with just some extra noodles in there! This recipe works really well to use up extra noodles too. If you are looking for a quick way to use up hakka noodles after a party, this dosa might be your answer!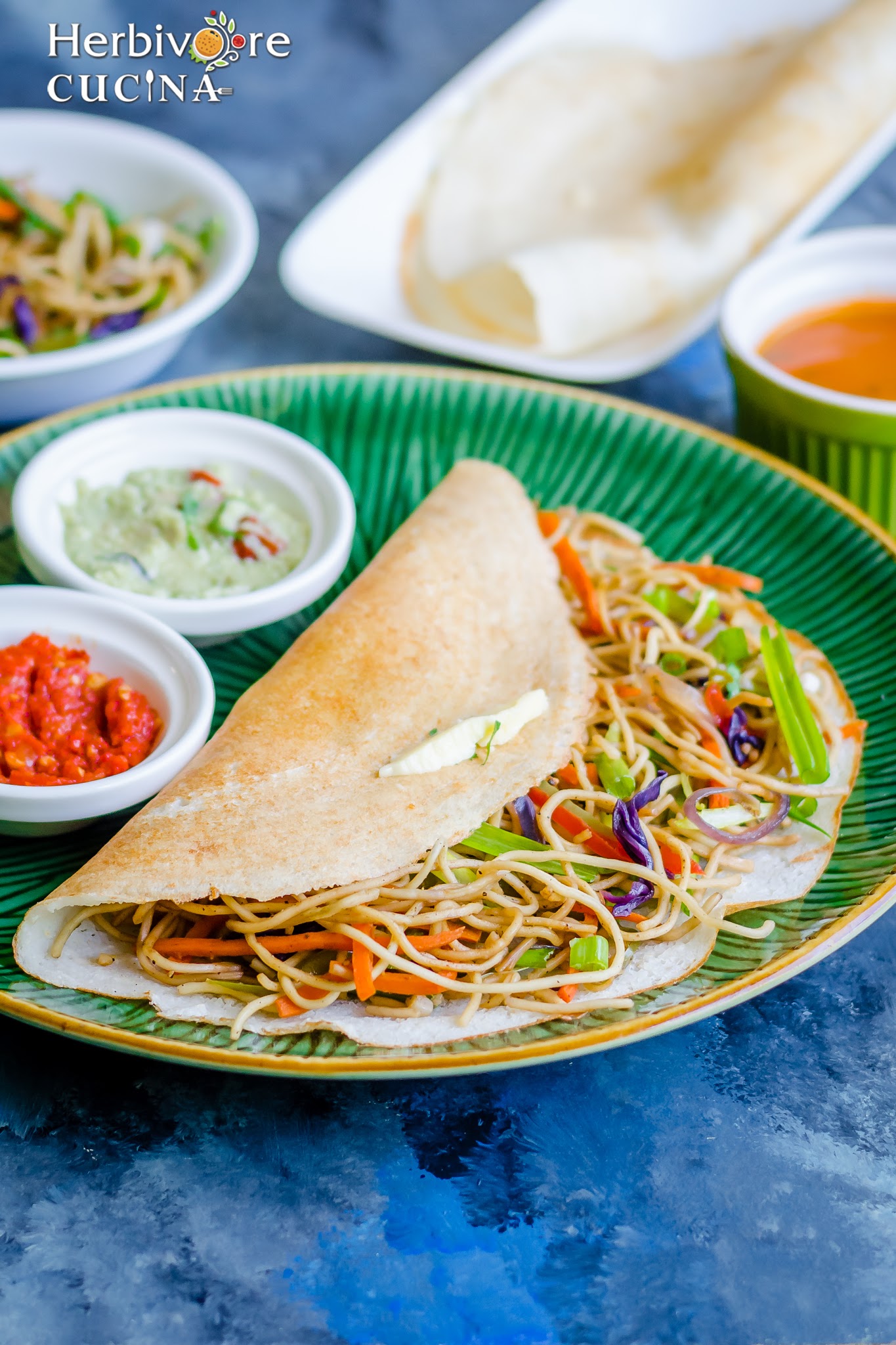 Variations
If you have seen the vendors on the street make this dosa, you would see that they make the noodles on top of the dosa. While that is a great way to do, I like to make my noodles separately and combine ot with schezwan sauce and spring onions on the dosa.
I have not added anything beyond the noodles and schezwan sauce in the dosa. However, cheese and paneer are often added to the dosa and they taste great too. If you want a milder version, skip the schezwan sauce and make the dosa the same way.
If you like other vegetables like broccoli, cauliflower or mushrooms, go ahead and add them. I stuck to the traditional vegetables that I have seen the street vendors add.
Plus, if you are making this out of leftover noodles, just add them all. It does not matter what all has gone into the noodles as long as you like it!
I served it with some homemade Schezwan Sauce, Coconut Chutney and Sambhar. Enjoy it with these or just have them without any sides. It tastes amazing both ways!
Ingredients
Dosa Batter 2 cups
Dry Hakka Noodles ¾ cup
Onion ½ medium
Pepper 1 medium
Carrot 1 medium
Cabbage ¼
Spring Onion 3-4 stalks
Oil 1 tsp
Soy Sauce 1 tsp
Vinegar ¼ tsp
Salt and Pepper
Schezwan Sauce 3-4 tsp
Butter as required
Method
Make the dosa batter as per this recipe. Set aside. Cut all the vegetables into long strips.
Heat 4 cups of water and 1 teaspoon salt in a large saucepan. Add the noodles and cook till al-dente. Drain the noodles and put them in a saucepan. Sprinkle little oil on them and mix well, to ensure they do not stick.
Heat oil in a wok or thick bottom saucepan that is wide. Add the pepper and onion. Mix well and add carrots and cabbage. Cook on high flame for 2-3 minutes and mix well.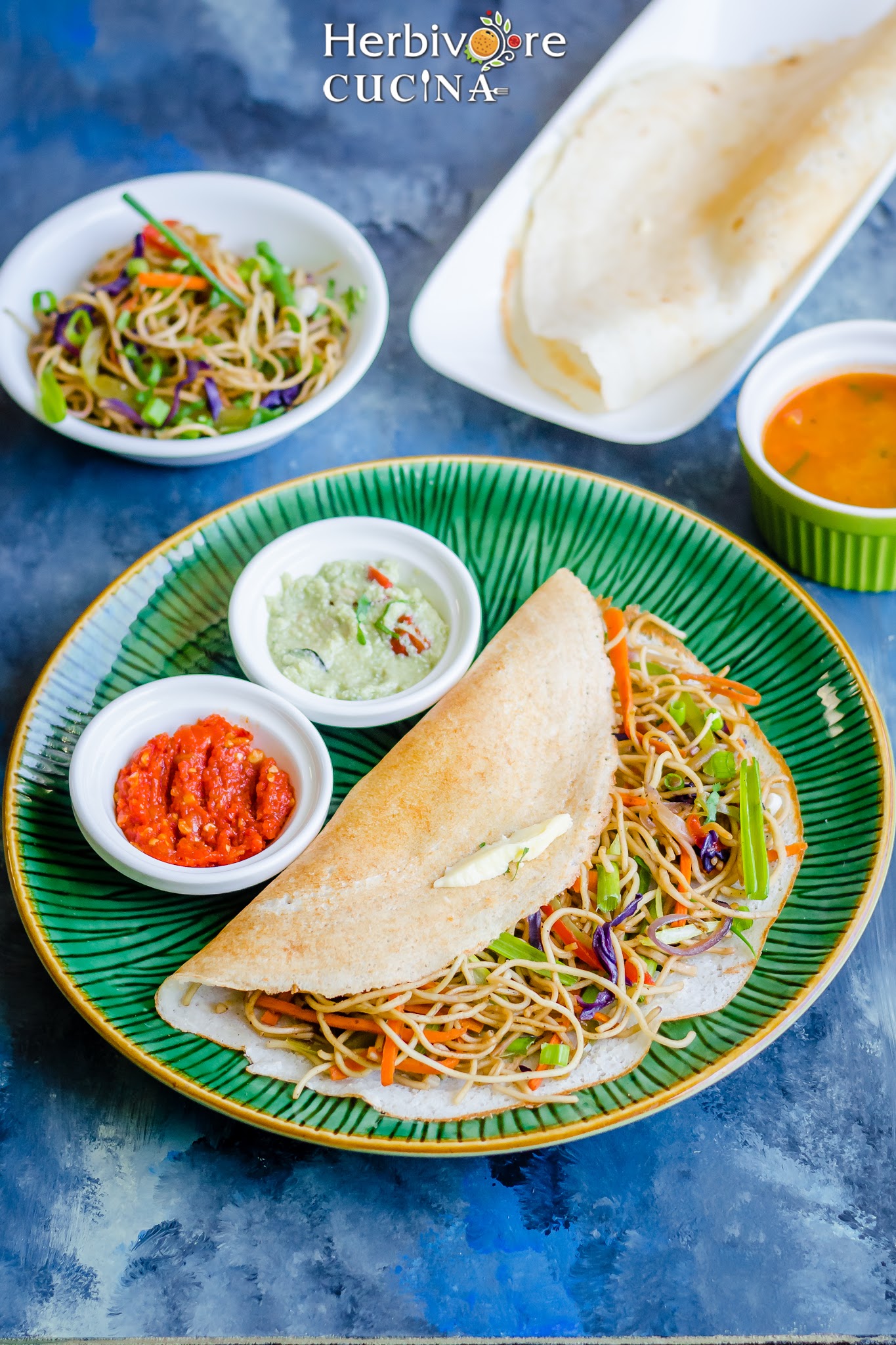 Now add the boiled noodles, vinegar, soy sauce, salt and pepper. Toss well and turn down the flame.
To make the dosa, heat the tava/griddle. Pour about ½ cup-¾ cup batter on the tava and spread to a thin round. Cook till the bottom is light brown.
Spread 1 teaspoon Schezwan Sauce on the dosa and add the prepared noodles. Sprinkle some spring onions and lightly mash everything with a pav bhaji masher.
Spread some butter on top, and fold the dosa into half. Serve with Sambar, Coconut Chutney and Schezwan Sauce.