This post is sponsored by Greek Gods Yogurt but the content and opinions expressed here are my own.
A super simple yet delicious one pot meal; Curd Rice is the perfect recipe of comfort food!

2020 is here and I am back on the blog with a perfect comfort food recipe. Curd Rice is a popular dish from Southern India. As the name suggests, the recipe is made with cooked rice, yogurt and some add-ins.
Video Recipe
Over the past few weeks we have been enjoying all kinds of fancy recipes. From Halloween treat to Thanksgiving feast and from Christmas cake to New Year party recipes. Now that 2020 is here, it is time to enjoy easy recipes that are perfect for any meal.
Light on the stomach, easy to make and not laded with spices, this yogurt rice is the perfect dish for dinners this New Year. After all the Holiday recipes I definitely crave a bowl of yogurt rice with some Indian pickle on the side.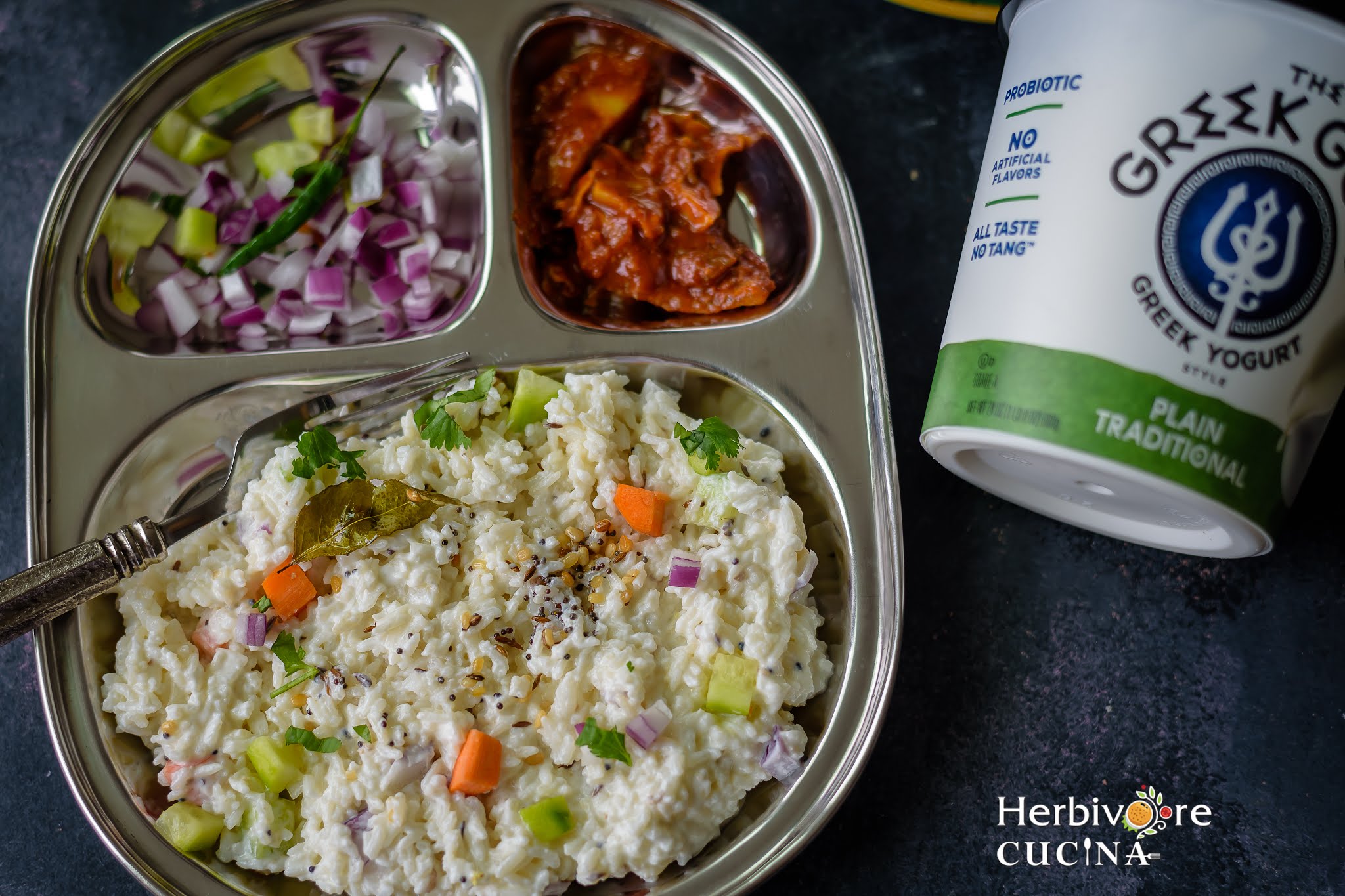 Ingredients needed to make Yogurt Rice
This recipe only requires a handful of ingredients that are easy to find at Walmart. Here is what you need to make this recipe:
Rice: Any short grain rice works well for this recipe. The grains have to cook well and are generally crushed lightly using a ladle. So any variety of rice works great.
Yogurt: I used Greek Gods Plain Greek Yogurt for the recipe. The perfect texture of the yogurt makes it a great addition to the recipe. Plus, it is good for you making the recipe great for any meal.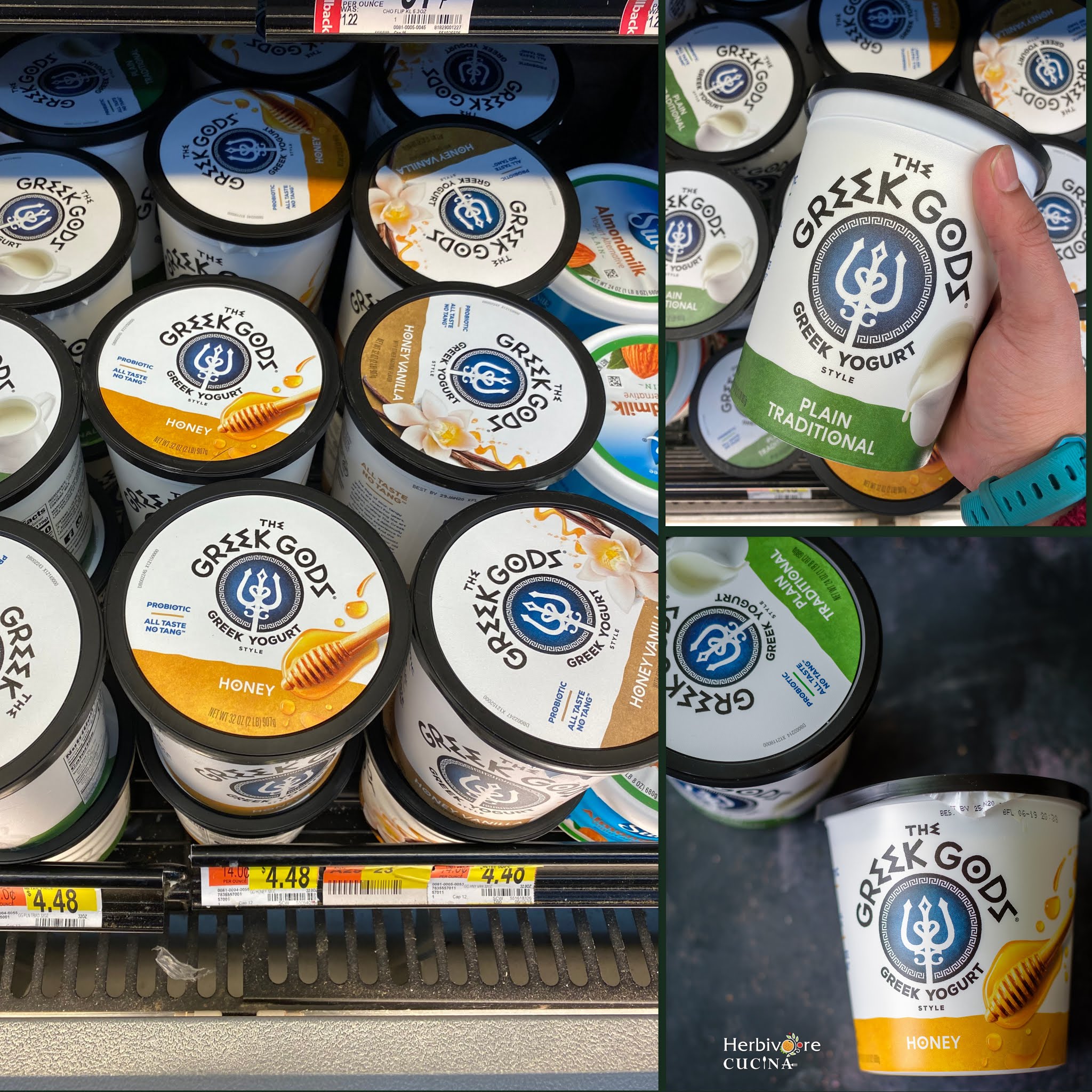 Tempering: The ingredients under tempering below are the ones most commonly used in Indian cooking. From mustard seeds and cumin seeds to curry leaves and green chili, these can be skipped if you do not find them.
Toppings: As the rice is super smooth and creamy adding some crunch to the recipe is a great idea. I like to add diced onions, carrots and cucumber to the rice.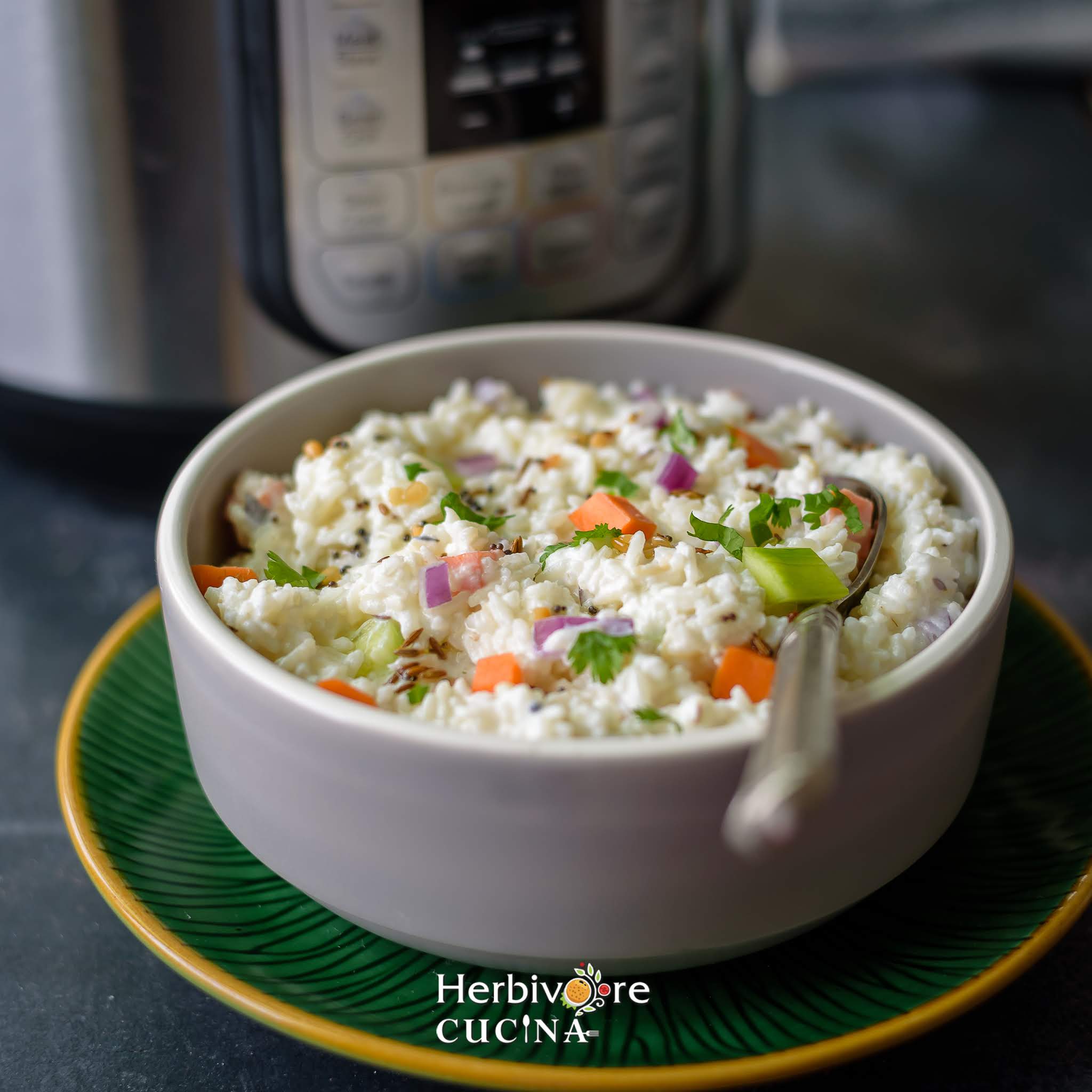 How to make Curd Rice in the Instant Pot
This recipe is super simple to make, needs a handful of ingredients and comes together pretty quickly.
I use the Instant Pot to cook the rice and for the tempering. The 'Rice' function cooks the rice to the perfect texture that is required for the recipe. Plus, the pot is great to mix everything after the rice has cooked.
With a total time of under 30 minutes, this recipe is great for busy weeknights or even for a gathering. Make a big bowl of this rice before hand and serve it chilled.
Variations
This recipe of curd rice can be modified to suit your preferences very easily.
I have used just water to cook the rice but adding a mix of water and milk makes the rice super creamy. Or add some milk after the rice has cooked. That will give a creamy texture too.
The toppings I used for the recipe are onions, carrots and cucumber. Adding grapes, pomegranate seeds and green chili is an option too. Plus, if you like you can add some more tempering on top too.
Ingredients
Short Grain White Rice 1 cup
Water 3 cups
Greek Gods Greek Yogurt Plain 2 ½ cups
Salt 1 ½ tsp
For the tempering
Oil 2 tbsp
Mustard Seeds 1 tsp
Asafetida a pinch
Cumin Seeds 1 tsp
Ginger ½ tsp, grated
Green Chilies 2-3 chopped
Curry Leaves 4-5 chopped
Urad dal ½ tsp
Toppings
Pink Onion ¼ cup, diced
Cucumber ¼ cup, diced
Carrots ¼ cup, diced
Cilantro as required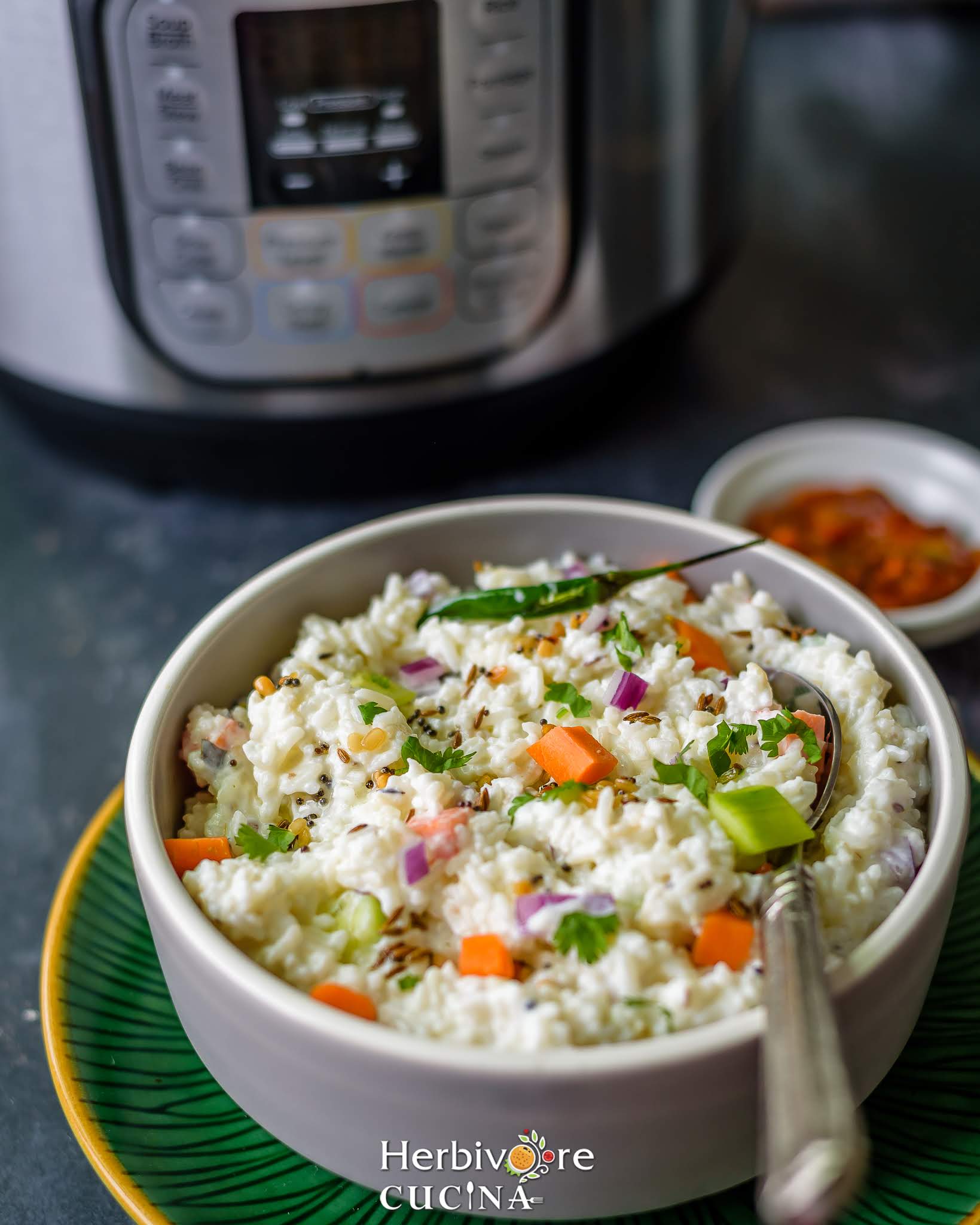 Method
Wash the rice a few times till the water runs clear. Drain and set aside.
Set the Instant Pot mode to Sauté. In the pot add oil and let the display read 'Hot'. Add mustard seeds, asafetida, cumin seeds and mix well. Then add urad dal, ginger, chili and curry leaves. Let everything sizzle for a few minutes.
Add the drained rice, water and salt. Mix well.
Close the lid and set the mode to 'Rice'. Move the vent to sealing and let the rice cook. After the Instant Pot beeps, let the pressure release naturally for 10 minutes and then remove the pressure and open the lid.
Mash the rice slightly by using a ladle. Let the rice cool completely.
Once cool, stir in the Greek Gods Greek Plain Yogurt Plain and 1 cup water.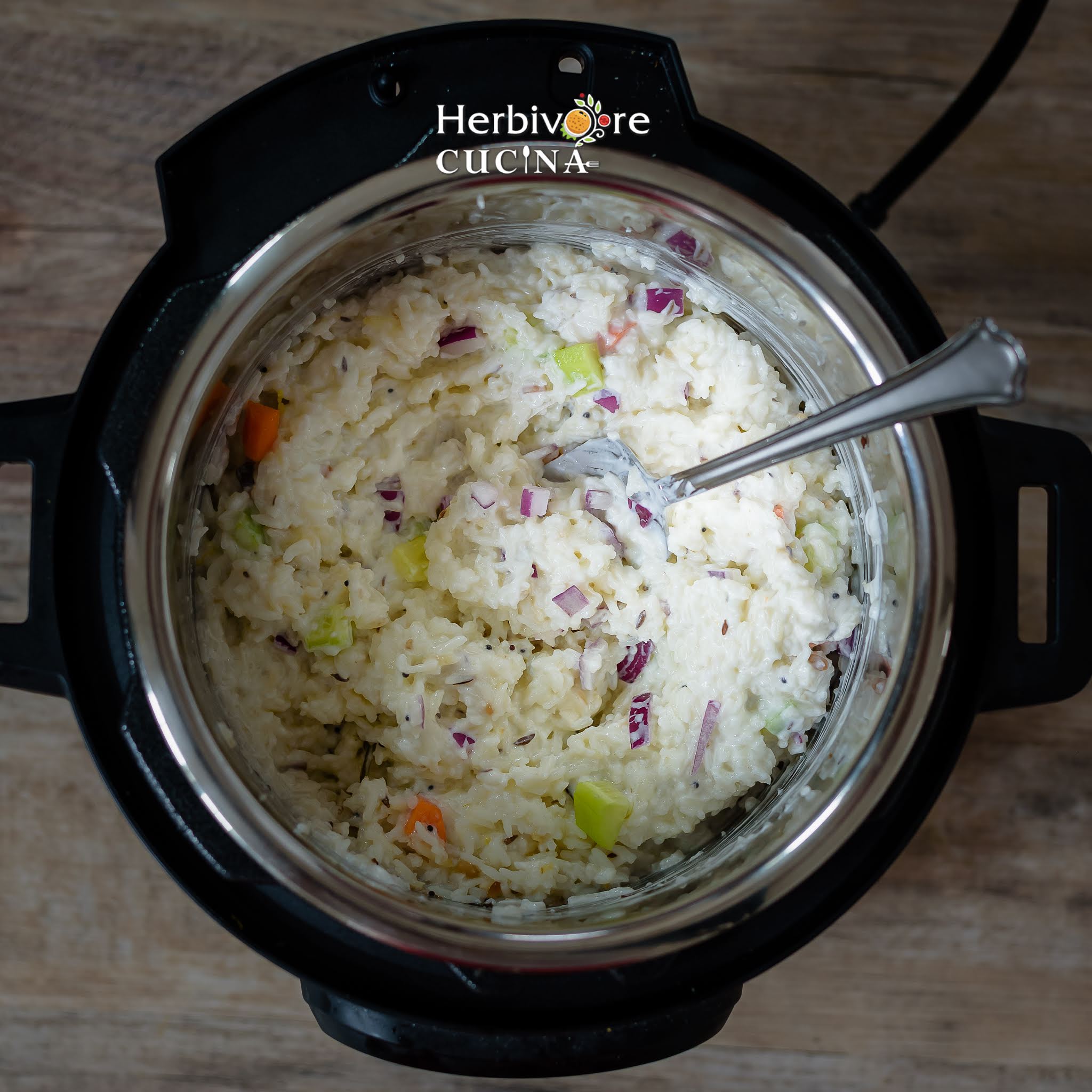 Once it is mixed, add onions, carrots and cucumber and mix well. Top with cilantro and serve cold.