This post is sponsored by Silk. All opinions are mine alone.
#SilkOatYeah
Full of vegetables, this Corn Chowder is Vegan, Gluten free and easy to make in the Instant Pot. Perfect for cold evenings, this one needs only a handful of pantry ingredients!
February is here and we are still freezing here. All we crave is a bowl of warm soup or chowder. I have been making tons of soups lately and we are loving them all. So often we want a Vegan soup that is free from cream and cheese. That is when this Corn Chowder comes handy.
No heavy ingredients, full of vegetables and easy to make; this Corn Chowder is a family favorite! With a cook time of just 6 minutes in the Instant Pot; this chowder is great the day it is made and it freezes well too. I love to make a BIG batch of the chowder and enjoy it on cold evenings over the week!
Corn Soup v/s Corn Chowder
A super popular soup at many restaurants is sweet corn soup. Made from vegetable stock, corn, vegetables and thickened with corn starch; this soup is yummy.
Corn Chowder; made from ingredients similar to the soup, has milk or cream added to it. I wanted to make a lighter version of the chowder, so I ditched the cream. As far as the milk goes; it is an observation that dairy based milk splits when added to soups. Thus, non dairy Silk Oat Yeah Original Oatmilk is a great way to make it.

Video Recipe
Why make Corn Chowder?
A light soup that makes great dinner is something we LOVE. And this soup fits all our criteria of being delish. Wondering what? Read on:
The soup is Vegan and gluten-free

It needs just a handful of pantry essentials

The chowder is kid-friendly

It is a great recipe for Instant pot lovers!

It is light and not overpowered with spices

This soup freezes well too!
How to make Corn Chowder
A chowder recipe often has meat and sea food. However, this one is Vegan and has some added vegetables for crunch and flavor. I used carrots, french beans, cabbage and green peas. Celery, broccoli, cauliflower and baby corn are great add-ins too.
For dinner that needs to be light and yummy, I make this corn chowder. To ensure it is Vegan, I use Olive Oil instead of butter. It makes the chowder light without compromising on the taste.
I had a can of sweet corn in my pantry and used that up. However, the soup can be made using frozen or fresh corn too. All it needs is one extra step. Use an immersion blender once the ingredients are cooked. It helps make the soup thick and delicious.
I used a cup of Silk Oat Yeah Oatmilk in the recipe and the result was perfect. The milk helps thicken the chowder with the corn starch. I bought my Silk Oat Yeah Oatmilk from Walmart and now I enjoy it in my coffee, cereal, savory dishes and desserts. They have Vanilla and Chocolate flavors too; which are definitely coming home in my next Walmart run!
Ingredients
Onion ½ medium, diced
Garlic 1-2 cloves, minced
Carrot ½ medium, diced
French Beans 2-3, chopped
Corn ¼ cup (Fresh/Frozen)
Green Peas ¼ cup (Fresh/ Frozen)
Cabbage ½ cup, chopped
Scallions 3-4 stalks, minced
Corn 2 cups canned
Cilantro to top
Silk Oat Yeah Original Milk 1 cup
Salt ½ tsp
Black Pepper powder ¼ tsp
Chili Flakes ¼ tsp
Corn Starch 1 tsp
Olive Oil 1 tbsp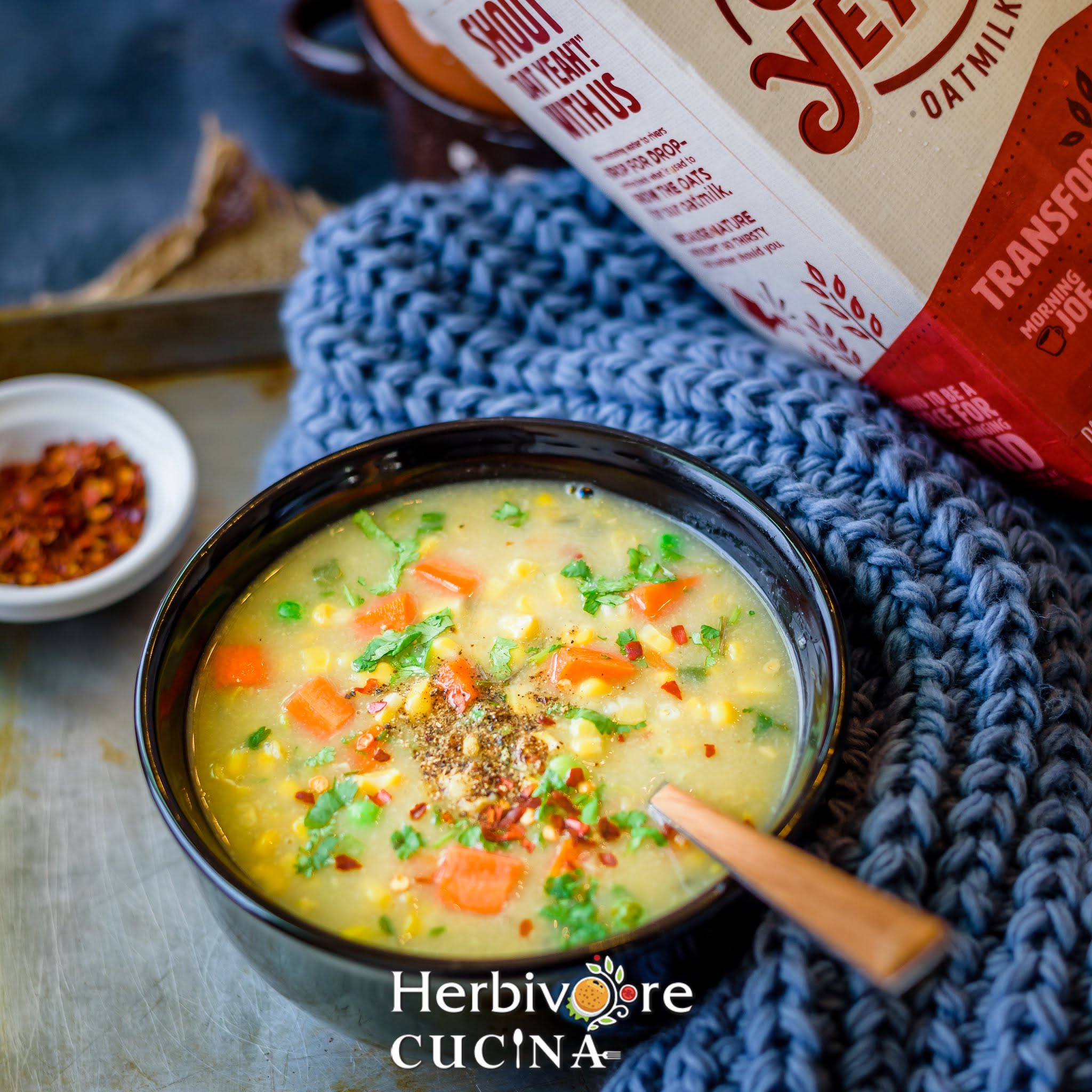 Method
Set the Instant Pot to 'Sauté'. Once the display reads hot, add Olive Oil. Add garlic and onion. Mix well and sauté for a minute.
Add in carrots, fresh or frozen corn, peas and french beans. Mix well and sauté for 4-5 minutes. Next add cabbage and canned corn. Pour in 2 cups water. Mix well.
Season with salt, chili flakes and black pepper powder. Stir everything.
Press 'Cancel' on the Instant Pot and then press 'Pressure Cook'. Set time to 6 minutes and pressure level to high. Set vent to sealing.
Close the lid of the Instant Pot and let the chowder cook. Once the timer beeps, move the vent to venting. Once the silver pin drops; open the Instant Pot.
Set the mode to 'Sauté'. In a cup add Silk Oat Yeah Original Milk and corn starch. Mix well and add it to the soup. Mix well and let the soup boil for a couple of minutes.
Add cilantro and scallions, mix and serve in bowls. Enjoy with sandwich or pasta.