Originating from the state of Gujarat, as part of Jain Gujarati cuisine in India, Khakhras are thin crackers made from mat bean flour or wheat flour and oil. It is served usually during breakfast. Khakhras are individually hand-made and roasted to provide a delicious, crunchy and healthy snack enjoyed with a selection of pickles and chutneys.
Over the years, this vegan snack has evolved and changed in a great way. What started as a simple snack to make from scratch or from leftover rotis, Khakras have taken a fancy form lately. Take a stroll in the snacks aisle of any upmarket store in Mumbai and you will see various flavors like Sandwich, Pani Puri, Onion Garlic, and Mumbai's famous Pav Bhaji. This is apart from the regular ones like Masala, Jeera and Ghee Khakhras. The latest addition I have seen on the aisle is Dosa Khakhra. An innovation that is pretty unique!
In a Gujarati family, roti is generally prepared for all meals. And leftover rotis is a very common thing. Some people prefer to make ladoos out of the leftover rotis and jaggery, some people like to either fry the rotis and make a snack or make a quick curry out of yogurt and roti. While these dishes are pretty common, making khakhras out of leftover rotis is not uncommon. The result is a fresh, crispy and healthy snack for the entire family. Though this snack takes some muscle power to prepare, it yields amazing khakhras that we enjoy more than the store bought ones! Do try it once and share your experience in the comments below.
Ingredients
Wheat flour 2 cups
Roasted Cumin powder 2 tsp
Cumin seeds 1 tsp
Oil 1 tbsp
Ghee Here is how you can make it at home!!
Water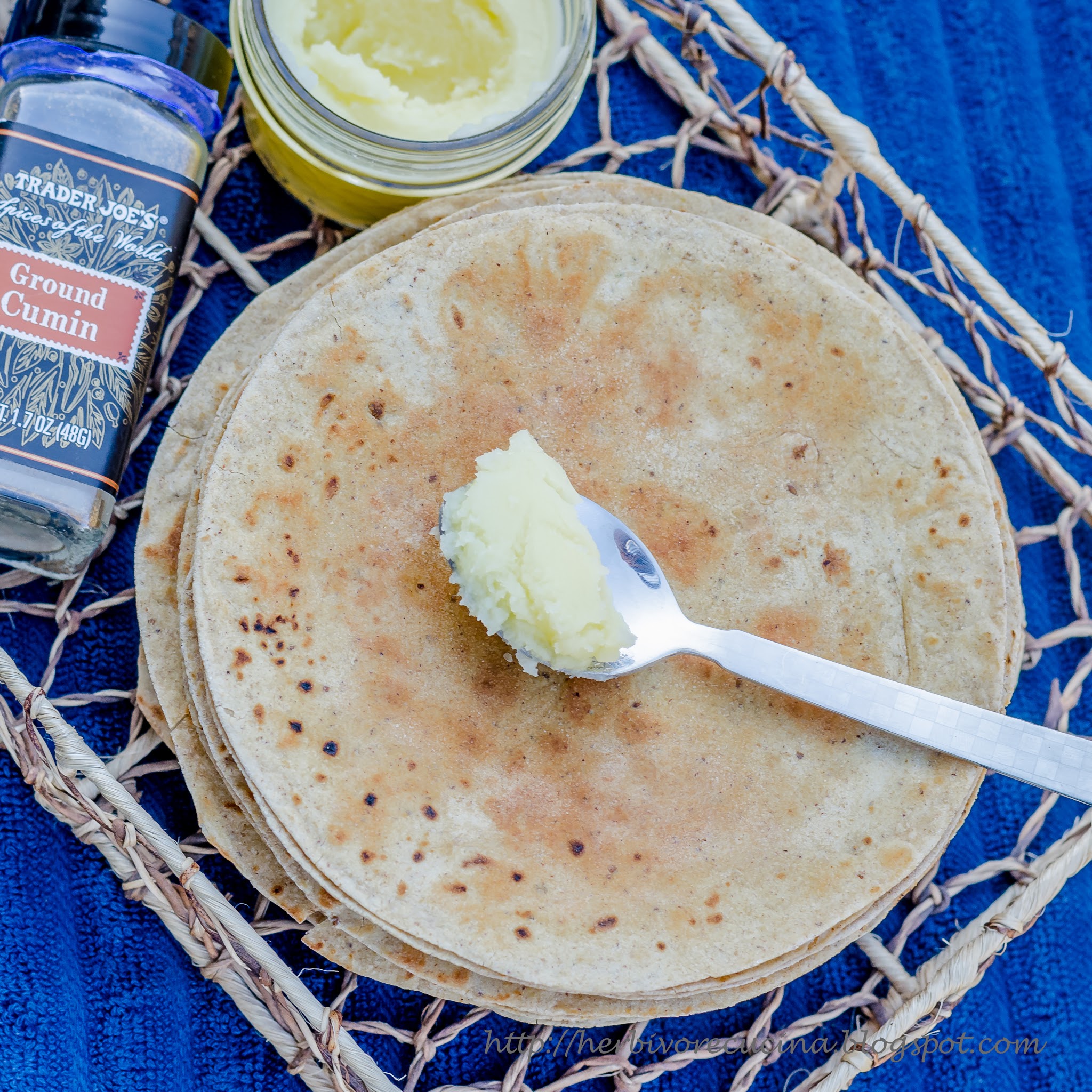 Method
Take the wheat flour in a mixing bowl, and add salt, cumin powder and some roasted cumin. Mix well, add a tablespoon of oil and mix to make a crumbly mixture. Now add ½ cup water and mix well. Add more water if needed and make a soft dough. Knead it several times till it is perfectly soft. Cover and let it rest for half an hour.
After half an hour make equal sized balls of the dough and make thin rotis out of it. Make the rotis of even thickness to get khakhras that are evenly cooked. Roast each on the tava, making sure it does not get dark spots. Transfer to the open flame and make perfect rotis out of it. Remove from flame, apply ghee and set aside.
Once the rotis are cool, start making the khakhra. Place a roti on the tava, press it with a bhakri press or a kitchen towel held in your hand. Press well on one side, turn it and press again. Continue that till the roti takes the shape of the tava and is crunchy.
Remove the roti and repeat the process for all the others. Sprinkle some cumin powder on top and smear a dollop of homemade ghee and serve as a breakfast dish or as a quick healthy snack with a glass of milk or a cup of hot Masala Tea. You can also serve it with chutney, pickle or just topped with ghee. To make other flavor khakhras, add the masala of required flavor instead of cumin powder and you can make your own masala khakhras or even something like pav bhaji khakhras.