Blogging Marathon# 63 -Journey through the cuisines: Day 10
State: Maharashtra
Dish: Jowar Bhakri

Today is day ten of the Blogging Marathon and the letter for today is J. From J, there are a few Maharashtrian dishes like Javas for Flax seeds and Junka which is a famous preparation of chickpea flour and onions. In Maharashtra, the dish Junka Bhakar is commonly served. Junka is a thick paste of besan/ chickpea flour and water that is cooked with onions, green chilli and garlic paste. What is achieved is a perfect sabji for bhakri or jowar flatbreads.


The streets of Maharashtra are lined with small stalls selling this staple diet of the state. Served along with steamy hot green chilli chutney called Thecha, a glass of buttermilk and lots of sliced pink onions. If you visit the state, you should try this dish for sure. The dish has an earthy touch yet super fulfilling and healthy. What started as a dish for the hard working laborers has been accepted all over as a nourishing dish!

I intended to put the entire platter on the blog today, complete with junka/Zunka, green chilli thecha, garlic chutney and Jowar bhakri. But when I took the pictures and saw the edited version, I was not very happy with the junka. The dish sets really quickly and before I could click the pictures, the junka had formed a non-glossy crust. So I scrapped the plan and I am adding Jowar Bhakri for the Marathon. The recipe for junka will come up when I click it again 🙂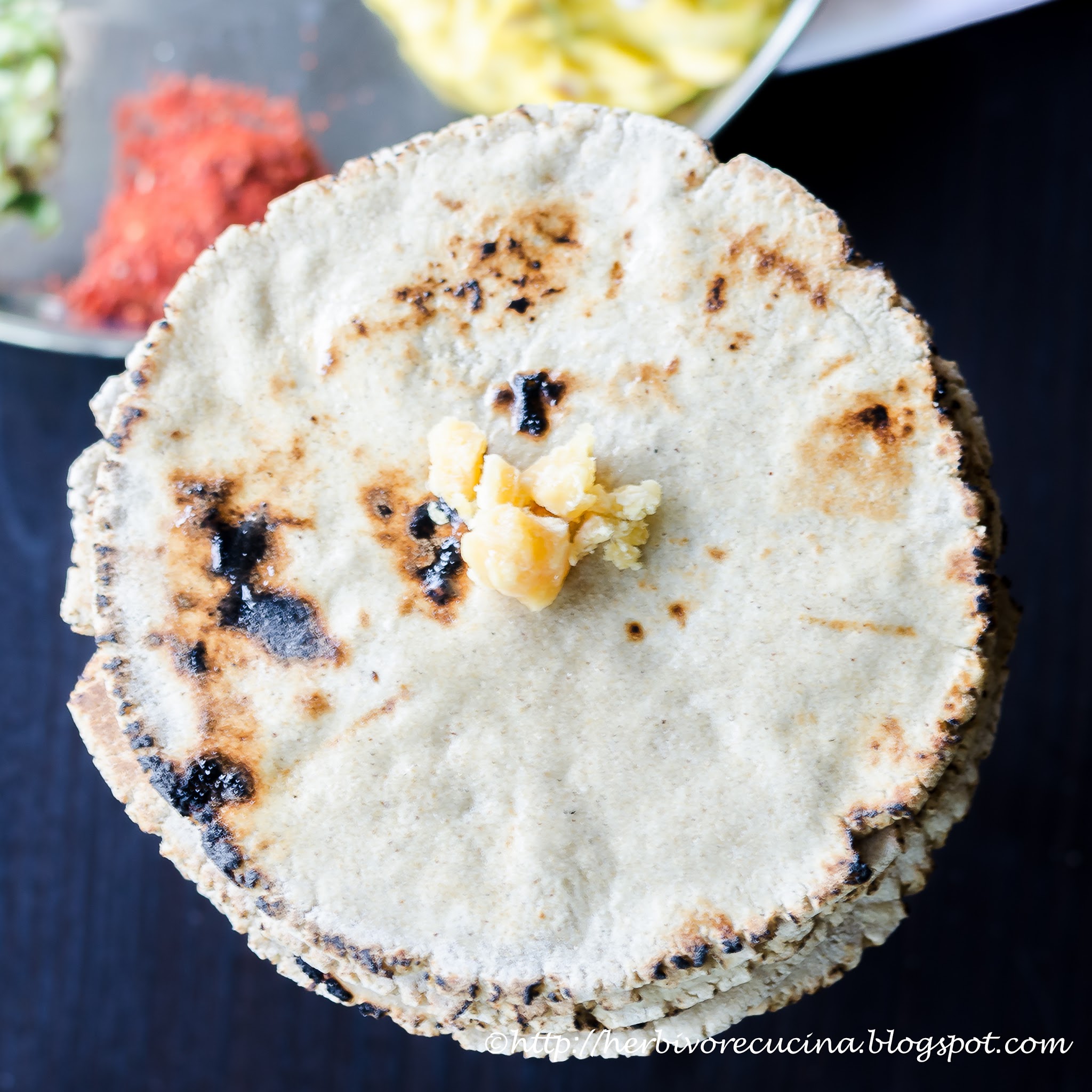 For today, here is the recipe of Jowar Bhakri. A Maharashtrian staple, this roti is made from jowar flour or sorghum flour. The method is pretty similar to the bajri rotla that is common in Gujarat. Add water and salt to jowar flour and make a soft dough. The best bhakris are made from fresh dough and so make the dough just a few minutes before you are ready to make the rotis. The bhakris can be rolled and cooked on the tava in advance. Stack them and cook them on the flame just before serving. Apply ghee when the bhakri is hot, and serve it with junka, thecha, garlic chutney, buttermilk and onions.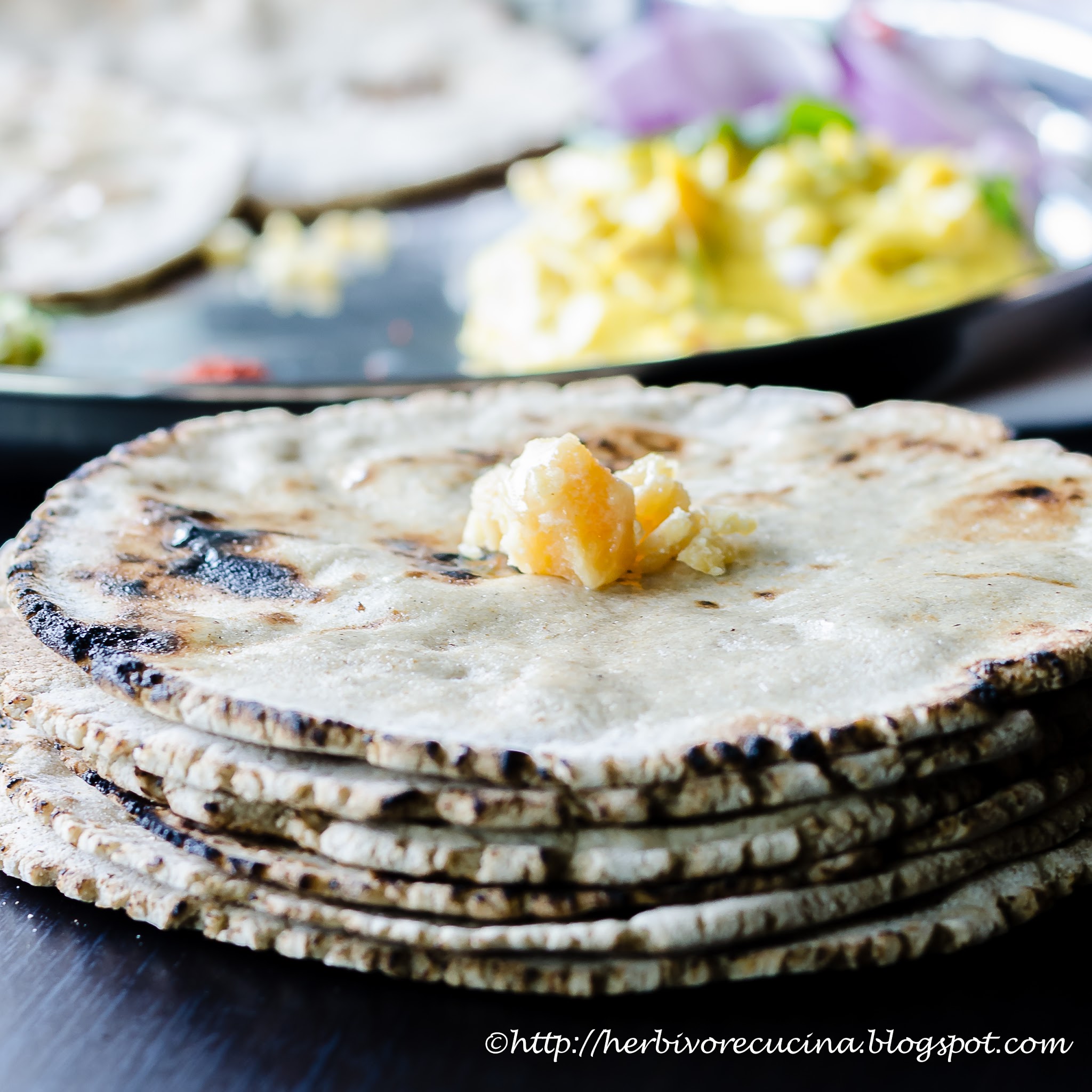 Ingredients
Jowar Flour 1 cup
Warm Water ¾ cup
Salt ½ tsp
Flour to dust
Ghee or butter
Method
In a mixing bowl add the jowar flour, salt and half cup water. Mix well, and keep adding water little at a time till you get a dough that is soft and does not fall apart. Make equal sized balls of the dough. Dust the rolling surface and rolling pin with regular flour (can be substituted with millet flour) and roll out the balls to a flat bread of about ¼ inch thickness.
Transfer the bhakri to the tava, let it cook on one side. Apply little water on the top surface and turn it over. Once cooked on both side, transfer it to direct flame and cook it on both sides, slowly rotating it on each side. Take it off the flame and apply little ghee or butter as desired.
This bhakri is best enjoyed with Zunka, green thecha, garlic chutney and pink onions. Jaggery also tastes superb with these bhakris.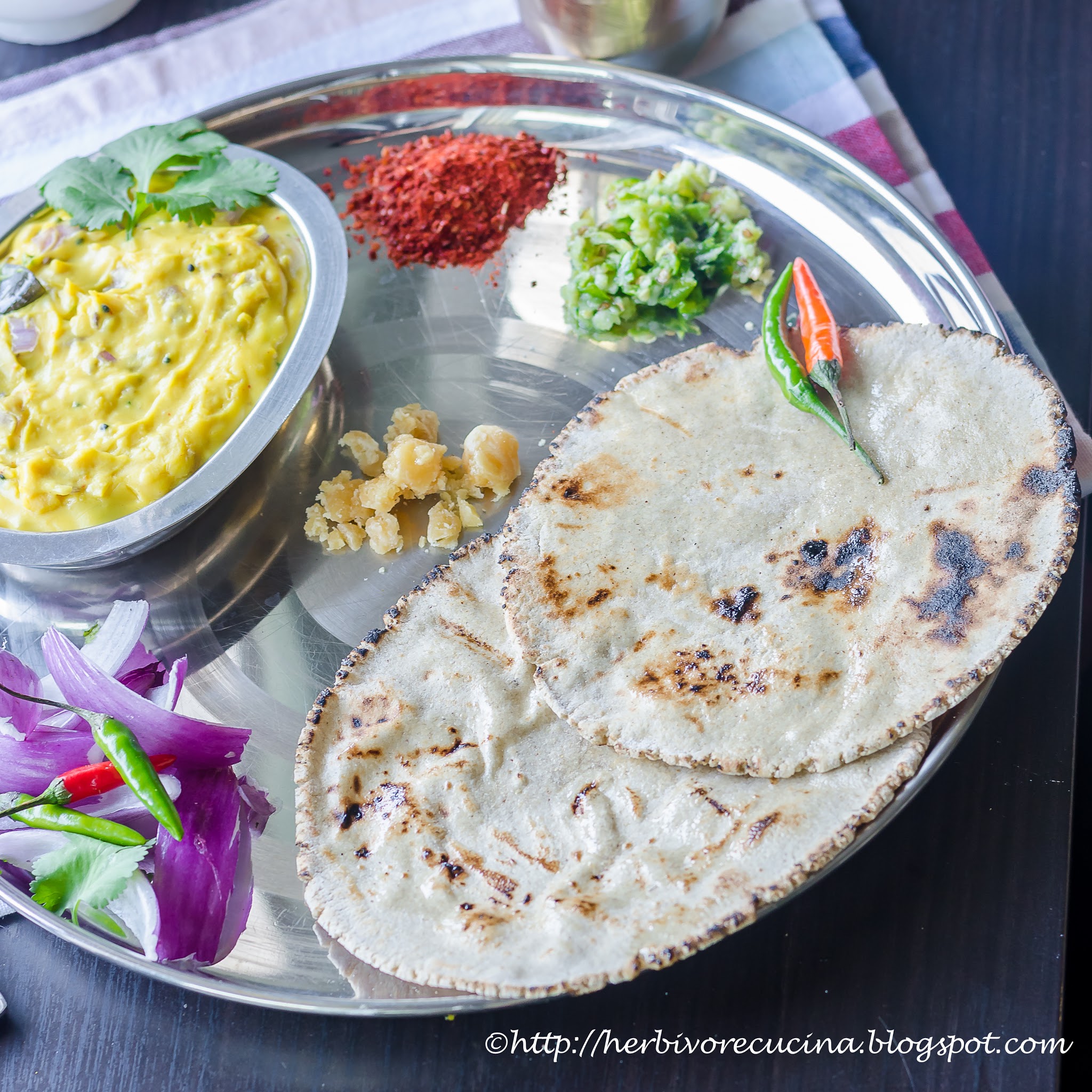 Check out the Blogging Marathon page for the other Blogging Marathoners doing BM# 63