Blogging Marathon #68 Week 3 Day 5
Theme: Entree
Dish: Kerala style Vegetable Stew from here

For the longest time my husband and me used to dislike everything with a coconut base. Whether it was Thai curry made in coconut oil or most Indian curries made in coconut milk. But over time we tried the curries are different places and finally developed a taste for it. So much that now my pantry has a can of coconut milk all the time! Burmese Khow Suey, Vegetable stew and Kormas make their appearance on the dinner table countless times!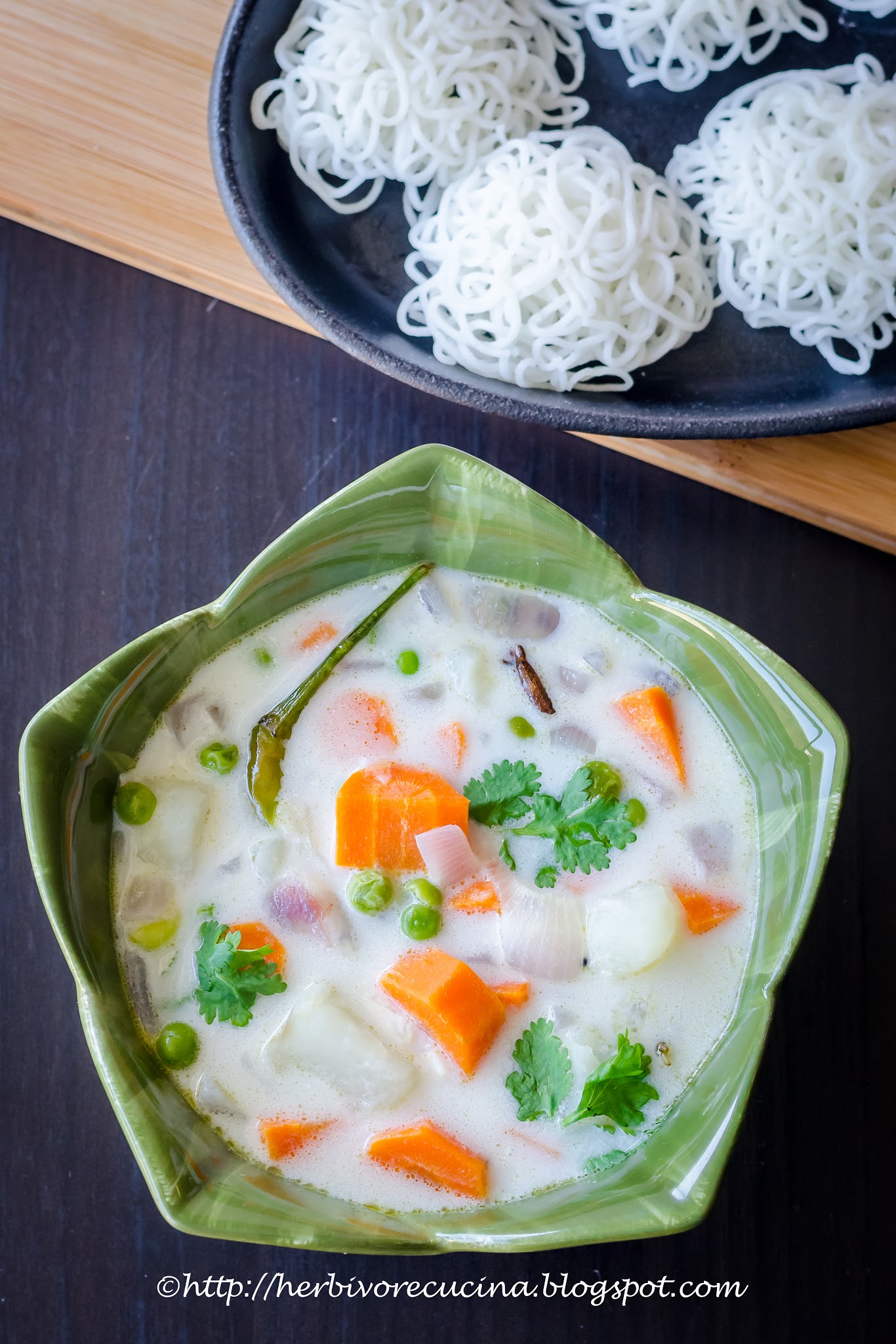 Last weekend we enjoyed a South Indian brunch. Or to be precise, a Kerala theme brunch. We had this Vegetable Stew along with string hoppers (idiyappam) and lemon sevai made with fresh string hoppers. To round off the meal we even had sugar, ghee and coconut added to idiyappam. While I shall add the other recipes from the meal soon on the blog, here is the Vegetable Stew recipe.

The mild flavor of the spices, the flavorsome coconut and mixed vegetables gave a really awesome aroma and taste. It was a welcome change from the curries laded with oil, ghee and butter. We had a wonderful meal. The original recipe I used from here had a couple of things that I changed. The oil Jyothi suggested was coconut oil but it would probably be too much coconut for us. So I replaced it with vegetable oil. Plus, the recipe called for thin coconut milk and I did not have that. So I diluted the thick milk and used it to cook the vegetables.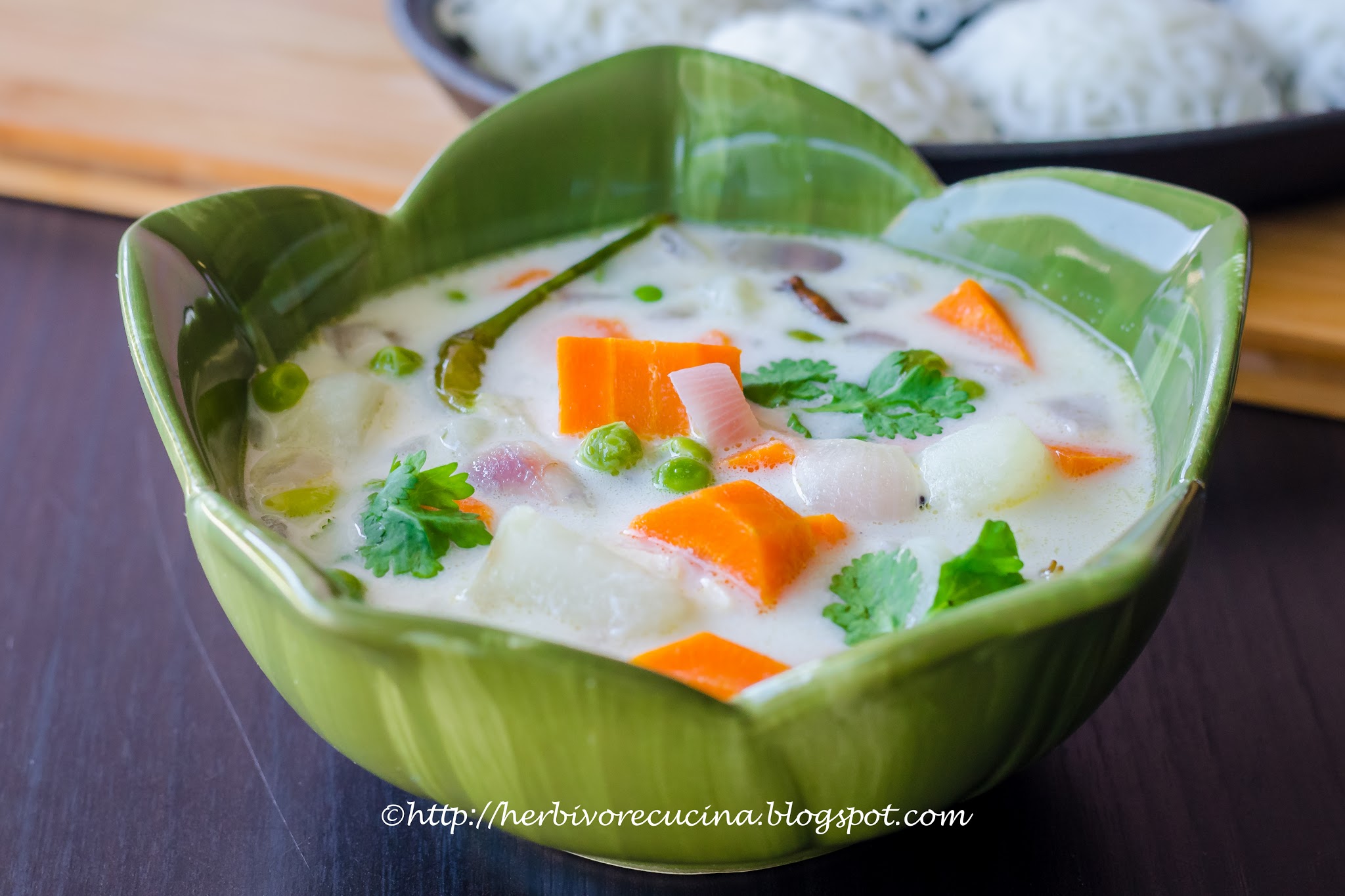 The flavors from the whole spices combined with the spice from the green chilli was perfect. The stew turned out so yummy that we finished about 4-5 bowls of it between two of us! The taste was awesome and I am looking forward to make it again. I would love to try appam with it, will have to buy an appam maker really soon!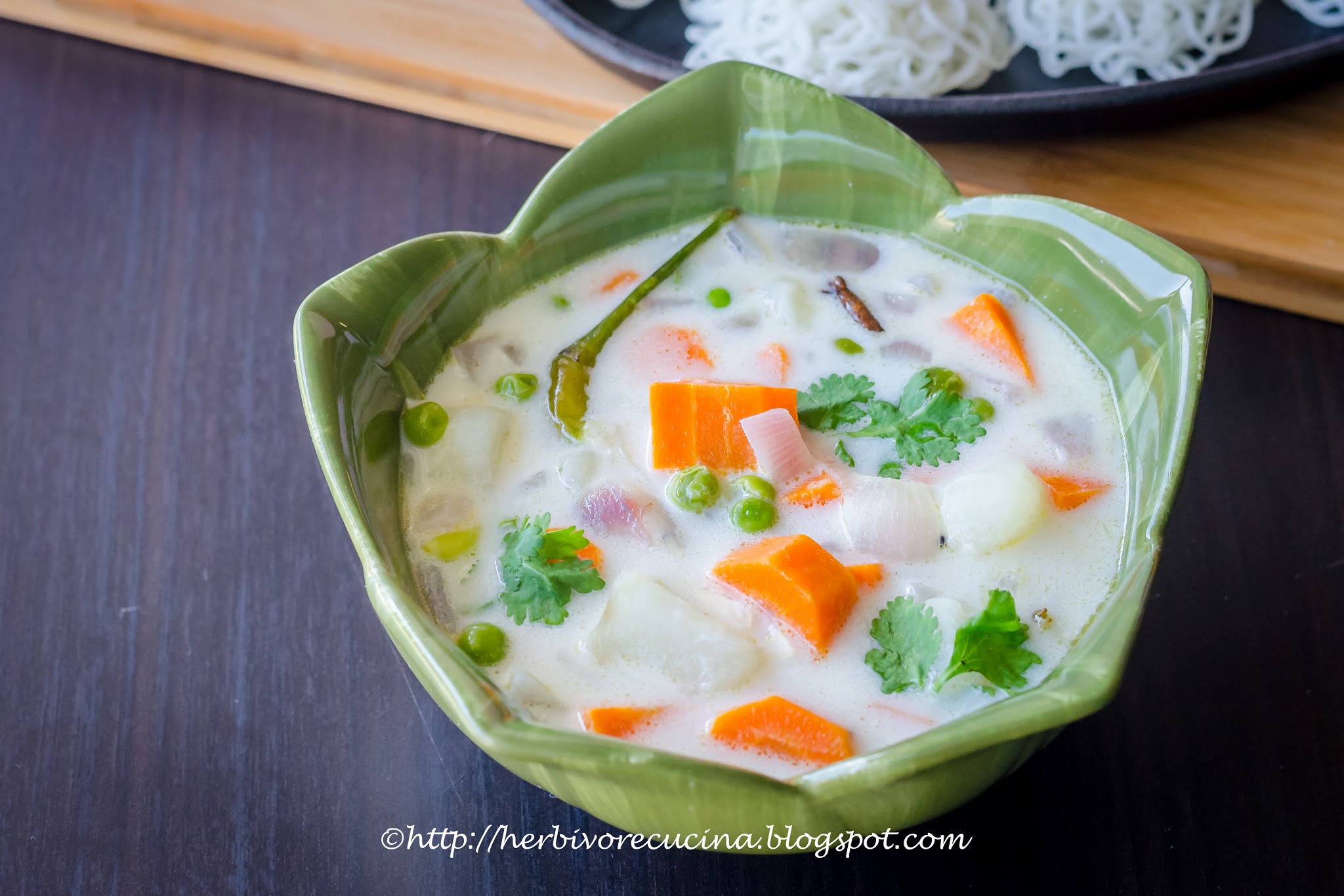 Ingredients


Diced Vegetables 1 cup (Carrot 1 , Peas handful, French Beans 3, Potato ½)
Onion 1 medium
Ginger 1 teaspoon minced
Garlic 2-3 pods minced
Green Chilli 1-2
Thick Coconut Milk 1 ½ cup
Spices (Cardamom 1, Cloves 2-3, Cinnamon 1 inch piece)
Curry Leaves 4-5
Oil (coconut or regular) 2 tbsp
Salt to taste
Cilantro to top

Method


Dilute ½ cup of the coconut milk with water. Set aside. In a pan heat 1 tablespoon oil and add the spices. Once they are fragrant, add the onion, green chilli and 2-3 curry leaves. Saute till onions are almost cooked. Then add ginger and garlic, saute till the raw flavor disappears.

Add all the vegetables and the diluted coconut milk. Mix well and cook till the vegetables are tender. Add salt to taste (1 teaspoon would ideally be enough). Once they are cooked, add the thick coconut milk and turn off the gas.

In a small pan heat the remaining oil curry leaves. Add the tempering to the vegetable stew and mix well. Top with cilantro and serve hot with idiyappam, rice or appams.
Check out the Blogging Marathon page for the other Blogging Marathoners doing BM# 68