Blogging Marathon #67 Week 3 Day 1
Theme: Layered Dishes
Dish:Layered Vegetable Biryani


Today is the first day of the Blogging Marathon for this week and my theme is layered dishes. For the first day, I chose a dish that is simple to make, delicious to eat but difficult to write down! Little did I know when I made this one that it would be so difficult to put it down on the blog! The recipe is simple and is from my Mother. I always fascinated how the rice and vegetables were cooked in layers.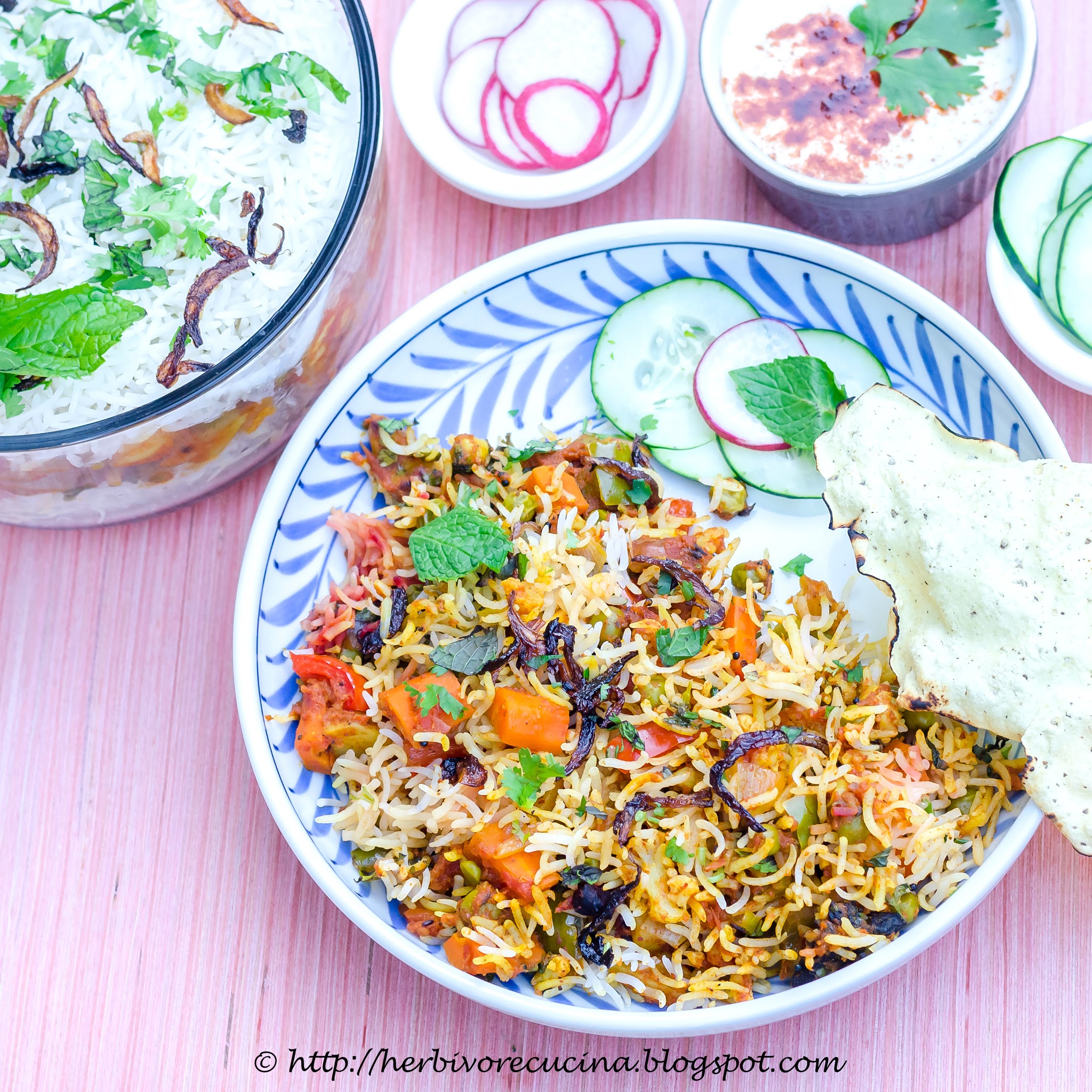 I tried this dish on my own after a rather long time. I think I last made it sometime in winter, and by the time it was done, the sky was pitch dark and I never took the pictures. So when the theme for this week was layered dishes, I HAD to make this and post it.

While the length of the post would make you think it is a complex one, I promise you it is super easy! The three parts of the dish; rice, vegetable mixture and toppings are to be made. I have mentioned how I make it, but you can edit it to suit your style. While I cooked rice in a pan, pressure cooking it will speed the process. I used vegetables I had in my refrigerator, you may choose and pick your favorites. Add tofu or paneer if you like too. For the topping, I fried the onions. If you do not like, just leave those out. Overall, this dish is versatile and can be changed easily.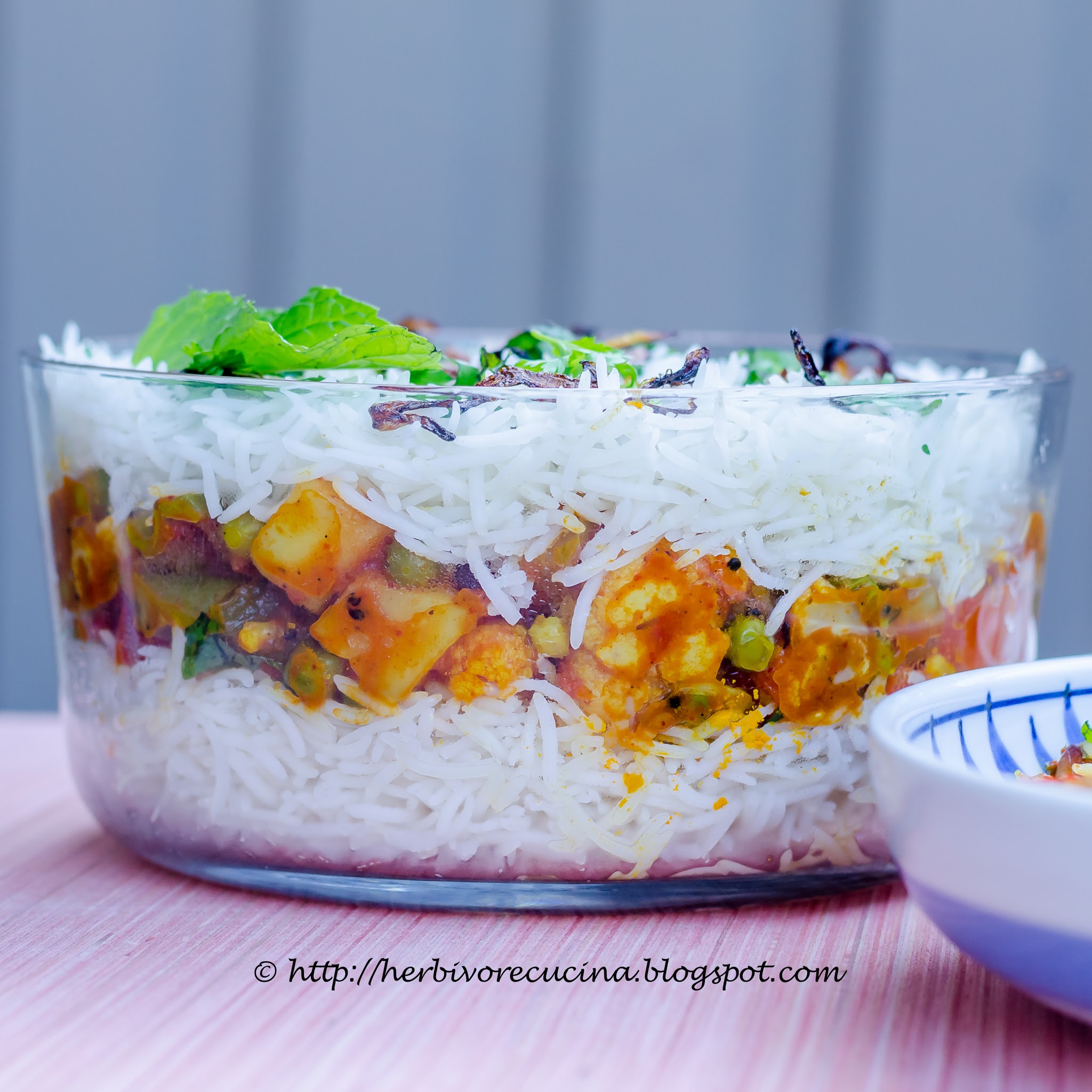 The layers are the beauty in the dish and the flavors are its core. The gravy used should be enough spicy and tasty that when mixed with twice the amount of rice, it does not become bland. The rice should not be overcooked that they would completely break when microwaved. And the beet should not be used in excess. Else, you will get a dish that has an overpowering beet taste and dark pink color! Do try this dish, and come back tomorrow for yet another layered recipe!
Ingredients
For the Rice Layer
Basmati or any long Rice 1 cup
Salt 1 tsp
Cardamom Pods 1-2
For the Vegetable Layer
Mixed Vegetables (Carrots, French Beans, Potatoes, Green Peas, Cauliflower)
Onion ½ medium
Green and Red Pepper ½ each
Garlic Ginger Chilli Paste 1 tsp
Tomatoes 3 medium
Yogurt ¼ cup
Oil 2-3 tbsp
Mustard Seeds 1 tsp
Cumin seeds 1 tsp
Asafoetida a pinch
Turmeric Powder ½ tsp
Red Chilli Powder 1 tsp
Biryani Masala/Garam Masala 1 ½ tsp
Salt as required
For Topping
Onion 1 medium
Beetroot ¼ medium
Cilantro 1 cup
Mint leaves 1 cup
Method
Wash and soak the rice in 1 ½ cup water for an hour. Once soaked, add the salt and cardamom pods and bring the pot to a boil. In about 7-8 minutes, the water will be absorbed and the rice cooked. Do not cook till completely soft. Just cook al-dente. Turn down the flame and spread the rice in a big plate. Cool.
To start with the vegetable layer, chop all the vegetables to cubes of even size. Also chop the onions and peppers. Make a puree from the tomatoes. For vegetables that take long to cook like potato and cauliflower, partly boil them in water and remove. Set aside.
Heat oil or butter in a pan. Add mustard seeds and let them pop. Next, add asafoetida and cumin seeds. Once the cumin pops, add ginger chilli garlic paste and onions. Let the raw flavor of ginger and garlic vanish. Then add peppers and mix well. Next, add all the vegetables, turmeric powder and red chilli powder. Mix and cook covered for 4-5 minutes. Add whisked yogurt, mix well and cook for a couple of minutes. Then add the tomato puree and cover. Cook for 3-4 minutes till the mixture is thick. Season with salt and biryani masala. Turn down the flame and set aside.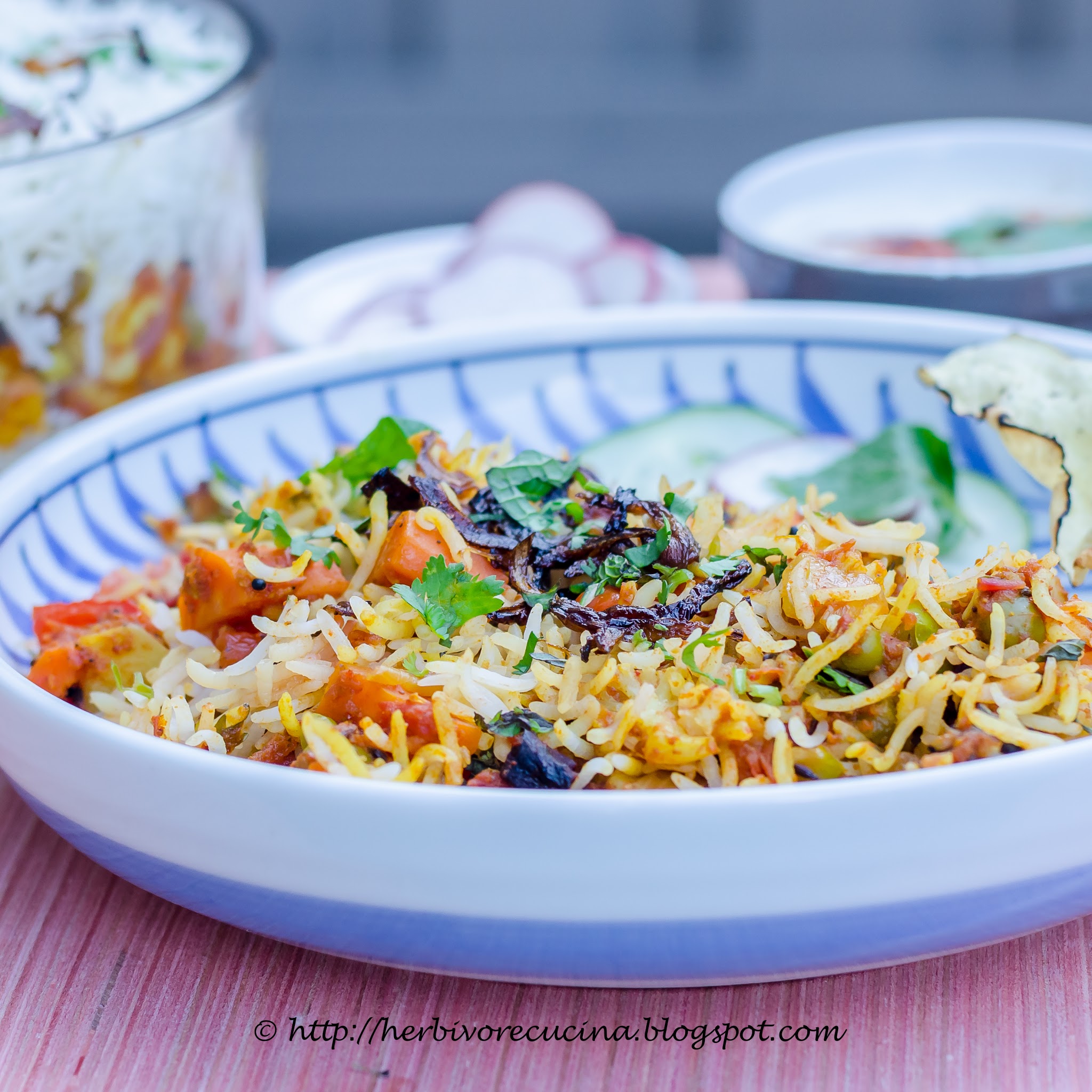 For topping, slice the onion into thin slices. Fry over medium heat and keep ready. Chop the cilantro and mint; grate beetroot. To assemble, use a microwave safe bowl that is deep enough for the layers. First, spread almost half the rice in the bowl or plate. Then, add some grated beet, mint and cilantro leaves and fried onion. Next comes the vegetable layer. Add all the vegetables in a layer. Top that with onions, cilantro, mint and beet. Lay the remaining rice, add the leaves and onion.
Once done, place the bowl in the microwave and lightly cover with a plate. Microwave on full power for 3-4 minutes. The steam from the vegetables will help blend the flavors. Remove from microwave, mix well and then serve immediately. We love our biryani with yogurt, papad and salad.