I am partnering with OXO to share this recipe from the new Healthyish Cookbook by Lindsay Maitland Hunt. #OXObetter #healthyishcookbook
Make this yummy and wholesome soup for weeknight dinners. A delicious Cauliflower and Potato soup that is super creamy in spite of ZERO added cream!
Spring almost refuses to arrive and the days are still a little chilly. The nights do tend to get super chilly and it is the perfect time to enjoy some yummy soups. I LOVE all kinds of soups; loaded, skinny and the ones made with a couple of canned ingredients.
This winter I made a TON of soups on almost all rainy days. I can never get enough of them and keep making some new ones every week. Most of the soups I make are pretty simple and need only a few ingredients. This soup is also like that; yummy, easy to make and super quick. It is THE soup I would want on any cold evening!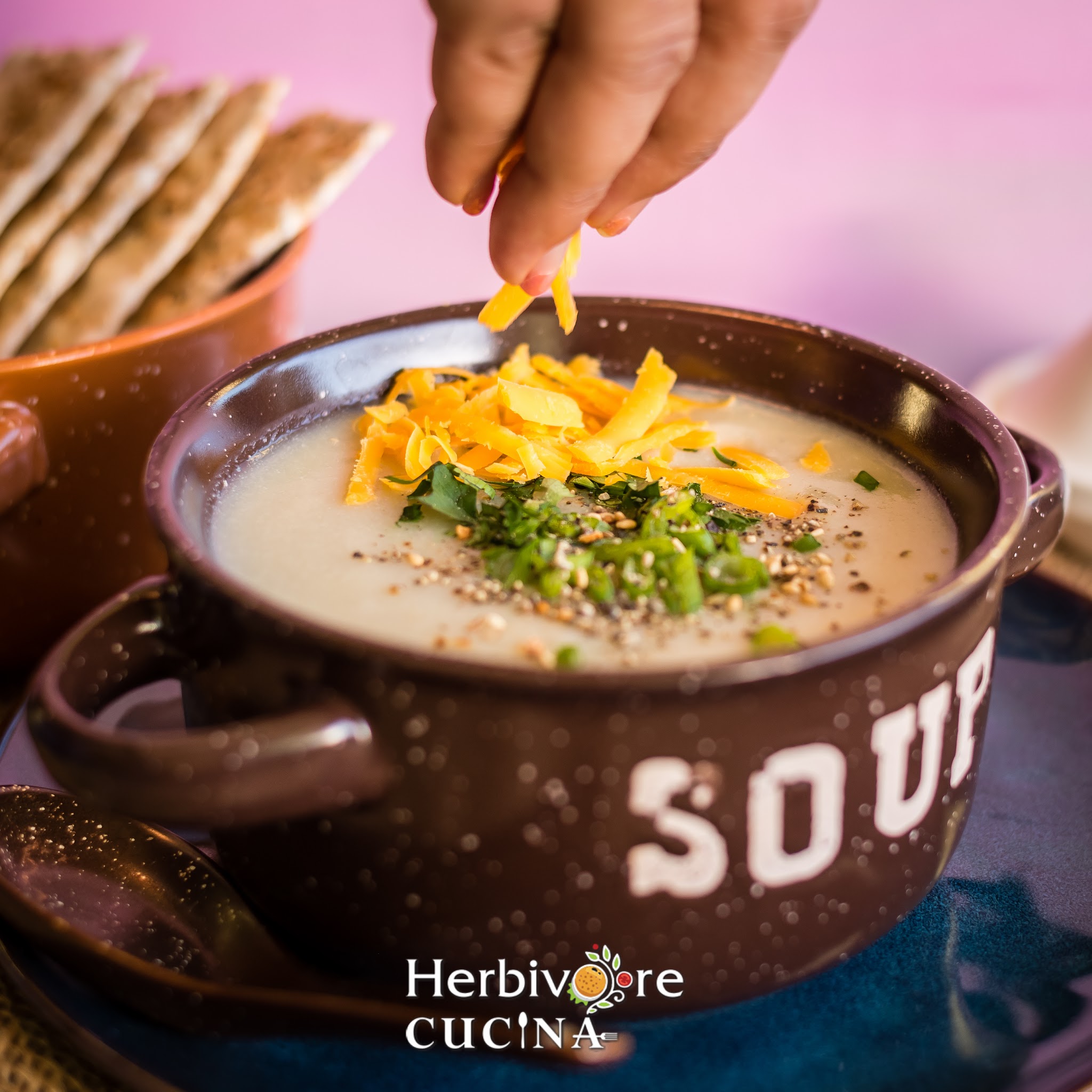 For those who know me as a student, I made really creative notes of important points for all the classes. I had a dozen colored pens and took a lot of interest in making it all look pretty. Then somewhere after school I left the paper books and started enjoying e-books. Highlighting was a click of a button and so was bookmarking.
Lately, I have fallen in love with the paper books again; only that Engineering and Finance have been replaced by Cookbooks. I love to read recipes from these books, bookmark them with cute stickies and keep gazing at the colorful pictures over bad over again! One of my latest favorite book is Healthyish; a cookbook by Lindsay Maitland Hunt. Her book is super amazing and the cover photo has had me gazing for quite a long time. I love colorful pictures, easy to follow recipes and interesting combinations; and book has IT ALL!
Today I am teaming up with OXO to make a yummy soup from the book. This one has only a few ingredients; all of which are easy to find in any pantry and is really adaptable to your taste preferences. The original recipe does have bacon in it, but I made a vegetarian version of the same. It turned out just like I would want my soup to be. Perfectly spiced, rich and creamy yet easy to make!
To make this soup I used the following equipments from OXO:
Pro 8" Chef's Knife - Ideal for chopping, mincing, dicing and scooping.
12" Tongs - Sturdy and comfortable for effortless grabbing and flipping.
Wooden Corner Spoon - Made of solid, one-piece beach woods, its distinctive straight-sided shape allows better reach along walls and in corners of cookware.
Coarse Grater - Etched blades give the Grater a sharp surface to tackle soft cheeses, apples, potatoes, onions and more.
Swivel Peeler - The Swivel Peeler's sharp, hardened stainless steel blade removes inedible outer layers with ease and leaves all the good stuff underneath intact. The cushioned handle won't slip, even when your hands are wet.
Kitchen and Herb Scissors - Handy for cutting meat, veggies, twine and more, the soft handles feature cushioned pads to absorb pressure.
Once you have all the ingredients and the tools ready for the recipe; it takes only a few minutes to make this. The result is a creamy soup, in spite of not having a ton of cream dumped in. The potato makes the soup so delicious and creamy. The soup was amazing, and my potato hating husband licked his bowl clean too!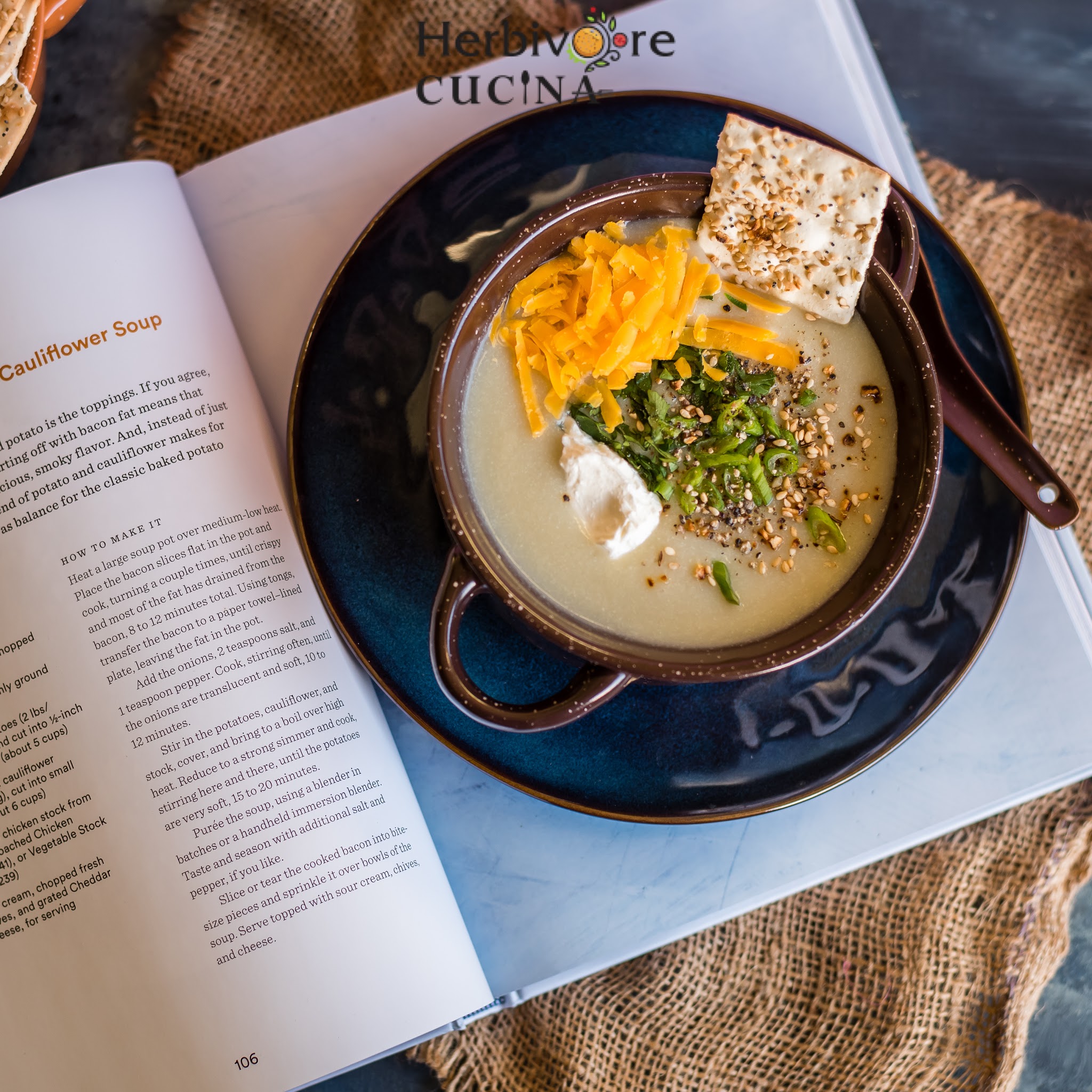 Variations
As I mentioned above, the original recipe has bacon in it. The first step involves cooking the Bacon slices till crisp and using the fats to make the soup. As I skipped the bacon, I made the soup in a tablespoon of Olive Oil.
The toppings for this soup can be customized as per your preferences. Sour Cream, Chives, Grated Cheddar, Black Pepper powder and Everything Bagel spice work really well for this soup. Serve it with crackers, bread or even your favorite pasta.
Don't miss out on making this soup before the season becomes too warm for soups. The book has a TON of other recipes I would like to try. The next recipe would probably be the Crispy broccoli, pepper and burrata sheet pan dinner! Sound interesting, right? Get a copy of your Healthyish cookbook today! Before that, head straight to the recipe below.
Ingredients
Onions 2 large, chopped (about 2 cups)
Russet potatoes 2 large, peeled and cut into ½-inch pieces (about 5 cups)
Cauliflower 1 medium head, cut into small florets (about 6 cups)
Olive Oil 1 tbsp
Vegetable stock 8 cups
Kosher salt
Ground black pepper, freshly ground
Sour cream, chopped fresh chives, and grated Cheddar cheese; for serving
Instructions
Heat a large soup pot over medium-low heat. Add a tablespoon of Olive Oil.
Add the onions, 2 teaspoon salt, and 1 teaspoon pepper. Cook, stirring often, until the onions are translucent and soft, 10 to 12 minutes.
Stir in the potatoes, cauliflower, and vegetable stock, cover, and bring to a boil over high heat.
Reduce to a strong simmer and cook, stirring here and there, until the potatoes are very soft, 15 to 20 minutes.
Purée the soup, using a blender in batches or a handheld immersion blender.
Taste and season with additional salt and pepper, if you like.
Serve the soup topped with sour cream, chives, and cheese. I also added some Everything Bagel seasoning and served the soup with some Everything bagel Flatbreads.