From Western India, Poha, made from flattened rice, is an easy-to-cook, nutritious snack. It is often eaten for breakfast or brunch. Poha is generally served in most parts of Maharashtra as 'Kanda Poha', made with onions and flattened rice. Gujarat has it's own version of 'Batata Poha' or flattened rice combined with potato. This version is a little sweet, just like most other food stuff from the state.
Add a little extra nutrition to the traditional Poha by serving it with a lot of vegetables. Easy to make and now more healthier, this breakfast dish can be prepared in a jiffy! Served with a cup of hot Masala Tea, this Masala Poha is an ideal weekend breakfast.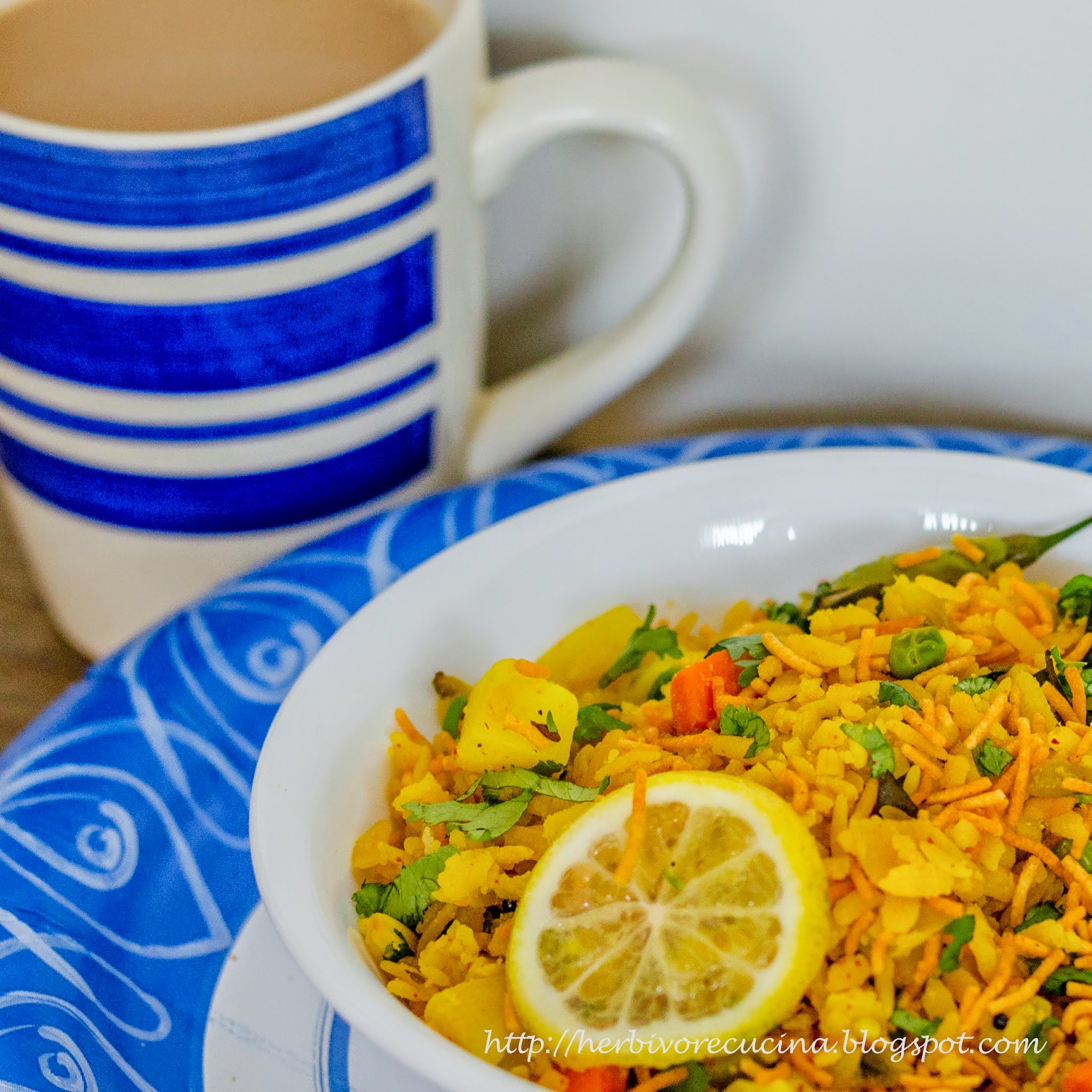 Ingredients
2 Cup Thick Poha(Flattened/ beaten Rice)
1 small Onion
1 Cup Mixed Vegetables (Potato, Carrots, Sweetcorn, Green Peas)
Oil
Curry leaves
Green chillies, slit from the centre
Condiments(mustard seeds, cumin seeds, asafoetida, turmeric powder, red chilli powder)
Salt, Sugar, Lime Juice
Cilantro to garnish
Method
Take the flattened rice in a sieve, sprinkle water over it and let it stand. All the extra water will drain out and you will get dry flattened rice.
Chop potatoes and carrots into small dices. Boil water, add potato and let it cook for a while. Then add carrots, corn and peas and bring to a boil. The same can be quickly in the microwave in 3-4 minutes! In a microwave safe bowl, add water and potato, boil for 2 minutes. Add rest of the vegetables and microwave for another minute, all done. Remove the water, and set aside.
In a skillet, add oil and put mustard seeds, let them crackle. Then add cumin, asafoetida, curry leaves and green chillies. Next, the onions go in, and let them turn pink. Then add in the vegetables, and sauté. Add puffed rice to the skillet and mix. Add turmeric powder, red chilli powder, salt, sugar and lime juice. Mix well and let it cook for five minutes.
Once done, turn down the heat and garnish with chopped cilantro. Add sev or spicy bhujiya on poha and serve with hot Masala Chai.