Fenugreek belongs to the plant family "Fabaceae". It is available and used both as a herb (the leaves of the plant) and as spice (the seed). It is frequently used in curry and is a very famous Indian leafy vegetable which resembles clover leaves. It has a very light bitter taste (which might require getting used to) and has a spicy taste to it. This leafy vegetable is used in a variety of Gujarati dishes.
Methi Muthiya is a loved appetizer by all gujjus. Eat them steamed or fried, or add them in Undhiya. Methi gota or deep fried balls of flour and fenugreek leaves is another great snack. Methi Pulao is an easy way to blend the bitter leaves with flavorful rice. And who can forget the methi theplas that form an essential part of the gujarati thali.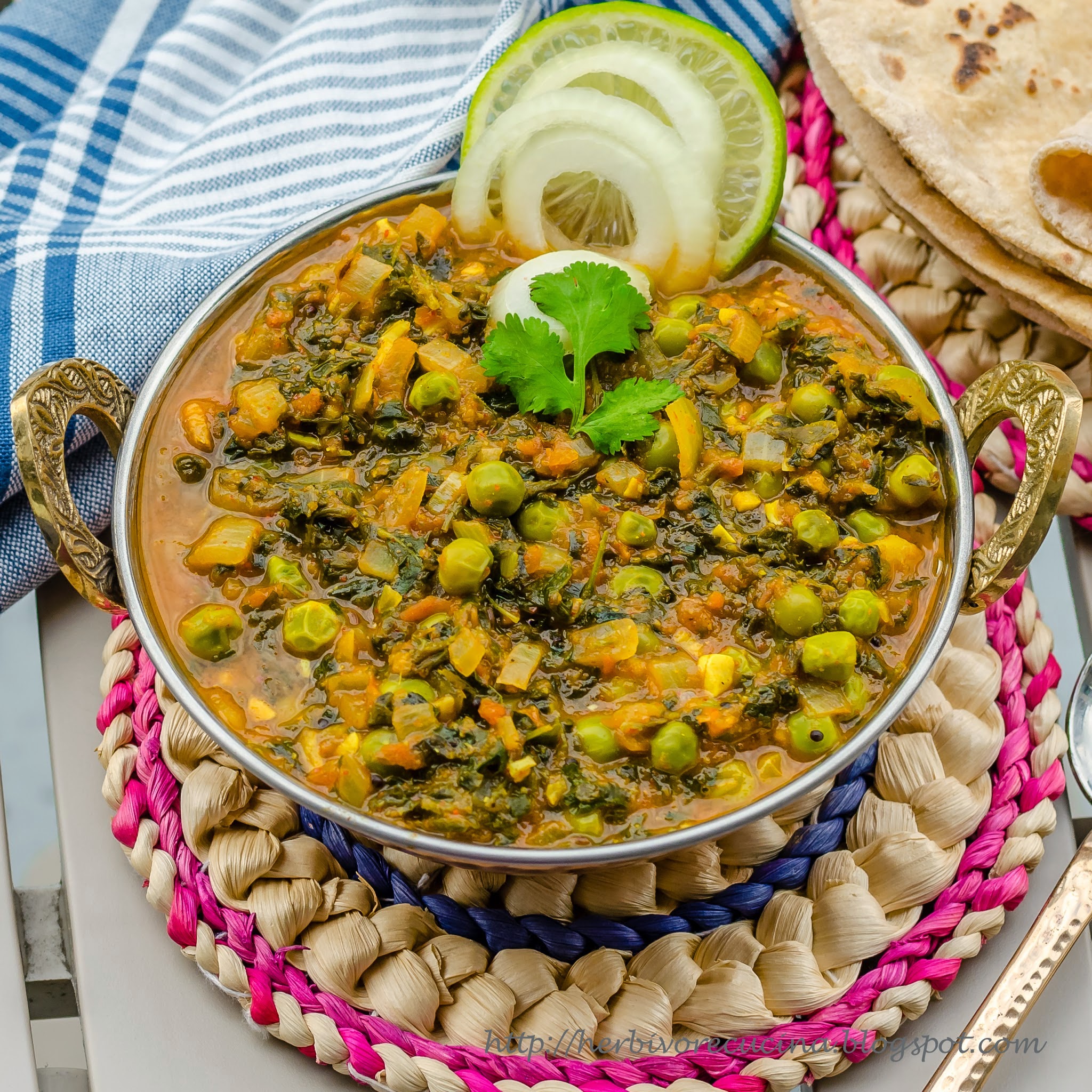 Among the entrees, Methi Mutter Malai is probably the most famous main course dish. The dish is a wonderful mixture of sweet peas, fresh cream and methi. However, the dish is overloaded with cream, making it very high in calories. Thus, substitute the cream with an onion tomato gravy and you can easily make a fenugreek dish that is low on calories, yet high in taste and flavor. Enjoy it with roti, puri or some steamed rice.
Ingredients
Fenugreek/Methi leaves 1 ½ cup
Fresh or frozen green peas 1 cup
Tomato ½ cup, diced
Tomato puree ½ cup
Onion ½ cup, chopped
Onion paste ¼ cup
Garlic 2-3 cloves, minced
Ginger ½ inch, minced
Spices (Mustard seeds, Cumin seeds, Asafoetida, Turmeric powder, Red chilli powder, Coriander powder)
Oil
Salt, sugar and lime juice as per taste
Cilantro
Method
Wash and drain the fenugreek leaves. Chop them finely and set aside. In a pan, heat oil and add mustard seeds, followed by cumin and asafoetida. Once the mustard and cumin pop, add the garlic and ginger. Cook till the raw flavor disappears. Next add onions and cook till they are soft and pink.Then add the onion paste and cook. Put the tomatoes and the tomato puree next and let everything cook. Once the gravy turns dark red, it means the tomato is cooked. Then add the green peas and fenugreek leaves. Add turmeric powder, red chili powder, coriander powder and mix well. Adjust salt and lime juice as per taste.
Cook till the peas and fenugreek leaves are softened and the entire vegetable comes together and simmers. Garnish with cilantro and serve hot with roti, puri or a bowl of steamed rice.