Pulao or Pilaf is an Asian dish made from rice and other spices. Essentially it can have mixed vegetables, different meats or sometimes even pulses. Every region in India has it's own method of making rice dishes using ingredients that are common to that region. Kashmiri Pulao is a sweet rice dish that is rich with dry-fruits and fruits. Punjab has its own spicy Biryani and Gujarat makes rice in the form of Peas Pulao or white pulao. Maharashtra specializes in Vangi Bhaat, a mixture of eggplants and rice while down south there are delicacies like Hyderabadi Biryani and curd rice.
This recipe is not a specialty from any state as such. It is a simple combination of rice, vegetables of your choice and Indian spices. The recipe falls somewhere between the mild peas pulao and the fiery Hyderabadi Biryani. We make this pulao very often at home and tweak the recipe according to the ingredients available at home!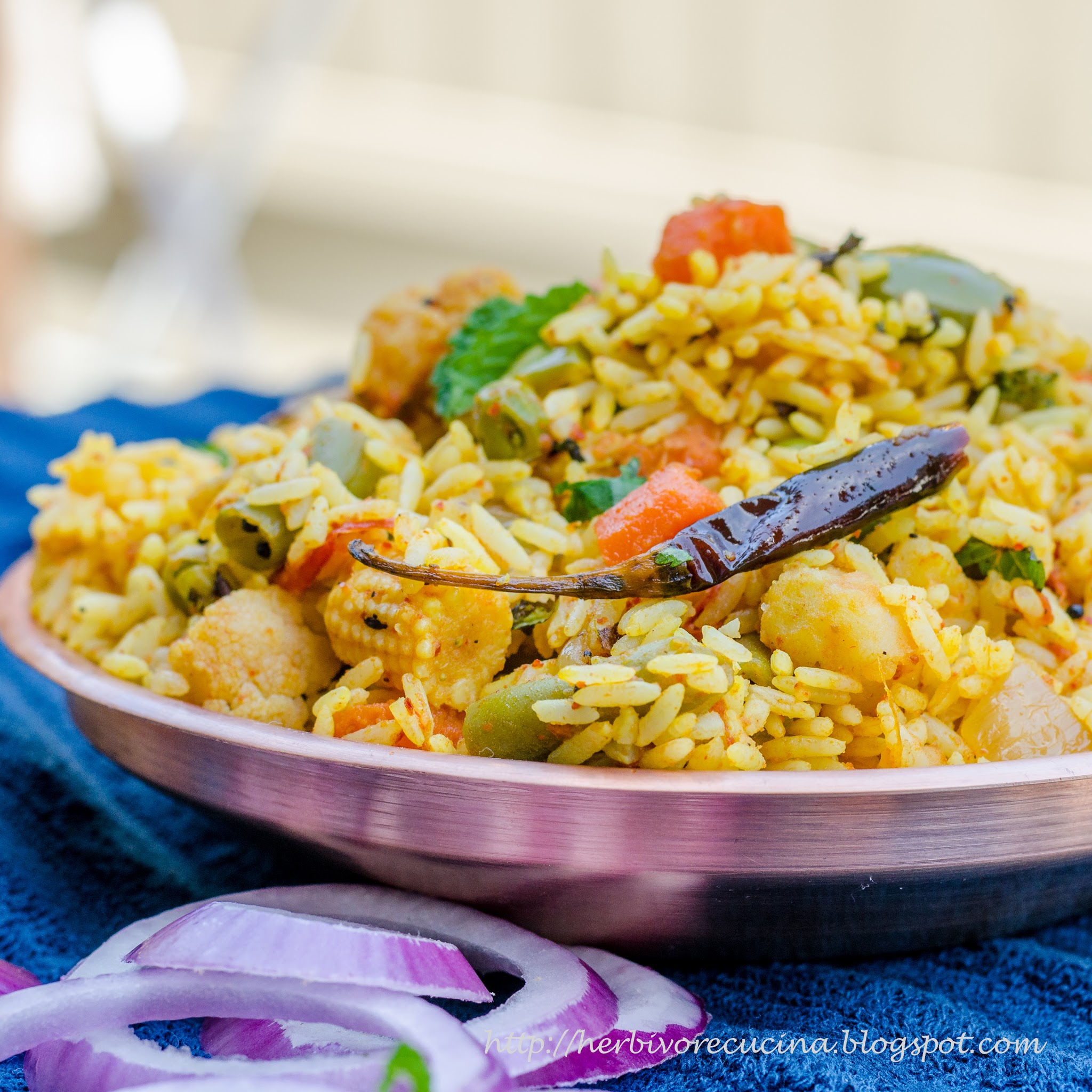 So based on what you have in your refrigerator and what vegetables your family likes, change the recipe and make this simple pulao in a jiffy. This mixed vegetable pulao can be served as a rice dish in a complete meal. But when served with a side of raita like this Mixed Vegetable Raita or this Garlic Raita, Pickle and Papad, this vegetable pulao can become an amazing meal by itself! For those weeknights when you are out of ideas for the menu, whip up this rice and serve it with yogurt. Else, make a big batch on weekends and use it in the week. All you need to do is heat up the rice in the microwave and mix together a raita.


Ingredients
Long grain Rice 2 cups
Vegetables 1 ½ cup (Baby Corn, Carrots, French Beans, Potato, Sweet Peas, Cauliflower)
Onion ¼ cup
Green Pepper ¼ cup
Tomato ¼ cup
Spices (Cloves 1-2, Black Peppercorns 2-3, Cinnamon 1 inch, Cardamom 2-3, Bay Leaves 1-2)
Curry leaves 2-3
Oil 2 tbsp
Salt, Lime juice
Red Chilli 1 dried
Green chili, garlic ginger paste 2 tsp
Masalas (Cumin seeds 1 tsp, Mustard Seeds 1 tsp, Asafoetida ¼ tsp, Red Chili powder 1 tbsp, turmeric 1 tsp, Pav Bhaji Masala 1 tbsp)
Cilantro, Mint leaves
Method
Wash and cook the rice in 3 cups of water and a pinch of salt. Just cook them till they are done else the Pulao will become mushy. Cool the rice thoroughly before using it in the recipe. I have used white rice but the same can be made from brown rice too. Also, you can choose any long grain rice to make this recipe. Short grain rice works too, just that the look will not be the same. Blanch the vegetables except onion and pepper separately in warm water and set aside. Potatoes and baby corn will take a longer time to cook, so leave it in the warm water for more time compared to the others.
Heat 1 tablespoon oil in a pan and add the mustard seeds. Once they pop, add asafoetida, cumin seeds and dry red chilli. Next add all the spices and curry leaves. Add the chili garlic ginger paste and mix well. Once the raw flavor vanishes, add the onion and green pepper and saute till soft. Add the baby corn, potatoes and peas and mix. Let them cook for a couple of minutes. Add carrots, french beans and cauliflower and mix well. Let the vegetables become soft on medium flame. Move the vegetables to the edge of the pan and add add the remaining oil. Add the chili powder and pav bhaji masala and turn the flame to high. In a minute, add 2-3 tablespoon of water and mix well. This gives a bright red color to the rice.
Add the cooked rice, salt and turmeric powder. Lightly mix the rice ensuring that the grains do not break. cook for a couple of minutes and turn down the flame, adjust salt and add lime juice. Garnish with cilantro and mint leaves. Serve with a bowl of Yogurt raita like this Mix Vegetable Raita or Garlic Raita. The rice can be served with Kadhi, papad and pickle.