The word 'thepla' will generally remind everyone of their Gujarati friend, colleague or family member. This Indian flat bread has become synonymous with Gujarati food. Generally made as a paratha or flat bread, Thepla consists of whole wheat flour mixed with fenugreek leaves and other Indian spices.
This recipe goes one step further in terms of ingredients, health and taste. Instead of limiting myself to fenugreek leaves, I have grated other vegetables into the dough to make the flat breads. Served with spicy or sweet pickle and abowl of yoghurt, this dish can easily become a quick evening snack. Team it with a cup of hot Masala Chai and you can serve a healthy breakfast.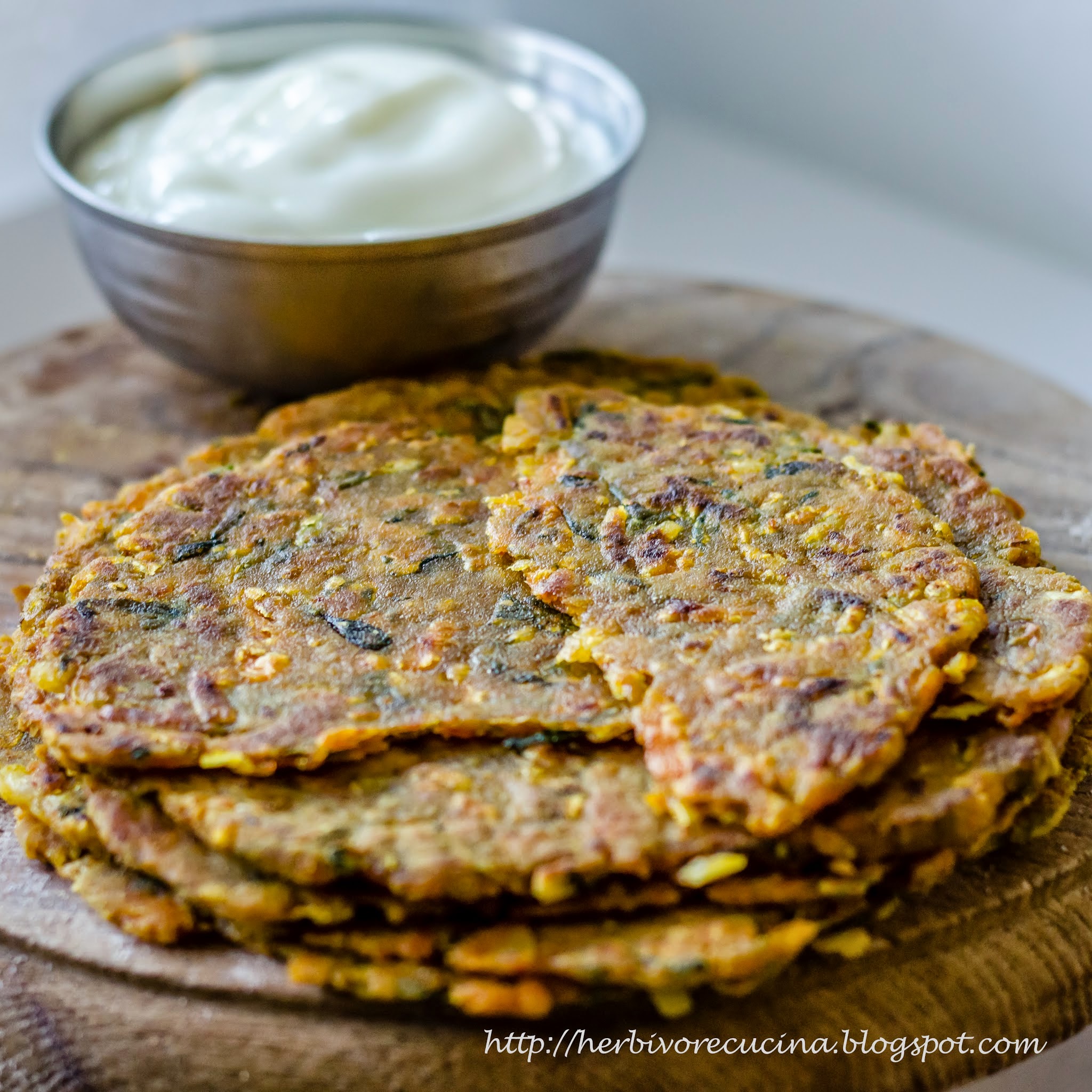 Ingredients
Whole wheat flour 2 cups
Green chilli,garlic and ginger paste 1 tbsp
Green leaves (Fenugreek, cilantro, spinach) ½ cup
Grated vegetable (Bottle gourd, carrots, cabbage, onion) ½ cup
Spices ( Red Chilli powder, turmeric powder, Cumin seeds, Asafoetida)
Salt and Sugar
Oil
Water
Method
Wash and grate all the vegetables together in a mixing bowl. Wash and finely chop the greens and add to the vegetables. Sprinkle salt and let it rest for 10-15 minutes. After some time, squeeze out all the water from the vegetables and greens and reserve it.
Take the wheat flour in a large mixing bowl. Add the spices, little salt and sugar and mix well. Add the squeezed vegetables and greens, ginger chilli garlic paste and 2 tablespoon oil. Add the reserved water as required and make a stiff dough. If the dough is soft, it will become too soft to handle in a while as the vegetables will discard more water.
Divide the dough into lemon sized balls. Take each ball, flatten it and sprinkle dry flour on it. Roll it out into a disc of about 6-7 inches and ¼ inch thickness. On a tava, put the thepla and let it cook on medium flame till small bubbles appear on it. Turn it over, apply oil on the top side and let it cook. Turn it over once more and apply some oil. Both the sides will be cooked with golden dots on them.
Remove from flame and serve either with sweet and spicy pickle or with yoghurt. Enjoy it for breakfast with a cup of Masala Chai or Coffee.