As a kid, I have walked through the markets of Mumbai and shopped for various vegetables with my mom. Then came the big chains like Hypercity, Reliance etc that started selling vegetables. These stores generally get the vegetables that are in demand all the time. But for specialty vegetables like yam, tuvar, green chickpeas etc one would still have to visit the local markets. Daikon leaves is also one of those vegetables. I used to love the way my grandmom and mom used to make daikon leaves with chick pea flour in Gujarati style.
I moved to US and did not see these bright green leaves for a long time. I happened to see them at a local farmer's market this weekend, and I knew I had to grab them. I was surprised to see people buy the daikons and break the leaves and stem and leave them there. I asked the seller if I could take them all and he was more then willing to let me have them! So I bought a couple of daikons and he gave me a ton of leaves and stems. Happy with my find, I returned home and cooked this vegetable in minutes.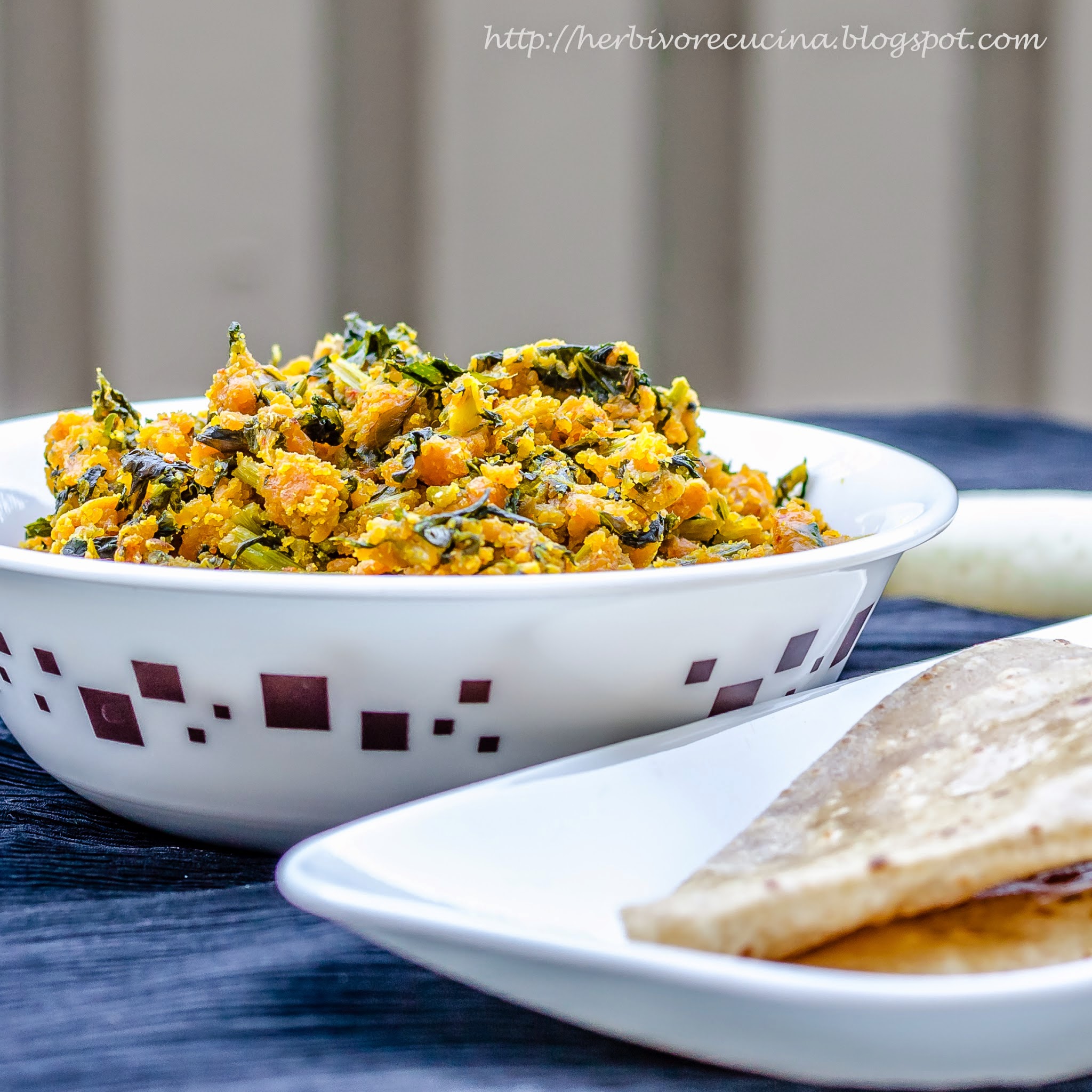 Fresh daikon leaves and flavorful gram flour with Indian spices took me back to India and I truly relished Saturday lunch!! This vegetable is a cross between Maharashtra and Gujarat; with the basic recipe for Peeth Perun Bhaji from Maharashtra and spices (read Sugar) from Gujarat. Peeth Perun Bhaji basically means and vegetable sprinkled with flour, generally gram flour. So here is a quick recipe, full of iron and calcium and so yummy to eat!!
Ingredients
Mooli/ Daikon leaves 1 bunch
Gram Flour 1 cup
Green chili, curry leaves
Indian spices( Turmeric Powder, Red Chili Powder, Dhania Jeera Powder, Mustard seeds, Cumin seeds)
Oil
Salt, Sugar, Lime Juice
Cilantro
Method
Wash the daikon leaves thoroughly and cut the leaves and stem into ½ inch pieces and set aside. Do not use the tough portion that connects the stems to the daikon. If you like, you can use the daikon in this vegetable too. In a pan sauté the gram flour till it darkens in color. Remove in a bowl and cool.
Heat 3-4 tablespoon oil in a pan and add mustard seeds, followed by asafoetida and cumin seeds. Once they splutter, add the green chili split lengthwise and curry leaves. Next, add the daikon leaves and saute. While the leaves saute, they will ooze out water and so let all the water come out and evaporate. Add salt to the leaves and keep mixing them and drying the mixture off. Once the leaves cook, they will wilt and reduce to ¾th quantity. So make sure you start with enough leaves and stem!!
Once the mixture is dry, add the roasted gram flour and turmeric, red chili powder and dhania jeera. Mix everything well and let the flour cook. If the vegetable feels dry, add some more oil at this stage. Once cooked, in about 7-8 minutes, add sugar if desired and lime juice. Taste and add some salt if required. Turn down the flame. Garnish with cilantro, and serve hot with Phulka, papad, rice and salad.