Blogging Marathon# 63 -Journey through the cuisines: Day 14

State: Maharashtra
Dish: Narali Bhaat


Today's pick for the blogging marathon is Narali Bhaat. Naral or Naryal aka coconut is a commonly used Maharashtrian ingredient. If you pick a traditional Marathi gravy or even chutney, it will generally have coconut in some form. But in the last five days I have not posted a single sweet dish, so I thought I would round off the state with a sweet or dessert recipe.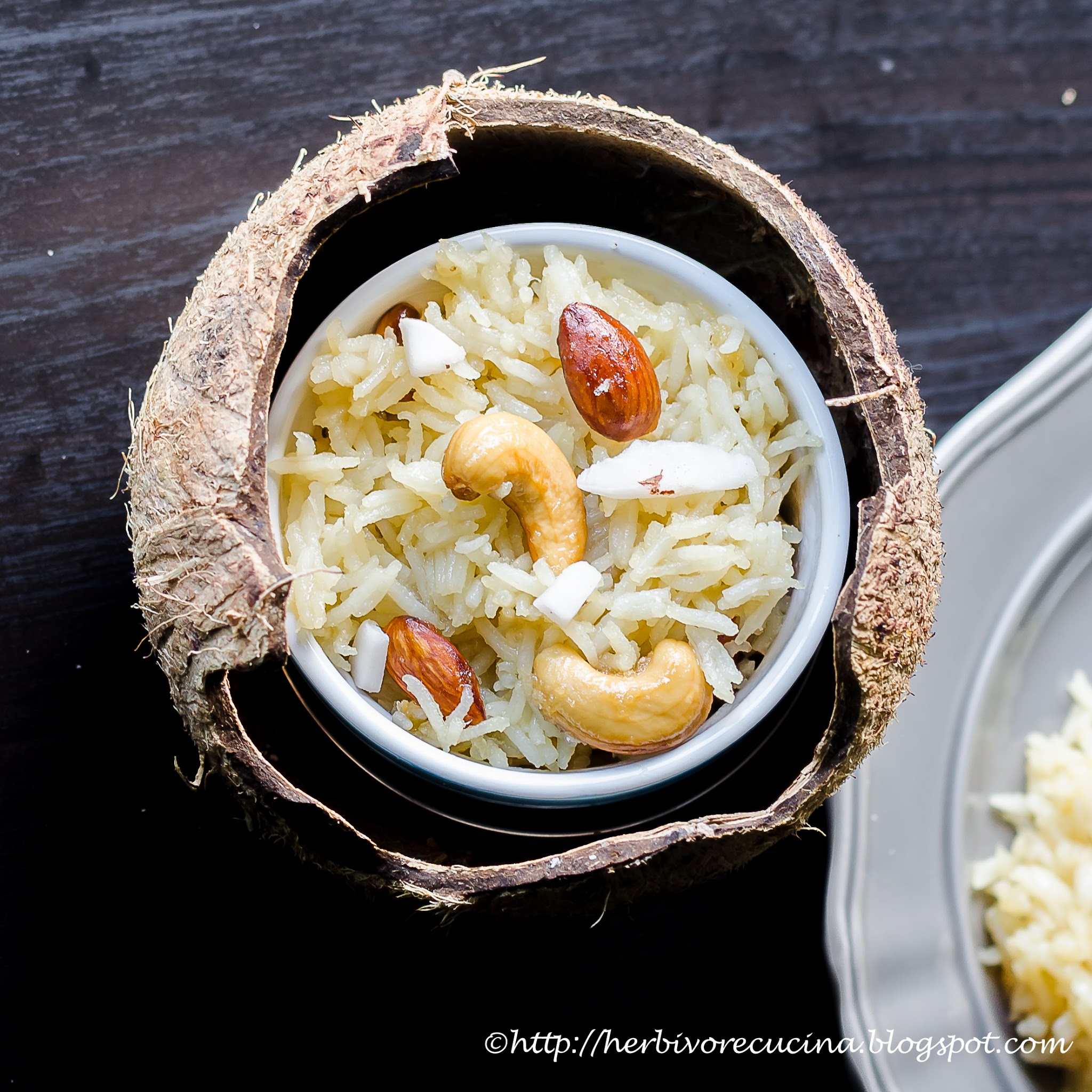 After searching for an interesting sweet recipe that fit all my criteria, I found Narali Bhaat by Nisha. I was sure I was making this for the marathon. While I generally use frozen coconut most of the time, I bought myself a big coconut to get some freshness into the dish. 
The recipe is fairly simple, involving just 3 main ingredients: rice, jaggery and coconut. I made it quickly along with a few other things for brunch, and we had such a wonderful meal. I generally avoid coconut in my cooking as both of us do not enjoy the smell and sometimes overpowering flavor it imparts to the food. I was pretty skeptic of this dish as well.
So, I first added ¼ cup coconut and after I felt that the flavor was not too overpowering, I added the remaining. It tasted just fine with ¾ cup coconut. Also, we generally enjoy our sweets with a slightly lower side of sweetness, so ¾ cup jaggery was enough. If you like it really sweet, add quarter cup more. The dish is quite a delight to have, and a little different from regular sweets.




Ingredients


Rice 1 cup
Jaggery ¾ cup
Coconut ¾ cup shredded
Ghee 2-3 tbsp
Almonds 5-6, Cashews 5-6
Green Cardamom 2-3
Clove 2-3
Cinnamon Stick 1 inch
Method


Soak the rice for 30 minutes. Cook them with ½ teaspoon ghee for 2 whistles (partially cooked). Open and fluff the rice.
In a pan heat ghee. Once hot, add cloves, cinnamon and cardamom. When they become flavorful, add the almonds and cashews. Also, add the jaggery and mix.
In about 2 minutes, add the shredded coconut and mix well. Once the jaggery melts, add the rice and cover to cook for 8-10 minutes. Keep checking if the rice is completely cooked. Once done, turn down flame and serve warm.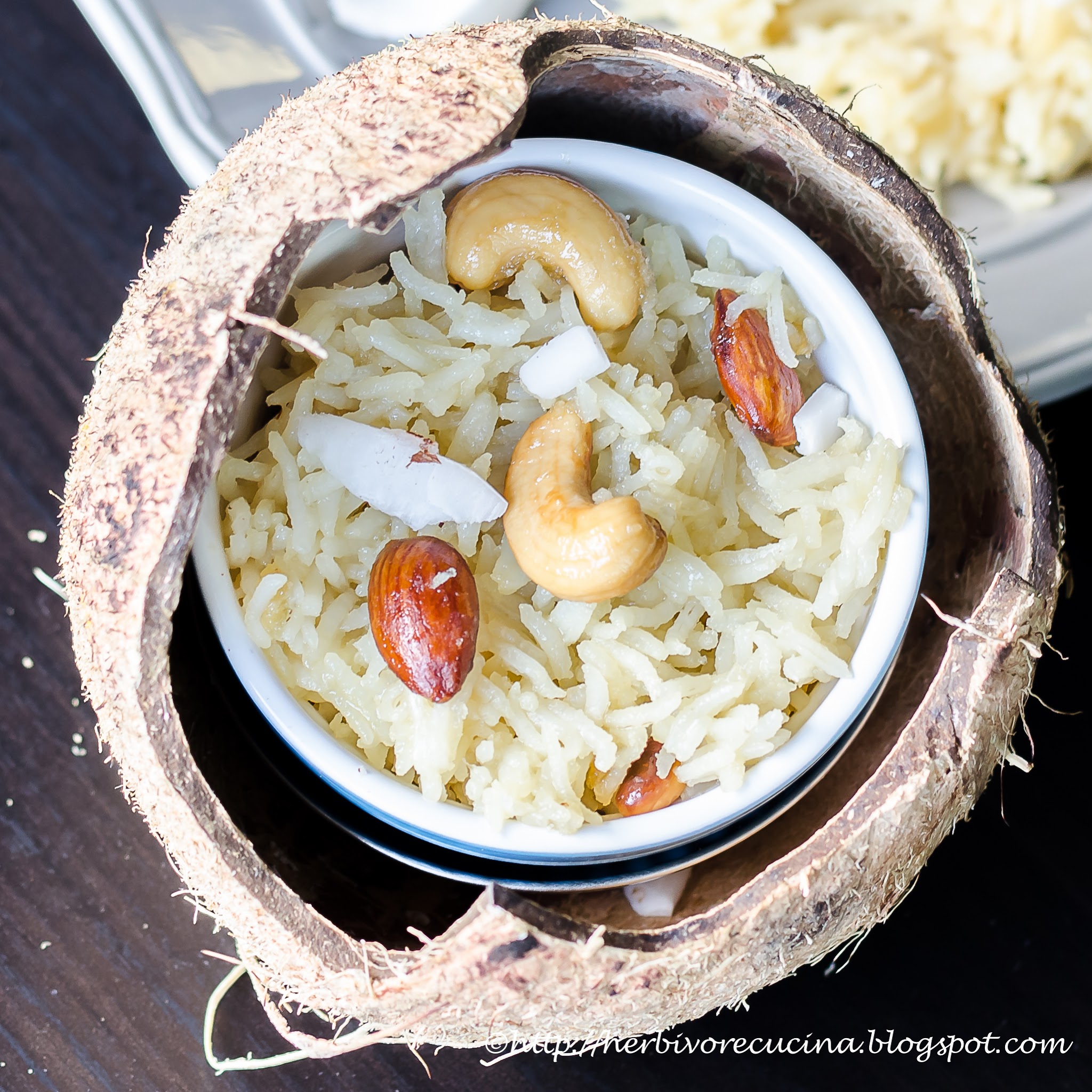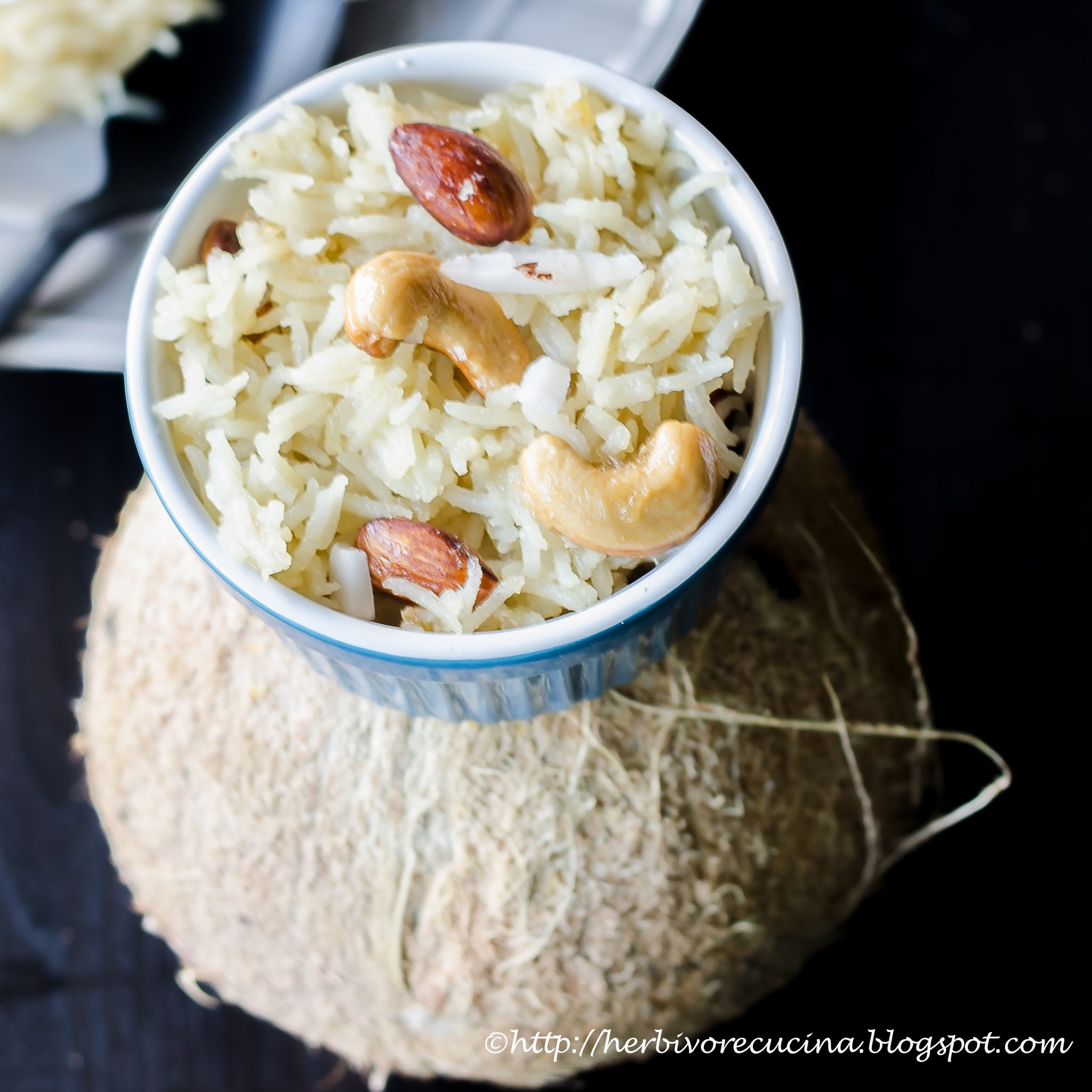 Check out the Blogging Marathon page for the other Blogging Marathoners doing BM# 63