Holi (Sanskrit: होली) is a spring festival also known as the festival of colours or the festival of love. It is an ancient Hindu religious festival which has become popular with non-Hindus in many parts of South Asia, as well as people of other communities outside Asia. Holi is celebrated at the approach of vernal equinox, on the Phalguna Purnima (Full Moon).
The festival date varies every year, per the Hindu calendar, and typically comes in March, sometimes February in the Gregorian Calendar. The festival signifies the victory of good over evil, the arrival of spring, end of winter, and for many a festive day to meet others, play and laugh, forget and forgive, and repair ruptured relationships. The day before Holi id generally celebrated with Holika Dahan or burning of the Holi fire and people pray and sing songs around it.
For many states in India, the spring festival of Holi is heavily associated with the intoxicating drink called Bhang. However, for people who do not prefer this tipsy drink, there is Thandai or Sardai. Thandai is a cold drink made from milk, sugar and a special mix called as Thandai Masala. The masala is made at home or can be bought from the store. It can be made in bulk and used over time. Instead of using the masala to just make the drink, I decided to go a step further and replace milk with cream cheese and make a no-bake cheesecake with the flavor of Thandai.
Ingredients
For Thandai Powder
Almonds ½ cup
Cashew-nut ½ cup
Pistachios ½ cup
Khus Khus/ Poppy seeds 2 tbsp
Fennel seeds/ Saunf 3 tbsp
Watermelon seeds/Magajtari seeds 2 tbsp
Pepper 2 tbsp
Cardamom seeds 3 tbsp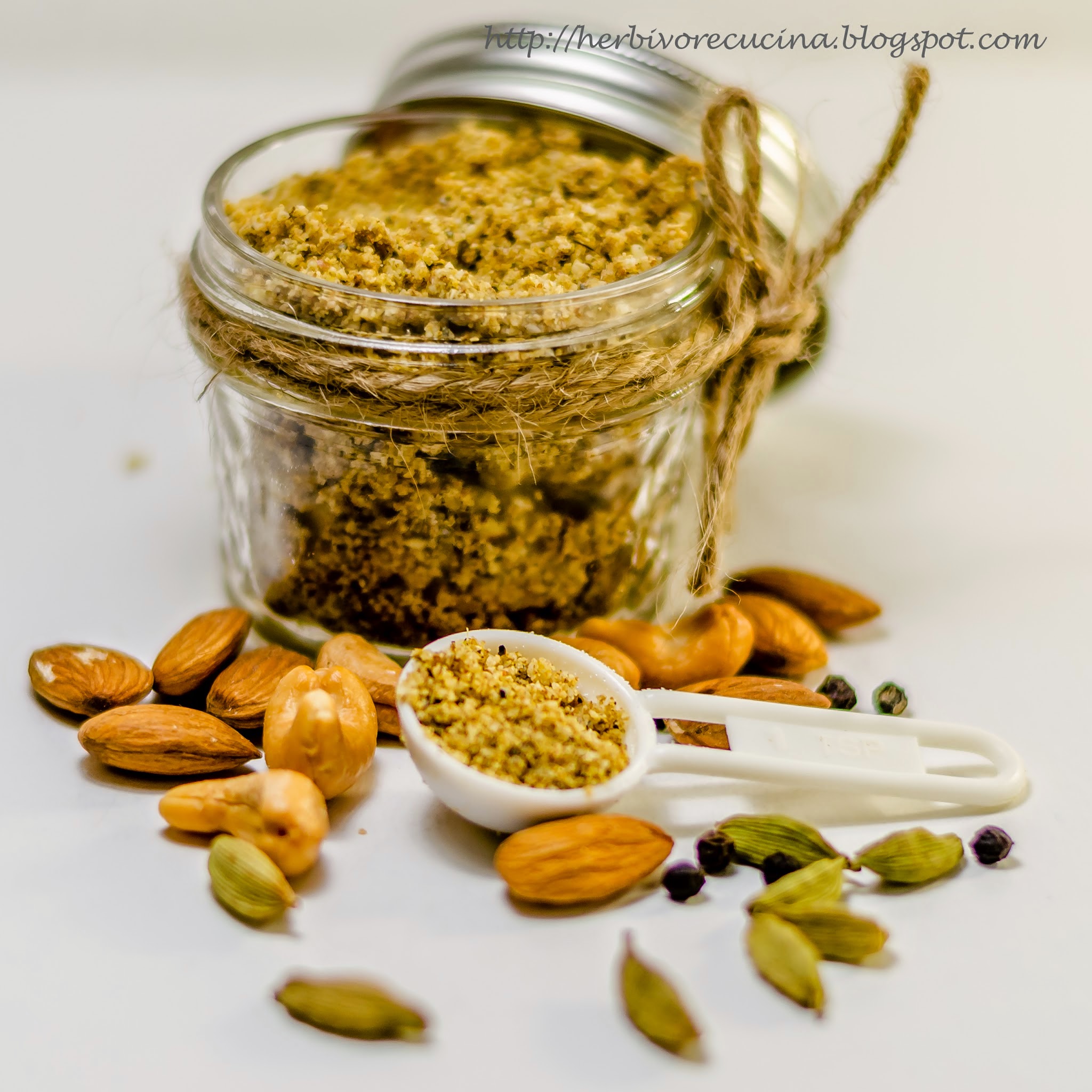 For Cheesecake
Graham Crackers
Unsalted Butter
Thandai Masala
Cream Cheese
Confectioner' Sugar
Saffron
Method
To make the Thandai Masala
Mix together all the ingredients and blend to a smooth powder. Store it in airtight container and use as required.
To make the Cheesecake
This Cheesecake is fairly simple to make and the thandai can be substituted with other flavors too!
I made this cheesecake in the mini form, i.e 5 inch spring-form pan. To make one cheesecake of that size, you need the quantities as mentioned below. You can choose to make more number of mini cheesecakes or make a large one. Just change the quantity to double or triple. Works like magic.
First, take about 5-6 graham crackers and powder them. I like a thick base of cracker, however; you might choose to reduce it if you like. Melt 1 tablespoon of unsalted butter and mix it with the powdered Graham Crackers. Once blended to a crumbly mixture, spread it evenly at the bottom of the pan. Press with a spoon and set it evenly. keep the pan in the refrigerator till you mix the cheesecake batter.
Using a hand blender, cream one cup of cream cheese. Add about ½ cup of sugar in it and mix again. You can choose to increase or decrease the sugar content depending on your taste. Next, add 2-3 tablespoon of Thandai Masala and few strands of saffron. Again beat well.
Remove the pan from the refrigerator and spread the cheese cake batter on it. To get a sharp even edge at the top, use a spoon dipped in hot water and level the top. Transfer the pan back to the refrigerator and chill for about 5-6 hours. For best results chill overnight. Once set, run a wet knife around the edges and then remove the cake from the pan. Top with some thandai masala, strands of saffron and some slivered almonds. Enjoy this cheesecake on the auspicious festival of Holi!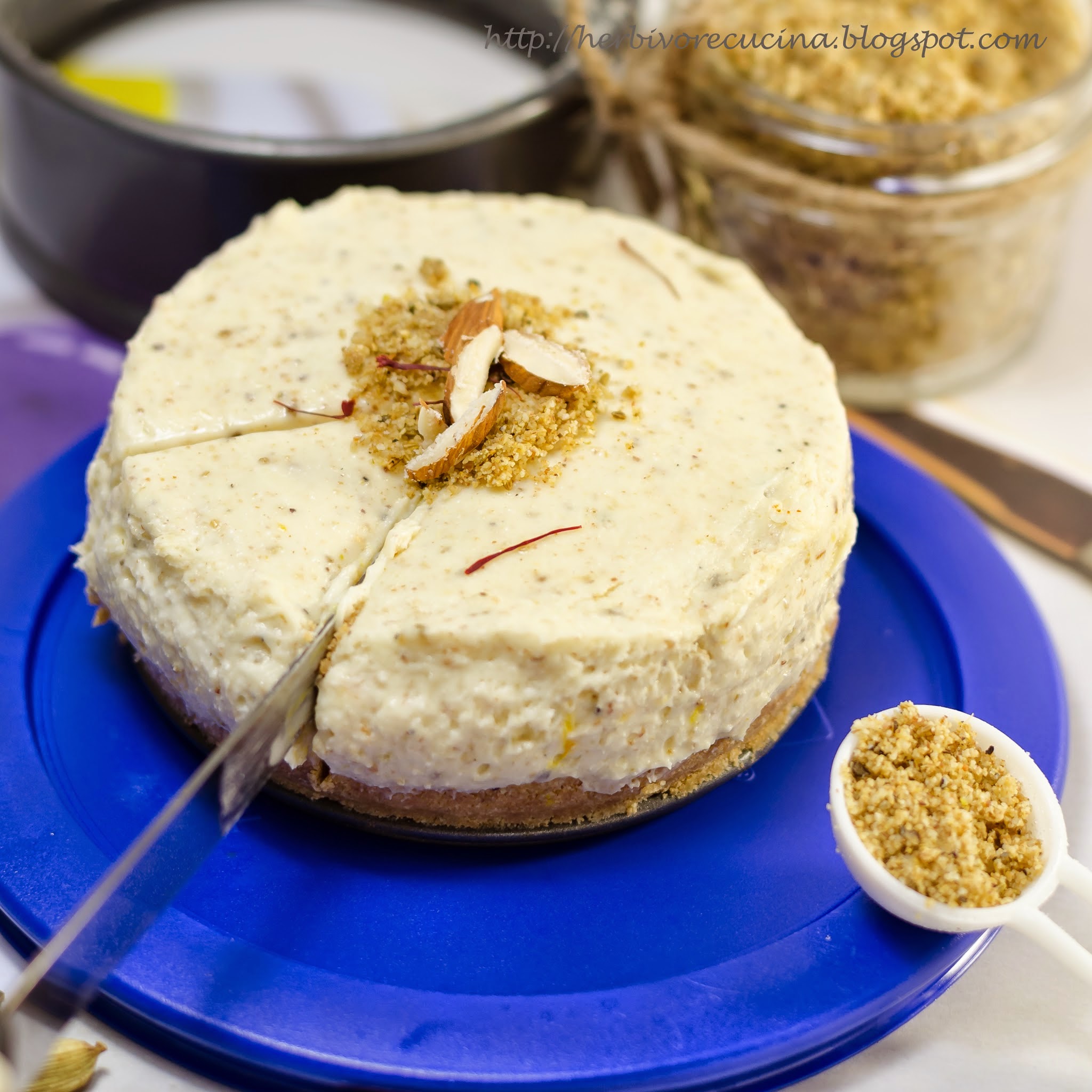 Want to try a different flavor? Try this baked Pumpkin Cheesecake too!!