The summers have peaked and it is so hot all afternoon. That is the time which is perfect for sipping some cold drink. I posted a few summer coolers like the Watermelon Agua Fresca, Thai Iced Tea, Paan shots and Peach Iced Tea over the last couple of months. Today is yet another drink that I completely love: Orange Iced Tea.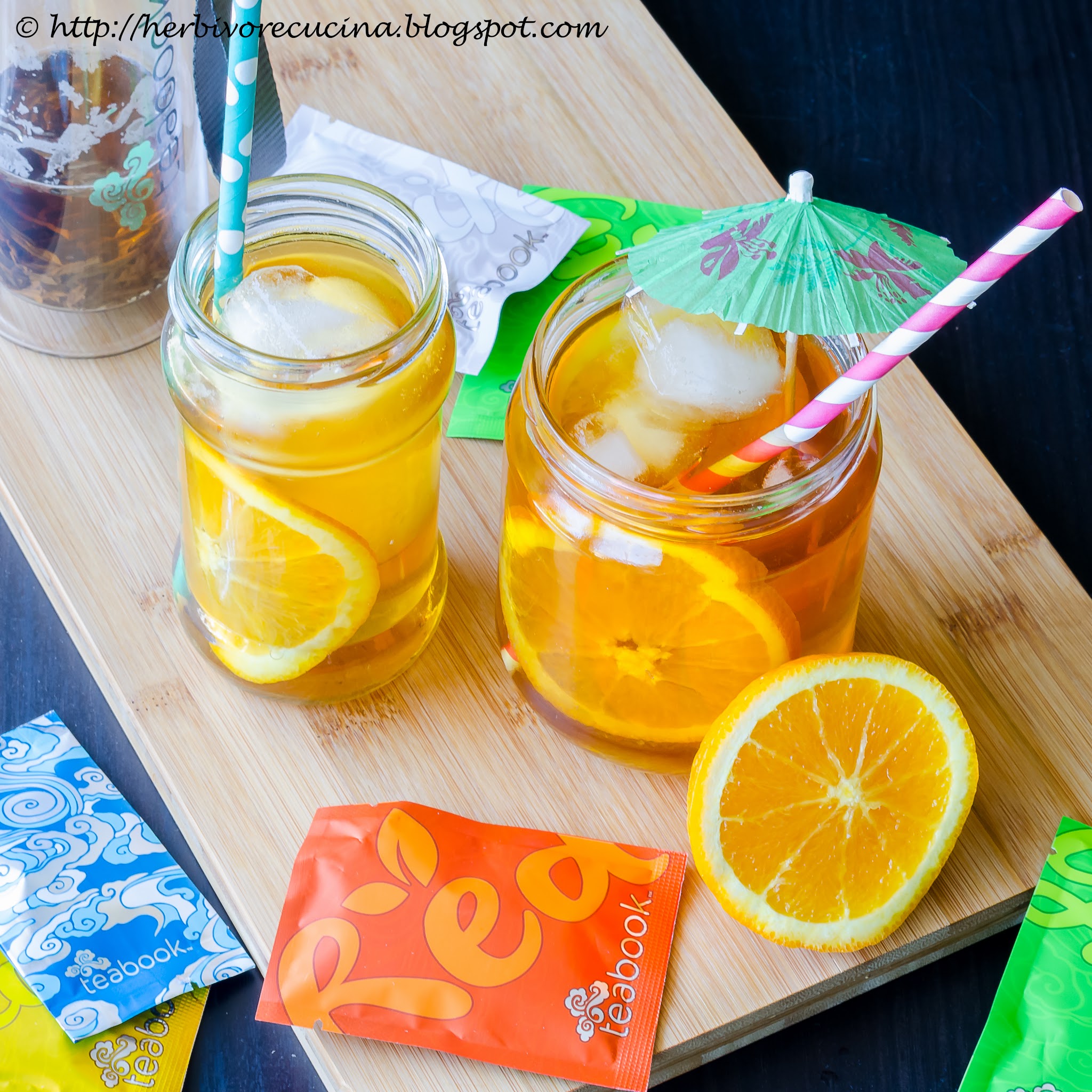 There is a company by the name Teabook Premium Teas. They recently sent me a box of seventeen teas, which includes Red, Green, White, Oolong and a special limited edition Tea. These teas brew really well in the glass tumbler that is included with the teabook. What I liked best about this set is that the tea leaves are not completely ground, making them really convenient to use unlike the ground teas that can pass through a fine sieve. The taste of the teas are different from the ordinary and the glass tumbler is perfect to carry anywhere. Also, it is dishwasher safe, making it easy to clean.
Back to the recipe, I used Navel oranges in this one, but the same tea can be made from any citrus fruit including Lemons, Limes, Blood Oranges or Sweet Limes. The procedure remains same too. However, if you do not have a infusing tumbler like the one I have, simple steep any black tea in a vessel and sieve the tea water into the glass. The outcome is a really tasty and refreshing drink. Hope you enjoy it too!




Ingredients
Tea bags 2 ( I used TeaBook)
Sugar 2 tbsp
Orange ½
Slices of Orange
Method
Heat 1 cup water. Add two tea bags of the red tea in the brewing jar. Add the water to it and let the flavors steep for 8-10 minutes. Add sugar as required. Let the water cool.
In a glass, mason jar or bottle add a slice or two of orange and ice cubes. Pour in the tea water and squeeze some orange juice. Mix everything well. Enjoy the cold drink in the heat!