Blogging Marathon #68 Week 2 Day 6
Theme: Appetizers
Dish: Papad Paneer Rolls


Last day of this week's Cooking Carnival and I am posting an indulgent appetizer today. Weekends are meant for enjoying and we do it right almost all weekends! It is generally a choice between eating out or cooking something interesting and yummy at home. And after a lot of deliberation, we end up making something! These rolls were one of our indulgences last week.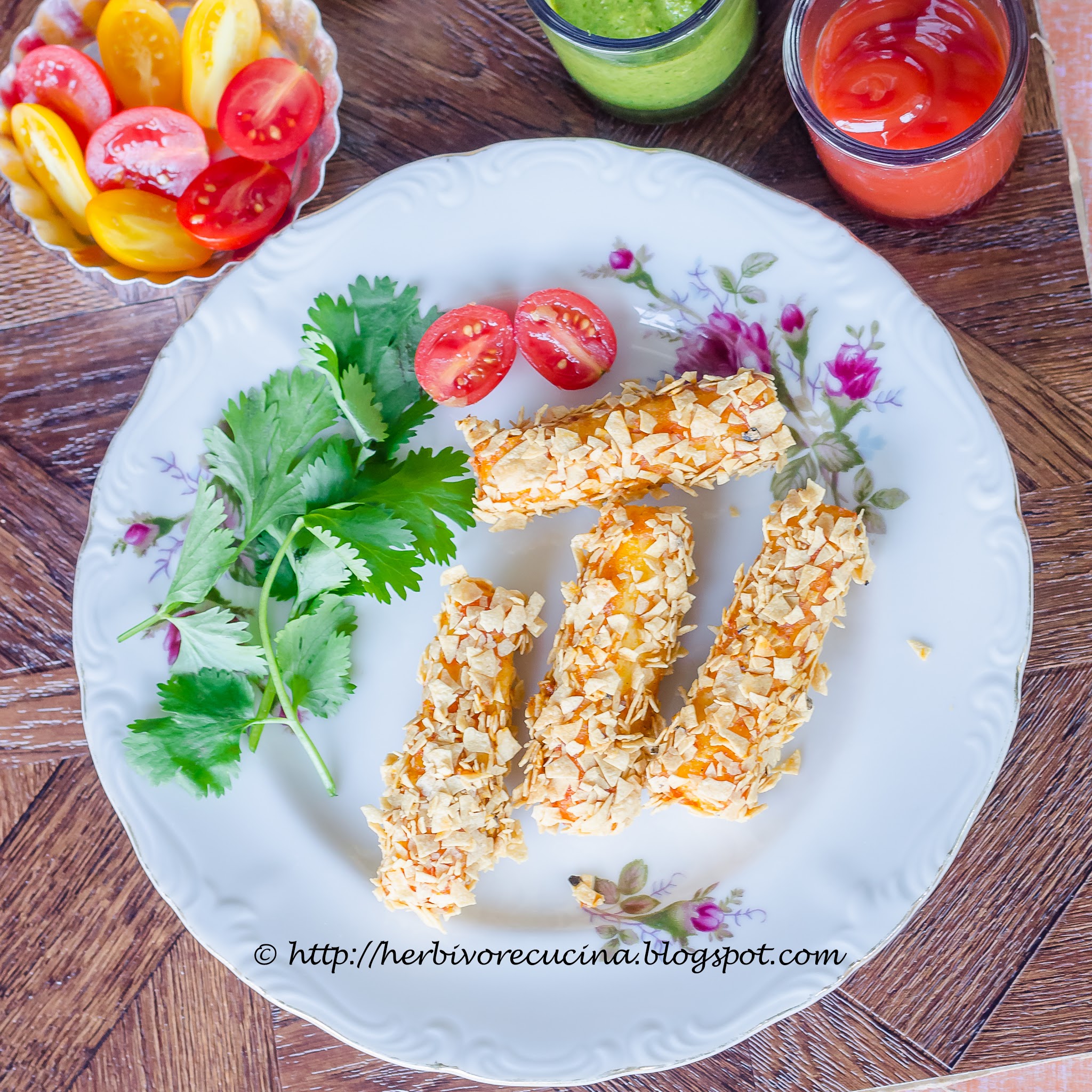 This appetizer is actually pretty special, we had this on our engagement menu! The caterer explained it to us as paneer marinated in Indian spices and coated with crushed papad. It would be fried and served with spicy and sweet chutneys. We tasted it and LOVED it! So it was on the menu and all the guests actually loved it.

The appetizer has everything that a calorie conscious would want to avoid; paneer, papad, spices and deep fried. Yet it is so yummy that I give the calories a break sometimes and make it. I made an Indian style appetizer but the same can be done with an Asian touch; substituting garam masala with schezwan sauce. Or sometimes I simply make the Indian version and serve it with homemade schezwan sauce. The combination is perfect!

While the recipe is straightforward, this appetizer cannot be made and stored. It has papad and they become soggy when left fried. So this needs to be made and had immediately, chiefly why I never make it with guests. The marinade needs to rest only for half an hour or so and hence this dish needs no pre preparation. I have used medium thick papad and they work best for the recipe. Really thin papad tends to get soggy really quickly and thick ones take forever to fry well. I used pepper flavored here, but garlic papad work really well too. Enjoy this indulgent appetizer and come back on Monday for another category in this month long Cooking Carnival!


Ingredients


Paneer ½ packet (14 oz)
Papad 5-6
Cornstarch 4-5 tbsp
Garlic Ginger Chilli Paste ½ tsp
Red Chilli Powder 1 tsp
Garam Masala 1 tsp
Turmeric Powder ½ tsp
Sugar and salt to taste
Oil to fry

Method


Defrost the paneer and cut it into logs. In a bowl mix together garlic ginger chilli paste, chilli powder, garam masala, turmeric, a teaspoon of salt and a teaspoon of sugar. Using some water, make a thick paste. Drop the paneer logs and marinade for half an hour to an hour.

Heat oil and keep ready to fry. In a bowl, mix together cornstarch and 2-3 tablespoon water. Also, crush the papad in a food processor or blender. Transfer the crushed papad in a plate. Remove the paneer logs from the marinade and dip it in the cornstarch water mixture. Then roll the logs in crushed papad. Fry them to golden brown and remove on a kitchen towel. Serve with cilantro chutney and tomato ketchup.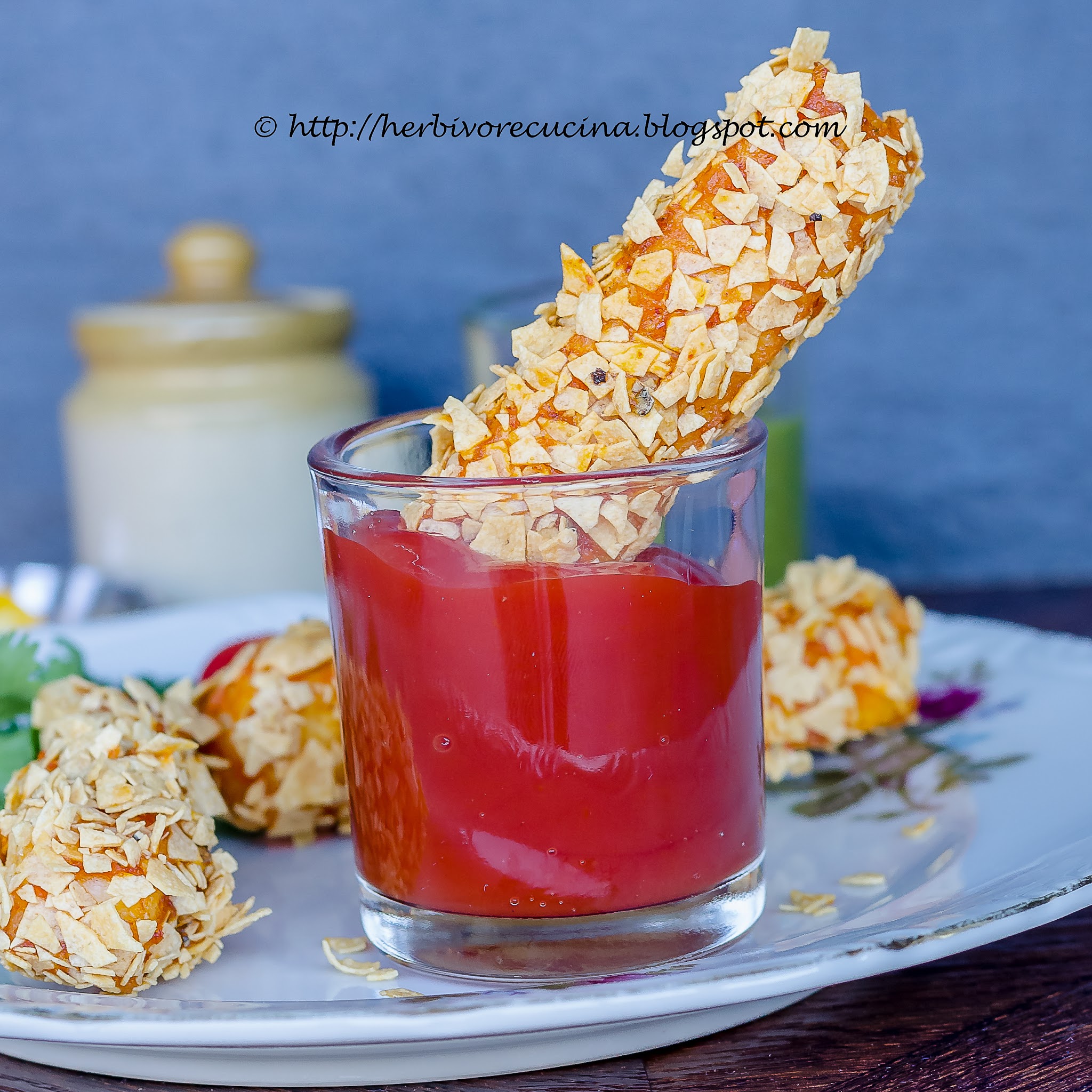 Check out the Blogging Marathon page to see what the other Blogging Marathoners are doing BM# 68