I have received information and materials from ©Johnson & Johnson Consumer Inc. 2017. The opinions stated are my own. This is a sponsored post. #ForWhatMattersMost #CollectiveBias
A combination of Peas and Asparagus stuffed in Jumbo Shells, baked on a layer of Marinara and topped with Mozzarella Cheese! Can you ask for more deliciousness in ONE meal?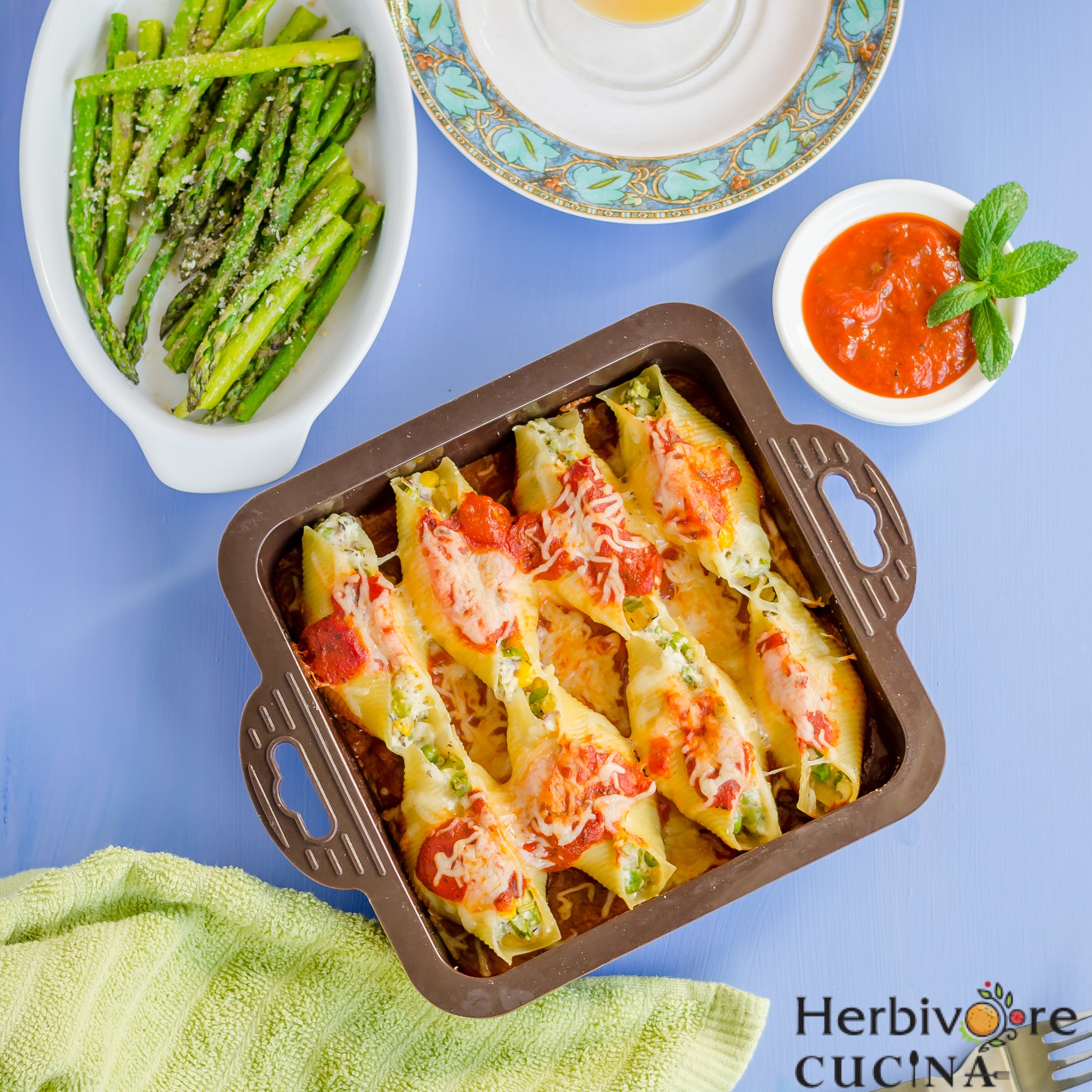 Did you notice we are almost at the end of May? Another month passes us by as we start looking forward to warmer days and LOTS of Summer activities. As the days get longer and warmer, we make TONS of plans for family trips, barbeque evenings and long long road trips.
When we have the entire plan set for an upcoming weekend, I hate to wake up with a terrible headache. Worse still, when I end up with back ache coupled with headache. I already have reservations made for the day and I think I will have to pass the plan thanks to the awful ache. That is when I trust Extra Strength TYLENOL®. Available at Target, this one helps me to get back to the things I love with powerful relief of headaches, back pain and more.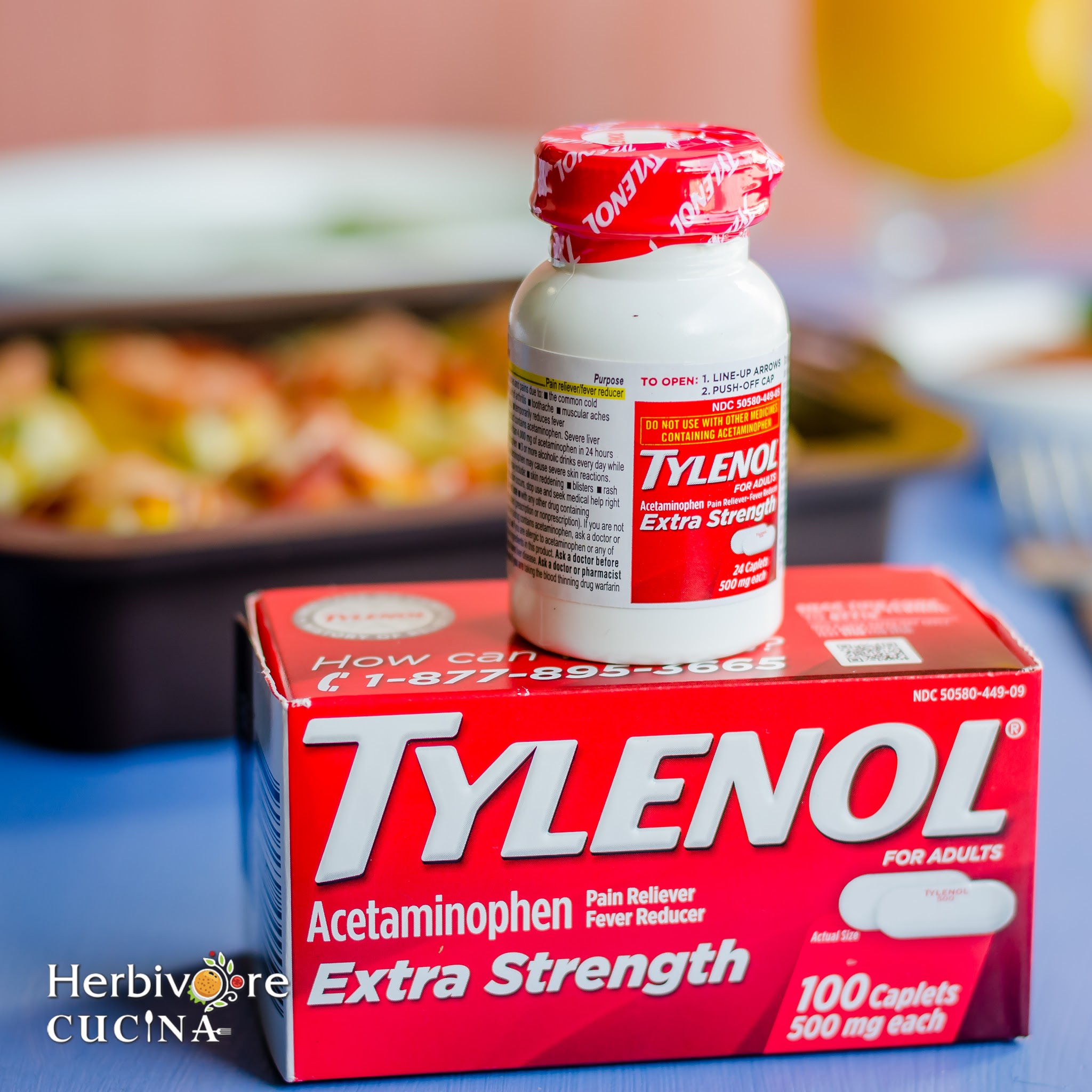 Last weekend I hosted a party with some friends. We were planning a trip for the Memorial Day long weekend so got together to make some reservations etc. For this I made some delicious food; Olive Oil sautééd Asparagus stems, Peas and Asparagus stuffed Jumbo Shells, Watermelon Feta Salad and Mango Juice.
I love how these shells come together quickly, can be stuffed with different combinations each time and are perfect to make ahead of any party or get together. As we are juggling between Spring and Summer, I got a BIG bunch of Asparagus and had tons of Peas in my refrigerator. So they came together in this wonderful baked pasta dish.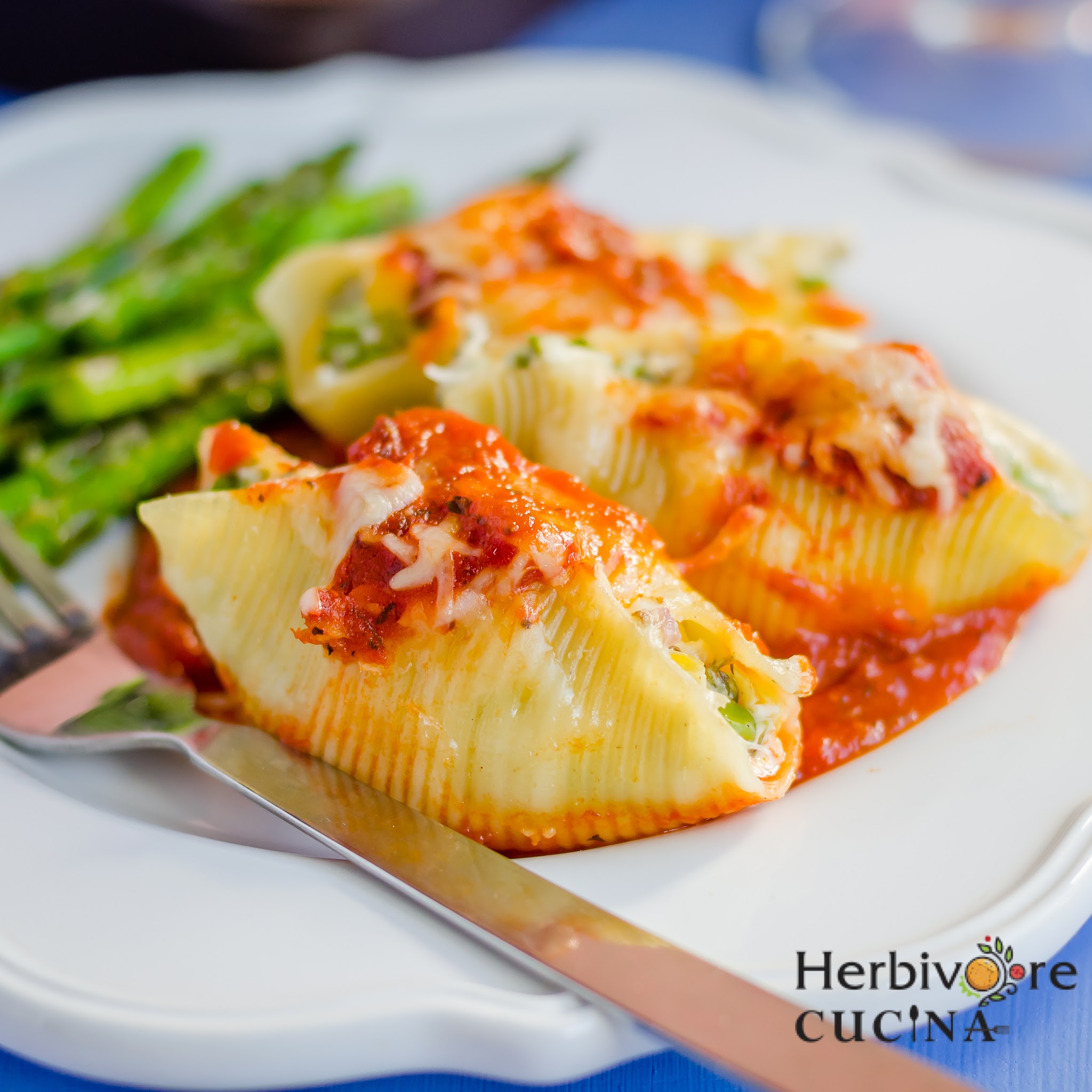 The weekend had been exceptionally busy with gardening, bbq party the previous day and lots of spring cleaning. So I ended up with a back ache. I took the recommended dose of Extra Strength TYLENOL® to relieve the pain and concentrate on my menu and planning!
Extra Strength TYLENOL® works to temporarily relieve minor aches and pains due to: the common cold, headache, backache, minor pain of arthritis, toothache, muscular aches, premenstrual and menstrual cramps. It also temporarily reduces fever. But remember it is only for adults and children 12 years and older. And MOST IMPORTANT, use only as directed and keep away from the reach of children. See how people are winning over their pain with TYLENOL®.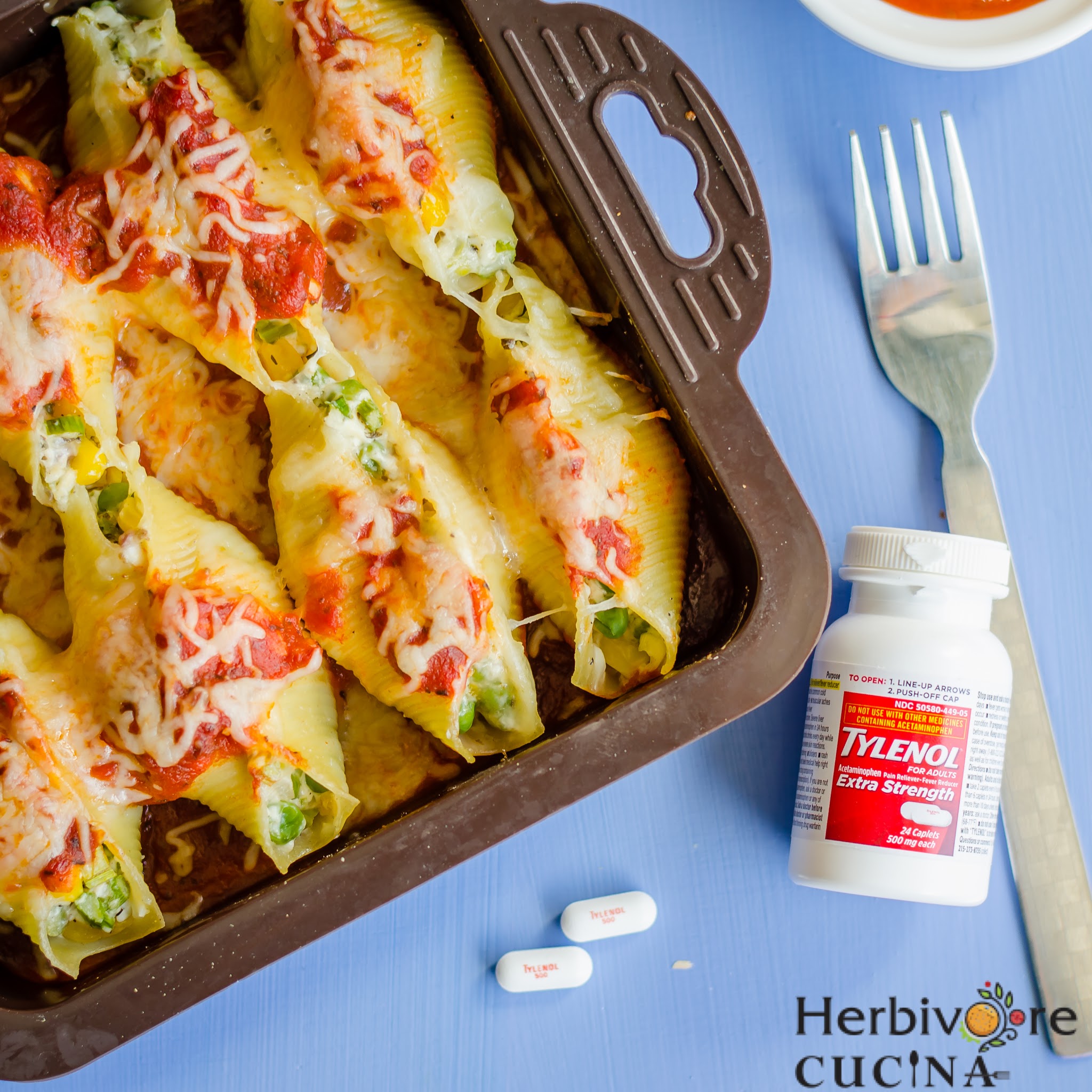 So with the pain behind me, I could pull off this amazing dish with minimum effort! I made the filling and boiled the pasta shells side by side. Filled, topped and baked the shells till done and I had an amazing party dish in no time. I baked them just before serving and froze the leftovers for lunch the next day. To enjoy them, I just placed them in a preheated oven the next day and in 10 minutes, it made a great lunch!
Variations
This version has a filling of Asparagus and Peas. If you cannot find either of them, add a vegetable of your choice. I have used Zucchini and Broccoli in the past and they taste awesome!
I used a store bought Marinara Sauce in this recipe, but making your own version works well too. Besides, using your favorite sauce like pumpkin, spinach, alfredo or pesto is a great option too. For the topping, you can add some breadcrumbs too. They make the pasta even more delicious!!
And lastly, if you cannot find the jumbo shells around you, try Manicotti or better still, make your own pasta. There is nothing more satisfying than that I guess!
Hope you all try this recipe at home. It is a recipe that is fancy, easy to make, super delicious and make ahead all at once! Can you ask for anything more in a dish that is perfect for a party? I do not think so!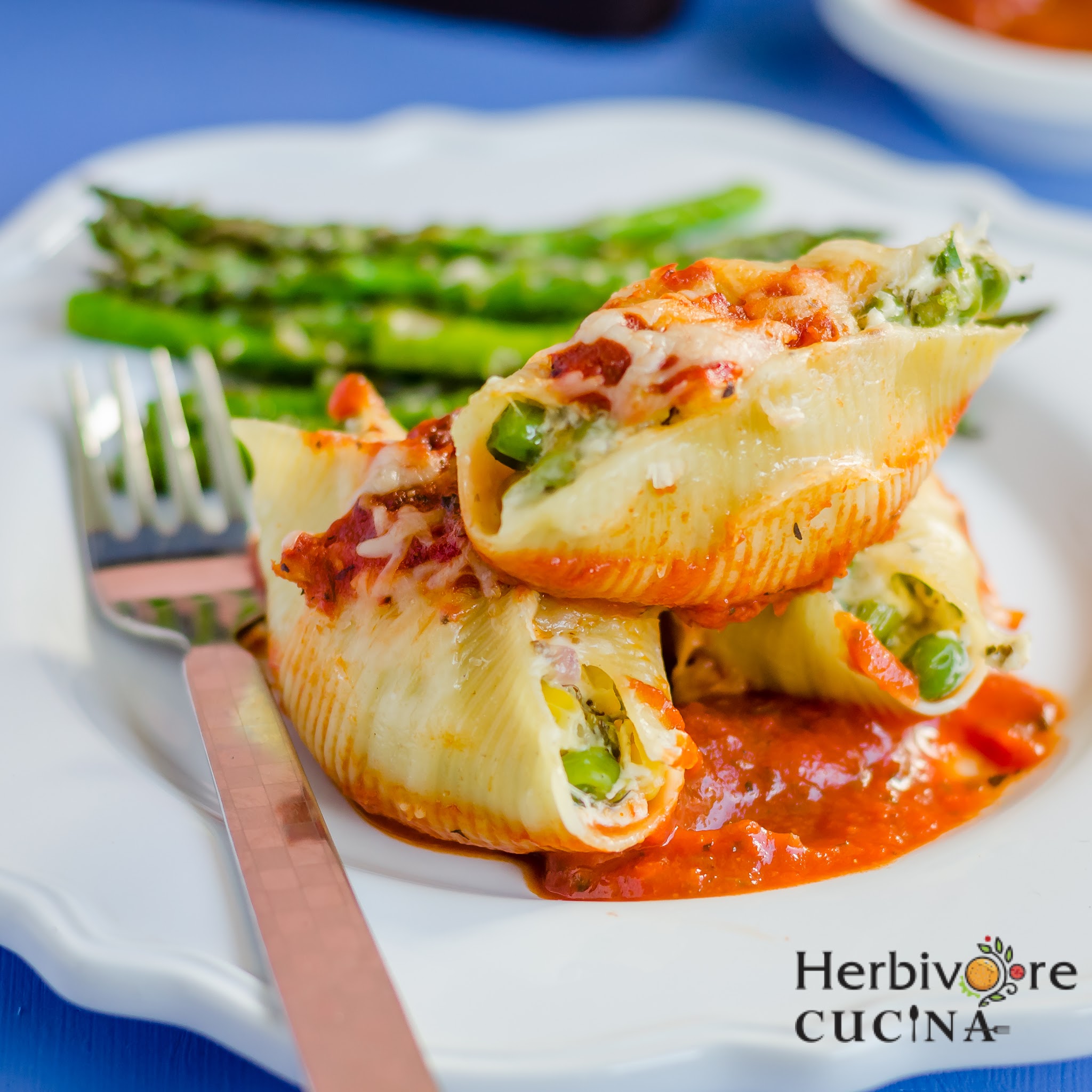 Ingredients
Jumbo Shell Pasta 8-10 shells
Cream Cheese ¾ cup
Mozzarella Cheese ½ cup
Asparagus 10-12 stalks
Green Peas ½ cup
Garlic 2 pods
Oregano 1 tsp
Red Chilli Flakes ½ tsp
Olive Oil 1 tbsp
Salt and Pepper as needed
Marinara Sauce (home-made or store bought)
Method
In a pan heat 6 cups water with 1 teaspoon salt. Once it comes to a boil, add the pasta shells. Cook till al-dante. I cooked them a couple of minutes less than the instruction on the box. This way they remain firm while filling. Drain and set aside.
Wash and trim the ends of the asparagus. Cut into ¼ inch pieces and set aside.
In a pan heat olive oil. Once hot, add minced garlic and saute till soft. Then add the peas and asparagus. Also season with ¼ teaspoon salt, ½ teaspoon pepper powder chilli flakes and oregano. Mix well and cook for 4-5 minutes.
Turn down the heat, cool and mix in cream cheese and ¼ cup mozzarella cheese. Mix the stuffing well.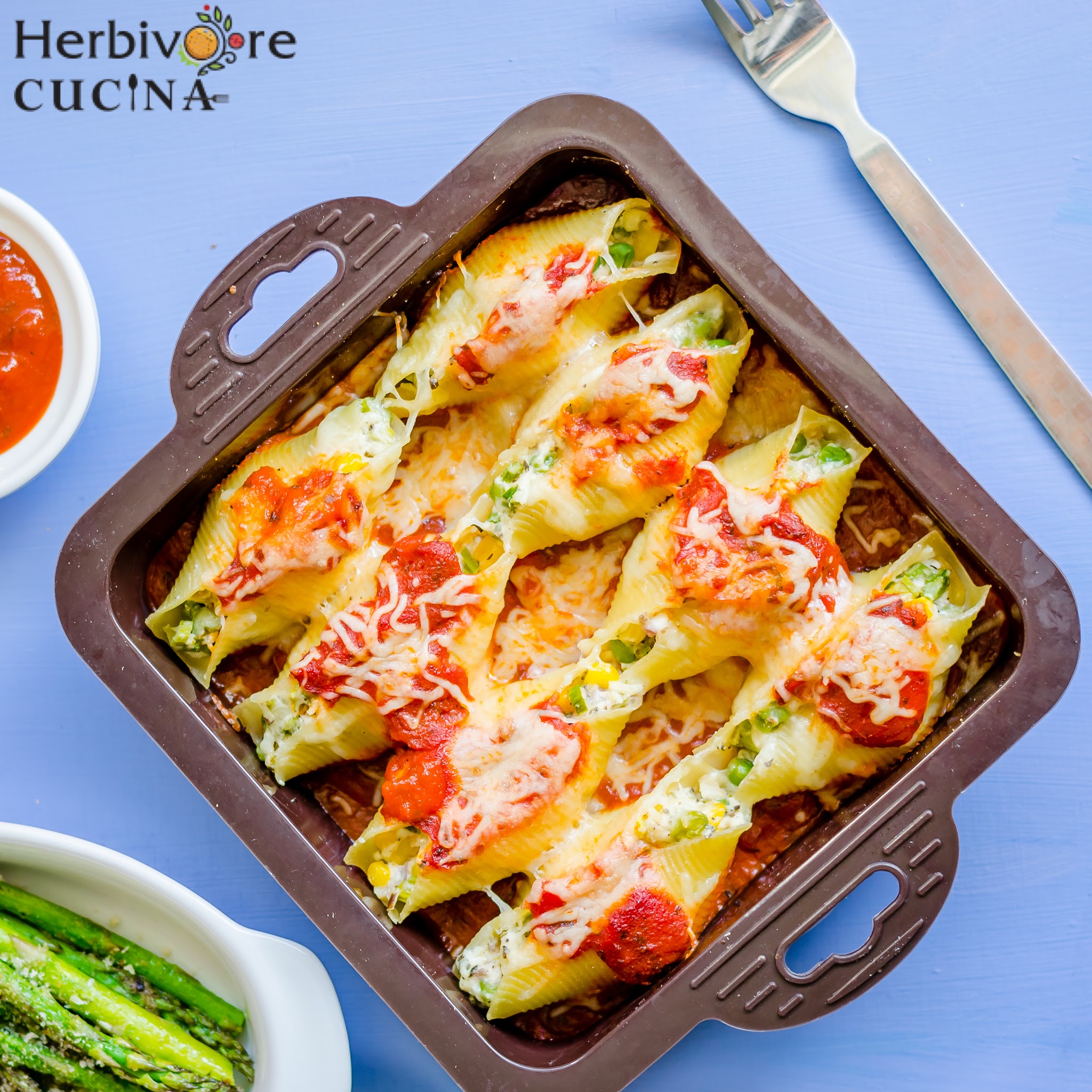 In a baking tray spread some marinara sauce. Then take a shell pasta, stuff it with 2 tablespoon of the stuffing and place it on the tray.
Fill all the shells and place them on the baking tray. Sprinkle some cheese on top and add some marinara sauce too.
Preheat oven to 350 F/ 180 C. Bake the shells for 12-15minutes, till the cheese melts and the filling starts to ooze out.
Remove from oven and serve with a side of olive oil sautééd asparagus and some more marinara sauce.


I am not a medical expert, and this post is not medical advice. Always seek the advice of your physician or other qualified health provider with any questions you may have regarding a medical condition. ©Johnson & Johnson Consumer Inc. 2017. The third party trademarks used herein are trademarks of their respective owners.